Restaurant
:
Ton Kiang
Address
: 5821 Geary Blvd. b/t 22nd and 23rd Ave.
Outer Richmond, SF
Phone Number
: (415) 752-4440
Cuisine
: Dim Sum
Date Last Visited
: July 3, 2009
Dining Partner
: Bub
I don't do dim sum very much. Mainly because for the most part, it can get very expensive if there is no self-control. Momma works near Chinatown so she brings home dim sum sometimes for cheap, so what's the use in going to a restaurant when you can have it brought home? Right.
However,
7x7's Big Eat 100
had a certain dumpling on their list, so I had to make a special trip out to the Outer Richmond to have it. Ton Kiang is one of those restaurants where Yelpers either hate it or love it. There is no middle ground, so I thought this was the perfect time to find out what I thought about it. So on this Friday morning, we made our way to Ton Kiang to have dim sum for breakfast. It being a weekday, the place wasn't too busy. I could only imagine the wait on a Saturday or Sunday. Thankfully for us, we didn't have to worry about any type of wait.
Dai Dze Gao - Scallop and Shrimp Dumpling
I have to admit here, I never sat down for dim sum the way they do here. I usually see the carts being pushed around by servers. Here they bring around trays of the little bamboo steamers to each of the table. This was one of the first dumplings brought to the table and I knew that I had to have a serving. They were delicious. Nice portion of shrimp and scallop in each dumpling. I was so glad that Bub is allergic to seafood because I got to have the whole plate to myself.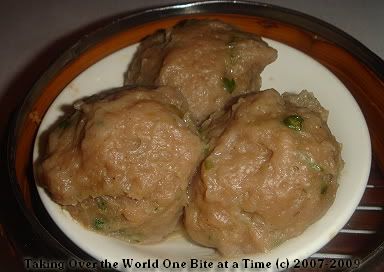 Steamed Meatballs
Bub chose these and I wasn't a fan of them. They were basically steamed and rubbery in texture. I only had one of them. No, I didn't like them much.
Siu Lung Bao - Shanghai Meat Dumplings
Most of the dumplings on the menu had seafood in them so Bub had a very small selection. That was too bad because the seafood dumplings are far more superior than the meat ones. These were probably the most boring meat dumplings I have ever had. I was hoping that they would be like XLB's with soup on the inside. But no. Disappointed.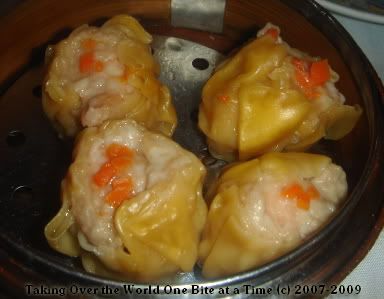 Siu Mai - Pork Dumplings
I was worried about Bub when we ate these because I saw shrimp in them. They need to make their menu descriptions more…well, descriptive. They just say, "pork dumplings." I mean, what if Bub was extremely allergic? These were boring too. I guess I have just too many of these before to really get excited.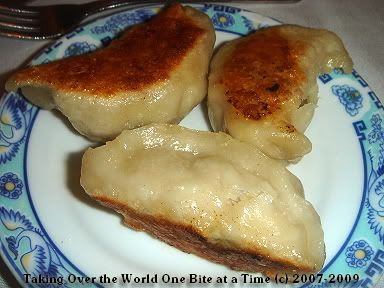 Wah Tip - Pot Stickers
Another meat dumpling. These were okay. I only ate one, but I did like the sear on the bottoms. I liked the crispy texture a lot. The filling, good, but not extraordinary. I like these way more than the Shanghai meat dumplings. I suppose the reason why I think the meat dumplings were so boring is that I did not see any difference in the way the fillings were seasoned. I only saw a difference in the wrapper and the dipping sauce that it came with, which we will touch upon in a little bit.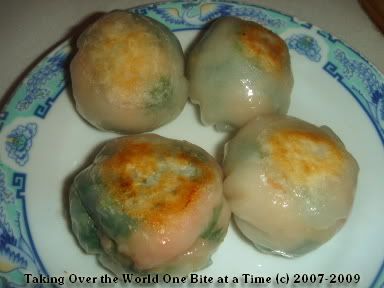 Gao Choy Got - Green Chives and Shrimp Dumplings
Now these are why we came here. I like how they showed the browned bottoms. That caramel color makes me so hungry.
When these were brought to the table, the server marked the price on the worksheet-type of receipt that was at every table. This way, the cashier knows how much to calculate at the end of your meal. I saw that this was one of the more expensive dishes at $5. $5? Really? I mean, they weren't even that big. $1.25 for each piece. Insane.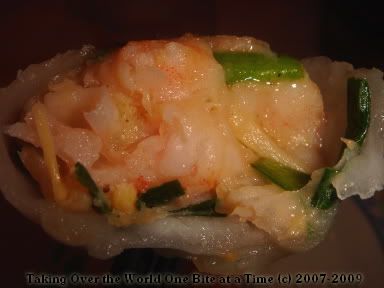 I had to get over how expensive they were and taste these things. Whenever I try something off of the list, I ask myself, "Does this item DESERVE to be on that list?" I usually get the answer within two bites of whatever I am eating. I was on the fence with these. The shrimp on the inside was succulent and sweet; however, I was put off by the chives. I know they were "shrimp and CHIVE" dumplings, but I guess I am not a chive fan. Don't get me wrong, they were good, but I think the scallop and shrimp dumplings should have made the 7x7 list.
Chinese Condiments:
Sweet and Sour, Soy Vinegar,
Hot Chinese Mustard, Jalapeno, and Soy Sauce
I am such a condiment whore and I love how each dumpling had its own sauce. My favorite was definitely the minced jalapeno. It had heat, but it wasn't too spicy that I had to drink enormous amounts of water to cool my palate. I actually liked putting a lot of in on the scallop and shrimp dumplings. I didn't use the hot mustard much and the sweet and sour had an odd aftertaste. I also enjoyed the soy-vinegar sauce that came with the potstickers. The combination of sour and salty brings me joy.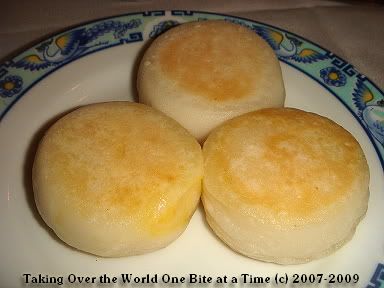 Nai Wong Siu Ben - Egg Custard Rice Cakes
I eat in courses so we had to have dessert. I usually order dan tat, or egg custard tarts, but I saw these on the menu and figured that going for something similar but different would be fun. What I liked about these was that they were still warm when they came to the table. The outside is made with rice flour and it was sticky, bouncy, and a little greasy from being heated on a griddle (I am guessing from the browned surfaces). Inside was the egg custard filling. I regret not taking pictures of all the dumplings' interiors, especially these ones, but they were beautiful. I adored these sweet pockets of egg goodness. They were sweet and absolutely addicting. I wanted another serving, but I was getting so full. I would come back for these alone. Unless someone can point me to a place in Chinatown that might have these (please?). I wish they put more the dish. Bub and I were basically fighting for the last bite. I was so surprised at how these blew me away. These should have been on the 7x7 list.
Ton Kiang is still so-so for me. One big reason why I am not completely won over is that the bill was ginormous. It was over $40 with the tax and tip. Ch-yeah. That alone will deter me from coming back anytime soon. As for the food, I would choose the seafood over the meat any day. I noticed that new dishes came out as we were winding up our meal and when those dishes would come to our table, I was kicking myself for not waiting until something REALLY good came out. I think that is why I don't like eating dim sum. Not everything is printed on the menu. I saw vegetables come out - such as pea shoots and asparagus. No where on the menu does it mention they even serve veggies. I was disappointed because I spent a lot, but wasn't satisfied. I think the best way to go about eating dim sum is with a group. Bub and I ordered a few dishes and we were stuffed at the end. The more people you have the more you can try out. I would have loved to try the crab claws. Oh yes, and make sure you bring people who aren't allergic to seafood. I felt so bad for bringing Bub here because he didn't have much to choose from. =( I don't think I will be coming back here anytime soon because I bet there are cheaper and possibly better tasting dim sum elsewhere. Ton Kiang is just ok for me.