Restaurant
:
Piperade
Address
: 1015 Battery St. b/t Union and Green,
The Embarcadero
Phone Number
: (415) 391-2555
Cuisine
: Spanish, Basque
Date Last Visited
: June 8, 2009
Dining Partner
: Rizzle-Nizzle
So it was my wifey Rizzle's birthday. Who is Rizzle you ask? This is probably my first time posting a dinner on this blog with her as my dining partner. I know she frequents my site, so I want to send a shout out to her. =) *waves* Hi, wifey! Rizzle is a gal I met in high school, but we really didn't get close until college. We hung out almost everyday, but when we graduated and started new endeavors, we began to drift apart - which happens to a lot of our college friendships. Every so often in the following years, we'd text each other, but we didn't hang out much. I thought I would make that change for her birthday. Since I wasn't able to make it to her nightclub event, I felt that I owed her and offered to treat her out for dinner because food makes us happy. =P Food was very important to us in college…
We were part of a little group called the "Cherry Poppers" - where the members (about six of us at the time) would introduce each other to new places - whether it be a new store or a new place to eat. Majority of the time, it was a new place to eat, and boy, did we love to get our cherries popped. The day of the dinner, I texted Rizzle to confirm our dinner date. I informed her that this was also my first time here, as it was her's as well, so she proceeded to respond with, "Both of our cherries will be popped." Yes, after this many years of friendship (almost 6 years now), we had to continue carrying on with the tradition.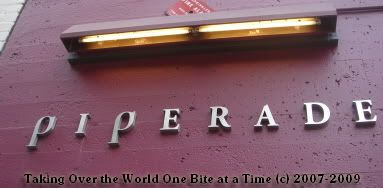 I was panicked that we would not find good parking, but Piperade is in a rather quiet part of the Embarcadero, so we found a spot directly across the street. When we walked in, I noticed tables outside, so the al fresco dining must be popping at lunchtime. What threw me off was that Chef Gerald Hirigoyen was at the host's podium when we walked in the door. He was even the one who seated us! Who does that anymore? Most chefs I know are stuck in the kitchen and are never seen in the dining room at all unless they are called out to meet someone. I thought that him walking around and just him being present was great.
Olive Oil and Bread
You can say that the basket was empty at the end of the meal. Actually, the basket was more than half-way done even before our first course came. Their olive oil has a green tinge to it which was interesting since most olive oils I use to dip have golden tones to them.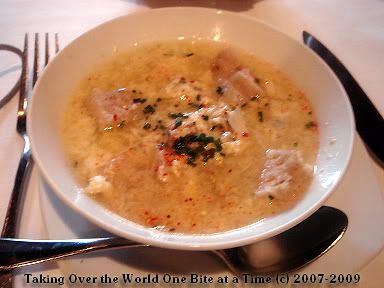 Garlic Soup with Rock Shrimp, Bacon, Bread and Egg
The garlic soup was my first course - sounds like breakfast food, doesn't it? Bacon. Bread. Egg. This soup is also on the 7x7 Big Eat List. It honestly reminded me of home-made soup. The soup was a combination of egg drop and my own recipe for
soupas.
I also know a lot of
pancit lomi
soup recipes that call for lots of garlic, shrimp and egg, but instead of thick noodles, they used chunks of bread here. Because it reminded me of other soups I have had in the past, this was very comforting and familiar to me even though this was my first time ever having it. On the flipside, even though the flavors were reminiscent of lomi and soupas, I don't think any other restaurant in San Francisco has a soup like this. I am very glad I tried it.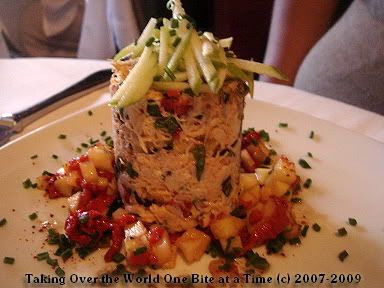 Dungeness Crab "Txangurro"
with Basil, Roasted Pepper, and Apple
I knew that Rizzle loved crab, so this would be good for her. I wasn't expecting it to look like this because we frankly didn't know what a "txangurro" was. It was beautiful and reminded me of the seafood salad I had at Gotham Bar and Grill in NYC last year. I love vertical food presentations, ya know. The fruit with the crab was fantastic. This was a cold appetizer, so all the flavors mingled well and were really refreshing.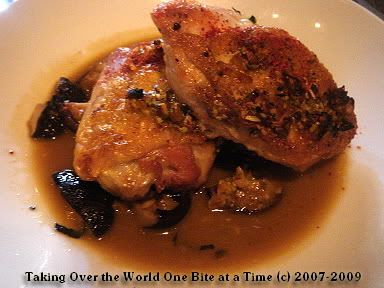 Chicken Duet with Shiitake Mushrooms
My entrée was absolutely delicious. I was given one breast and one thigh so that we get the best of both worlds. Perfectly cooked. I appreciated that the skin was left on because it was sinfully crispy. Both pieces of chicken were juicy and had so much flavor. The sauce was outstanding. There were real earthy and deep tones from the shiitake mushrooms. I do find them a bit overwhelming, so I didn't eat all of them. The picture doesn't do it justice (I didn't use flash because the dining room is so intimate that flashing lights would have just bothered the other diners). Beautiful dish.
Braised Seafood and Shellfish Stew in Red Pepper Sauce
I was seriously jealous when Rizzle got her entrée. The seafood from the fish chunks, large mussels, clams, prawns, and scallops were so fresh and abundant. The red pepper sauce was so bright. Had some heat, not too much, just a slight hint of it in the background. The sweetness of the seafood was astounding. Definitely something to order when here.
Potato Gratin
I ordered the gratin because there was no starch that came with the meat. I am used to eating rice, pasta, or noodle with my animal. This was perfect. The thiiiiiiiin slices of potato were caressed by the rich cheese. So good. I ate more than half of it. Must have been a kajillion calories in it, but so worth it. The only thing that bugged me about this dish was that we didn't get it until I was half-way done with my chicken. I think the server forgot to put it in our order, so the cooks did not prepare it. Once I reminded him of it, we received it right away. You know what though? The service here was so polite and gracious that I let it slide. Besides, it was so fantastic gratin. Cheesy, but not too rich. Perfect.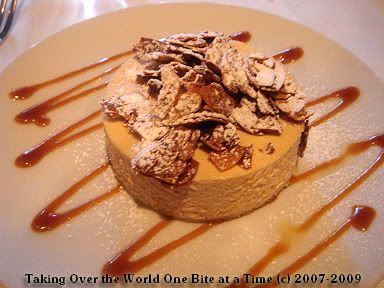 Turron Mousse Cake with Roasted Almonds
I don't know what "turron" is exactly, but it's good. The server said that it was "nougat." I know that they put it in candy bars like Milky Way and 3 Muskateers, so I found it interesting in this mousse. Kind of caramel-ly, kinda nutty, really great. I love mousses like this. I would have done without most of the almonds because I like my desserts to be smooth, but they were great to munch on the side. Very good.
Caramel Custard "Koka"
We were intrigued by the "koka" (what ever that is), but basically we got flan. I was a bit under whelmed because the presentation was almost too simple. They made sure that the apps and entrées were beautiful, but it seemed they kind of half-assed the desserts. I understand that flan is a traditional dessert, but at least put a cute garnish on there somewhere. That's just me. The flan itself was ok. A bit undercooked in the middle, so I wasn't too excited. I preferred the mousse over this dessert.
Besides the small disappointment at dessert, everything else was stellar. From the moment Chef Hirigoyen seated to when he bid us adieu, the dinner was memorable for the both of us - especially because we were experiencing his restaurant for the very first time. The service, like I mentioned before, was fantastic and courteous. My glass was never empty, which I very much appreciated. I would love to come back and try out more dishes on the menu. I am still very new to this cuisine and the more I eat it, the more I like it. Piperade is worth your while most definitely.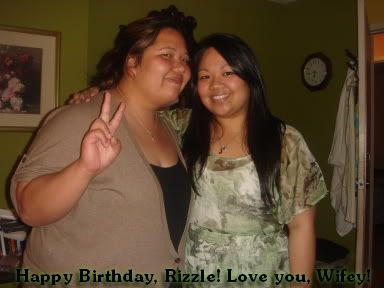 Back at My Place
I really hope that Rizzle enjoyed herself. We have known each other for so long and have been through some $#!+, and it's good to know that she is down for me whenever I need a friend. I appreciate her so much so I wanted to do something special for her. I know she visits my blog every so often, so I just want to say, "I LOVE YOU WIFEY! HOPE YOU HAD FUN AT YOUR BIRTHDAY DINNER!"
P.S. When are we going to Saigon Sandwiches? It's been way too long. =)