Restaurant
:
Grubstake
Address
: 1525 Pine Street between Polk and Van Ness, SF
Phone Number
: (415) 673-8268
Cuisine
: Portuguese, Diner
Date Last Visited
: May 30, 2009
Dining Partner
: Bub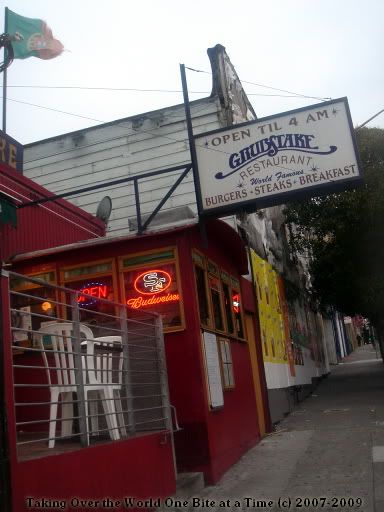 Bub and I make an effort to go out and make an ordinary night one that we will remember. On this night, we drove to the City, not really knowing where we were going. It was between a place in the Tenderloin or Grubstake. After weighing out each places, we chose Grubstake, mainly because burgers are Bub's favorite food. Hey, as long as he is happy, I am.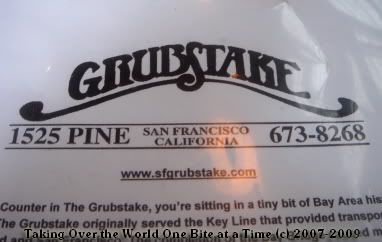 Grubstake is one of them restaurants that have a kitchy vibe to them. Half of the restaurant is comprised of a normal dining room and a rail car. That's right. You can eat in a room that used to transport people. I like how the history of the restaurant is on the front of the menus. You can also read the restaurant's history on their
website
. Grubstake is open until 4 a.m. Perfect for those night owls and clubbers.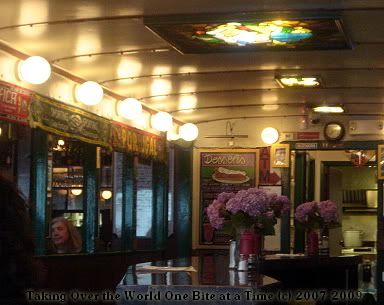 Walking in the restaurant, we had to choose where to sit. The main dining room had a few tables already taken. I saw that the other room (streetcar room), was virtually empty. Perfect. We took a seat right by the window overlooking Polk Street. I love the décor in the restaurant. Very detailed wall designs, flowers, and artifacts from Portugal. Very unique in restaurant.
Caldo Verde Soup - Kale, Potatoes, Linguiça
This was on the menu's Portuguese Corner page. I don't think there is any other Portuguese restaurant in San Francisco, so getting to sample something like this is great. I was watching an episode of
Anthony Bourdain's No Reservations
where he was in the Azores. He was dining with a Portuguese family, and he mentioned the soup with the kale. If I never had this soup before, I would not have known what the heck he was talking about. Honestly, I tried it because it was on the
7x7 Big Eat
list. The list called for a "3 a.m. bowl," but I wasn't about to come here that late. Personally, not my thing. I did like the potatoes and the Portuguese sausage, but Bub LOVED it. He cleaned the bowl out. He even said that he would come back just for the soup and that he would introduce his family to this place.
Grubstake's Verde Fire Sauce
A bottle of hot sauce was brought to our table for dipping. It is made with jalapeno peppers and it is so good. It had a beautiful green hue and a flavor that is uniquely jalapeno. I have noticed that a lot of hot sauces rely on the heat of the peppers and vinegar. This had the heat, but it wasn't too much. What I liked was that I could taste the natural jalapeno flavor. I actually ate a lot of this stuff and wasn't uncomfortable at all afterward. You can buy a bottle of this for about 7 bucks. The server, who I presume is the restaurant's owner, said that he makes the sauce himself. So you can only get this sauce here.!
Grubstake:
cheeseburger with bacon
Both of us ordered cheeseburgers and even though they may be JUST cheeseburgers, there were great cheeseburgers. I ordered the Grubstake. I mean, how can you not order the burger with the restaurant's name? The flavorful meat patties were juicy, the bread held up to the toppings, generous amount of bacon, oozing cheese. I may have found the PERFECT cheeseburger. That's a big thing to say since almost everyone and their mommas serve burgers, but it's true. Superlative, indeed. Those fries, which what fries are SUPPOSED to be, were
addicting
! I made a melange of mayo, ketchup, and the jalapeno sauce. FANTABULOUS!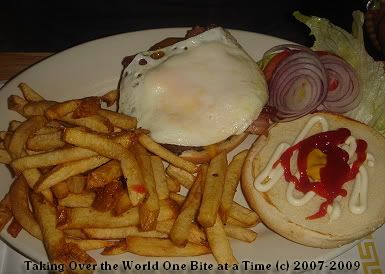 Nugget:
cheeseburger with bacon and a fried egg
Bub's "Nugget" burger was exactly like my Grubstake burger except it had a fried egg in it. I thought that was unusual. Who eats an already calorie-laden burger with an additional cholesterol-laced over-medium egg? Bub does. After my first bite, I do. Something about the egg takes it to another level. The yolk lent a velvety layer and it was delicious. Like I said before. PERFECT burger. Something this simple should not be messed up and they make their's so well.
Bub's plate
As you can probably tell, Bub thoroughly enjoyed his plate. Every fry was eaten, all the burger was gone…yes, I didn't take a picture of it, but my plate was almost identical. Grubstake's food was just too irresistible to not finish.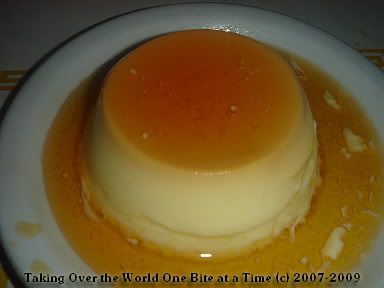 House-Made Flan
I think it's safe to say that any country that has been influenced by Spain or Portugal has their own recipe for flan. In the Philippines, we have
leche flan
, really highlighting the use of the different milks - condensed and evaporated. Here at Grubstake is it simply called "flan," and this flan was OUT OF THIS WORLD. The consistency was consistent throughout from the outer edges to the center. I have had flans where the walls of the flan were fine, but the center was not set. Ick. This flan was perfectly cooked. The caramel itself was light, sweet, and thankfully not burnt-tasting. I hate bitter caramel on flan. I think if the caramel is ruined, the delicate egg flavors are overshadowed and ruined as well. One of the best flans I have ever tasted.
Grubstake was a pleasant surprise. I never thought that a restaurant, let alone one that is open until 4 in the morning, would impress me. IT DID! Bub was so amazed by this restaurant that he kept talking about how great it was even after the meal. Would I come back? Oh yes! There are so many
other items on the menu
that I want to try. They serve breakfast all day and night, but I want to sample more of their "Portuguese Corner." They had steaks, pork chops, veggies… *smacks lips* I think everyone can find something they would enjoy here at Grubstake. I know that we have only touched the surface of what this restaurant has to offer, which makes me want to visit again very soon. =) Memorable experience.