Restaurant
:
Burma SuperStar
Address
: 309 Clement St. b/t 4th and 5th Avenues,
Inner Richmond, SF
Phone Number
: (415) 387-2147
Cuisine
: Burmese
Date Last Visited
: May 27, 2009
Dining Partner
: Star
When Star told me last year that she was becoming a vegetarian, my heart broke and I felt a piece of my BCF had left me. Who would I enjoy Kobe beef with? Who was going to eat the other 75% of my foie gras? Who was going to sneak the bone marrow off my plate? WHO?! I was so sad because Star was my #1 dining partner. She was adventurous enough to try new restaurants and eat edibles that are inedible to others. Honestly, I was annoyed when I would have to cook for family gatherings because I had to make a special dish just for her so that she would not feel left out. *rolls eyes* I thought she was being real OA. Eventually, I saw that it was important to her, so whenever I picked out a place to eat, I took that extra step and made sure they had a good list of choices for vegetarians. Burma SuperStar was the perfect place to go to because I never had Burmese food before. It was going to be a new experience for me and I love trying new things.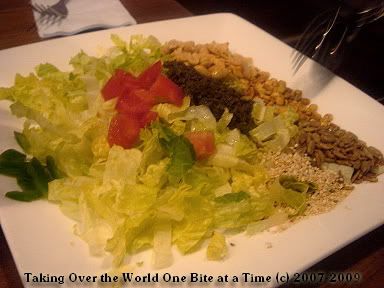 Tea Leaf Salad
Salad Prepared with Imported Burmese
Tea Leaves, Tomatoes, Lettuce, Fried Garlic,
Sesame Seeds, Peanuts, and Split Yellow Peas
The tea leaf salad was on the
7x7 Big Eat List
and I was hesitant to try it because I have never really been adventurous in different types of salad…especially the Asian kind. The most "Asian" I ever got to an Asian salad is the Chicken Salad with Mandarin Oranges at the Elephant Bar. However, as far as eating salad with tea leaves…I get scared. That is why I am so glad that 7x7 had this on their list because otherwise, I would not have even been interested in trying it out. I also liked that the server prepared it tableside. I believe that it is important for the restaurant to let us know what exactly in the salad.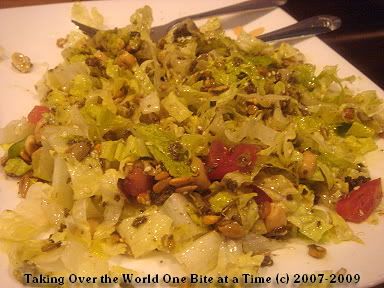 After the server combined all the ingredients
I was pleasantly surprised with how good this salad was. For those who have never tried this salad, the tea leaves are in a paste - almost like a thick pesto that is more of a contributor to the dressing. The server added some acidity with a generous squeezing of a lemon overtop. The tea leaves left a subtle flavor which I cannot really describe in words. It is a different flavor which I haven't been exposed to much. There were peanuts and split peas which added crunch, but I could have done without them. The lettuce and tomatoes would have been just fine. Not something I would eat all the time, but it was very good and Star enjoyed it very much.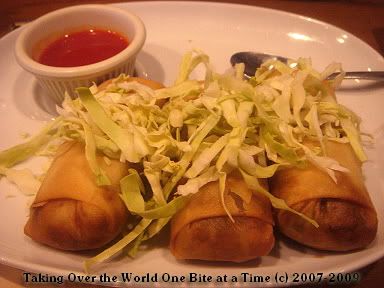 Vegetarian Egg Rolls
Homemade Egg Rolls Frilled with Bean Thread Noodles,
Shredded Cabbage, Celery, and Carrots
Keeping with the vegetarian theme, we went for the egg rolls. There is always a fear when ordering egg rolls that they would be too greasy or soggy. These were fantastic. The wrapper was cooked without leaving an oily mess on our fingers. In vegetables inside were flavorful. I particularly liked the addition of the bean thread noodles. They are also known as cellophane noodles which is used for
sotanghon
, one of my favorite pancits.
Pork Curry
Burma SuperStar Curry with Potatoes
Star saw my pain and said it was okay for me to order a meat dish. I really wanted to make the effort in making the meal as vegetarian as possible though to let her see that I do respect her knew eating style. BUT. Jo is an herbivore. I'm EOE - an equal opportunity eater. I have never had curry before that had pork. This meat is so tender and full or flavor. It is a different kind of curry - a little bit of Thai and a little bit of Indian. I was even reminded of Filipino menudo or kaldareta when I tasted it. The combination of pork and potatoes took me back when Inang made adobo. I can really see the mingling of flavors in this dish. It tasted it had a tomato based, but I could be wrong. But what makes it special are the spices used to flavor it. Like I said before, kinda like a Filipino menudo but with a little more aromatic spice in it. It wasn't spicy-on-fire-hot, but there was a smoky heat at the back of my throat after eating it. The pork won me over right away. So tender and melt in your mouth. I would order this again most definitely.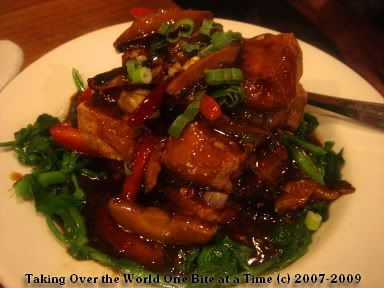 Tofu Tower
Silken Tofu Lightly Fried on a Bed of Watercress
Topped with Mushrooms, Bell Peppers
in a Chili, Black Bean Sauce
Star was spying on the table to her left and saw this. We asked the server for our own plate and it was incredible. Perfect balance of sauce and vegetables. The tofu was divine - crisp exterior but the inside was smooth. There were also different textures from the chewy mushrooms, tender watercress, to the fresh peppers. It really looked like a tower as it was presented like a building with the tofu slabs acting as a building blocks. Like the curry, not overly hot. Perfect spice and great choice of veggies. Again, something I would order if I were here.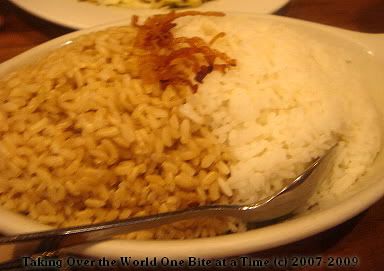 Starches
Japanese Short Grain Brown Rice
and Jasmine Long Grain Rice
I really appreciated that there were different types of rice here. I also saw coconut rice for those who like that stuff. I like the plain rice because I want an unbiased platform for my stews. Star went healthy and ordered the brown rice.
I loved Burma SuperStar and cannot wait to come back. I was scared that we would not have been able to find parking and get a table, but we did fairly quickly. It does get filled up quite fast, and as we were leaving we saw lots of people waiting outside for a chance to get in. I can see why Burma SuperStar has a great following. The food was fantastic. Because Burma is bordered by so many different countries, the food is influenced in different ways as well. You get inspiration from India, China, Laos, Thailand…such a beautiful array of flavors. What I appreciated most was that the food catered to vegetarians. Many items on the menu can be made vegetarian if that is what the diner wants, and I am so glad that there is a place that does that. This place is a winner in my book.