Restaurant
:
SPQR
Address
: 1911 Fillmore b/t Bush and Pine, Pacific Heights, SF
Phone Number
: (415) 771-7779
Cuisine
: Roman Italian
Date Last Visited
: March 10, 2009
I call Pacific Heights my second home because I spend more than 8 hours of my day there for work. Prior to working in this neighborhood, I had never been there before, so exploring and getting to know this place for the last year and a half has been a joy. Pacific Heights is known for their high-end stores and boutiques like Ralph Lauren, Betsey Johnson, MAC, among others, but it was only until recently that some really good places to eat had opened. In the last year, three fantastic restaurants opened on along Fillmore:
DOSA on Fillmore
nearby Japantown,
Pizzeria Delfina
, and SPQR. SPQR, which stands for "Senatus Populesque Romanus" - the people and senate of Rome - is a Roman osteria owned by the same folks as
A16
in the Marina. As you can probably see, location location location is a priority to them Real estate is not cheap in the Marina nor in Pac Heights, so these guys aren't fooling around. One day, I had a REAL big craving for SPQR during lunch. Y'all already be knowing about my obsession with the 7x7 Big Eat SF 100 list. So you can probably guess what I had during my lunch break.
When I got to the restaurant at lunch (which is only on Monday and Tuesday, by the way), it was fairly empty except for a couple of two-tops near the kitchen and a few stools filled at the bar. So when I came in, I pretty much had a choice of where to sit. Another important thing about SPQR is that they do not accept reservations, so get there early! I loved their olive oil and bread. I love Italian bread the best out of ALL breads, so I welcomed this whole-heartedly. As for my lunch, I could've gotten an entrée or ppasta, but instead I chose from the antipasti menu. SPQR's antipasti menu is very interesting as it is divided into "COLD," "HOT," and "FRIED." You can order one dish for $8 or 3 for $21 when ordered together. I wanted the full effect, so I chose one from each section.
HOT - House-Made Sausage with Ceci
After I ordered, I wondered to myself, "Why did you get the sausage?" I usually do not like sausage, but the words "house-made" convinced me to. I just had to sample something that they made on the premises. Restaurants usually order their sausages from other purveyors. Like I said, I am not a big fan of sausage, but this was actually very good. The ceci, chickpeas or garbanzo beans, were a mix of mashed ones and whole ones. Very interesting combination, and a very good one at that.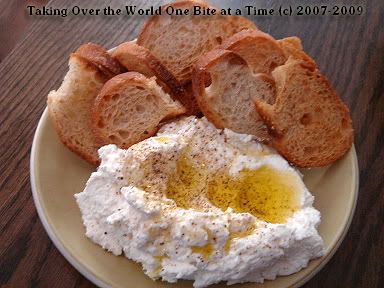 COLD - Fresh Ricotta with Crostini
Okay, let me tell you about this plate of pure lusciousness. You guys know what ricotta cheese is, but I don't think you have had ricotta cheese like this. It was absolutely INCREDIBLE. It was creamy and had that wonderful cheese flavor. It was so good spread on those crispy crostini. I had lots of this leftover, so I made sure to put it in the chiller at work. But before I headed for home, I stopped by ACME and bought a slab of ciabatta. I toasted slices of that bad boy and spread the cool ricotta on top. OUT OF THIS WORLD. I just checked and this is no longer on their menu (tear); however,
I had a fresh cheese at their sister resto A16
, but in mozzarella form. They really know how to make their cheese, those SPQR and A16 folks.
FRIED - Brussels Sprouts with Lemon and Garlic
Okay, so here were the Brussels sprouts that 7x7 wanted all of us to try out. They ate like French fries. Seriously, they were crispy and a little salty. Plus there was a fantastic tang from the lemon - which is perfect with fried food of any kind. I never had Brussels sprouts fried like this before, so I was surprised at how addicting they were. Of course I didn't finish all of them, but when I had them the next day for brunch, they still kept their crispness. Good stuff.
I would have to say that this lunchtime meal was a success. Because they are only open for lunch on Monday and Tuesday, I knew I had to take advantage of that during my break. Sometimes I walk by during dinner and they are packed. Lunchtime was a little quieter and the servers give you more attention. The service is a bit odd though. There was someone who sat me, then someone else served me one dish, then the bartender served me even though I wasn't sitting at the bar…I didn't mind it at all because the bartender was very cute. *blush* Just like T-Pain says…**
I would have to come back for dinner to sample their entrées. They change their menu often due to the availability of produce at the market and what is in season. So it is safe to say that if you come here once or twice a month, you will see something different from the last time you came. Come to think of it, Ate Di has been bugging me to join her for dinner here. Maybe soon I will take her offer. Great food and great atmosphere. Cool and sophisticated ambiance and warm service with a smile.
**Look out for her behind the bar…glasses and mohawk. Adorable.