Restaurant
:
Slow Club
Address
: 2501 Mariposa St. at Hampshire, Potrero Hill, SF
Phone Number
: (415) 241-9390
Cuisine
: American, Slow Food
Date Last Visited
: May 15, 2009
Dining Partner
: Bub
My Bubster is so sweet. On Friday, we were planning on a dinner date, but we didn't know exactly where to go yet. I don't know who exactly suggested it, but he ended up picking a place off the
7x7 Big Eat 100 list
. He has always been supportive of me trying out everything on that list - I don't know whether he REALLY is supportive or if just wants it done and over with. Either way, I have someone who is going to get me to finishing it. =) See? Bub is there for me…even though more than half of my salary goes to food, but he's included in the eating, so we both win.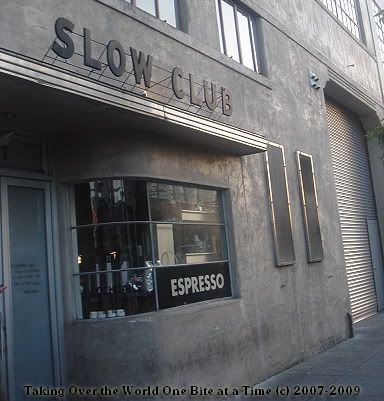 Slow Club is in the Potrero neighborhood…a part of the City that you won't find me at very often. Matter of a fact, before this visit, I don't remember if I have even been here before. I'm kinda glad Bub was my dining partner because he knew exactly where to go. The façade of the restaurant fits the very industrial feel of the rest of the neighborhood. Can we equate this part of SF to the Meatpacking District of NYC? Maybe. All I can say is that if you are hipster, as are most of the inhabitants of Potrero and the nearby Mission, you'd probably like it here. The servers are very casual and our's in particular had blonde dreadlocks, Cleopatra-influenced eye make-up, and a cheetah-printed, skin-tight tube dress. She was HOT. =)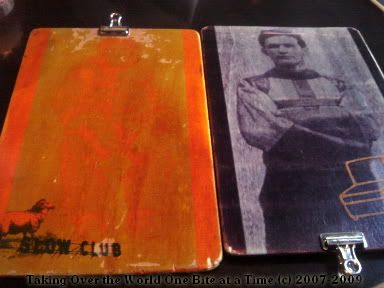 Since the restaurant changes their selections according to what was available at the market, they don't have permanent menus with laminate or special covers. Instead they are simply printed on paper and set on these little clipboards. They were about 4x6 or 5x7 inches and had really cute graphics on them.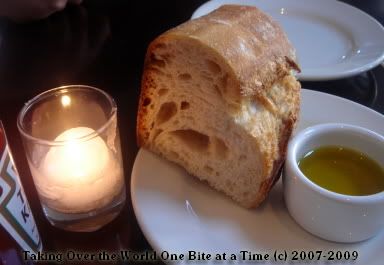 This bread was gone in no time. Nothing too special about the bread, but I have noticed the change of the accompaniment. Meaning, that more and more places serve their bread with olive oil rather than the traditional butter. Have any of your noticed that in your area? Slow Club is not solely an Italian-menu'ed restaurant, so I found this to be interesting. Maybe establishments are just being more cautious about fat intake.
Pan Roasted Northern Halibut
Yukon gold potatoes, bacon lardons, agretti, and salsa verde
I ordered the fish…yes…the fish. First of all, I usually don't order the fish. Second of all, this is the best halibut I have ever had. With the price tag of $25+, it better have been good. Fortunately for me, it was that and beyond. The light and perfectly cooked halibut wasn't flavored with anything because the fish's true flavor was so lovely that masking it with spices and other seasonings would just spoil it. The fish was flaky and tender and delicious! What the fish is sitting on are the agretti - they look like mini bunches of chives, but their flavor was more on the tangy side. I *lurve* sour flavor with my fish, so this was PERFECT. The potato medallions were browned and a bit crisp on the edges. The bacon lardons were crispy and added some nice saltiness. Overall, a superb and beautiful dish.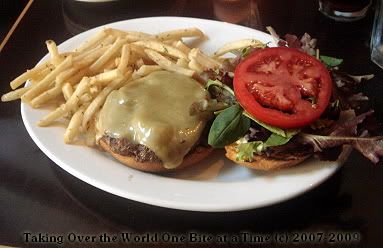 Burger
Prather Ranch dry-aged ground beef, greens,
tomato, balsamic onions, Dijon mustard, aioli,
and jack cheese, served with French fries - $12.50
Bub says, "This burger was the shit! It tasted so good as it was being devoured by my beautiful face. The only thing I would change about this burger was the amount of spicy mustard it had. I could have easily just taken some off with my knife but I decided to enjoy it as it came. The choice of lettuce was interesting as it was not the regular iceberg. First thing I thought when I saw this was 'I'm not a rabbit! I don't like this kinda lettuce unless its with a salad."'
As you can probably tell, Bub is not used to having his burgers so fancy-shmancy. I would have to agree with him on the amount of mustard. The mustard taste just overpowered the balsamic onions - that I know because I didn't even notice them. This burger is so easy to chomp down. It literally melted in my mouth. Took a bite, chewed a few times, and it just disintegrated. I think I know why spring greens were used instead of the "regular iceberg" - they wilt faster than that sturdier iceberg lettuce adding to the "melt in your mouth" affect. Lovely burger. No wonder it is on
7x7's Big Eat SF 100 list
. It was just delicious. We could have easily ordered another one and eaten it just as fast as the first.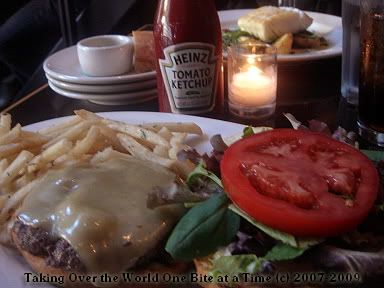 Dinner is served!
Taken from Bub's side of the table.
Gorgeous setting with his favorite condiment as the star.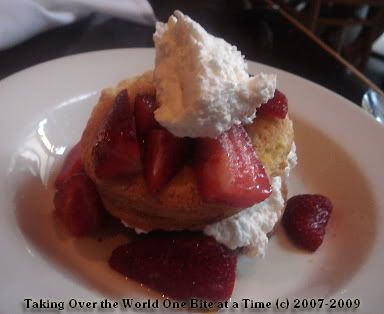 Strawberry Shortcake
with macerated strawberries, sponge cake,
Chantilly crème, and mint syrup - $7.50
Y'all know that I love strawberry shortcake, but this one was not one of my favorite versions. I guess it came down to the type of cake used. They used more of a sponge cake, which was just okay. It was a bit tough and a bit too dense in my mouth. We were full after eating half of it. I usually prefer a flaky biscuit as my "cake." It's lighter and easier to go down. I wasn't a fan of the mint syrup either. Something too mouthwash-y about it. Dessert was good, but not as good as I expected.
Slow Club was a great place to go to on a Friday evening after work. Good place to unwind and to eat some great food. I do have to say that it did get a bit loud, but if you're into that, you'll love it. There is a small bar area at the rear of the restaurant if you want a few cocktails. Unfortunately on this visit, we didn't sample any of their appetizers, but if I do have the chance to go again, I will be sure to check that part of the menu out. They NAILED the entrées. Hands down, best halibut ever. Burger was heavenly. Dessert - meh. I did see that they use Bi-Rite ice creams which is great. As the name boasts, this place has "locally grown and sustainable" in their mantra. They support regional purveyors and sources as much as they can. I am so glad that they do because that fish or that burger would not be as extraordinary if they cut corners and settled for stuff that was frozen and flown in from across the country. Everything was so fresh and delicious. Fantastic food and I highly recommend it.