Restaurant
:
Poleng Lounge
Address
: 1751 Fulton St. at Masonic, NOPA, SF
Phone Number
: (415) 441-1751
Cuisine
: Asian
Date Last Visited
: June 5, 2009
Dining Partner
: Bub
Whenever possible, Bub and I try to make Friday night our "date night." The workweek is usually stressful for the both of us and Friday night is a good night for us to unwind and be happy it is the weekend. I mean, who DOESN'T like Friday? Bub and I try to make it to different parts of the City, especially to parts we haven't been to much. We have never been to NOPA before together, so for this night, we decided on Poleng Lounge since we have been wanting to come here for the longest time.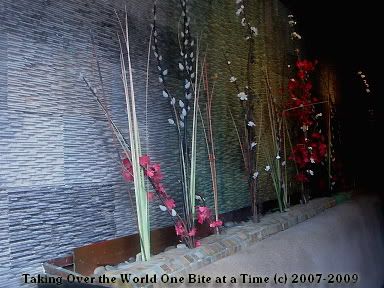 Poleng Lounge is an Asian restaurant with a tea lounge as well. The whole place had a comforting
zen
quality to it. There is a bar immediately when you walk in and then a dining area complete with couches and lower tables for those who want to eat but also relax if they wanted to. After 10:00 p.m. or so, the place becomes a true lounge where a DJ is bumping the beats, the bartender is mixing up cocktails, and a dance room is open for those who want to bob their heads to the beats and drink those cocktails. This is a place that is frequented by USF students.
Cucumber Scented Water
Because this is an Asian-influenced restaurant, there are chopsticks in the table setting. I like how they gave us a whole container of water so that we didn't have to wait for someone to come by and refill our glasses.
Our Iced Teas and a shot of simple syrup
Bub ordered the Peach Green Tea to the left and I ordered the Passion Tea. I don't remember what kind of tea leaf mine was made from, and they don't have it listed on their menu online, but I tasted some coconut in there also. Both teas were very refreshing and unlike any iced teas we have ever had. They are way more sophisticated than the Snapples we are accustomed to. I do like my tea on the sweet side, so that shot of simple syrup was gone.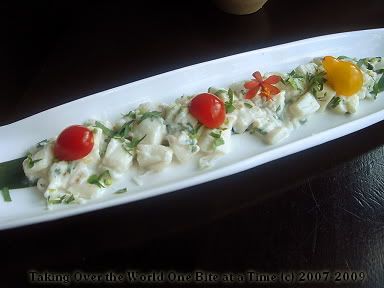 Walu Kinilaw
A Filipino Ceviche with Hawaiian Butterfish "Cooked"
in Sugarcane Vinegar, Lime Juice, and Coconut Milk
with Thai Chilies, Toybox Tomatoes, and Cilantro
I know I might sound mean for saying this, but I was so glad that Bub is allergic to fish. I saw Chef Tim Luym make this on Adobo TV and it looked awesome. I have tried kinilaw in the Philippines, except with yellowfin tuna, and I noticed that Filipino "ceviche" use vinegars as well as the traditional citrus juice. I am glad this was on the menu.
The butterfish was nice and dense. It really felt like it was cooked. I usually get scared of coconut milk in a recipe, but in this case, it worked. Nice acidity from the vinegar and lime juice and nice spice from the Thai chilies. You can say that I ate the entire, I mean, Bub wasn't going to help me. *smirk* Delicious.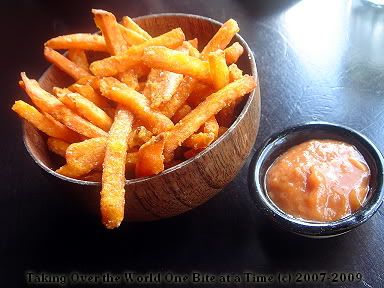 Sweet Potato Fries
with Banana Ketchup
These sweet potato fries are on the 7x7 Big Eat List, and they are so addicting. The fries were beautifully crispy on the outside and the inside was almost creamy. That house-made banana ketchup is to-die-for. If I had a bottle of that stuff at home, best believe that it would be slathered, poured, on everything. There were tiny chunks of onion in there that really made me believe they make it from scratch. I love banana ketchup from the stores, but this tops those for sure.
Crispy Adobo Wings
Succulent Deep Fried Chicken Tossed in
Adobo Glaze Served with Achara (Pickled Papaya)
This was a dish that I had my eye on for the longest time. I mean, it was one of those dishes that made me go, "hmmm?" Adobo. It is the quintessential Filipino food. Ask five different families and they will give you five different recipes, but it is still adobo. BUT! Is this dish deserving of the title "adobo?" Traditionally, the chicken or whatever is cooked IN the soy and vinegar. These wings were just fried and then thrown in some sort of adobo-like glaze. Is THAT adobo?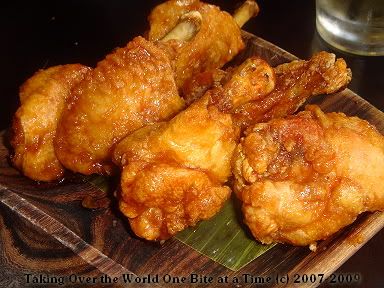 Nevertheless, they were really good. The wings were plump and juicy and perfectly fried. They kind of reminded me of San Tung's dry-fried wings…but without the spices and chilies. I love chicken wings no matter what they are cooked or tossed in. These are adobo-LIKE, but not customary adobo just because of the cooking method. I don't think they were aiming for it to be traditional adobo anyway, but they did succeed in making a great chicken wing. I would have liked it if there were more on the plate! The atchara was good, but I would have liked it to be a bit more pickled. I like the sourness with fried meat. =)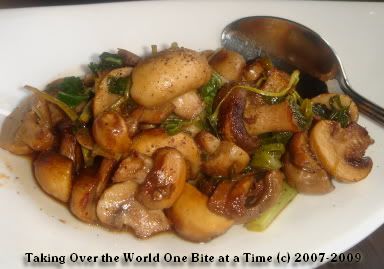 Adobong White Button Mushrooms and Kang Kong
Bub absolutely loved this combination of vegetables. Just by tasting it, I could already make out the ingredients to make this at home. "Adobong" means cooked in soy sauce and vinegar. I make adobo all the time, so this should be very simple. I've had pork, long beans, and squid cooked in adobo, but never kang kong and mushrooms. So simple, but one of my favorites dishes here.
Szechuan Chicken Lettuce Cups
Minced Chicken and Vegetables Served with Cool Lettuce Cups
Aren't those lettuce cups gorgeous? They were indeed cool and crisp. Cut perfectly, as well. That's pretty much I can say about this dish…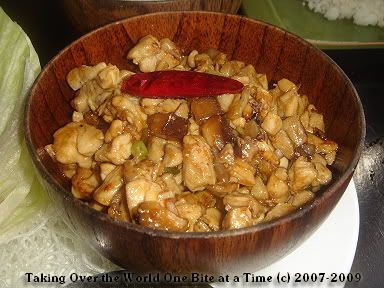 In a nutshell, Bub said that we could have done without this dish. The chicken was kind of boring. The menu said that they could make the chicken "mild," but I didn't get much spice from the regular-spiced chicken. I don't know about this dish. I'm kinda indifferent. Didn't like it. Didn't hate it. Just okay. Didn't excite. Wouldn't do it again.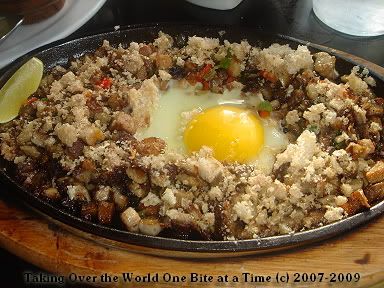 Sizzling Sisig
Pork Medley with Coconut Vinegar, Onions,
Peppers, Fresh Calamansi, Chicharones, and Egg
Bub thought we f*cked up because we didn't eat sisig in the Philippines. I know, how could we NOT have sisig in the Philippines? Even Anthony Bourdain had sisig in the Philippines. Not us. Since we have been back, we have had sisig from Tribu and Ongpin, the Tribu one being the more traditional in flavor and recipe. Bub saw the sizzling sisig on the menu here at Poleng and he ordered it without hesitation. We ordered it with the egg and chicharones, for an extra price of course. You can add liver also, but I passed on that most definitely. The egg comes on the hot plate raw, so you have to mix it up with the meat to get THIS: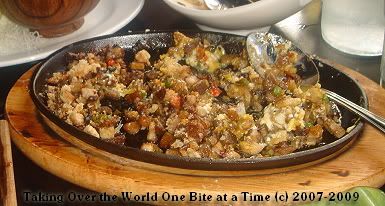 I was afraid that the egg would be still raw even after combining it with the meat, but the plate was hot enough to set the eggs. I really liked this sisig, but Bub, being the American boy that he is didn't like it as much as I did. He likes the Americanized version of sisig - meaning meat, peppers, onions, and sauce. That is it. He doesn't like the random parts of pig face. Meanwhile, I do. This version reminded me a lot of the sisig I had with friends at a now defunct Filipino eatery near Top of the Hill in Daly City. I could feel my arteries clogging, but it was worth it.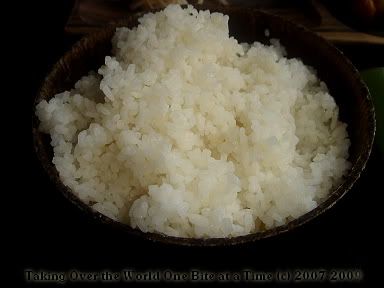 Broken Jasmine Rice
I never had broken rice before and I found the shorter grains to be easier to eat because less chewing is needed obviously. I don't know much about broken rice either. Can you buy rice already broken? I would love to make this at home. It was fluffy and light and perfect with all our dishes.
So what did I think of Poleng? I was pleasantly surprised. I was expecting the food to be sub par, but there were dishes that I loved - the kinilaw and adobong kang kong and mushrooms especially. The bill ended up being about $80 with tax and tip included. Not cheap, but there was more than enough food for the both of us, even with Bub's big appetite. Pleasantly surprised. Would I come back? Yes. It's not traditional Filipino food, but it's fun to have modern versions of the dishes I have loved all my life.