Restaurant
:
Hard Knox Cafe
Address
: 2448 Clement St. b/t 25th and 26th Avenues, Outer Richmond, SF
Phone Number
: (415) 752-3770
Cuisine
: Southern Soul Food
Date Last Visited
: May 7, 2009
Dining Partner
: Ate Di and
Biz Markie
=)
So Ate Di had this massive craving for fried chicken and collard greens. The last time we tried to get soul food at the
Hard Knox in the Dogpatch
, it was getting dark and we didn't want to get mugged out there. So we resorted to eating fried chicken near the ballpark. It was alright, but we knew we could have been grubbing on something so much better. Since that night, we promised ourselves to get Hard Knox again. We picked a random Thursday and decided to go to the newer of the two branches that had just opened in the Outer Richmond. It was just one bus ride from my work, so it was perfect.
Youuuu Got What I Neeeeeeeeeeed…
When we got to Hard Knox on Clement, we saw a table set up with some Hard Knox t-shirts, hoodies…and some handsome fellas. Turns out that this day was the restaurant's one-year anniversary in the Outer Richmond. Biz Markie was inside partying it up with the soul food lovers inside! C'mon! How could we resist? $10 us a raffle ticket for the drawing at the end of the night, a t-shirt, and food! We knew that we wouldn't get to have our fried chicken and collard greens on this day, but we knew this was not going to happen again. A restaurant can only turn one once! We were ready to party it up Hard Knox style!
I love Hard Knox because of their funky decorations and random objects hanging on the tin walls. This location differed from the one in the Dogpatch because it had two levels, a smaller bar and different dining area. However, it still exuded that Southern vibe that we love. Before I move on, I just wanted to thank and give props to the awesome servers that night. They never denied any party-go'er their 2nd, 3rd, 4th, 5th helping to the food and they were ultra sweet. Now on to the food!
Fried Chicken Drumettes
These little drumettes were treated like the bigger pieces of chicken they serve here - crispy skin and succulent meat. How could you have only one of these? I could have eaten this entire plate.
Meatballs with Pineapple Salsa
I don't see anything particularly "Southern" about these meatballs, especially with the pineapple salsa, but they were delicious. I like how they combined the savory meat with the sweet fruit.
Mushroom Strudel
I loved these. The mushroom filling in the middle was buttery and rich. I don't know what they put in it exactly, but I wouldn't be surprised if there was some cheese in there as well. I loved the phyllo dough and how crispy they were.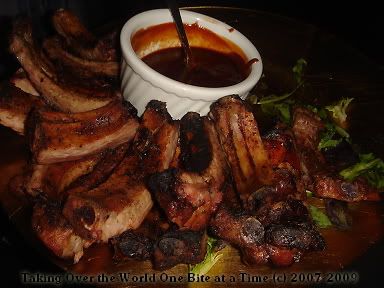 BBQ Ribs
Now these were incredible. It did get a little tricky eating all these finger foods and holding a drink and balancing a small plate, but it was done. Like the chicken wings, I could have eaten this entire platter.
I didn't get to take a picture, but they were also serving deviled eggs, mini pecan tarts, and other goodies! So good!
Biz Markie on the turntables and throwing down the beats
I just wanted to go down there and sing a song with him. Right when I had a chance, I went on
YouTube and watched the "Just a Friend" video
. He still is talented with his music. He spun for the night and even gave us a little sample of his beat-boxing here and there.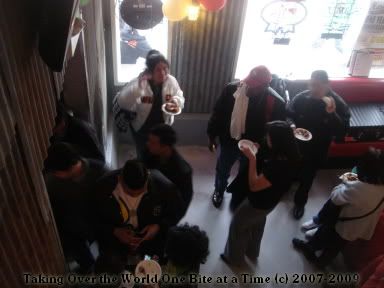 Can You Spot Ate?
I don't think they expected it, but there was an NBA game between the Celtics and the Bulls that night. The place got packed in no time and it began to get hard maneuvering our way around the restaurant. It started to feel like a club at some point. The picture you see above was taken when we first got there, so there was still room to breathe.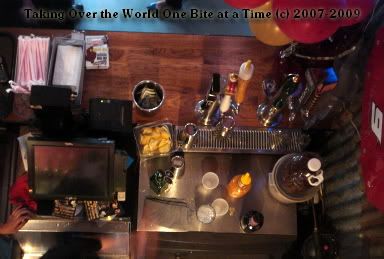 The Bar
Their bar is a bit smaller than the one in the Dogpatch, but the bartenders made sure everyone was well hydrated.
Of all the days in the year to come, we chose the perfect one. We seriously didn't know that this was going on, so when we were invited in, it was hard to say no. Lots of hot people, tight beats, thrilling game shown on the flats screens, yummy food, and BIZ MARKIE! How many people can tell you they ate fried chicken with Biz Markie? Well, technically I didn't meet him personally nor did I see him eating any fried chicken, but just knowing that I was in the presence of a hip hop icon is big.
Way back when I heard that Hard Knox was owned by Asian folks, I laughed and thought, "Oh, what the hell are they trying to prove?!" But in all honesty, I ate my words. Hard Knox is an incredible establishment founded by awesome people who showed skeptics (like me) that us Asian people have soul, too. Seriously, I underestimated my peeps, and I was wrong. And I am glad to be proven wrong because their food here is so damn good.
Congratulations to the owners, staff, and supporters of Hard Knox Café.
Happy 1st birthday and I wish you more luck for the future.
P.S.
The Restroom - "Office of the Mayor"

I seriously love their humor here.
P.P.S.
I seriously never seen so many people wearing their SF gear
outside
of a Giants game. It was so hot. =)