Restaurant
:
Carnelian Room
Address
: 555 California Street at Kearny, 52nd Floor of the Bank of America Building, Financial District, SF
Phone Number
: (415) 433-7500
Cuisine
: New American
Date Last Visited
: May 28, 2009
Dining Partner
: Ate Di
So Ate Di and I seriously needed a catch up dinner session. Due to work and things in our personal lives, we really did not have much time to see each other often. So for this dinner, we had to do it special and big. Well, not BIG, but more HIGH? Not
that
kind of high, silly. Let's just say that we were above almost all the people in San Francisco for this dinner.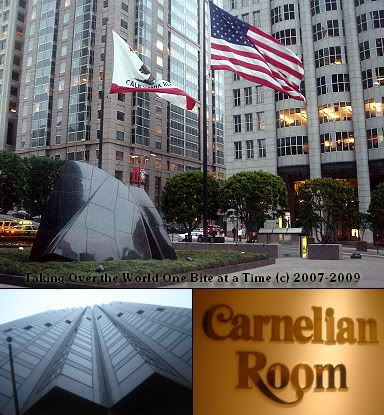 Where I was headed after work was the Bank of America Building on California Street in the heart of the Financial District. The Bank of America Building is an integral part of San Francisco's skyline. It's one of the most recognized silhouettes besides the Transamerican Pyramid. Coming here, I already knew that this was a place where many companies congregated over lavish and expensive meals dealing with business and closing deals. What fun. I got to the corner of California and Kearny and immediately saw that big hunk of granite. I don't know what it symbolizes, but it's one thing I always see when I used to take the 9BX from 3rd over the Sacramento St. to catch the 1. Momma's workplace (the Ritz) is also two blocks up California, so this was all familiar street-territory. Now inside the actual building is a different story. Even getting to the restaurant was a journey in itself. Hey, if a restaurant is situated on the 52nd floor, getting there should be special too.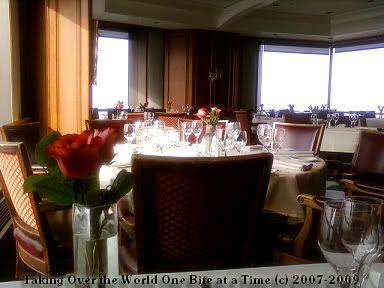 The Main Dining Room
I was told that the Carnelian Room is actually one restaurant with several private rooms. I assume where many of the City's business hold their meetings. We were there right when the dining room opened so it was still pretty empty. The leather-padded chairs were comfy and the white table-clothed tables were ornamented with the perfectly placed silverware and shining stemware. I said ornamented because the tables were truly beautiful, as if the glasses and forks and spoons were decorative items. Very classic tablescapes that boasted sophistication and simple beauty.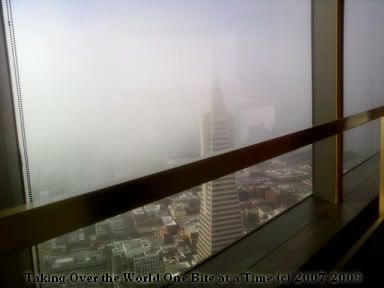 I was sort of bummed that on the day we came, it was incredibly foggy at that altitude. In the picture prior with the tables, those windows should have shown blue skies and the Bay Bridge. On our day, no. I thought they were actually white walls walking in, but Ate Di told me it was the fog. Sayang. I was just astonished how dense it was up there. There were times when we got to see the water and the piers, but pretty much we saw white most of the time. Bummer.
Bread and Butter
I found it interesting that they offered crispy flatbread in their bread selection. They were almost like crackers. I had to get over my intimidation with the silent atmosphere in the dining room before eating the flatbread because they were so loud. They were great with the butter.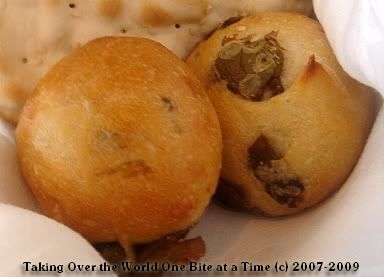 Olive Bread
I know, I know. Me eating olive bread? For some reason, these were alright. I did cringe when I had to chew on a huge hunk of olive, but the bread part was delightful.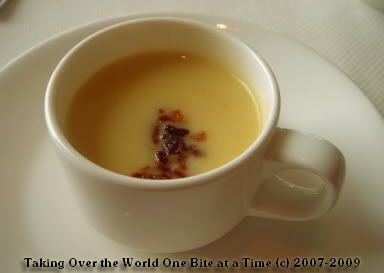 Amuse Bouche:
Cream of Potato and Leek Soup
This soup had something in it that reminded me of
soupas
that I make home. It might be the oniony-creamy based. Whatever it was, the presentation in the cappuccino cups, brown bits floating on top, and the soup's voluptuous mouth feel were all very enjoyable.
Seared Georges Bank Scallops
Sausalito Springs Watercress, Saffron Vanilla Cream - $17
Ate Di and I were in sync that night because we were eyeing the same dishes. We were going to share whatever we ordered, so it worked. The scallops had a beautiful sear, as you can see, and the inside was still very tender and rare. Some of the sweetest scallops I have ever eaten. The Saffron-Vanilla Cream was a bit lacking for me because I didn't detect the saffron. I saw the vanilla bean, but at the time of consumption, they did not stand out. Besides from that minor hiccup, this dish was fantastic.
Oxtail Ravioli
Crisp Pancetta, Capay Farm Cavelo Nero,
Braised Cipollini Onions, Wild Mushrooms - $16
When I think ravioli, I think the customary fillings of sausage or ricotta cheese or spinach. Oxtail in ravioli was something very new and intriguing to me. They were not kidding with this starter. Everything on the plate added something to the whole dish. The wild mushrooms added some earthiness that was rich and intense. The crispy pancetta - which were essentially like bacon bits without the smokey flavor, added saltiness and another deep component. Beware kids, this is not a light dish. I like the addition of the sweetish cipollini onions the cavelo nero (a dark green in the kale family) because it made the dish seem a bit more forgiving, but everything about this dish screamed RICH.
What I love about oxtail is that because the meat sits on the bone, there is a lot of connective tissue and fat around. When the oxtail is cooked down, the meat has a "lip-smacking" feeling which I love. Kind of sticky and kind of buttery. Again, not something you'd eat all the time, but something I like to indulge in every once in a while. Quite delectable as the filling of this one-of-a-kind dish.
Grimaud Farms Duck Breast
Soft Polenta, Baby Rainbow Chard,
Baby Turnips, Blackberry Gastrique - $36
I love duck in every shape or form. Duck breast in this presentation is one of my favorites - seared skin so that it is a little on the crispy side, yet leaving the meat on the pink side. Duck does had a gamey aftertaste, so that is where the berry reduction comes in. A gastrique sounds like it has to do something with the stomach, but it is a fancy word for a reduction. The sweetness from this gastrique cuts through the gamey tones of the duck. Let me tell you something about that polenta - it was out of this world. By far, the best polenta I have ever had. It was creamy and simple. I loved it. All around this dish was tremendous.
Seared Ahi Tuna Sofrito
Dungeness Crab Filled Squash Blossoms,
Scallion Scented Couscous -$38
Ate Di and I were wondering what a "sofrito" was before ordering. Instead of asking the waiter, we ordered it to find out. "Sofrito" is actually the bright red sauce that is usually made with annatto seeds. I don't know the flavor of an actual annatto seed, but I know that they are widely used to color sauces. This sauce had a tangy, peppery taste to it - reminiscent of a Spanish-influenced sauce. The ahi tuna steaks were awesome, as expected. They were simply searing leaving the center of the steak quite rare. Be rest assured that there was no tuna left on my plate. Great stuff.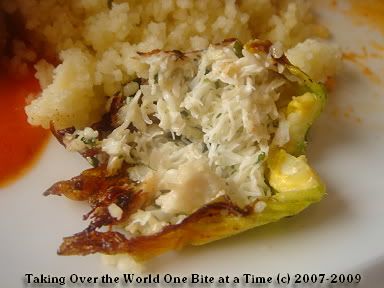 The starch of choice was the "scallion scented" couscous. Again, they are great with their carbs here at the Carnelian Room. It is easy to mess up couscous, and their's was just perfect. PERFECT texture and PERFECT portion. Just perfect. I do have to complain about a few things. I didn't get enough "scallion scent." Sorry to be picky, but if it's said to be scented, it better be scented good, but that is a negligible detail. The squash blossoms on the other hand…I was expecting big, beautiful, yellow squash blossoms filled to the max with a generous amount of crab. They were filled with crab alright, but do you see the size of those squash blossoms? I didn't know that they grew them that small. I was quite disappointed. With this price, I thought they'd be generous. C'mon. Almost $40 an entrée here! If we forgot the squash blossom scandal, the dish was excellent. HOWEVER, the squash blossoms were featured on the menu as if they were a major component, but they were just guest stars…no more like extras. Tuna the main star and couscous the supporting actor. Squash blossoms, extras. They were just there. =/ I guess since everything else on the plate was just fabulous, I'll let the squash blossoms slide. For now. >=(
Raspberry Soufflé
So what rises after you beat it and get it hot? Soufflé, of course! *cymbal crash* Get your head out of the gutter, buddy. Okay, so many that was so funny. *laughs to self* At the beginning of the meal, our fantabulous server told us that if we wanted to order the soufflé that we would have to do it then. The normal dessert menu had a great selection, but we had to end the meal with something quite special. Ate ordered the raspberry, and what I liked about it was that raspberry wasn't mixed into the batter enough to make the whole thing pink. I appreciated the raspberry-less portions of the soufflé because I don't favor that particular berry.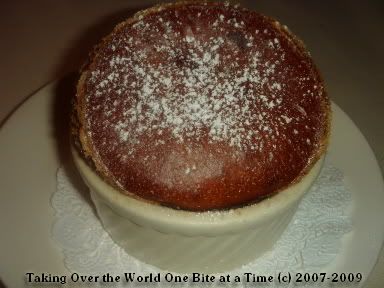 Chocolate Soufflé
Before Being Christened by the Chocolate Sauce
Like how it should be, the sauces were poured into our soufflés tableside. I think that just adds to the experience. I am not too much of a chocolate dessert person, but this was marvelous.
One thing I would have tweeked, was probably the sauce. Ate Di found it perfect as it was because she is a chocoholic, but for my taste, I would have preferred a vanilla sauce instead of the chocolate. I like contrast in my desserts, and this was too much chocolate for me. For me, see? If you are like Ate Di, this is heaven in a ramekin. Nonetheless, the soufflé was perfect in texture. You will always find me burning my tongue on soufflé because I am so excited to eat it. Wonderful.
Yes, this meal was a success. What would have made it PERFECT was if the fog went away. The sights would have been glorious, but the meal itself was over the top and superb. The service was top-notch and the dishes were splendid as well. The prices are a bit high, but you are paying for the real estate. Maybe next time, we should check the weather forecast before booking the reservation. Don't get me wrong, I don't regret this visit at all, just would have been nice to see more of the views. But that's San Francisco for you - the fog is part of the City's personality after all and the City would not be the same without it.