Class
: Spring Cupcake Workshop
Venue
:
Sur La Table
Address
: 77 Maiden Lane, Union Square, SF
Phone
: (415) 732-7900
I always wanted to go to culinary school, but that didn't happen obviously. However, I have always had this yearning to learn more and more about cooking and food. Sur La Table has given me a chance to "go back" to school with their cooking classes. This is my first "real" cooking class. "Real" is in quotations because I actually did take Home Ec in middle school and Foods class my senior year in high school, but this is the first class that I wanted to take voluntarily and one I had to pay for as an adult. I am so jealous of all my folks out there who went to culinary school. *shakes fist* I went alone. Yes, alone. I didn't mind it at all actually. I actually was so excited for myself about this class that I didn't even ask anyone to come with me. Not purposely. I simply forgot. This class was for me, myself, and I to enjoy.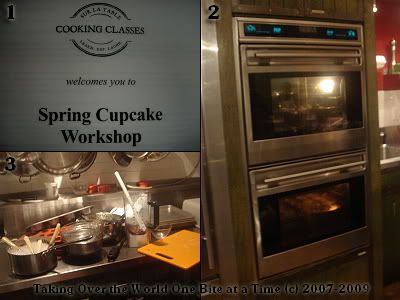 Okay, technically, this is a "baking" class more than a "cooking" class. Baking requires more precise measurements as it has to do more with chemistry than anything - a great point made by our fabulous instructor Barbara Dimas. The menu was incredible:
Boston Cream Pie Mini Cupcakes with Chocolate Glaze
Banana Cupcakes with Caramel Buttercream
One-Bowl Chocolate Cupcakes with Cream Cheese Frosting
Strawberry Cupcakes with Strawberry Buttercream
The structure of the class is simple. There are 16 students max to a class, today there were only 15, and the 16 are divided at two tables with 8 each. There are two prep areas with two sides, aside from the main island with the stovetop. Each group of 8 is then divided in half again. 4 people will be responsible for one of the recipes.
Before breaking out into our groups, Instructor Dimas did a demo on making caramel since it is pretty easy to mess up. She also did a quick demo on how to measure, weigh, dry and wet ingredients, and suggested the best tools to use. After 20 or so minutes, we were allowed to go free and make our cupcakes. According to where I was sitting, I should have went to the side with the chocolate cupcakes, but something made me go to the other side. Our table only had 7 people, so I could have flip-flopped to either side. Let me tell you, I am SO happy that I went to the strawberry side. I mean, shouldn't it be default I went there anyway? Strawberries are my favorite fruit.
The pictures you are about to view are taken from about the second portion of the class. I was too shy to take my camera out and start snapping, but when I saw others take their cameras out, that's when I started photographing. So a good part of the instructor's demo and batter-making was missed.
Making the batter was pretty easy. All the ingredients were already pre-measured for us, so it was pretty much "dumping" them into the bowl according to the recipe. As for the batter, I paired with a lovely lady and after she dumped the dry ingredients in a bowl: all-purpose flour, cake flour, baking powder, and salt, I whisked them. She proceeded to cut up 2 sticks of butter into cubes while I separated an egg, cracked 3 more, and whisked them with a fork. We then went to the stand mixer to cream the sugar and butter until it was almost white in color and whipped properly. Once the creamed sugar and butter were to that color, I added my egg mixture about egg at a time. Once all the eggs were in, I helped with the "alternating" method - adding a third of the dry ingredients, another girl added half of the wet ingredients she prepared, I added my second third of dry, then she added her wet, and finally I added my last installment of the dry ingredients. The other two ladies prepared the strawberries that were cut into tiny pieces. After combining the batter, they added their strawberries. It was a gorgeous mixture. It was scooped into the cupcake tins and put in the oven to bake.
What You Need for the Strawberry Buttercream
1.
Fantabulous Strawberry Buttercream recipe
2.
Sugar and egg whites for meringue
3.
Strawberry puree and three sticks of butter cut up
4.
Bain Marie - aka double boiler - aka a bowl over a simmering pot of water
For the buttercream, I separated 4 eggs as we only needed the egg whites and cut up 3 sticks of butter into chunks. One of the ladies cut up strawberries and pureed them. We were going to use the
Swiss Meringue
method, where we were going to "cook" the egg whites and sugar before whipping it in the stand mixer.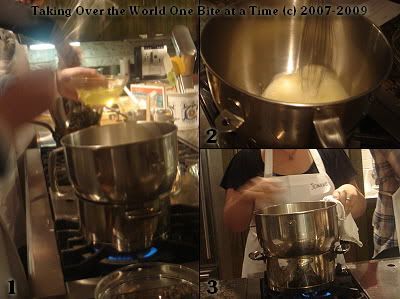 1.
Adding the egg whites and sugar to the double boiler
2.
Whisking whisking whisking
3.
C'est moi!
It was important to use the double boiler because doing this on direct heat will give you super sweet scrambled egg whites. It was also vital to keep whisking to incorporate air, dissolve the sugar, and to keep the mixture from curdling. As you can see in the picture, I did my part!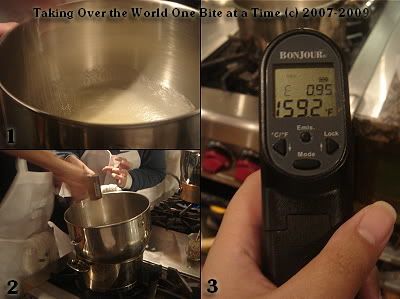 1.
The mixture getting lighter and lighter
2.
Measuring the temperature
3.
The "trigger trigger"
It was also important to make sure that the meringue never got over 160 degrees F. That is why we had one of those fancy measuring gadgets. SO Alton Brown. I thought that was the coolest thing I ever saw. You just point it at whatever you want to take the temperature of and it gives you an instant reading. So cool. I pulled the trigger when the last of the ladies was doing the whisking and we came pretty damn close to our target temp of 160 degrees F. Instructor Dimas came by with a candy thermometer to confirm we were done. It was beautiful!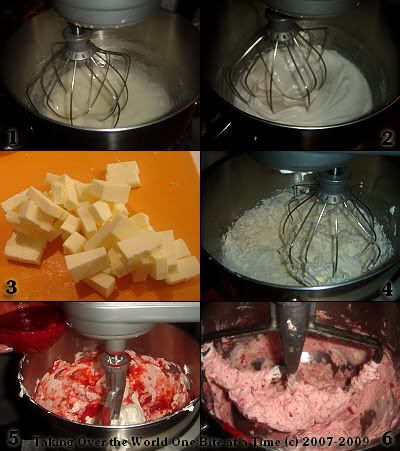 1.
We transferred the bowl from the double boiler to the stand mixer. We had to let it go for 5 minutes on medium speed. This incorporated in more air to make it grow in volume.
2.
After the 5 minutes, we increased the speed and let it whisk for another 6 minutes. Do you see how glossy and white the mixture became? It almost looked like marshmallow fluff.
3.
After the 6 minutes and ensuring the mixture had stiff peaks, we had to do the more tedious job in the whole recipe. Remember all that butter? We had to add them to the meringue -
one piece at a time.
4.
Adding the butter took AGES, but it made the meringue velvety smooth. There was a time toward the end that it looked real ugly and curdled, but we were told that always happens. We panicked, but it ended up looking divine.
5.
After making sure all the butter was whisked in properly, we switched to the paddle attachment and slowly added in the strawberry puree. It looked ugly at first because it didn't seem that the fat would mix with the fruit, but…
6.
In the end, it was beautiful!
We couldn't frost the cupcake yet because they just came out of the oven and frosting them now would simply melt the buttercream. So we waited and I spied on what the other teams were doing.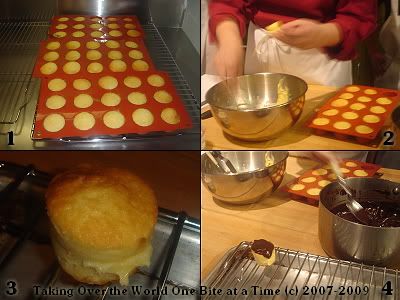 Assembling the Boston Cream Pie Minis
1.
Because the little cupcakes were going to be split in half, Instructor Dimas thought that baking the yellow cake in silicone cups would be easier to take them out.
2.
Demo-ing how to spread the vanilla cream filling
3.
A mini Boston Cream Pie sans the ganache
4.
One complete Boston Cream Pie mini cupcake. Adorable.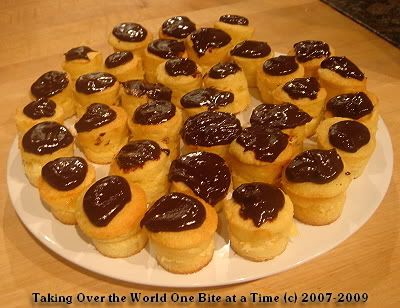 Boston Cream Pie Minis
These guys were done WAY before everyone else was done, which makes me believe that these would be easy to make if one was pressed for time. The yellow cake, vanilla cream filling, and chocolate ganache glaze were made from scratch, but it was super quick. They were adorable and tasted great. I believe the chocolate used was Guittard brand - super deep chocolate flavor.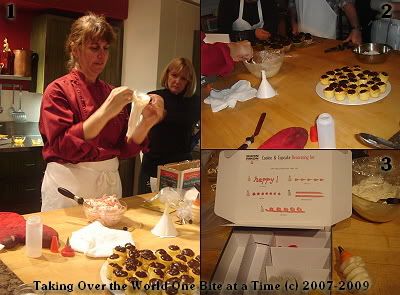 Pastry Bag Demo
Because everyone was close to decorating, Instructor Dimas showed us how to fill a piping bag. She also showed us that we can use plastic piping bags and fancy piping squeeze bottles. I prefer the traditional piping bag over the bottles. There were several different tips to choose from, but I like the star tip, so I chose that one to decorate.
Banana Cupcake Assembly
1.
Banana batter ready to be put in the oven
2.
The gorgeous cupcakes at the cooling station. I thought that the height of the banana cupcakes was very impressive. The chocolate ones had height also, but our strawberry ones were a bit flat.
3.
The "competition." The banana team also made a butter cream using the same Swiss Meringue method as we did, but the only differences were that they whipped their butter and added it that way instead of adding one chunk of butter at a time, and of course, they used caramel instead of the strawberry puree.
4.
This was the caramel that was demo-ed before we all started baking. Instructor Dimas warmed it up again to make it a garnish for the banana cupcakes.
5.
A finished banana cupcake with caramel buttercream, sliced fresh banana, and caramel drizzle.
6.
Oops! On the way to the presentation table, a few fell off the platter. Sayang.
Finished Banana Cupcakes
I don't like bananas usually. The only way I seem to like them is fried. The banana cupcakes looked more like muffins to me, but I was impressed. Deep banana flavor. If you like bananas, I think you'll love these.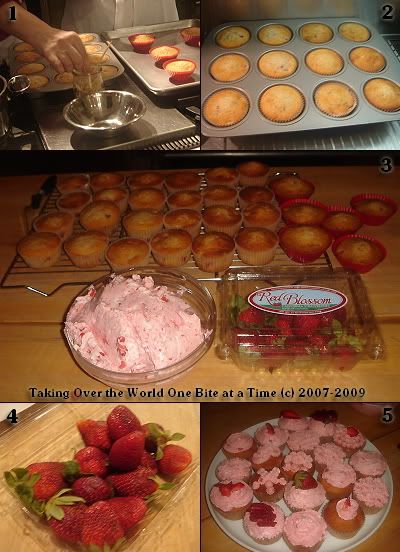 Finishing the Strawberry Cupcakes
1.
Using the toothpick to see if the cupcakes are done
2.
Our beautiful (and hot!) cupcakes cooling down
3.
Ready to be frosted!
4.
Delicious strawberries to be used for garnish
5.
Our gorgeous platter of strawberry cupcakes with buttercream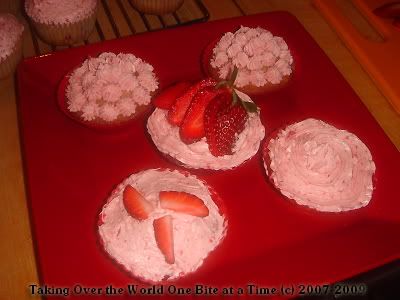 Cupcakes baked in silicone cups
I decorated the two at the top
I love decorating cupcakes. The last time I used a pastry bag was probably back in high school when I baked cakes and decorated them for the school's staff. It was so much fun getting back in that groove. I also loved getting the compliments from the other students on how "cute" my cupcakes were. =P The other ladies in the grew did an AWESOME job as well by using the strawberries as garnishes. Strawberries in the cake, in the buttercream, and on top? Winner.
So how did they taste? Oh. Em. Gee. They were the best cupcakes I have ever had in my entire life. I am so serious. I don't know how I will ever go back to store-bought cupcakes or boxed cake mix. The cake itself was light and moist and the fresh strawberries still were a little juicy. That buttercream was TO DIE FOR. The strawberries in there made all the difference. That pink color was to pretty. I will say it again, "The BEST cupcakes I have ever put in my mouth." The best. Period. I am so proud of me and my ladies who made them. I do have to agree with my team mate that these were probably the most labor-intensive of all the cupcakes. The strawberries had to be cut, we had to make that Swiss Meringue, and pipe the butter cream, among other things of course. We got rave reviews from the other students. Yes, our's were the best of the bunch.
Our Class's Finished Products
On the left:
chocolate cupcakes with cream cheese frosting and coconut
At the top:
banana cupcakes with caramel buttercream and fresh banana
In the Middle:
Boston Cream Pie Mini Cupcakes with Chocolate Ganache Glaze
On the right:
Our Strawberry Cupcakes with Strawberry Buttercream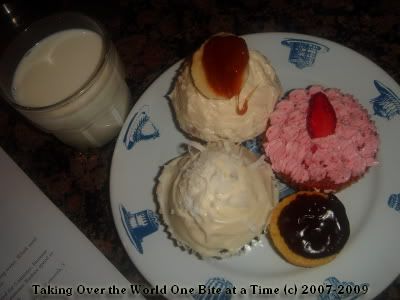 My Plate
No, I didn't eat them all in one sitting
This class was fantastic! I have to admit that it was on the pricey side, but taking in consideration of our instructor's knowledge and friendly personality, awesome kitchen helpers, fabulous kitchen utensils, fun classmates, and delicious finished products, I would have to say that it was all worth it. I seriously cannot wait until the next time there is another cupcake class. Go to the Sur La Table website and a calendar of cooking classes is there for you to look up. If there is room in the cupcake class, mind you there are only 16 spots available, grab a spot as soon as you can! I reserved my place 2 months in advance because I knew it would fill up fast. I checked how many people there would be just a few days before the class, and there were 14 folks on the waitlist. One of them could have taken the spot today, matter of fact. Instructor Dimas suggests calling the store before the class in case anyone doesn't show or cancels. They can possibly give the spot to you.
Before this class, I had never made cupcakes from scratch. I bought the boxed mixes and canned frosting. I'm wondering again, "How am I going to go back to those?" Frosting in a can will never be as light as the buttercream we made. I can try to make the buttercream, but that would mean I would have to buy a stand mixer. Eek. Or I can simply add fresh strawberries to boxed vanilla cake mix. The possibilities are endless when it comes to cupcake combinations. I had so much fun and I wanted to purchase a "souvenir" if you will to remind me of my great time here. So I bought a book that Instructor Dimas showed us at the beginning of class. It is called "Hello, Cupcake!" and it is the greatest cupcake recipe and decorating book I have ever seen. I am not going to tell you what's in it, but my favorite recipe in there is for the spaghetti and meatballs. Yes, now it is up to you to figure out what I am talking about. We were also able to take some of our creations home and I seriously wish I didn't split the three-pack of cupcake boxes with my two team mates. I should've kept all of them so that I had more to take home. Ha! Heffa. I brought three of the Boston Creams, one of the chocolate, and two of my strawberries home. Damn, those strawberries are just magnificent. Can you say wedding cake? Great possibility.
My Cupcakes of Vanity
Sorry, just had to.