Restaurant
:
AsiaSF
Address
: 201 9th St. b/t Howard and Tehama, SOMA, SF
Phone Number
: (415) 255-2742
Cuisine
: Asian Fusion
Date Last Visited
: April 22, 2009
Dining Partner
: Spanish Janis, Bub, and a whole bunch of party people
So I have this friend and her name is Yannis aka Spanish Janis aka Hunny Bunny. I met Yannis in the 4th grade at George Washington Elementary School in Daly City. I left GW after only a year there because we moved to another neighborhood and the next time I would see her again would be in high school at Westmoor. Yannis was one of my greatest friends there and I knew that even though we would separate after high school, we would still be cool as hell. We met when we were 9 years old and this year we turned 25, so you can say that we have known each other for a very long time.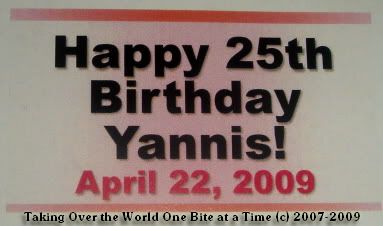 personalized menus at the venue
I am horrible at keeping in touch with people. Ask anyone who I was good friends with. I am pretty good at going with the flow - even if it means not contacting people who I used to keep in contact with a lot. That may be a personality trait I need to work on before I become a full-fledged loner. Ha! Anyway, I was so excited to see the invitation I got from Yannis about her 25th birthday shindig. Matter of fact, I hosted her 16th birthday at my condo 9 years ago. Oh the memories. I felt so guilty for putting off hanging out with her after so many years, so I knew I owed it to her.
On to the food!
Because we were a big group, Hunny Bunny had to reserve the three tables for our party and pick one of the pre-arranged menus. She picked the "Golden Feast" which consists of four first course dishes, three second course dishes, and ice cream for dessert.
FIRST COURSE
Porcupines:
shrimp, scallops, and water chestnuts rolled in
cellophane noodles, crisply fried and served with a
plum wine/soy dipping sauce
These looked aesthetically great, but when I bit into it, there was this weird mouth-feel - like a sticky, grainy, just weird texture. I also didn't detect the shrimp or scallop flavor. I don't know. Visually appealing, but the taste I was looking for wasn't there. Not my favorite.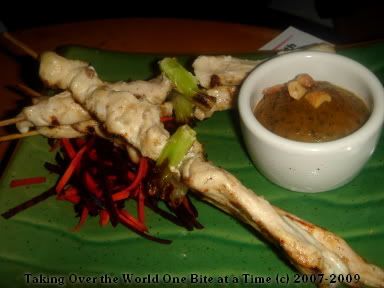 Tamarind Chicken Satay:
marinated chicken breast, skewered and grilled,
served with Asia SF's spicy peanut sauce
I thought that the chicken was really good and the peanut sauce was awesome, but are they kidding about how skinny they were? They are skinnier than my pinky! I would have been more impressed if there was a bit more meat on the stick.
Sesame Steak Salad:
thinly sliced beef tenderloin seared and tossed in a sesame dressing, piled atop crisp greens, red onions, mint and basil
I was expecting this salad to rock my world. It was alright. I did find the steak to be cooked well, but the greens seemed to be overdressed with a dressing that wasn't particularly extraordinary. I mean, it was good, but having already tried other steaks salads elsewhere (like Fresca on Fillmore), I was not
that
impressed.
Asia-dilla:
a quesadilla stuffed with duck, jack cheese,
manchego cheese, fresno peppers and scallions,
with sun-dried cherry crème fraiche
Yes, I must have been some Mexican-Asian person in my past life because tell me why this my favorite appetizer. The quesadilla was nothing special, but that dipping sauce was great! I am such a condiment whore because I absolutely love the sauces here. I really couldn't tell what exactly was inside the quesadilla. Whatever. It was all good.
Ahi Burgers:
freshly ground pan seared ahi tuna, with teriyaki glaze and horseradish-Chinese cabbage slaw on focaccia roll
Um, I really don't know how to start describing this sandwich. I understand that they made patties with the tuna, but I think it would have been better if they left it as a steak and seared it to a medium-rare. When I bit into the "burger," it was watery. Not juicy, but watery. There was no flavor in the water either. Uhh, yeah, that is why I'm kinda *gah* about it. Not a favorite at all.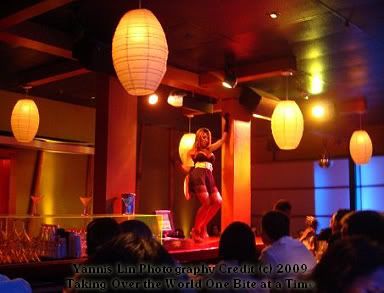 AsiaSF is famous, or should I say infamous, for the lovely ladies who serve, "sing," and dance for the crowd. The bar is their stage and they lip-sing to famous songs.
"I Kissed a Girl"
She was my favorite. She was so bubbly and cute!
"Crazy in Love"
Now, they all look gorgeous and they really excited the crowd, but what makes them special is that they are
gender illusionists.
That's right, these ladies are biologically male, but live and perform as women. They are not drag queens - they are real women now. Boy, was I envious!! They were absolutely GORGEOUS!
SECOND COURSE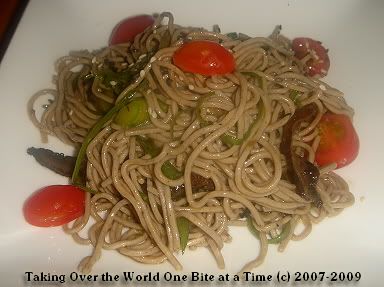 Truffled Soba Noodles:
grilled Portobello mushroom and asparagus slices, tossed with cool sesame soba noodles, white truffle oil and scallion threads
Things just got a little bad with this dish. I don't know what it was exactly, whether it was because it was cold or because it had truffle oil or both. I actually don't mind cold noodle salads, but now I think it's more the truffle oil. I hate truffle. It is so overrated. Bub didn't seem to like it either. We just picked at the vegetables. This is when fusion goes wrong.
Baby Got Back Ribs:
baby-back pork ribs, grilled with a honey-tamarind glaze, served with pickled carrots and Japanese sweet potato chips
I would have to say that this is my favorite dish of the second courses. I give them props for the name because this place has its erotic side, and I can't think of a better name for these. Good ribs with a nice sweet sauce. The pickled carrots were a treat. I love pickled veggies with my meats. I LOVED the sweet potato chips. I noshed on them all night. The waiter gave an extra plate to our table. Score.
Orange Lamb:
pieces of lamb sirloin sautéed in a mildly spiced orange sauce, served with coconut jasmine rice and Thai cucumber salad
I wasn't too sure about this dish…I should have substituted the lamb for tofu. I don't do lamb because of the aftertaste, but the orange sauce kind of masked it a little bit. The cucumber salad also did a good job of cleansing the palate. I didn't care for the taro chips, and I think I would have preferred the jasmine rice to not have any coconut in it. It just reminded me too much of Inang's sweet rice that I usually have for dessert only. This dish was just ok.
Lovely Malena
This girl could dance!
You should have seen her heels…they were HIGH.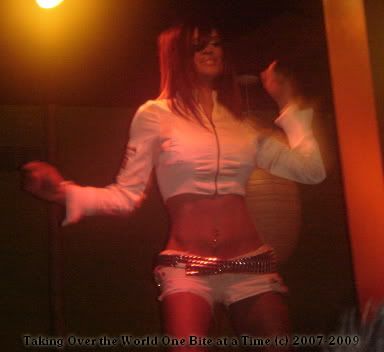 Bub's Favorite Girl
Like I said before, the girls serve, bartend, ring you up, sing, dance, everything. This girl was posted near our table because she organized the drinks that were to be brought to the table. So every time I would look up, her backside was facing me. Not like it was a bad thing…I wasn't too sure if I was supposed to be jealous because Bub kept looking at her…I don't know!! I was looking and he was looking. I guess we were even. LOL. She's so hot.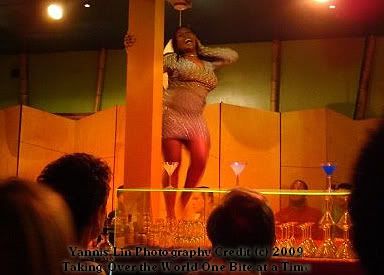 This girl was awesome as the MC and the hostess for the night. She really knew how to get the crowd excited to party.
DESSERT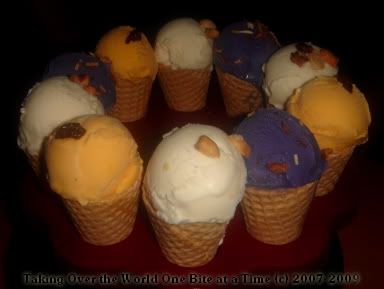 Ube with Toasted Coconut
Langka with Sun-Dried Cherries
Macapuno with Candied Peanuts
This just SCREAMS Mitchell's. I wasn't mad at that because I *lurve* Mitchell's tropical-flavored ice cream! I loved the presentation piece for the ice cream cones. There is a slot for each cone to settle in. I should find one for my house!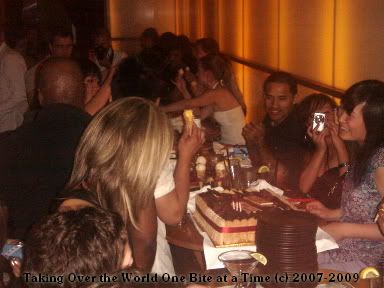 Hunny Bunny was presented her cake
Bub and I were at the other end of the table, so I had to migrate to get a closer shot.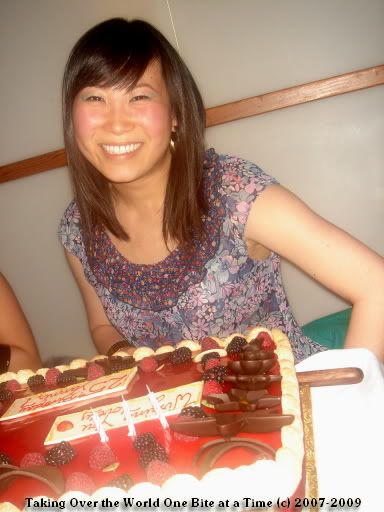 Isn't she lovely?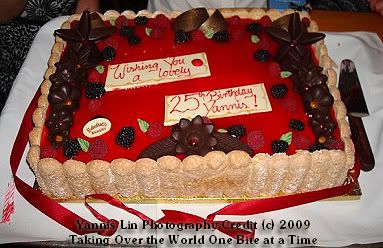 Raspberry Mousse Cake from Schubert's Bakery
Yes, another cake from Schubert's!! This is not the first time you have heard that bakery in my blog. Schubert's is a great place for special occasion cakes and they did an awesome job with Hunny's.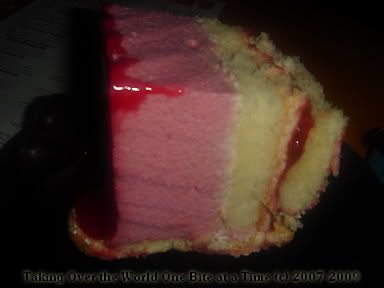 Y'all know that I do not do raspberry much, but Schubert's seems to change my taste. This raspberry mousse cake and the Princess cake we had for Fuego's baby shower both have raspberry in it and I love them both.
Vitals
:
Bakery:
Schubert's Bakery
Address:
521 Clement St. b/t 6th and 7th Avenues, Inner Richmond
Phone Number:
(415) 752-1580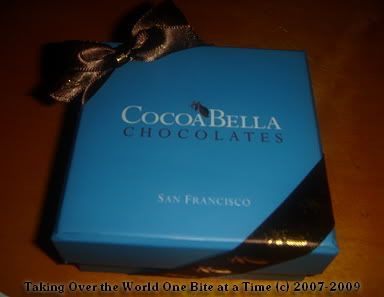 The Best Party Favors Ever
SHOTS!
I don't know the guy who bought our entire party shots, but he's awesome!! I don't know exactly what it was, but i was lemony and sweet. They were really good! I could have had 10 more of them.
CHEERS!!!
I think you come to AsiaSF more for the atmosphere and the entertainment more than the food. The food wasn't that great, but I think everything else - the people and drinks made up for it. Before coming here, I imagined this place a lot bigger, but pictures can fool the eye. I must say that the entertainment is unique to only this place. And if it is your birthday, don't be surprised if one of the girls brings you to the bar for a "blow job." Seriously. Hunny got one. No, she got two. It was crazy. By the end of the dinner, Hunny Bunny was drunk and happy. It was a joy to see her that way. =) I was so happy to see her having a fab time!
Happy 25th Birthday, Yannis!
Hunny Bunnies 4-Eva!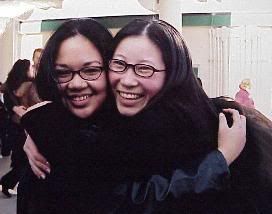 Flashback to 2002
International Foods Day at Westmoor High School
We Rocked the Dark Rimmed Glasses

***