Event
: SF Half-Marathon
Venue
: Golden Gate Park
Date
: February 1, 2009
Attendees
: Cuzzin Star and Cuzzin Run-Day
Last year, the day before Mother's Day, I got devastating news from Cuzzin Star. Her mother, my Auntie Lolit, was diagnosed with leukemia. Leukemia is a cancer of the blood in which there is an abnormal amount of white blood cells in the body. An unbalance of white cells to red cells is life-threatening. Luckily, Auntie went to the hospital and was told that there was treatment available to her. Today she is much healthier, and I thank God for that. As much as I am knowledgeable about cancers, as I work in an oncology practice in SF, nothing in this world can get you ready for the pain you feel when someone you love with your whole heart is affected by cancer.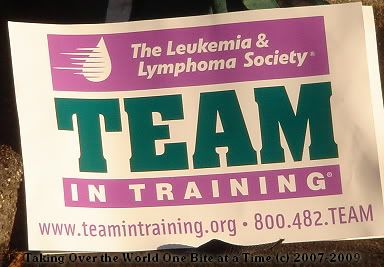 Someone who was especially affected by Auntie's diagnosis was my Cuzzin Run-Day. Like myself, Cuzzin Run-Day loved Auntie Lolit. If you know her, you'd agree that she is one of the most loving and kind women you will ever meet. Cuzzin Run-Day joined Team in Training, a group that raises money for The Leukemia and Lymphoma Society through sporting events like triathlons and marathons. Family and friends donated to this cause in hopes that the money he raised would soon find a cure for lymphoma and other blood cancers. For months, Cuzzin Run-Day worked his butt off and trained everyday. Each time he went out to run, he added another mile and another mile. Soon he was in the shape that would enable him to run the San Francisco Half-Marathon in Golden Gate Park.
On this chilly Sunday morning, Star and I woke up bright and early to see Cuzzin Run-Day take on this great feat. We actually didn't know the caliber of this marathon until we got there. We were in awe to see so many people run for so many different causes. We stood need the starting line, hoping to catch a glimpse of our cousin. At one point of the start, we did see Run-Day and we ran after him. Seriously, I was in jeans and a t-shirt and carrying my big purse and we ran after him to at least let him know we were there for him. It was a rush to chase him and of course he had to time to stop, so we ran with him for a quarter of a mile. Do you know how hard it is to get out of a group of running people? Now I know how Simba felt during the wildebeest stampede in the
Lion King.
Eventually we made it out (alive, thank goodness).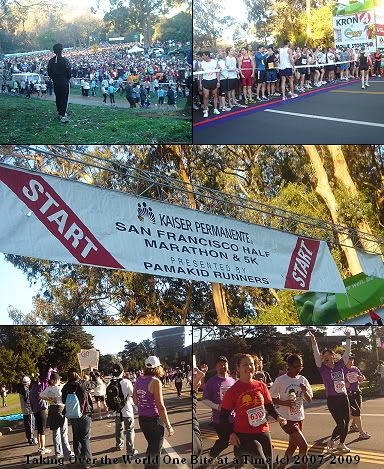 The San Francisco Half-Marathon was so inspiring. We watched other people on Team in Training run by and it made Star want to be in a marathon herself. I'm not a runner myself, and I don't plan on being a runner, but I do admire those who push their bodies and their will power. It was a beautiful day full of joy, happiness, and smiles from people who were there to support each other. Cuzzin Run-Day finished the marathon in about two hours and we were so proud of him. After all, he did it all for Auntie Lolit. We love you, Auntie!
*********************************************
Restaurant
:
La Corneta Taqueria
Address
: 2834 Diamond St. b/t Kern and Wilder
Phone Number
: (415) 469-8757
Cuisine
: Mexican
Date Last Visited
: February 1, 2009
Dining Partner
: Star
After the marathon, we were starving and it was so hard to find a place to park near Golden Gate Park that we decided to leave the area. We headed toward Glen park where Star knew of a taqueria that she thought I would enjoy. I love taquerias and Mexican food period, so I liked it already.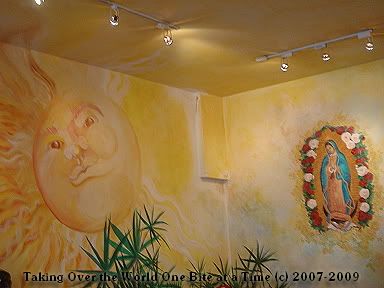 La Corneta is walking distance away from Glen Park BART station. I knew I heard the name because they have a location in the Mission as well. This is probably one of the cleanest taquerias I have been to. We all know that all taquerias are NOT created equal, as at times the best burritos come out of the dirtiest ones (truth be told!). I guess since Glen Park is a nicer neighborhood, this place had to be nicer too. When you walk in, you immediately see the ordering counter to the right and on the wall is a bright beautiful mural. It's very warm and welcoming.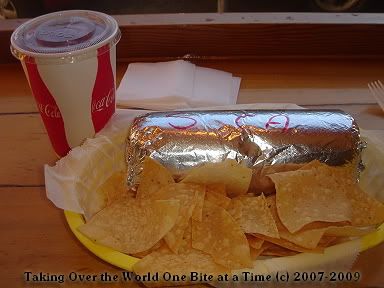 I ordered a super carne asada burrito on a spinach tortilla. "Super" has the beans, rice, choice of meat (which they have tons of different kinds, like polla asado and carnitas and even TOFU!), crema (kind of like sour cream), salsa (hot or mild - I get both), pico de gallo, lettuce, and guacamole. I ALWAYS request extra cilantro on my burrito. They serve you up some tortilla chips along with it. I also ordered a strawberry agua freca which was delicious and refreshing. Sure wish I got a larger size because it went quick. BTW, Star raved about her tofu burrito. The actual tofu medley also had onions and bell peppers cooked with it I believe. Great variation for vegetarians and those who just want to take a break from meat.
At every table are two bottles of salsa. I prefer the green one (salsa verde) over the red one. However, both are very good additions to every bite of burrito. Whenever they are on the table like this, some part of me wants to steal them…but I end up chickening out. Ha.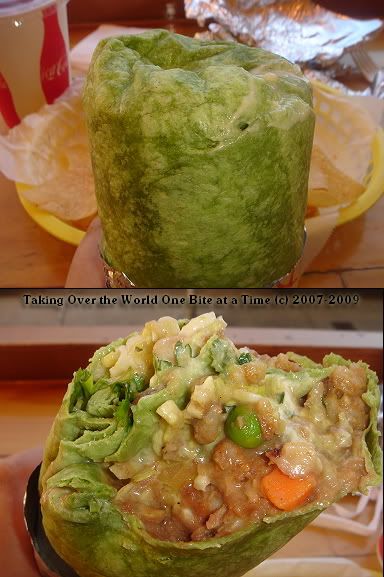 I must say that the burrito was delicious. I wish it was on a bit higher in temperature - I don't remember them cooking the meat to order as they do at La Tapatia or Ocean Taqueria. Instead the meat is stored in a chaffing dish ready to be scooped in the burrito. If they did cook it to order, the cheese would have been more oozy and the burrito would have been a lot juicier. THAT is what I wanted. A messy burrito is a fabulous burrito. I like it when there is a chance of the filling falling out and meat juices running down your arm. That's what makes eating burritos fun. Other than that, everything was good. Even the rice had peas and carrots in it. I appreciate them having different types of tortillas. More and more places carry red pepper flavored, carrot flavored, whole wheat…but spinach is my favorite.
Overall, this is a very good place for burritos. I read on Chowhound that the chicken is supposedly good. Next time! I don't frequent this area much, but if I am already on the freeway and get a hankering, this would be a good place to go. Close to BART and close to the freeway entrance. It's very convenient to get to and very clean. Nice suggestion, Star!