Restaurant
:
Delancey Street Restaurant
Address
: 600 Embarcadero St, SOMA, SF
Phone Number
: (415) 512-5179
Cuisine
: Traditional American
Date Last Visited
: January 17, 2009
Dining Partner
: Momma, Bub, Bub's Parents, Jay-Me, Bub's Family Friends
So the time had finally come. The time that most couples dread…the first meeting of the parents. YIKES. Bub's family decided on dinner at Delancey Street because the restaurant not only serves food, but a cause as well. All of the servers have been through the system at least once in their lives and Delancey Street gives them a chance to get their lives back on track. Bub wants to help those in that type of predicament as he is studying to be a drug and alcohol counselor. Bub has not always been a good boy. He himself has been through the system, and I am so proud of him for learning from his own mistakes and helping people who might have gone through what he had.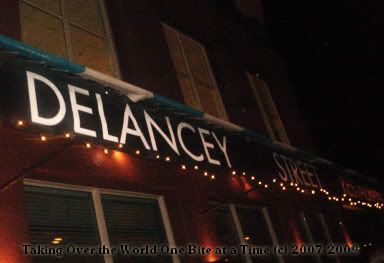 So this is where my mom and Bub's parents met. I thought Momma was going to be quiet and shy, but she was charming, sweet, and talkative. =) I love my mom. Bub's Mom is great also and seeing them together made me want to cry. I mean, it's been over five years! It just felt so great.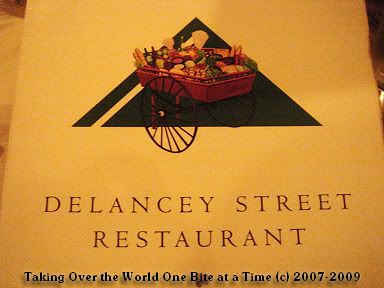 We were actually part of a pretty big party which consisted of myself, Momma, Bub's parents, Bub's family friends, Bub's best friend and Bub's two friends from work. I knew it was going to be a great party.
The bread was very good. Didn't get any of the French bread, but the focaccia was good.
Grilled Salmon Filet with Light Soy Glaze
with Grilled Vegetables and Maki Roll - $11.95
I think it's a sign that my Momma and Bub's mom got the exact same entrée. I tasted some of Momma's, and it was very good. The salmon was cooked perfectly. Momma went ahead and even added some of the wasabi to it. I liked it the way it was. The maki roll had a stick of cucumber in the middle and seasoned with wasabi as well. I think this salmon was on the "healthy" part of the menu, so there were no heavy sauces or sides. It was very good.
Spit Roasted Rosemary & Garlic
with Grilled Vegetables - $9.50
I chose the chicken and from what I tasted, it was good. I don't remember it being outstanding or anything. The reason why I really can't say too much about the chicken is because Momma took one piece and then Bub and I traded plates. I didn't expect him to eat the whole piece of chicken though! So I probably had two bites at most. I also didn't like the look of the roasted eggplant. Doesn't it look dry and ashy? Go back and look at Momma's eggplant. Her's looks a lot better.
Oak Fired BBQ Baby Back Ribs
with Mustard and Collard Greens and Sweet Potato Pie - $11.95
Jay-Me, Bub's best friend, got the ribs and they looked great. Luckily for me, I was sitting right across from him, so he let me steal one of the ribs. It was so finger-licking good. What was cool about his entrée was that he got a piece of sweet potato pie along with it. Good stuff.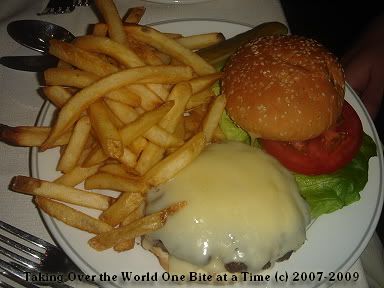 Bub's Off the Menu Request:
Cheeseburger with Fries Fries
Why did I not find it a surprise when Bub asked for a cheeseburger? I don't even remember it being on the menu! Oh, that cheese. Doesn't it look so GOOD? Like I said before, Bub and I traded plates and I got to have about half of his cheeseburger. Good burger. Loved the cheese!
The following are plates from the other guests at the table. They knew that I take pictures of everything, so they were more than happy to offer their plates for a photo shoot.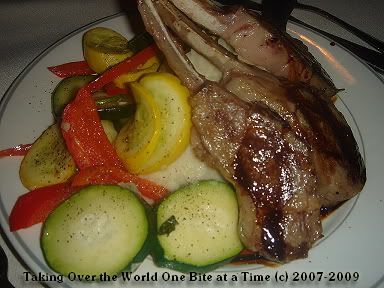 Grilled Rack of Lamb with Minted Zinfanel Sauce
with Mashed Potatoes and Sautéed Squashes - $13.95
I'm not a lamb fan, but those mashed potatoes and squashes look great.
Bourban Glazed Rib Eye Steak
with Wasabi Noodles and Corn on the Cob - $13.95
Now I was so JEALOUS of this plate's owner. Steak and noodles. Yikes. Why didn't I see this on the menu? I'm blind. Ha.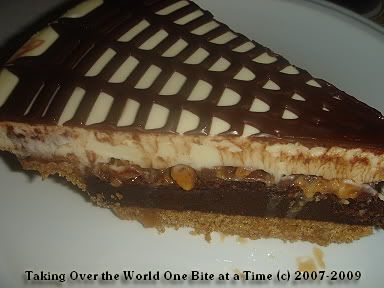 Chocolate Fudge Pie -
Cheesecake, Nuts, and Fudged Layered on a Crumb Crust
Dessert! This had a lot going on with the nuts and cheesecake and that thiiiick fudge. It was a beautiful pie - I loved the layers. Probably not something that I would eat everyday, but something I could go for if I ever came back.
Bub's Hot Fudge Ice Cream Sundae
Bub's sundae looked perfect, didn't it? Plus EXTRA hot fudge on the side? Sinful. That's Bub giving the thumbs up. You shoulda seen the look on his face when he was eating it. He was so happy. =D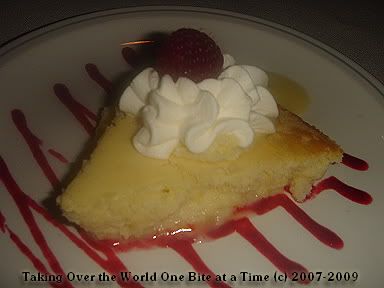 I don't know what this was called exactly, but Bub's and Jay-Mee's mom ordered one. It's so lemony! I loved it. It was light and sweet and tart. Perfect way to end the night.
Uncle Buddy's Coffee - =D
Jay-Mee's Dad is so cute. He came to our end of the table, talked to us, and insisted on me taking a picture of his coffee. Too cute.
If you like American food, this is the place to be. The selection will please everyone. Every time I pass Delancey Street, I remember the great dinner we had here. A dinner filled with laughs, smiles, and tears…of joy. Delancey Street will always have a special place in my restaurant heart because after all, it opened up a new chapter in my life with Bub. =) So if you are down for some good American food and to support a good cause, come to Delancey Street.