Restaurant
:
Astaria Restaurant
Address
: 50 E. Third Avenue, San Mateo, CA
Phone Number
: (650) 344-9444
Cuisine
: Californian
Date Last Visited
: March 13, 2009
Dining Partner
: Bub, Bub's Parents, Jay-Me, Cuzzin Star, Cuzzin Rox, Cuzzin Randor, and Ate Di
The Story:
Since I was heading for the Philippines the day BEFORE my 25th birthday, I didn't have much time or energy to arrange a celebration for myself. Besides, my family was planning to throw a party for my grandparents and the other March birthdays in our family, so I thought that was going to be enough festivities for me. Plus I was to have dinner with Tiffy & Co., so I was perfectly content with what I had planned already. As the day to my departure came closer, my family, especially Cuzzin Star and Bub were noticeably acting a bit fishy. I had dinner with Tiffy & Co. on Thursday, the day before this day. We initially had scheduling conflicts, so we had to rethink which day of the week we were going to have the dinner. Monday was when we started to plan, so Tuesday was too soon. We initially planned for Wednesday, but that was Dad's ma's birthday, so that left Thursday and Friday. I told Bub about the dinner and that we were still debating which night to do it and he said, "Thursday because we are having dinner with my parents on Friday." Okay, thanks for making arrangements without my knowledge, Bub. I thought that was a tad rude, but it didn't matter because Tiffy said Thursday was perfect anyway. I get a call later on from Star asking me if I would go to dinner with her on Friday, but since Bub made plans for me first, I told her that I couldn't. She insisted that I ask Bub. Okay…so I call Bub about Star's proposition, and without hesitation he says, "Yeah, just go with Star. We can go to dinner with my parents on Saturday." Okay…so why couldn't I have dinner with Tiffy & Co. on Friday then? Weird. At work, I was texting Bub and he asked me what my work number was, so I gave it to him. He told me that he would be calling my office to "check up" on me. Why? I don't know. No more than 10 seconds later, we get a phone call. I answer and a male on the other end asks for my colleague Fuego. Bub must think I am a fool or something because no matter how he changes his voice, I know it's him. I put him on hold and Fuego and I start cracking up like hyenas. It was him inviting Fuego to whatever was going on. I knew it. I knew something was happening, but I didn't know exactly what. I talked to Ate Di one evening and asked if she knew what was going on because everyone was acting weird. She claimed that she didn't know anything. Okay. I was getting frustrated. All I could do was wait for Friday to come. The anxiety of waiting KILLED me.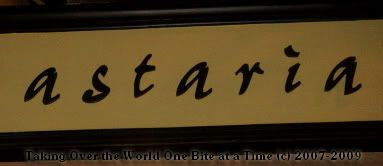 Astaria - The Venue for My Special Dinner
So Friday comes and Star comes to pick me up from work. She said she made a reservation for 7 p.m. As we drive South on 101, I had a good feeling we were going to San Mateo. Gut feeling. Gasp, we exit off of 3rd. As we are driving down 3rd Avenue, she says, "I'm not going to tell you what the place is called, but it's at number 50." I look ahead and see the Benjamin Franklin Hotel. I ask, "We're going to Astaria, huh? It's in THAT building. *points*" A look of "how the hell did you know?" came over Star's face and I knew EXACTLY what was going on. We reach the building and all we had to do was look for parking. I then see a parked green Honda Element with the exact same sticker on its back window that Bub's parents' green Honda Element has. It's an "OBAMAnos" graphic that Bub's parents got in New Mexico that you can spot from a mile away. I knew it. I KNEW IT! We luckily found parking just across the street (thank you, parking gods) and as we are exiting the car, Star supposedly makes a phone call to her SO and says, "Babe, we're here." Um, why would you call him for that? I KNEW IT. Right when we get to the hostess station, the hostess says "Happy Birthday" (uh, how did she know?) and out of nowhere I see Ate Di at the bar and I am so overwhelmed and we hug and I see my family at the table and yell, "You all lied to me!" That, my friends, is how I was surprised for my birthday. After I hugged everyone and exclaimed, "What are you doing here?!" about a dozen times, I calmed down and we all sat down for my birthday dinner. I felt so special that they all came together just for me.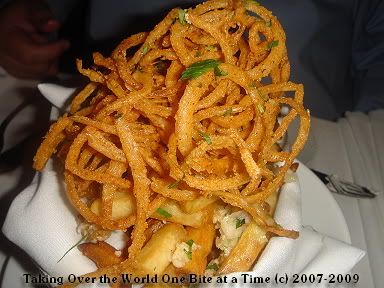 Onion Strings and Garlic Fries Beneath
Per Bub, "The onion strings were killer and garlic fries were the bomb. They reminded me of the Gilroy Garlic Festival. They also got Gordon Biersch's
beat. Go Niners!"
Um, I'm going to assume that what he said was a positive thing. Realistically though, how can you NOT like fried onions and potatoes? This was passed around the table and almost everyone took a portion. Let's just say we should have ordered two more. They were gone in to time - greatly due to Bub. He hearted them.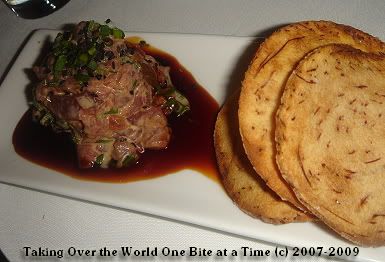 Hawaiian Style Tuna "Fish and Chips"
Sashimi Grade Ahi Tuna Diced and Seasoned with Sesame
and Soy Served with House Made Taro Chips
Ate Di ordered this for a first course and offered me some of course. I don't know exactly what it was - a cross between a Hawaiian poke and a tartare, which I guess is the same thing but with different ingredients. With that said, I agree with Ate when she said that she liked the version at Michael Mina/Arcadia more. It was good, but it didn't blow our socks off. It had an Asian-y them to it and since we're Asian all day-everyday, the flavors didn't excite us.
Maple Brined Pork Chop and Applesauce
Double Cut Center Cut Pork Chop
with a "Carbonara" Risotto and a Rustic Applesauce
This was Cuzzin Run-Day's entrée and it looked fabulous. The two other gentlemen (besides Bub) ordered the same thing and they were surprised how huge the portion of pork was. Since it was Lenten Friday, I only picked off the risotto from Cuzzin Run-Day's plate. It was easy to do so because Cuzzin Run-Day was sitting right next to me on my right. =) Damn, I would have loved to have some of that pork chop. It looked divine. I could almost taste the sweetness of the applesauce with the savory meat. The risotto was done perfectly - creamy, starchy and cooked just like I like it. It almost had a silky mouth feel to it. Nice. I would like to order this if I had another chance to come back.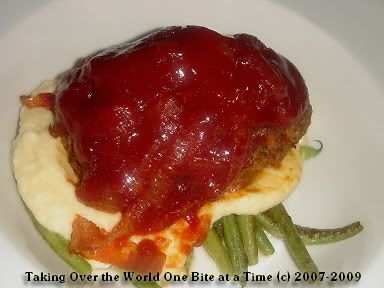 Nana's Meatloaf
Your Own Personal Meatloaf with
Mashed Potatoes and Seasonal Vegetables
This was Bub's entrée and I was so surprised he ordered something that required a fork to eat it. Usually he's always ordering a cheeseburger, but I guess a meatloaf is a burger without the bread. LOL. Bub said that even thought it was good, it was kind of dry. I am sure he appreciated the ketchup/tomato sauce on top though. Let me tell you something stupid. I told you earlier that I didn't eat any of the pork because it was Lenten Friday and we are not supposed to eat red meat. Tell me why I had some of the meatloaf. Lent was the last thing on my mind after I started eating and relishing in the moment. I know I was conscious of Lent earlier, but all of a sudden, my mind was blank of the idea. I thought the meatloaf was good - again, nothing too special about it, but I guess that's their point if it's "Nana's" meatloaf. It is supposed to be comfortable and home-style. I must say that they accomplished that.
Double Dipped Buttermilk Soakin' Fried Chicken
Fresh Organic Petaluma Boneless Chicken Marinated in Buttermilk then Dipped Twice in Seasoned Flour, Fried and Served with Garlic Mashed Potatoes
I was so excited when I got to the table that ordering was rushed for me. The chicken looked good so that's what I ordered. I should have taken a closer look, but everyone was hungry and I didn't want to keep everyone from their food. The chicken was in ginormous portions. There was no bones, so when you cut into it, all you get is chicken and the mash of potatoes beneath it. I'm going to be honest. Sometimes I don't know how to critique American dishes like the ones shown here. Is it wrong for me to be a bit bored? I mean, it's fried chicken, but fried chicken is fried chicken and fried chicken is good all the time. So if sound a bit uninspired, it's not because I don't like it. It's just that the flavors are so familiar and comfortable to me that I can't think of other words to make it sound extraordinary - I mean, EVERYONE should know how fried chicken tastes like. Anyway. Good stuff. I would have liked to have another veggie with it however. The mash did get a bit boring. Maybe some haricot verts or even buttered corn on the cob would have been nice. Texturally, it was pretty repetitive.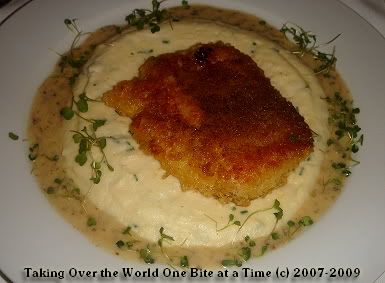 Ate Di's Halibut
Sorry for the lack of description for this dish and the following dish. I went back to the restaurant's website to look at the menu, but apparently, these two dishes are no longer on it. Ate Di ordered this and I had a small bite. Honestly, I was jealous. It was light and more flavorful than my chicken. Next time…that is if they ever bring it back. Hey Ate, if you want, leave a comment on this post to tell everyone what you thought about it since my review of it is minimal. Thanks!
Cuzzin Rox's Butternut Squash Ravioli
I was surprised that Cuzzin Rox ordered this. I didn't think she liked squash, but I'm wrong. There was a nice sweet tone to it from the butternut squash. I also like its creaminess. I don't think I would be able to finish a whole plate of it because it's a bit rich. Otherwise, good.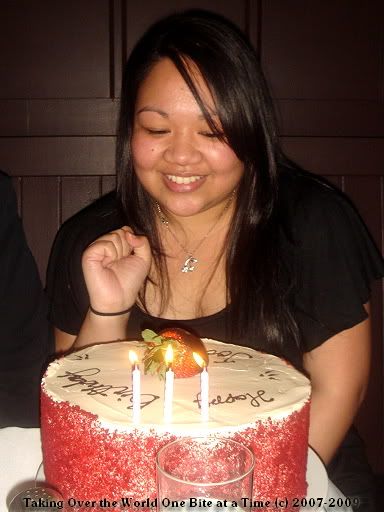 Brought a Tear to My Eye
The cake was so gigantic that I didn't know what to do with myself. I actually was so overwhelmed that I don't even remember if I made a wish or not. Ha. I was just so amazed by how ginormous it was. This cake was no joke. Do you see how tall it is? It would have been able to feed a small country in Africa.
My gorgeous cake was made by the lovely ladies at Baked on 18th Street in Potrero Hill. Here is the info you want:
Bakery:
Baked - Cakes, Sweets & Treats
Address
: 1415 18th Street b/t Connecticut and Missouri
Phone Number
: (415) 826-9455
Tell them I sent you!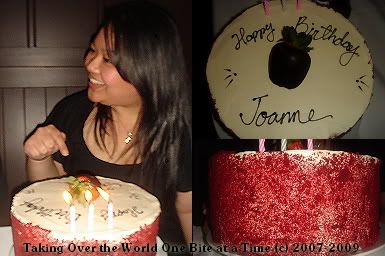 Then It Dawned on Me - "Wait! Is This…?!"
I looked straight at Ate Di, Cuzzin Star, and Bub and they were all nodding their heads. Even though I knew about them surprising me, I was NOT expecting this. This really caught me off-guard and really made my birthday special. I appreciated how much they paid attention to what I wanted most in a cake. They created the cake of my dreams. You won't find this cake just anywhere. Here is why: I concocted this flavor combination myself. Yes, ladies and gentlemen - a Jo Boston original creation! I should have it trademarked or something.
Ever since Bub and I decided to get married, I started to plan for everything that was going to be in it, from my dress to the bridesmaids to the motif. One thing that I wanted to be perfect was my wedding cake. I always wanted a white fondant-covered cake adorn with red roses, red ribbon, and edible white pearls. I wanted the colors of the actual cake inside to match the colors on the outside. So I imagined three little cakes: classic red velvet, white chocolate, and a shortcake with fresh strawberries, then another cake would be made which traditionally the couple freezes and eats on their 1st year-anniversary. This cake would be a combination of the other cakes. One night Bub asked me what I wanted the wedding cake to be, and I remember saying, "Wouldn't it be cool if they swirled red velvet and white chocolate together and in between the layers was a Chantilly crème with strawberries in it?" I got my wish sooner than expected.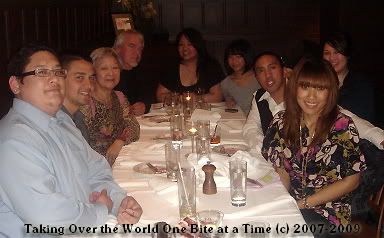 My Loves - Bub, Jay-Me, Bub's Ma, Bub's Pa, Me,
Rox, Ate Di, Cuzzin Run-Day, Cuzzin Star
It was so awesome to have my birthday be a surprise...especially that cake. Oh yes, the cake was awesome! I couldn't really tell that there was any white chocolate in the cake itself because the red velvet seemed to have overpowered any white chocolate flavor, but the red velvet and the strawberry Chantilly crème were a divine combination. I liked how it wasn't too sweet and that the cream was soft. I hate stiff frostings. This one just melts in your mouth and like the cake was not too sweet at all. I actually froze about a fourth of it before I went to the Philippines so that I would be able to enjoy it after my vacation. After defrosting, it seemed better the second time around. The strawberries were juicy and the cake was moist. Maybe it had to do with the freezing and the strawberries letting their juice seep into the cake, but it was still so delicious. Everyday since I got back, I have a little bit of my cake around dinner time. Some part of me doesn't want to finish it because it's not readily available anywhere. *sigh* Just me making a good thing last.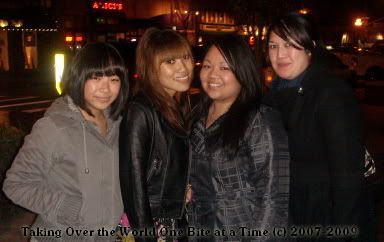 The Ladies
The masterminds. The sneaky sneaky masterminds who lied to me! I love them! I love my sneaky sneaky ladies.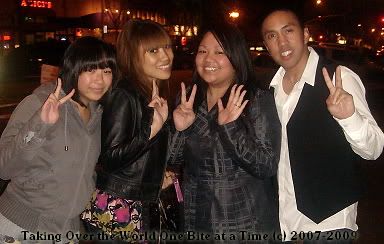 The Cousins
As for restaurant itself, I'll be honest and say that I really wasn't paying attention to anything outside of our party. All I can comment on is the food, and so far it's very good. Again, I would have to come back and have a complete three-course meal to give a review that is comprehensive and fair. The service was good and they were very friendly. I do believe that they charged for the cake-cutting, so be prepared for that. But from what I experienced, every time I pass by it, I will get a warm feeling inside as I will remember this awesome get-together with my family. Everyone at that table was FAMILY (though we are all not blood-related), and I appreciated them for being there for me…even if they all lied to me. =) Haha, but they were good lies. Thanks everyone!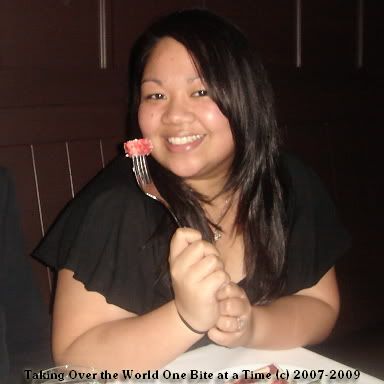 Happy Birthday To Me!!