Restaurant
:
A16
Address
: 2355 Chestnut Street, The Marina, SF
Phone Number
: (415) 771-2216
Cuisine
: Italian
Date Last Visited
: April 6, 2009
Dining Partner
: Rox and Jenn
So it was a full seven days since I got back from the Philippines. I worked my first full week and I felt like crap. Jet-lagged like crazy. Pressure from work. My body and mind were out of whack. That Friday, Momma and I went to visit my Auntie Glo and my cousins, Rox and Jenn. We were looking through pictures of our vacation and shared a fried chicken meal. As much as I loved the Philippines, I couldn't get back to my life here in the States. I felt like an addict who quit for a little while and finally coming back to reality. I was feeling withdrawal symptoms. From what, you ask? RESTAURANTS! I know. Crazy, huh? In the Philippines, most of the food we ate was homemade and Bub and I didn't have enough time in Manila to eat at a fancier place - mainly because we were broke. Ha. So when I got back, I got paid, and I HAD to spend money on a good restaurant meal here. Weird. So the cousins and I planned a dinner for the following Monday, since we were all busy that weekend. And where were we headed to? The Marina.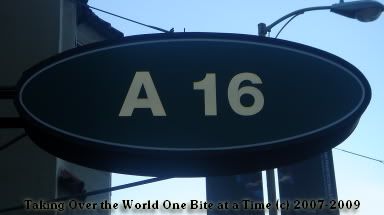 Our first stop was A16 in the Marina. A16 exhibits the cuisine of Campania, a region in Southern Italy, and the term "A16" is actually the name of the highway that runs from Naples to Canosa, Puglia. Hmmm, maybe I should open a place in the Philippines called "Highway 280" and serve Bay Area food. *light bulb* James Beard nominee Chef Nate Appleman is a genius. He was named one of the "Best New Chefs" of 2009 by Food and Wine Magazine and his cookbook "A16 Food + Wine" was named the 2009 International Association of Culinary Professionals Cookbook of the Year. Incredible work. These are the same guys who opened SPQR, the Roman place nearby my workplace, which also gave me divine experience. I went there before going on vacation, so I knew that A16 was a place on my "Go To" list.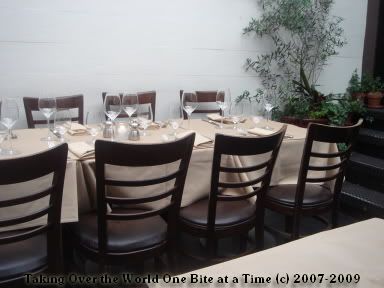 Back Room Separate from the Main Dining Area
Walking in you will immediately see the bar on the right side. That bar area was bustling with well-dressed people in their 30's - 40's sipping on wine and mingling with one another. Felt a little awkward because I walked in with ladies under 21 years old and me at 25 was the oldest. I was initially worried that the place would be too small and cramped, but once we checked in, we were escorted past the bar and the open kitchen and to the back room of the restaurant. Width-wise, the restaurant is not that broad, but it is long, so it gives the illusion in the front that it is small. I always put a note in my OT reservation that I want to take pictures, so that room was perfect. No need for flash at all. Awesome.
I really appreciate being put there because the sun was still shining and it was separate from the rest of the other diners. It got to be a little cramped in the main dining room and we were very comfortable talking and laughing without worrying about bothering anyone. Plus the room was simple but beautiful. Vines crawling up the walls to get closer to the sunlight and the sunshine reflected beautifully off the wine glasses and silverware on the tables. I like bright rooms. The main dining rooms had rich browns and wooden furniture and I would imagine it being a bit louder with all the people talking and the forks and spoons clanging off each other. Yes, I loved our "private" room.
Rustic Bead with Olive Oil
At any Italian restaurant, you will be given some bread. Their bread was great. Chewy interior with an almost hard exterior that had a pleasurable resistance. That olive oil was gorgeous. I love that golden color. It was clear and clean and delicious. We loved this so you know that we had to ask for more.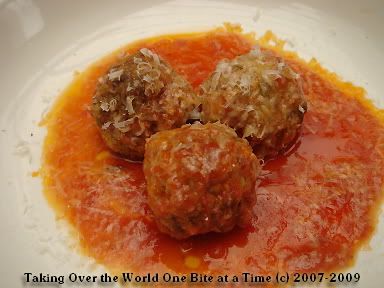 Meatballs in Tomato and Wine Reduction
Appetizer Portion - $11
Lucky for us, it was "Meatball Monday!" Our server explained to us how they were cooked and it sounded too good to pass up. We opted for the appetizer portion because we didn't want to load up before the main courses.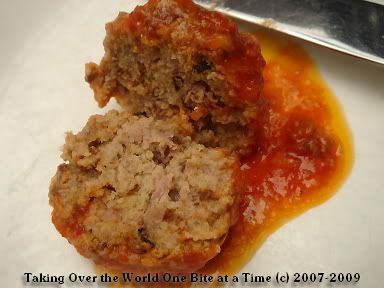 The size of the meatballs were pretty substantial. A little bigger than a golf ball. The meat itself was tender and easy to cut into. I was afraid that they were going to be overly seasoned with herbs, but they were subtle in flavor. I could have eaten this portion by myself, but since the other two with me, I had to share. The tomato sauce was very light as well. That's what I liked about them. The whole dish was not heavy. When I think meatballs, I think heavy, but they weren't and I enjoyed them very much.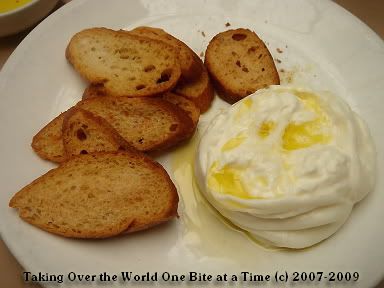 Mozzarella Burrata
with Olive Oil, Sea Salt, and Crostini - $11
After sampling the fresh ricotta at SPQR, I knew I had to order the fresh cheese here. Like the ricotta, this mozzarella was absolutely flawless. Soft, cool, milky, and stretchy. Extraordinary. I began spreading the cheese on the crostini and slicing some of the meatball and placing it on the cheese. So good. The girls were in love with it as well. I'm not much of a goat cheese or blue cheese person. I like the milder, spreadable cheeses like ricotta, brie, mozzarella and Jack. I would go back just for this cheese and more bread.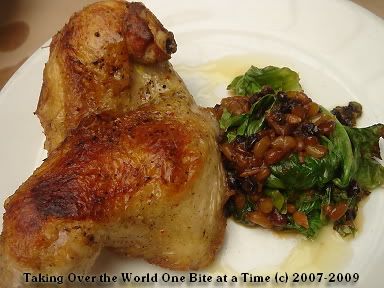 Roasted Half-Chicken
with Wilted Escarole, Pine Nuts, and Currants - $20
We decided to share everything, so we got two meats and one pasta. First, the chicken, but let me tell you the looks we got when all that food was placed on our table. I'm a thick girl who knows how to eat, but Rox and Jenn are twigs compared to my trunk. Hey, don't discriminate! Rox and Jenn can eat like I can…possibly even more! On to the chicken. I ADORED adored adored this chicken. The chicken itself was very lemony, like they basted it with a citrus-y flavor while it was roasted. It was not dry at all. Even the breast piece was juicy. The more we cut into the meat, more of the succulent juices came out for us to dip the meat into. The escarole with the pine nuts and currants was a delicious accompaniment. The pine nuts were tender and the currants added some sweetness. Very well rounded dish. This plate was clean at the end of the meal.
Maccaronara with Tomato Ragu
and House-Made Ricotta Salata - Large Portion - $16
#51 on 7x7's Big Eat SF: 100 Things to Eat Before You Die
Okay, so I had an ulterior motive. The maccaronara is in the 7x7 Big Eat SF 100 and y'all should know that I have taken it upon myself to take it over. What made it so special? It was something that made me wonder if it was deserving of being on that list. I mean, from the visual aspect of it, it just looks like thick pasta cooked in a tomato sauce. Who hasn't had that before? But the type of pasta was something I never had before. They must have been made in-house. The tomato ragu was light - a bit different from the sauce that accompanied the meatballs with the pieces of basil making a cameo. The amount of ricotta salata was unfortunately too meager for me. I like tons of cheese on my pasta. Overall, a delicious dish, but nothing too extraordinary about it except for the fresh pasta.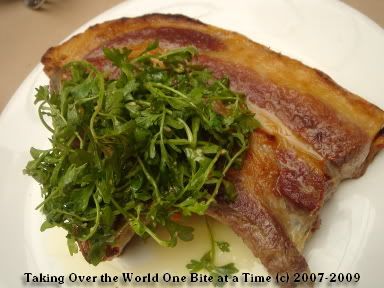 Berkshire Pork Chop - $25
I think this dish made a lot of heads turn when it passed the other diners. I actually saw a lady in the other room say to her husband, "Look at the size of that pork chop!." I was floored. I thought they were just bringing out a normal sized pork chop, but they brought out a humungous serving of pig with the side portion still attached. It looked like we got a hunk of bacon with it also.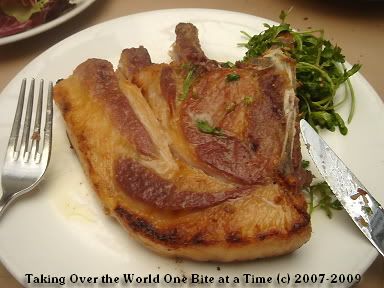 After gazing upon the meat with glossed over eyeballs, I realized that 50% of the meat was fat. Plain fat. Sure it kept the meat juicy and done at medium, but it kind of grossed me out a bit. The meat on the other hand was luscious. Jenn loved the fat. I don't know how she did.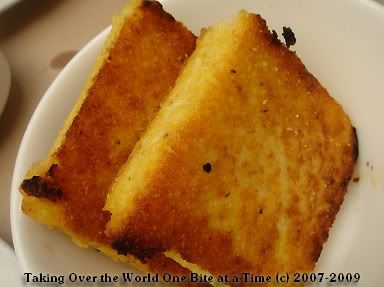 Roasted Anson Mills Polenta
comes with entrée/$6 a la carte
The polenta was a bit of a disappointment. I was looking forward to a sweet flavor in the polenta, but I was just plain polenta. There was a charred flavor from the roasting and it was on the dry side. Not my favorite.
Romaine and Chicory Salad with Lemon and Olive Oil - comes with entrée/$6 a la carte
Loved this simple salad. There are just four ingredients on this plate: romaine lettuce, chicory, lemon, and olive oil. That's it. Sometimes salads are meant to be as simple as this. The greens are were crisp and fresh and the tart dressing was refreshing. Because everything else on our table was cooked, it was nice to have something raw.
This was what was left of the pork chop - a pile of fat. Delicious fat, but fat nonetheless. As you can see, we loved the pork.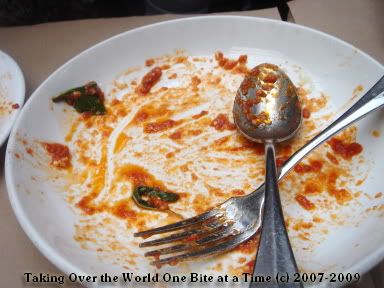 The pasta was a hit with the ladies as well. It didn't have a chance. =D
A16 is known for their Neapolitan pizzas. We didn't get the pizza on this visit, but I think that's a good enough reason to go back. I really enjoyed our visit here. The ingredients were top notch. Chef Appleman makes sure to use local ingredients and purveyors. I could just tell in every bite I had that it was fresh - especially that salad. When there are so few components in a dish, you want each part to taste their best. Just one "off" ingredient will screw up the entire dish. But rest assured that everything you taste here will be top notch. Great food. The bar area is popping. Service is friendly and very knowledgeable about their menu. What else can you ask for in a restaurant? I can see why A16 and Chef Appleman have received the accolades that the did.
You probably have noticed that we didn't have dessert at A16. That's because we saved dessert for a restaurant down the street…
******************************
Restaurant
:
Laïola
Address
: 2031 Chestnut St. b/t Mallorca and Fillmore, The Marina, SF
Phone Number
: (415) 346-5641
Cuisine
: Spanish
Date Last Visited
: April 6, 2009
Dining Partner
: Rox and Jenn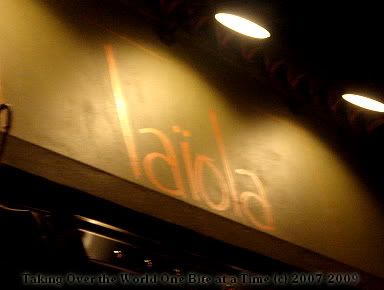 Okay, so I had another ulterior motive. Another item from 7x7's Big Eat SF 100 was just down Chestnut Street at Laïola. So of course we had to make a stop here. We didn't want to just get dessert, so we ordered a couple of apps to get a feel of how their savories tasted. The server asked if it was okay to have the dishes come to the table as they were done, so you are going to see that the savories and sweets are not in conventional order.
Pimentón Spiced Bravas Style Potatoes
with Spicy Pimentón Aioli - $7
As each dish came to the table, the more and more I realized that I was stuffed to my limit…but I kept eating. These are Spanish potato wedges basically. Though they were delicious, they were a bit too spicy for Jenn and me, but Rox LOVED them. You can say that Jenn and I had one potato wedge each and Rox ate the rest. Yes, I didn't think she could do it, but she fell in love with the aioli. As she said, "I love spicy mayonnaise!" I think I would have enjoyed them more if I wasn't so full.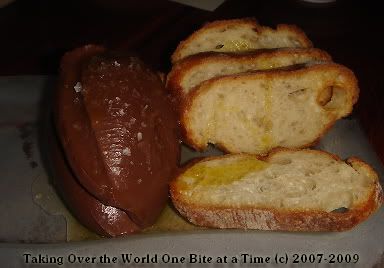 Pan Con Chocolate with Sea Salt
and Sylverleaf "Foothills Blend" Olive Oil and Crostini - $7
#31 on 7x7's Big Eat SF: 100 Things to Eat Before You Die
Pronounced "pan con cho-co-lah-tay." This is the reason why we came here. When I first saw the description, I thought, "Chocolate, olive oil, and sea salt? Weird, but intriguing…" The description on the website menu didn't specify in what form the chocolate was in either. It could have been in a syrup or a bar or in shavings. Turns out it came out in a cold mousse. The serving wasn't that huge, but since we were full the portion was perfect for us three to share. Besides as you will see later, we ordered another dessert. Let me just tell you…this dessert was BOMB. Bomb meaning fantastic! Cold chocolate mousse spread on a crispy crostini. I think we're two for two with our dishes that involved crostini, ya think? Whoever thought of this combination is a genius. I did see Giada on Food Network make warm Nutella sandwiches. I think this would be its cold equivalent. Great tasting chocolate on scrumptious bread. Seriously, one of the best desserts ever. I was kind of anti-salt on my desserts, but after this, I think I'm going to recant. I really didn't care for the olive oil, however. I really didn't know what flavor component it would have added. Other than that, outstanding dessert. Would come back just for this.
Almond Cake with Dirty Girl Strawberries, Mascarpone Cheese, Whipped Cream, and Crushed Almonds - $7
Mascarpone, whipped cream, and strawberries? SOLD. Great toppings for the almond cake, but I was somewhat disappointed with the cake itself. It had some sort of floral hint to it which I couldn't identify, but I felt like someone dropped a piece of soap into the cake batter. One of my peeves: food that tastes like soap. I also would have liked my mascarpone or whipped cream to be a little sweetened. They seemed to be a bit plain. The strawberries were sweet and juicy and delicious. I'm on the fence about this dessert. It has the potential to be something awesome, but some of the parts are in need of tweaking. That's just my taste.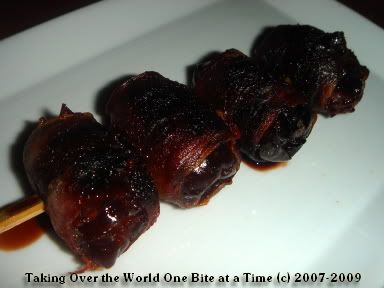 Bacon-Wrapped Medjool Dates
Stuffed with House-Made Chorizo - $12
Hmmm, how will I start describing my experience on this dish? As I am writing this, I have an unsure, almost disgusted look on my face. I didn't like it at all. I would have to say that the sweetness of this dish was 100 times more than the almond cake dessert. Seriously. The dates were so sweet and then there was an awkward combination of the saltiness from the bacon and the spiciness from the chorizo on the inside. The date's consistency was also very sticky and thick in the mouth. Too much going on. Maybe I'm just not a date person? Jenn and I gave ours to Rox who ate them. Ha, Rox ate all our leftovers. Oh yes, another thing that turned me off was that the price was outrageous! The picture is pretty much the actual size of the serving, give or take 3 millimeters. Each of those suckers was 3 bucks. 3 bucks. *rolls eyes* Never again.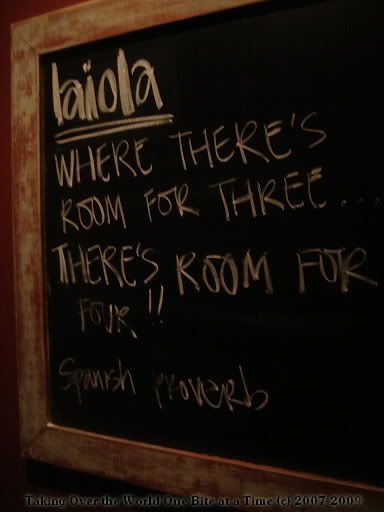 I loved this proverb.
And it's true too.
I don't think this review encapsulates what one might feel if they had a more complete meal here. We just had two of their apps and two of their desserts. We didn't even try their entrées yet, so that's an excuse to go back. I don't think I'll be doing that anytime soon though. Like the almond cake, I'm on the fence about this restaurant. The pan con chocolate is to die for, but not quite sure about the other things I have tried. *sigh* Then there was that time on Valentine's Day! Do you remember? I made a res for Brunch here on OT and V-Day came and I didn't receive a confirmation from Laïola. So I called that morning, and they didn't open until 5 that evening. Then why the hell were there Brunch hours on OpenTable? Grrr. We had to go somewhere else for Brunch. Lame.
Anyway! As of right now, if you said "Laïola" to me, I would probably get a sour taste in my mouth, but if you said "pan con cho-co-lah-tay," I would smile from ear to ear, for sure. Like I said, I'm 50/50 right now. We'll see if I make it back here again. Most likely for that pan con cho-co-lah-tay!
Big shouts to Rox and Jenn for joining me on this stomach overload of a meal. I seriously was going to fall on the ground and pass out. Don't let their small statures fool you...those girls sure can eat. I wish I had their metabolism. =P