Restaurant
:
Limon Rotisserie
Address
: 1001 South Van Ness b/t 21st and 22nd, The Mission, SF
Phone Number
: (415) 821-2134
Cuisine
: Peruvian, Latin
Date Last Visited
: February 16, 2009
Dining Partner:
BanYo and Wifey #2
On President's Day, I was planning on coming here on my own to have some of their rotisserie chicken (per The Big Eat SF 100 list, of course). BanYo calls me up in the morning, and it was so good to talk to him because I hadn't seen him in so long. At the end of the conversation, we decided to make a trip to Limon Rotisserie. I made sure to call the restaurant to make sure that they were open, it being a national holiday, and fortunately for us they were.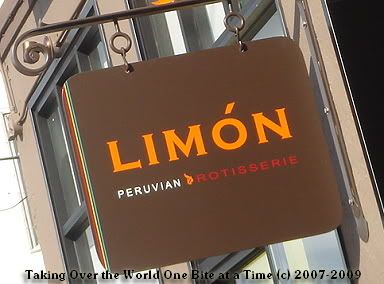 For some reason, the parking goddesses were on our side because we found a spot almost right in front of the place. Limon Rotisserie is baby sister to the more expensive and more formal Limon, also in the Mission. Both showcase Latin fare, but Limon Rotisserie has what Big Sister Limon does - Pollo a la Brasa, traditional Peruvian roasted chicken.
L-R: Strawberry Lemonade, Sangria,
and Mango Lemonade
So we get to the restaurant, and there are many people there, but it is not packed. We settle ourselves at a banquette table right next to the bar. My back was to the restaurant, but from what I saw was a light-filled room, with tall windows for walls. There were a lot of earthy browns and from anywhere in the dining room, the giant rotisserie can be seen rotating several chickens at a time. BanYo described it has "clean" - not sure if he meant by the design or by the restaurant's own hygiene, but I guess clean is a word you'd want to be called either way. For our beverages we ordered two lemonades and a sangria. The strawberry lemonade was very refreshing and sweet - nothing too special about it. The sangria was TOO sweet. There were unidentifiable pieces of fruit swimming in it, so I just let the guys drink it.
Mango Lemonade
My mango lemonade tasted weird. I don't know what it was, but it almost tasted spicy. I know that's funny to read, but it's true. Nonetheless, I drank it all, but with every sip I made a bothered-looking face. I don't think I'm going to order it again.
Ensalada Rusa - A Classic Limean Salad:
Red Beets, Potatoes, Carrots, Green Beans
Tossed in a Mustard Aioli Dressing - $6.50
When I saw this come out, I immediately thought Barney. I don't usually eat food that is THIS purple, so I got a little scared, but it tastes exactly like a potato salad except with green beans and beets. It's the beets that makes the whole thing purple. The dressing is a garlic mayo and it seasoned everything well. Very good. Just get over the color and you're good.
Jalea - Mixture of Crispy Seafood
(Fish, Calamari, and Shrimp),
Yuca, and Salsa Criolla Served with
Huacatay Tartar Sauce - 9.25
I am so glad that BanYo ordered this. This must be one of the best plates of fried stuff I have ever eaten. I had a picture where I used the flash, but this picture in the natural light was more gorgeous. Doesn't it look divine? Even though they use fish that you can find just about anywhere, the way that it is battered and fried is special. First off, the seafood was very fresh. The calamari were cooked perfectly - no rubber bands here. The shrimp were ginormous and succulent! What I loved were the fried yuca. They are kind of a similar to a yam or a potato, but when cooked, it is almost sweet. Wonderful crispy exterior to all pieces of seafood and yuca. The tartar sauce was very good - we actually asked for more of it, and I really enjoyed that garnish of onions and tomato. Nice contrast to the rest of the cooked dish. We should have ordered another one of these.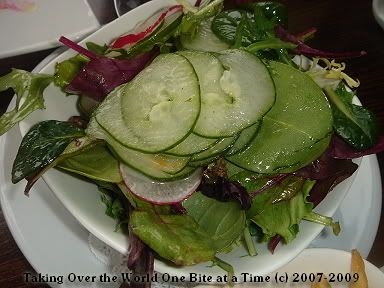 Side Ensalada Mixta - Organic Mixed Greens, Cucumbers, and Radishes Tossed in Fresh Lime Vinaigrette
I love having salad with my roasted chicken, so this hit the spot. It was simple and tasty, but there was nothing special about it either. I just wanted something raw to eat alongside the chicken to have a contrast with the other cooked sides.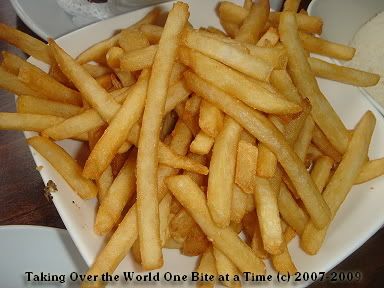 Papas Fritas
Do you really need an English translation?
BanYo asked if they were frozen before they were cooked because they looked A LOT like McDonald's French fries. But what is there to complain about French fries? I had to have the guys take the dish away from me since I was over it like a vulture. They were so good.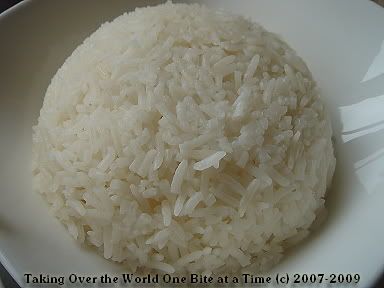 Arroz - Steamed White Rice
Hey, I'm Filipino. I have to have rice with my chicken. There is something about rice I have at Peruvian restaurants that makes me go "hmmm, what is that?" It's like there is an extra flavor in there that is not usually added to Asian rice. I don't know if it's just me or if it's just a different type of rice. Who knows, maybe it's just the water. I don't know what it is, but it's GOOD.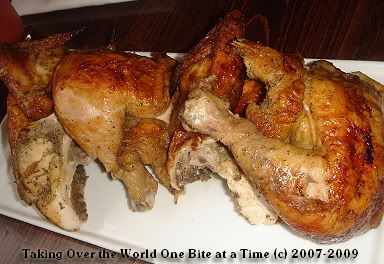 Whole Pollo a la Brasa - a Peruvian Favorite:
Chicken Marinated the "Traditional Way"
and Slowly Cooked in the Rotisserie
Whole $15.95/ Half $9.50/Quarter $7.25
The whole chicken was not really served to us whole. They did the hard work in cutting the chicken pieces for us. There are two dark meat pieces that include the drumstick and thigh still attached, and then there are two pieces of the white meat with the wing and breast attached.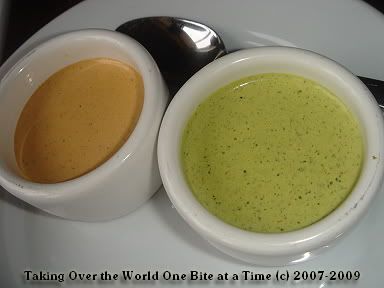 Sauces for the Fries and Chicken
These were some very tasty sauces, but I didn't inquire as to what they were made of. Just try both of them. They are both great to dip the chicken and fries in.
I loved the chicken. That skin had a gorgeous golden brown caramelized color to it. They chickens are seasoned with spices, but it was not spicy. It was a little peppery and a little lemony. Perfect. There is nothing bad to say about the chicken…other than we should have ordered a chicken for each of us. They were so good with everything on the table. I was using my hands, licking my fingers, and really getting into the meal. I would so come back and get this.
Overall Limon Rotisserie has made me happy. Very happy. We had a sampling of their raw food, fried food, and roasted food. I think we had a very well-rounded meal. When your dining partners thank you for introducing them to the restaurant, that must be a good thing because that's what happened. The food is so good. You have probably heard me say that so many times in this review already. Go and get the chicken. It's great. Oh yes, get the yuca fries, too!!