Restaurant
:
DOSA on Fillmore
Address
: 1700 Fillmore St. at Post St., Pacific Heights, SF
Phone Number
: (415) 441-3672
Cuisine
: Southern Indian
Date Last Visited
: February 17, 2009
Dining Partner
: Ate Di
So I did something very special recently. I hooked up Ate Di with my Cuzzin Run-day back in the holiday season. I am proud to say that they are still together, but there was a consequence to hooking them up. Now that Ate has a boyfriend, there is less time for me and her to hang out. I know most of it is my fault, so I should not really complain because they seem to be very happy. So after so many months, we finally decided to have dinner together to catch up. Me and Ate love Indian food and we are used to going to Pakistani places like Naan n' Curry, but when I found out that DOSA had opened just 10 minutes away from my workplace, I knew that it was the perfect place to go.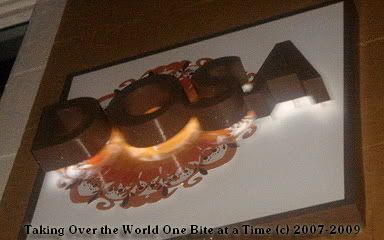 I met Ate at Coffee Bean on Fillmore and it was beautiful day to go out and take a walk. It had just rained so the air felt cool and fresh. On our way to DOSA, we passed a whole bunch of places that were opened in this area to, I guess, lure people in who are into good food because Pacific Heights isn't really known for their food. These places included Pizzeria Delfina and SPQR. Honestly, I didn't know that SPQR was so close. I will definitely check this place out during lunchtime (only Monday and Tuesday, FYI). Before we knew it, we were at DOSA's door. DOSA is on the corner of Fillmore and Post, right by from Japantown and right across the street from a Burger King. Seeing that bright BK sign from the inside of the restaurant was a complete eyesore, but what can you do?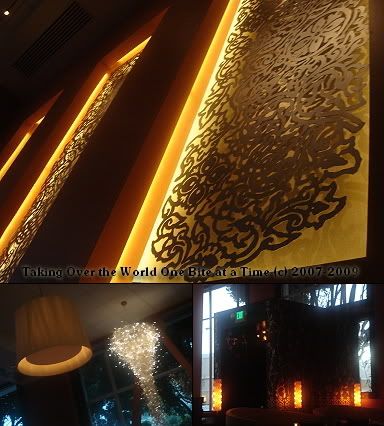 The interior of DOSA is spectacular. It feels romantic and stylish. Ate made a good point by saying, "If you were walking outside and looked inside, you really wouldn't know what type of restaurant this is." I mean, it doesn't scream "I am an Indian restaurant." I think it says, "I am mysterious and sexy, would you like to come in and enjoy what I have to offer you?" What I loved the most was the entrance. It looks like a hollowed-out cube with intricate gold patterns on it. Gorgeous. The wall panels with the elaborate metal designs were awesome to look at as well. I really liked the ambiance. There is a bar and communal table to the right where people seemed to congregate and enjoy each other's company. To the left was the main dining room where we sat. There is a stairway toward the back of the restaurant which leads to another dining area.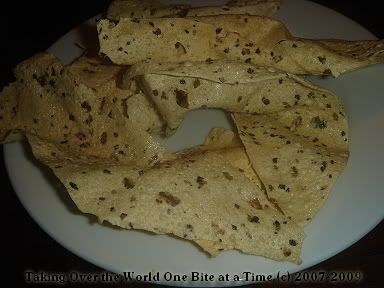 We were one of the first ones there, so we were tended to right away. These were brought out to us on the house, but I don't know what they are called. They are crispy wafers that were kind of like chips. I didn't really like them for some reason. Ate Di liked them, but not my thing.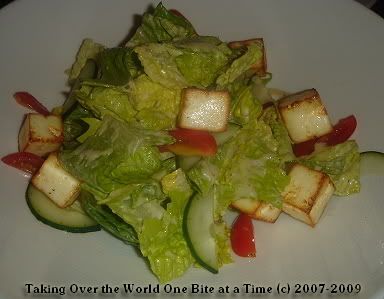 Paneer & Romaine - Chopped Organic Romaine, Cubes of Farmer's Cheese, Organic Cherry Tomatoes, Creamy Garlic Dressing - $9
Think of this has a Caesar salad, but with Indian flare. It was very simple, but what made it special was the paneer - or farmer's cheese. What is interesting about paneer is that even when it is cooked or heated, it does not melt. So what they did here was brown them a little to get that caramelization on the edges and get them a little warm. SO GOOD with the cool vegetables. I love temperature differences in my dishes. The cheese has a slight spongy texture, kind of like a fresh mozzarella. It has a milky flavor that I love. Ate Di didn't like it as much as I did. Whatever. I thought it was good.
Paper Masala - A Thin, Pliable, and Crispy Variation, Served with Spiced Indian Potatoes, Onions, and Cashew Nuts - $11
This was fantastic. Every part of it was fantastic. Even better was that it was on my Big Eat SF 100 list. Bonus! When it was brought to the table, all Ate Di and I could say was, "Wow." It is so beautiful! The length of the paper dosa is no joke. It was the length of the table. For real. If you don't know what a dosa is, it's a savory rice and lentil crepe. What is great about Indian food, especially the food here at DOSA, is that the dosa, or naan, or paratha, whatever comes with awesome dipping sauces.
My favorite part of eating the dosa was tearing it apart and dipping it or spooning the sauces onto it. The potatoes were incredible - cooked in spices and cashews. I loved making little potato "tacos." Yum. The sauce on the upper left-hand corner is a tomato chutney, the lower right-hand corner picture shows a coconut chutney, and finally in the lower left-hand is sambar - a flavorful lentil dipping soup made with vegetables and spices. I am such a condiment whore, so customizing each bite by just dipping the dosa in the different accoutrements was a lot of fun. This paper masala dosa is definitely one of my favorite foods I have tried so far this year.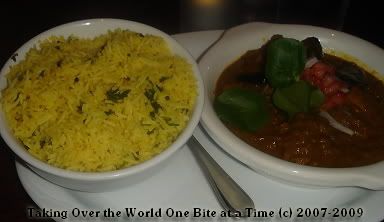 Chicken & Eggplant "Baingan Bharta" - Organic Boneless, Fulton Valley Chicken, Roasted & Pureed Eggplant, Peas - $14
Something I want to stress here is that there is a difference between North Indian/Pakistani food and South Indian food, which is featured here at DOSA. South Indian food does not use as much garam masala and other pungent spices as North Indian food does. Additionally, South Indian foods use more fruits like tamarind and coconut. I also noticed that naan and roti were not on the menu at all. Instead, dosa and uttapam are used to dip.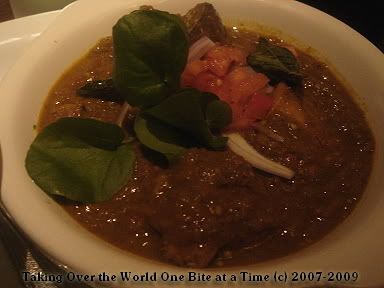 This curry had my name written all over it. I love chicken and eggplant combinations. Let me tell you, this did not disappoint. The eggplant was cooked down in the stew so that the eggplant is actually a part of the sauce. There were huge chunks of boneless chicken and I appreciated the addition of the fresh spinach and tomatoes. Lovely.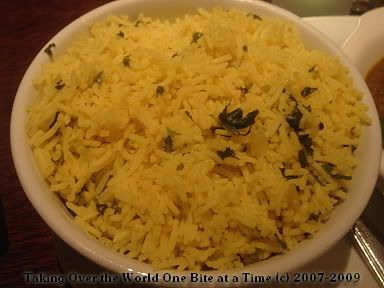 Basmati Rice Aromatically Flavored with Lemon - $3
My mouth is watering just thinking of this rice. What I liked about the entrée menu was that next to each of the entrée selections was a suggestion of which aromatic basmati rice would compliment. My chicken and eggplant was recommended to go with the lemon rice, so that's what I ordered. Other choices of aromatic rice are: plain, cilantro, tomato, or coconut, but it's Joanne here. I love lemon, so this was perfect. Indeed, it was perfect.
Duck Spinach Masala & Paneer - Sauce of Shallots, Tomato, Coriander, Fennel, Cloves, and Cinnamon - $15
Ate got the dish I would have gotten if I did get the chicken with eggplant. The spinach was cooked into the sauce, there were long strips of the paneer swimming in it, and the duck was still on the bone. There were actually two legs in there. One thing that I did not favor was that it was SPICY.
Raita
Made with Strauss Organic Yogurt
It must have shown on our faces or the fact that we were fanning our mouths, but one of the servers brought us some raita on the house. How nice of him. It worked. Before we knew it, it was dessert time.
Gulab Jamoon: Lightly Fried Dough in Sweet Syrup - $5
I didn't think that I would be enjoying a hot dessert at an Indian restaurant. The dough was warm, actually hot because I burned my tongue. I loved how they sat in this sweet water. I think rose was infused in it. Interesting dessert, quite different from what I usually have for dessert, and I am glad I tried it.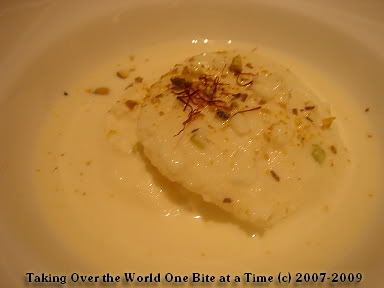 Ras Malai: Sweetened Paneer in Cream - $6
This was Ate's dessert and after I had a bite of mine, unfortunately, I didn't like her's as much. Her dessert was a lot more subtle than mine and my dessert was just SWEET. I just had one bite, so I can't make anymore critiques on it.
I loved our dinner here. It was nice to eat at an Indian place where naan and chicken tikka masala were not on the menu for once. The food here is a little more complex with the use of vegetable in the entrees. When I am at an Indian place, I seldom see vegetables and meat used in the same dish. It's either just a meat dish or a vegetable dish. Here there is a good balance. And that lemon rice! Some of the best rice I have ever had. I am so happy this place is so close to my workplace…and it's open for lunch! Can't get better than that! The food is great and the ambiance is beautiful. I will be back.