Restaurant
:
Tommaso Ristorante Italiano
Address
: 1042 Kearny St, b/t Pacific and Nottingham, North Beach, SF
Phone Number
: (415) 398-9696
Cuisine
: Italian
Date Last Visited
: December 8, 2008
Dining Partner
: My Coworkers and their Families, the Docs, Bubuh
So this year, one of our doctors decided that we have our company dinner in one of North Beach's well-known eateries. I had always known about Tomasso's. Momma had one of her department parties here one year and she said that it was pretty good. The doctor who recommended us eating here is Italian, from New York, and a foodie, so I was going to go along with whatever he thought of.
P.S. We are going to change things up a bit here.
Jonathan Wong
was there to take pictures of the event, so with his permission, I am posting his pictures instead of the ones I took…and they are fantastic!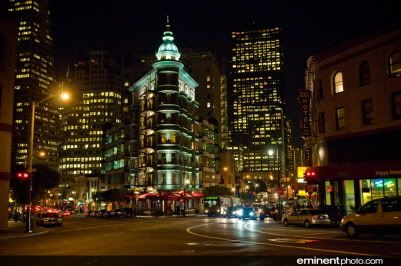 Tomasso's is not a big restaurant at all. It actually felt like we were eating at someone's house because the size of the place was small and the ambiance was very rustic.
Carmen Crotti, owner of Tomasso's and our wonderful host, set up the room so beautifully. Gorgeous orchids donned the buffet area and each table.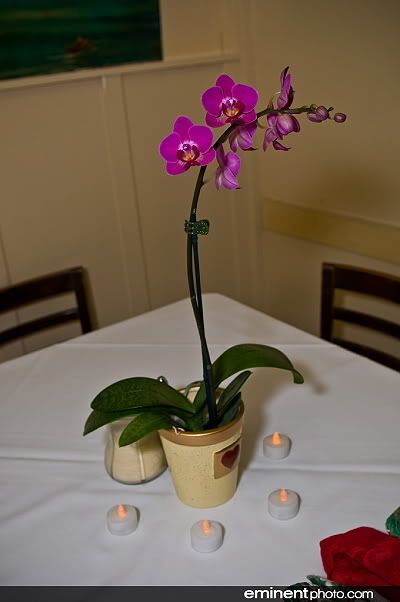 I just loved the little touches like the little "candles" and lovely holiday napkins that hugged the silverware. I really felt as if I was at a family get-together more than a company dinner.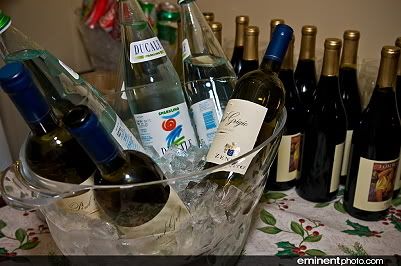 Bubuh and I arrived a bit early, so we had an array of appetizers welcoming us. There was also some nice wine available - we opted not to have any alky since I had consumed 5 pills that day - including a multivitamin and painkillers (Aleve and Excedrin for a headache that would not go away), so I didn't think drinking wine was going to help with anything.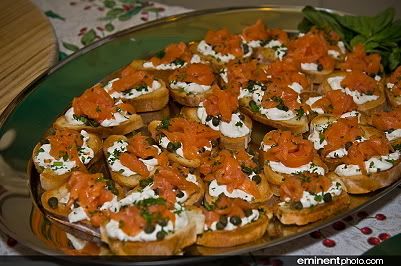 Smoked Salmon Canapés
with Cream Cheese, Capers, and Herbs
The arrangement of the components are classic, but man, are they good. Luscious, creamy cheese, tender salmon, and salty capers. YUM! My favorite breakfast of all is a bagel with lox and cream cheese, so you best believe that I had many of these. I loved the toasts and how wonderfully crunchy they were. If I could, I would have brought this whole platter home.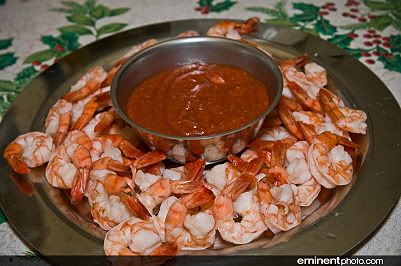 Shrimp Cocktail with Cocktail Sauce
I was ready not to eat any of this, but since it was there, why not right? I must say that this is the best shrimp cocktail I have ever had. Honestly, I don't even like shrimp cocktail because the times I did have it, the shrimp tasted bland and watered-down. These shrimp were huge, succulent, and sweet. So good. Felt bad eating them in front of Bubuh because he's allergic to seafood, but they were SO good. Couldn't help myself.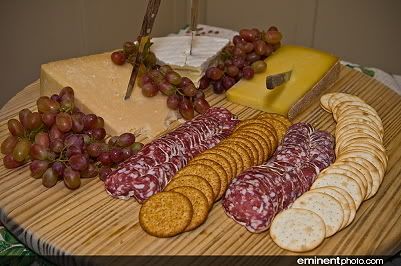 Crackers, Cheese and Salami
Doesn't this look so beautiful? I didn't have too much of this, sadly, but the presentation was fantastic. If I had more time and if I wasn't eating in front of my bosses, I would have probably set up a chair right in front of the of the appetizer table and just started eating my heart out.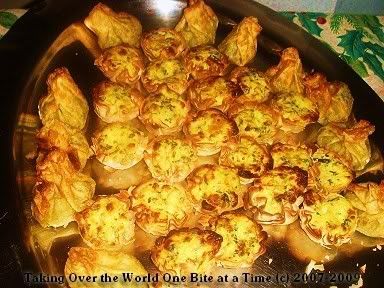 Mini Quiches in Phyllo Dough and
"Spicy Bundles" - Spinach, Cheese, and Chili
Just when I thought that they were through with the appetizers, they brought out more. The little quiches were pretty straightforward, but the little bundles were interesting, they were a little spicy and even made me think of Mexican food. I know this is an Italian place, but the peppery flavor took me there. Very rich stuff, so I didn't have too much. They were really tasty though.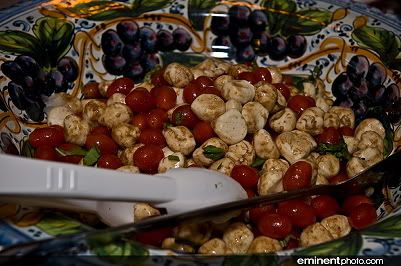 Mini Mozzarella Balls, Tomatoes,
Chiffonade of Basil, Olive Oil
What I call a buffet friendly caprese salad. Everyone thought that the cheese balls because the dressing put a little brown tinge on all of them. Simple salad and it was very good.
Mushroom Lasagna in Cream Sauce
This was probably the richest dish on the entire spread. It's a lasagna, but instead of it having a béchamel and tomato sauce, the whole thing was layered with a mushroom cream sauce. Though it was delicious, I thought that the mushroom flavor was a bit too deep for my own taste.
Pepperoni Pizza, Pizza Margherita,
Sautéed Red Peppers and Onions,
and Roasted Potatoes (not pictured)
They are known for their pizzas here and they did not disappoint. The crust was fantastically charred and almost crispy on the bottom from the cooking in their gorgeous brick oven. Some of the best pizza I have had ever. The sautéed onions and peppers were simple yet delicious.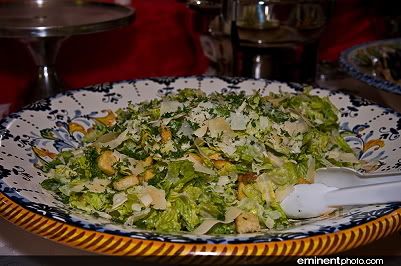 Caesar Salad
with Authentic Dressing Including the Anchovy
I don't even remember the last time I had a classic Caesar salad with the anchovy dressing. Unfortunately, Bub had an allergic reaction - he's allergic to seafood. I know poor guy. Anchovies are used a lot in Filipino cooking - especially in my part of the Philippines, so I knew what I was looking for. Next time, however, I would rather prefer my salad without the anchovy.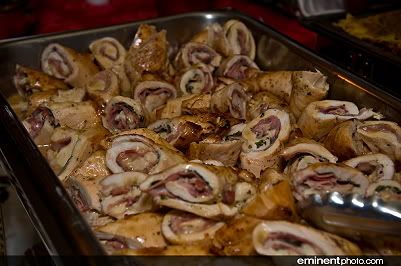 Chicken Cordon Bleu
This was the main source of protein in the meal. The chicken was rolled with ham and cheese. Pretty good. I would have liked a gravy on it however. There was some sort of sauce or broth at the bottom of the pan and I should have used it. It was mighty tasty.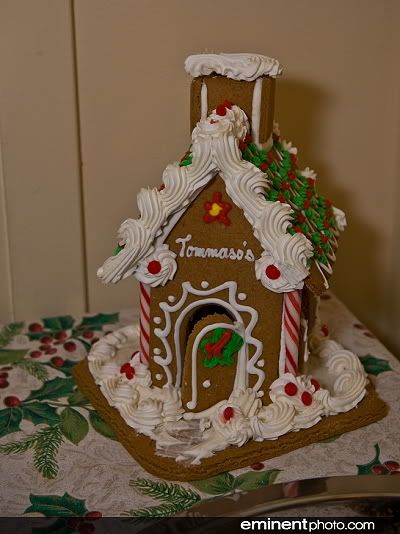 VERY cute gingerbread house…and NO, we didn't eat it. Quite tempting however. =P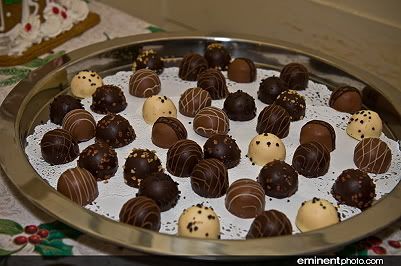 Dessert here was like a multi-course meal in itself. Lovely chocolates - I sampled the white chocolate one and it had a lemony filling. Too full to try anything else. Tupperware would have been good at this moment. Woulda coulda shoulda, but didn't.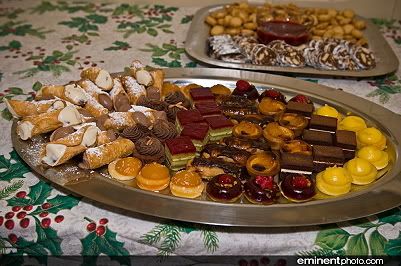 Cookies to Dip in Raspberry Sauce,
Mini Cannoli and Assorted Mini Cakes and Tarts
I had one of the cannoli as they were bring served to us while the doctors were singing (rare moment). I wish I had another stomach for the rest of the desserts. They looked incredible. I especially wanted to try one of the cookies and dip it in the raspberry sauce, but my mouth was in flavor overload and I couldn't take anymore.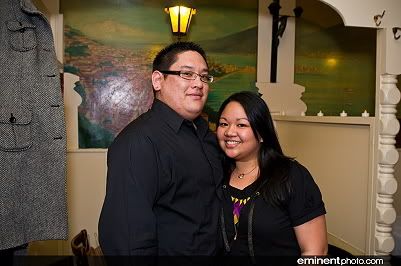 Special thanks goes out to
Jonathan Wong
for taking the pictures that night, especially this one of Bub and myself. You can find Jonathan's work on
eminentphoto.com
=) Great pictures! Please be sure to check them out!
Overall, I think the night was a success. I mean, aside from the holidays, when is the next time that we get to hang out with the Docs and watch them sing? The food at Tommaso's was delicious and sure left us full at the end of the night. Carmen Crotti, our hostess and friend, was fantastic - she made sure that everyone had everything they needed and was having a good time. I heard that on a normal night, waits can be as long as an hour as they do not accept reservations. I am not surprised because the food was hearty and comforting. I wouldn't mind coming back at all! Seriously one of the best restaurants in North Beach, and even though its neighbors consist of primarily strip clubs and porn shops, Tommaso's has real good food and the neighborhood doesn't put a damper on the experience. Truly a gem in San Francisco.