Restaurant
:
Maverick
Address
: 3316 17th St. b/t Hoff St. and Mission St., the Mission, SF
Phone Number
: (415) 863-3061
Cuisine
: American, Southern
Date Last Visited
: February 14, 2009, Valentine's Day
Dining Partner
: Bubuh
So it was Valentine's Day and I made a reservation on OpenTable a few days prior to Laïola, a Spanish restaurant in the Marina. There were times available on OpenTable for lunchtime, and that was perfect because we didn't want to have dinner out for fear that it was going to be cold and rainy. I didn't get a call from Laïola for a confirmation, so I called Valentine's Day morning, and the answering machine said it was best to call after 2:00 p.m. Great, the res was for 1:00 p.m. I checked the website and they only open at 5:30 p.m. for dinner. GREAT. OT messed up again. I frantically looked for another place to have lunch/brunch, and good thing Maverick in the Mission was able to take us.
Maverick was extremely easy to find because it is right off of Mission. I was so surprised that parking was a cinch to find also. I didn't get a picture of the space, but there were rich chocolate browns from the main wall and table sets in the dining room and deep oranges on the opposite wall. It was very warm and cozy. It was a good thing that I called in the reservation because Maverick is not big at all. I only saw about seven two-tops and only one was a four-top. The room where the entrance was had the bar and kitchen. Very tiny space as well. By the time we were seated, it was a full house.
Pomegranate Mimosa - Segura Viudas Brut Reserve - $9
How could I pass this mimosa up? Beautiful red tint and tangy flavor. Loved it! Perfect for Valentine's Day!
Maverick's Doughnut Holes
Five Doughnuts Dusted with Cinnamon and Sugar - $5
Those are the biggest donut holes I have ever seen. I am used to those little glazed donut holes that my grandpa used to buy me, but these were humongous. I did find them a little denser than my usual donut holes. They were a bit bread-y, and that coating of cinnamon and sugar was too generous. I don't like that feeling on my teeth after eating cinnamon anyway. Bub liked them a lot, but they were too much for me.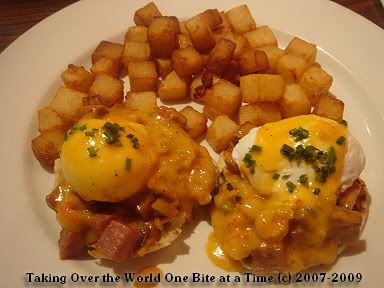 Andoullie Sausage "Benedict"
English Muffin Topped with Grilled Andoullie Sausage,
Crayfish, Poached Egg, and Jalapeno Hollandaise Sauce - $14
I love Benedicts, no matter what is on it. I've had one with avocado, one with fried green tomatoes - you can really get creative with it. Now this was awesome. The sausage was not too spicy, but it added some great savory flavor. I also liked the little crayfish that dotted the hollandaise sauce. Speaking of the hollandaise sauce, even though it was seasoned with jalapeno peppers, it was spicy but not hot. Then when I broke that egg and the yolk combined with the hollandaise - omg. SO good. I also appreciated how the English muffin was crispy on the bottom. You can tell that it was well toasted. Overall - great.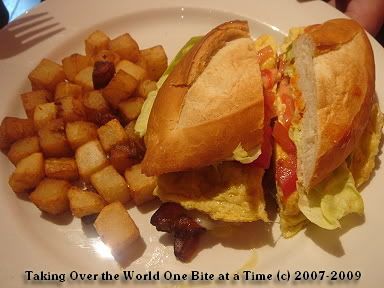 Maverick Brunch Sandwich
Fried Egg, Nueske Bacon, Cheddar Cheese,
Youk's Hot Sauce, Ketchup, Butter Lettuce,
Sliced Tomato on an ACME Torpedo Roll - $11
I had a bite of Bub's sandwich, and I found it, of all things, SWEET. I don't know why. It could have been the roll or maybe they cooked the egg in some sweet butter. Whatever it was, it was rich in flavor. I would not order it for myself, but Bub certainly liked it.
House Potatoes
These potatoes were almost "too perfect" that sometimes it made me think that they came from the frozen section at Costco. They were cut perfectly, browned perfectly, crisped perfectly…What I liked was that all I got were potatoes. No onions, no peppers or anything like that. Pure potatoes. I know that they make everything fresh in this place, but it felt too good to be true. But hey, maybe I have found the PERFECT house potatoes.
Youk's Hot Sauce
Now it's kind of funny how we got this bottle of hot sauce on our table. Bub and I love ketchup, so of course we asked for some to go with our potatoes. After we asked the server for the ketchup, he asked, "Hot sauce?" We said no. Tell me why he brings out the hot sauce and not the ketchup. Hmmm, condiment dyslexia, I guess. But! It was some good hot sauce, so I have nothing else to complain about it.
The Billfold and Bub's Valentine's Day Card to Me
Overall, this was a good brunch spot. Easy to get to and the food was very filling. I had to ask for a box to bring home the food I didn't eat. I was stuffed after just one of the English muffins. The service was a bit spotty. It took us a while to get the service we needed. The server forgot Bub's beverage order and had to come back and ask. Took a while to order. We all know about the condiment mix-up. It also took a while to get our check. Our server passed our table and backtracked realizing that he had the bill under his arm. But I guess in the end, it was alright. They got us in and out in under an hour. I would love to come back for dinner. They have Southern style dishes like buttermilk fried chicken, St. Louis-style ribs, and pork chops. AY. I think you will find me here again. =)
_____________________________________________________
El Tonayense Taco Truck - BONUS!Restaurant
: El Tonayense Taco Truck
Address
: Next to the Best Buy Parking Lot on 14th Street and Harrison, The Mission
Cuisine
: Mexican
Since we were in the neighborhood, Bub and I went to Best Buy to check out prices for a new television for my new and more spacious living quarters. After walking around for twenty minutes and purchasing two new games for my Nintendo DS, we decided to pass on the television for now to see what other deals we can score elsewhere. Conveniently we were parked almost right in front of the taco truck - so what the hell? Why not?
El Tonayense's taco trucks are well-known in the San Francisco Bay Area. They went as far as being featured on "Check Please, Bay Area!" Bub said he had a burrito here once and it sucked, but since they are known for their tacos, we knew we had to get those.
Four Carne Asada Tacos
Two with Hot Salsa and
Two with Mild Salsa Verde - $1.75 each
We waited until we got home to eat them because they were extremely juicy, plus it was starting to rain. Though each kind was very good, I favored the mild ones. The red sauce had too much of an Indian food taste. I don't know which spice it was particularly, but it reminded me of curry. Maybe, it was cumin. Not sure, tough. VERY good tacos. I've been to places where they include beans on the taco, but this is how I like it: meat, onions, cilantro, salsa and lime That's it! Great stuff!
Bub's Gift to Me
So it is Valentine's Day after all - the day of unconditional love. What did Bub get me? Honestly, I was not expecting anything from him because he is HORRIBLE at getting me gifts. I was assuming that I was just going to get a homemade card like I do each year. Actually, I did get that, so I was only partially right. So we were in the car driving to brunch, and I asked him what he got me, anticipating another bi-folded card. He asked me, "Do you really want it now?" Of course, I did. He ends up pulling over in a nearby parking lot, gets out of the car, and brings out the box you see above from the trunk. SO WAS NOT EXPECTING THAT.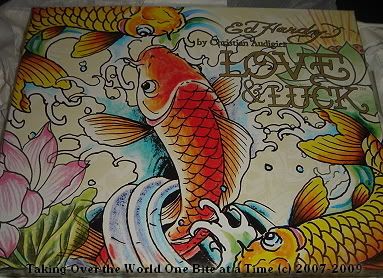 I remove the box top and tissue paper and see the Ed Hardy box. Was I dreaming? For real? WAS THIS REALLY HAPPENING?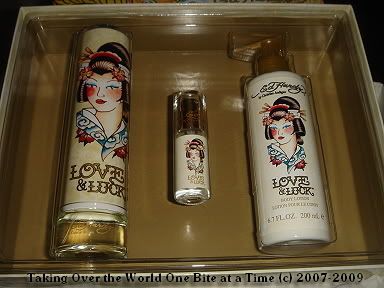 He got me an Ed Hardy fragrance set I had been eyeing for a long while now. I
always
stop by the Ed Hardy counter at Macy*s in an attempt to buy the set myself, but for some reason, no one comes to help me, so I end up leaving. This probably happened at least 3 times. My sister even tried getting me an Ed Hardy set for Christmas, but they were sold out by the time she went to purchase it. I guess this time's the charm. Literally, I was in Macy*s with my Mom earlier that week sampling the lotion and spraying it. I even walked around the counter to let the employees know I was in the vicinity, but no luck. Bub really outdid himself. I was in the car gushing to myself and was in disbelief. BUB DID THIS? Haha! I felt bad that I didn't get him anything except a card that I bought him a game from Best Buy instead. Ha, I felt bad for underestimating him, I guess. Anyway, t'was the best Valentine's ever, and I meant what I wrote in his card, "I hope on VDay of 2059, we're still celebrating."
Double chins signify how much in love you are.
As our love grows, so do our waistlines.
Happy Valentine's Day, Bubuh. I love you.
xoxo