Restaurant
: Little Lucca
Address
: 724 El Camino Real, South San Francisco
Phone Number
: (650) 589-8916
Cuisine
: Sandwiches, Deli
Date Last Visited
: November 16, 2008
Dining Partner
: Bub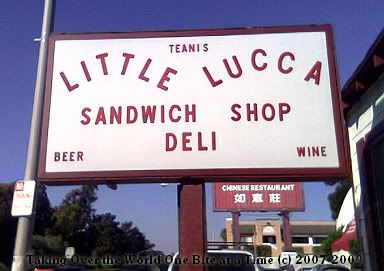 Technically this is not my first time coming to Little Lucca. I actually don't even remember how many times I have been here because Little Lucca's is my favorite sandwich shop. It seems like I crave their sandwiches all the time. During my college days, my classmates and I survived on La Tapatia burritos, Costco hot dogs, and Little Lucca's sandwiches.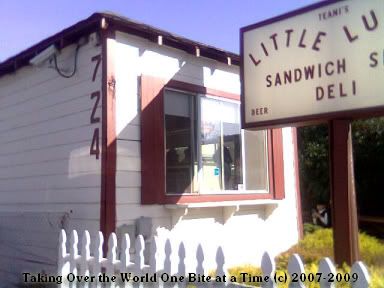 Little Lucca's is literally a little shack on El Camino Real. Yeah, that little house next to the Chinese place. You know what they say, "the best things come in small packages."
When you come here, 99% of the time, there will be a line out the door. There is only room in place for maybe about 8-10 people. The menu is pretty big. They have the usual suspects - roast beef, ham, pastrami, but they have other meats like my favorite Sausalito turkey - it has a spicy bite. They also have specialty sandwiches like Chicken Parmesan, Fire Roasted Steak, and the famous Crab Salad.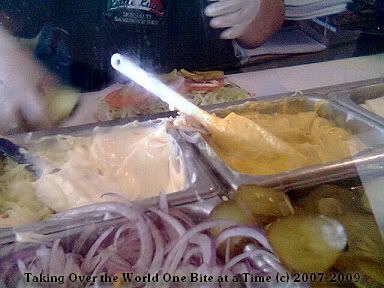 I like my sandwiches on Dutch crunch. It seems to be a Bay Area specialty bread because according to Wikipedia Dutch Crunch, or "tiger bread" due to its "stripes" is not known as much outside of the Bay. Well, the rest of the country better get cracking because Dutch crunch is the best bread EVER. I also take my sandwiches with lettuce, tomatoes, onions, AVOCADO, and Jack/pepper Jack cheese. No pickles or peppers - usually, but those banana peppers or "pepperoncinis" are starting to grow on me.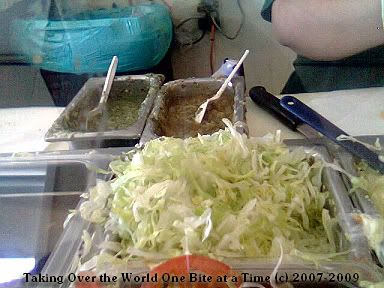 Little Lucca's Secret Weapon
Now let me tell you why Little Lucca's sandwiches are so addictive. It's those two sauces. One is the garlic sauce and the other is the house hot sauce. OMG. Seriously. I always have both sauces with my usual mustard and mayo. The sauces combine with the natural juices and flavors with whatever veggies you choose and make a GREAT sandwich. What is great is that you can buy containers of the special sauces for you to take home.
Bub's
Hot Chicken Sandwich
I forgot the name of the sandwich Bub got, but it had the hot chicken, melted cheese, and the berry-tinged BBQ sauce. It was really good, and albeit, incredible messy. I would recommend the soft sweet roll which Bub got. Having it on the sourdough, for example, would make it even more messy because all the filling would just slide out. The sourdough is a bit too tough for me.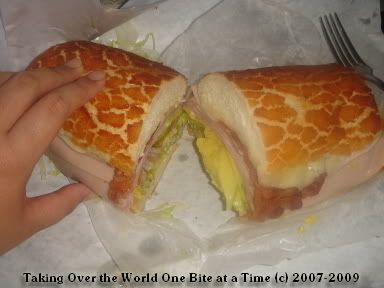 Lucca Ultimate Club
I got the Ultimate Club because I never had it before. Visually, it was beautiful with the layers of colors. There was ham, turkey and bacon, unfortunately though, I was a bit disappointed because they used cold cuts instead of freshly sliced meats. It tasted too processed to me, like I could have bought these meat from Safeway. I usually get the freshly sliced chicken breast or Sausalito turkey, so I am used to having that "meaty" texture. Next time, I'm sticking with my usuals.
Though I was not fully satisfied with this particular sandwich, I know that the next time I go, I will be. The sandwiches are as long as my forearm and they are not bad at about $7 a go. When you do get one, be sure you have a roll of good paper towel because they are messy! You will also have a lingering smell of garlic sauce on your breath and your fingers, so you may not want to schedule a date the day you get one of them. Truly one of my favorite places in the area, and I feel lucky to have it near my home. Coming here just reminds me of all the fun times I had in college - picking up sammies for our kajillion meetings for FSU and PCN. So when you are on El Camino, look for that little shack - the best sandwich you will eat will be waiting for you.