*trumpets*
This week, my favorite bite came from
Bi-Rite Creamery
on President's Day when I went with BanYo. I made my own sundae which consisted of Salted Caramel, Brown Butter Pecan, hot fudge, and whipped cream.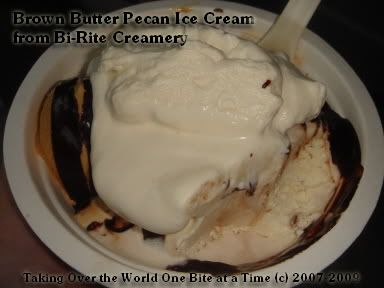 We all know everyone loves the salted caramel, but I found it to be a bit too "burnt tasting." I've had it a few times already, and this particular time, the color was a deep shade of amber and the flavor was too bitter. You can see it on the left.
Anyway, I think that the Brown Butter Pecan is my new favorite ice cream flavor. It's awesome. Sorry the whipped cream covered everything, but trust me, it was so good. Not too sweet and the pecans added some nice texture. =) Loved it.
The Full List of Friday Favorites