Restaurant
: Fat Wong's Kitchen
Address
: 1780 El Camino Real, San Bruno, CA
Phone Number
: (650) 872-6682
Cuisine
: Chinese, Hong Kong
Dining
Partner: BanYo
- Visit 1 -
The first time BanYo brought me here was right after the
Asian Culinary Forum
. There was so much talk about Asian food that we were craving some right after. With a name like "Fat Wong's" I knew it was going to be good.
HK Beverages:
Lemon Tea and Milk Tea
For beverages, we chose two classic Hong Kong favorites. I ordered the Milk Tea and it good. It wasn't sweetened much, so you can really taste the tea. BanYo's Lemon Tea was awesome. Refreshing and lemony - perfect. I wondered why I didn't order that instead. Next time. Next time.
Fried Rice with Dried Scallop and Egg White
What I noticed about the menu right away was how different it was from other Chinese places I have been to. I guess majority of my local haunts are Cantonese. This was my first time going to a place that featured porridges, rice noodle rolls, and dishes with offal. Usually when I go to a Chinese restaurant, I go for the BBQ pork fried rice. BanYo suggested this one. At first, I was worried that I wouldn't like it, but what a surprise! I am making a clear statement that this is my favorite fried rice EVER. It is simple, but different. Here, they use dried scallop, egg white, and ASPARAGUS! Wow. Seriously, the best fried rice. I wish they had this everywhere. So good. Thank you to BanYo for letting me try this.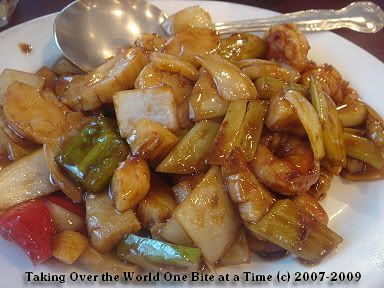 Sauteed Prawn and Scallop in Spicy Bean Sauce
We kept going with the scallop tangent and ordered this tasty seafood dish. There were big hunks of green and red bell peppers, onion, and celery to match the size of the prawns and scallops. I would have liked more of the seafood. I felt that the veggies were there to make the dish look more abundant. I also don't remember the sauce to be really spicy. Even though it was very good, it didn't knock my socks off.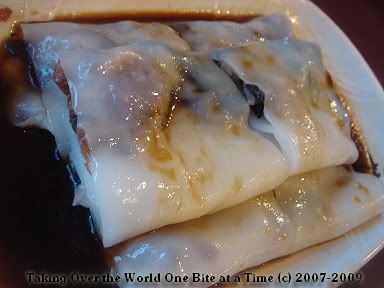 Rice Noodle Roll with Shredded Roasted Duck
I saw many of the other patrons eating the rice noodle rolls, so this was a must-order. I loved the texture of the noodle roll - same stuff they make chow fun with. Bouncy and chewy. It sat in a soy-based broth. There was some shredded roasted duck inside. - I love duck with a passion. Loved this roll.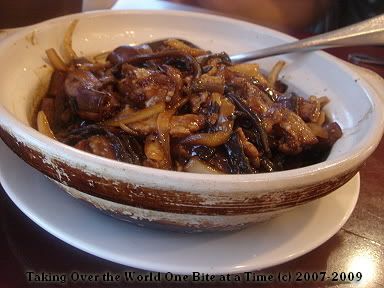 Braised Eggplant and Minced Pork
This is one of their clay pot entrées and it looked awesome. I haven't liked eggplant all my life, but when it is braised, I love it. It's just how the soft texture feels and how it absorbs all the flavors it is cooked in. This is really comfort food - warm, filling, and comforting. It was rich in flavor without being too salty - perfect with rice.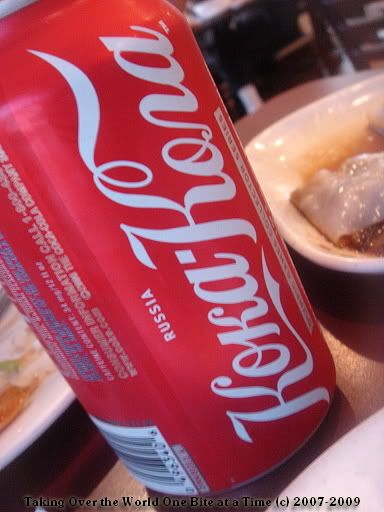 Russian Coke - "Koka-Kona."
Sounds more Hawaiian than Russian.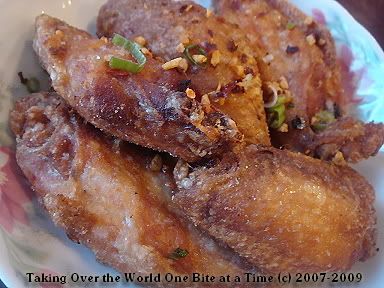 Deep Fried Chicken Wings with Spicy Salt
The "spicy salt" refers to the stuff they put on top: salt, green onion, fried minced garlic, and red pepper flakes. Oh my goodness, so good. The wings were plump and juicy on the inside and still had that lovely crispy skin. Add that with the wonderful spicy salt and you have my idea of the perfect plate of chicken wings. No sauce needed. They were just right the way they were.
- Visit 2 -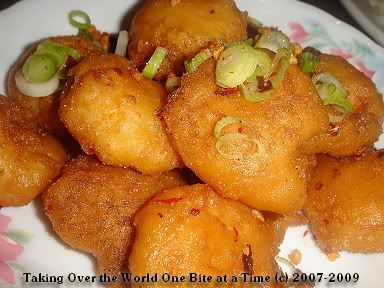 Deep Fried Prawn with Spicy Salt
Yes, I was here with BanYo again. I guess we couldn't get enough of this place. We ordered the dried scallop and egg white fried rice, so there was no need to take a picture of that again. This time, we went for the fried prawns with the spicy salt and like the chicken, they were fabulous. They were skimpy on the prawns either. They were enormous. They were dipped in batter, fried, and topped with that awesome spicy salt. SoOoOoOoOo good.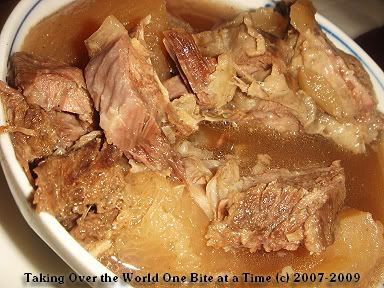 Braised Beef Brisket with Turnips
When I ordered this, I wasn't quite sure what so expect. When this was brought out, I was put off by how it looked. It looked just like adobo in a more watery sauce. Then I tasted it - HEAVEN. The beef was braised to the point that it melted in my mouth because it was so tender. There were also some turnips in there which made it almost sweet. BanYo and I even caught ourselves sipping the broth like soup. Yes, I WILL order this again.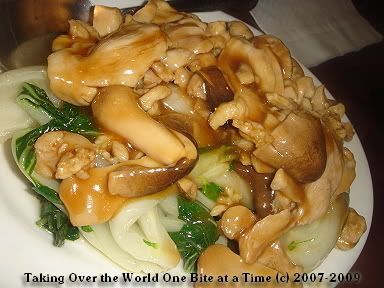 Bok Choy with Mushrooms
For our vegetables, we had some simple baby bok choy and mushrooms. Bok choy is one of my favorite greens and these were great. The mushrooms were sautéed with some chicken and had a luscious brown sauce. Yum.
Looking back, I haven't eaten anything that I didn't like. I appreciated that the food here is different from most places I have been to. This review is not done - you can be rest assured that I will be back. I am beginning to think that this will be one of my favorite places to go to for years to come. The food is delicious and set at the right price. WINNER, most definitely.