Restaurant
:
Zazie
Address
: 941 Cole St., b/t Carl and Parnassus, Cole Valley, SF
Phone Number
: (415) 564-5332
Cuisine
: French, Prix Fixe, Brunch
Date Last Visited
: December 29, 2008
Dining Partner
: Star
So it was two days before the start of 2009 and I wanted to have a dinner with Star as our last hoorah for 2008. It was a Monday and it was really difficult to find a place since most places are closed. Well, we actually were a bit more picky on this day. We wanted a cheap place - roughly $30 each, preferably a prix fixe menu, French, and a place that took VISA. I had won the weekly "Discoveries" contest that the Michelin Guide people had put out late in the year, and they sent me a great VISA gift card for $150! I know, it was so dope. I had about $115 on it left because I had treated Feugo to Fresca on Christmas Eve - our little own holiday meal together. I searched and searched online and the places that were recommended on Yelp, Citysearch, and Chowhound were all closed on Mondays. Phooey. But! I saw a suggestion for Zazie and it looked perfect. Open on Monday, a great prix fixe dinner for under $25 and it was just a 15-minute drive from my workplace. Star made the reservations, and we were set for dinner!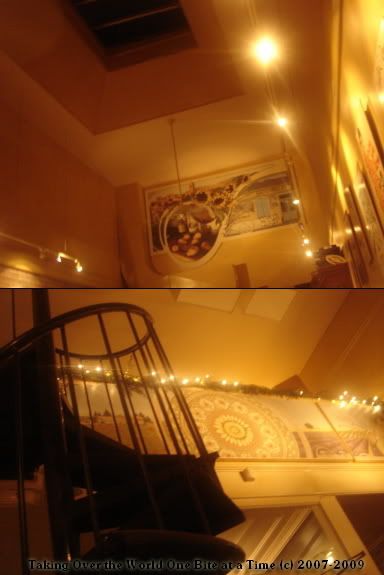 Zazie is in the Cole Valley neighborhood - very close to the Haight. I really don't venture out to this area much, so it was good to leave our comfort zone and explore what was out here. As we were looking for parking (which was a b!tch), I thought to myself that I wouldn't mind living there. We got to Zazie and saw how small it was. I actually liked it a lot. The ceilings were high, there was a very cool twisting staircase right by the doorway, and a heated patio in the back. Mondays is "bring your dog" day - dog-owners can bring their dog to the patio and have dinner with them! How cute. Zazie has a very friendly atmosphere and I can see why it filled up fast for dinner. FYI: I did not use flash in my photographs because the place was so small and using flash might have bothered some patrons. So you might find the pictures a bit grainy due to the editing I had to perform.
I LOVE these rolls. LOVE them. LOOOVE them. I am confident in saying that this is the best bread I have had. Seriously. They were hot when they arrived, so much so that I had to hold off for a few seconds before tearing them apart. The smooth crust housed some of the best dough I have eaten yet. This did not last long on the plate. That butter was spectacular also. Who knows, maybe you can buy this butter anywhere, but it sitting next to this bread made it extraordinary. My only complaint about this bread is that they only give you one and we had to ask for more. I don't think they offer you anymore after your first one. They were so good - freshly baked and delicious. Felt like a French grandma baked them just for us.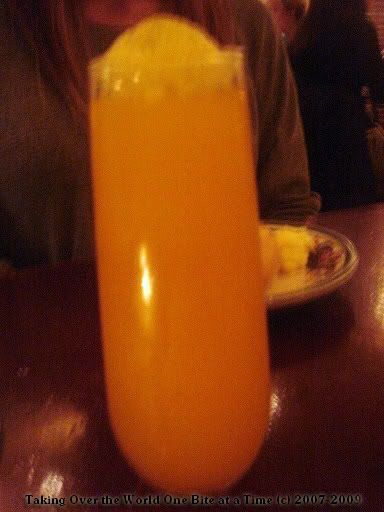 Star ordered a mimosa. Haha. She tried persuading into buying one, but since I had overindulged in pain killers and cough medicines throughout the day, I didn't think that adding alcohol in the mix would have been a good idea. This particular mimosa was called the "Sunset" and used mango juice instead of orange juice.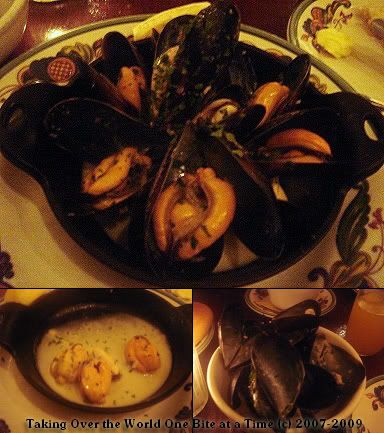 Mussels Marinieres
White Wine, Garlic, Shallots, Parsley, Cream
Each of us ordered from the prix fixe menu, and for the appetizer, I chose the mussels. I was sort of afraid when ordering because mussels can either be delicious or rotten tasting. I have had a couple experiences in which I literally spit out the mussel I was chewing on. My mussels came to me in a cute little cast-iron pan, and there must have been at least 8 of them in there. These weren't dinky little ones either. They were huge and succulent. The broth of garlic and white wine was glorious. A squeeze of lemon and then a swim in the broth made these mussels heavenly. No, I didn't spit any of them out. I did have to force the last couple in my mouth because with Star being a vegetarian now (I know, KJ!), she didn't help me in finishing them off. I wasn't about to let them go to waste! She did help me by dipping her bread in the broth. So good. You can be sure the pan was dry when it was picked up from the table.
Soup du Jour
This was the soup du jour: potato leek. I had a small taste and it was pretty straightforward. I don't think Star found it to be too special. It would have been a bit more appealing if they left a few chunks of the veggies in there instead of making it a homogenized soup, but that's just me.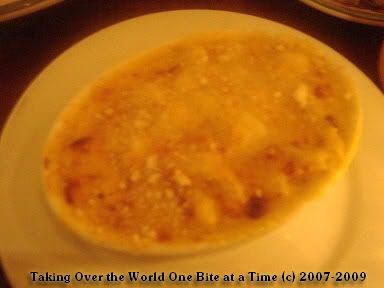 In addition to our prix fixe meal, we decided on checking out some of the side dishes they offered. This was their version of mac n' cheese. They used a longer, thin tubular noodle instead of the usual elbow macaroni. The cheese sauce was a bit too rich. I know it wasn't straight cheddar. There had to be a mixture of cheeses, and the texture was a bit odd. It was a thick and a bit grainy. It is what it is - macaroni and cheese, but I wouldn't say that this was my favorite.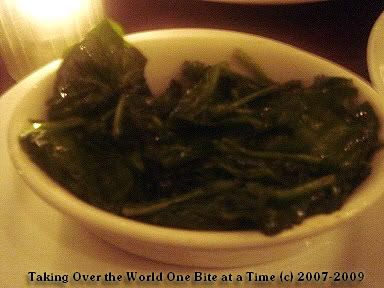 Since Star wanted to load up on the veggies, she ordered a side of the sautéed spinach as well. BUT, as you will see, it wasn't needed. I wasn't too fond of them because I like my spinach raw, plus when they get cooked, they make my teeth feel really weird.
Mascarpone Polenta Cakes - Portobellos, Wilted Spinach, Spicy Chevre-Tomato Sauce and Gorgonzola
This was Star's entrée and this would be her first time ever having polenta cakes. We were both afraid that she wasn't going to like it. There are several ways to enjoy polenta - in a mash-type concoction or in a more solid form whether grilled or fried…it's good stuff. I didn't know if she was going to like the texture of the polenta which was something I had to get used to. Fortunately, she liked it a lot. There was a medley of mushrooms on top and the polenta cakes sat on the same sautéed spinach we had ordered extra of (see, didn't need a side of it). I wasn't too crazy about the chevre that was thrown in there. Me and goat cheese don't mix. Just as long as Star enjoyed it, I'm happy.
Salmon au Papillote - Potatoes, Spinach and Lemon
This was my entrée, and I was very pleased with the presentation. I never had a dish served to me that was prepared like this. SO very French. I would see Jacques and Julian do this all the time and I had always thought of when I would eventually have something like it. The moist salmon was joined by some potatoes and spinach. SEE! Why on Earth did we order extra spinach? I liked the lemon wedge on the plate because salmon and lemon are PERFECT for each other. It's a very simple
Decadent Vanilla Crème Brulee
There was a great list of desserts on the menu…actually, the dessert list was more verbalized than shown on paper. Since we were sticking with our prix fixe, we only had two choices for our desert: crème brulee and chocolate pot de crème. The crème brulee was very good - it wasn't too sweet, but I do have to say that the torched sugar layer was a bit too thick. It took a little work to get through that barrier to the custard-y goodness. Simple and delicious. That's what I like in a crème brulee. I have had flavored ones - like peanut butter and coffee at Gary Danko - but I think I like the original better.
Petit Pot de Crème au Chocolat
I was actually very surprised with Star's pot de crème. Other times that I have had it, they seem to use a darker chocolate. I'm more of a milk or white chocolate person, so I was prepared to think that this was too chocolate-y. Tell me why this is the best pot de crème that I have had ever. Not too much chocolate at all. Yeah, you can say that we finished these two desserts in under five minutes. Ha, heffas.
Zazie was a pleasant surprise. I didn't know much about this restaurant before coming in - which is a trip because I usually do a thorough investigation before I head out anywhere. The only thing I did was take a peak at the menu, that's it. I'm glad that I didn't bust out with my detective tools and pick at this place too much. Truthfully, I was sick on the day we decided to go out. Usually I'm quite picky about my dinner destination, but I settled for this place because it was relatively inexpensive and it was close to my work. However, Zazie turned out to be just that and so much more. Zazie is a charming little neighborhood restaurant that serves food that warms you from the inside out. The service is awesome. Our server - with the sexy accent - was great. He made sure to ask us how everything was and even commented, "those mussels are HUGE!" yeah. LOL. Star appreciated their vegetarian options and I appreciated the price and bread. Everything actually was fantastic. I also am glad that we ventured into a part of the City that we usually don't go to normally. Oh that is why I love eating out with Star - she's down for anything. So this my last hoorah dinner with Star in 2008, and it was great.