Restaurant
:
Straits Restaurant
Address: 845 Market Street, 4th Floor, Westfield San Francisco Centre, Downtown, SF
Phone Number
: (415) 668-1783
Cuisine
: Singaporean, Asian
Date Last Visited
: January 6, 2009
Dining Partner
: Momma
This dinner was rather impromptu. Momma called me while I was still in the office and she informed me that she was gallivanting at Bloomingdales. Since she was still in the City, I proposed dinner. I was starving and it seemed like she had nothing better to do. (haha) She said she was waiting for her friend, so I thought "the more the better."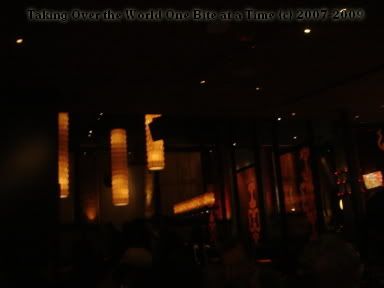 So, when I got there, she told me that she friend was not able to make it. (boo) It was about 6 p.m. and the place was still pretty empty. We were sat in the corner of the dining room right by the entrance. We received our menus and water just fine, but to finally get someone to order our food was a bit irritating. My mom who works in the restaurant biz even got a tad ticked off and said "excuse me!" kind of loudly…I know, humiliating. Ha! She was right though. The hostess and a tall, well-kept gentlemen, who could have been the GM, were just standing there talking and weren't on the look out for people who needed attending. After Momma's little outburst, we had someone at our table.
Roti Prata - Crisp Grilled Indian Flatbread
with Yellow Curry Dipping Sauce
We finally got our orders in. Prior to ordering, Momma asked if we were going to get any bread. I had to remind her that we were in an Asian restaurant, so for our appetizer, I ordered a roti prata for us to share. We could tell that this was made fresh because the roti was hot and crispy. It had a smoky tone from the grilling. This is only the fourth version of roti that I have ever had, and I thought it was good. I still prefer the one at Banana Island more, but this was still very good.
Ikan Goreng - Crisped Whole Striped Bass,
Wok-Fried Chinese Broccoli with Black Bean Basil Sauce
I wanted to make sure that Momma got something that she was going to enjoy. We are not very familiar with Singaporean food even though our countries are so close to each other in Asia. I knew she liked seafood, so the crispy bass looked perfect. Our server said that the head and tail were included. Uh, isn't that what WHOLE means? No worries, we eat whole fish all the time at my place anyway. Filleted, de-boned fish in my house? Never!
The presentation alone was incredible. Momma said and I quote, "What the hell is this?" and then she starts laughing. It was pretty funny. I appreciated the side of the Chinese broccoli on the side just because we didn't have to order another side dish. I'm not too fond of black bean sauce, so I didn't eat parts of the fish that was drenched in it. The fish was delicious. I loved the crispy skin and meat was so satisfying. A bit pricey - $26 per whole fish, but I think it has a great presentation and was very tasty.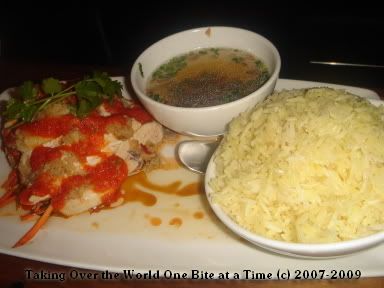 Hainan Chicken Rice - Poached Chicken and Aromatic Chicken Rice with Salty Ginger and Chili Sauce
Oh, Hainan chicken rice. When I saw it on the menu, I knew I had to order it because my 3rd husband Anthony Bourdain ate it when he was in Singapore. Known as Singapore's national dish, it can be found at many hawker stands everywhere in the country. I think I can equate this with Filipino adobo. Everyone has had it and every family has their own version.
I did a bit of research on Hainan Chicken Rice and the presentation here is a bit different. I saw that in the chicken rice in Singapore, the poached chicken and chicken rice are served separately from the condiments. Bourdain made a point that everyone can modify their own chicken rice. Some people put in more chili and others put more ginger. Here at Straits, the chili and ginger is already on top of the poached chicken which doesn't leave room for much customization.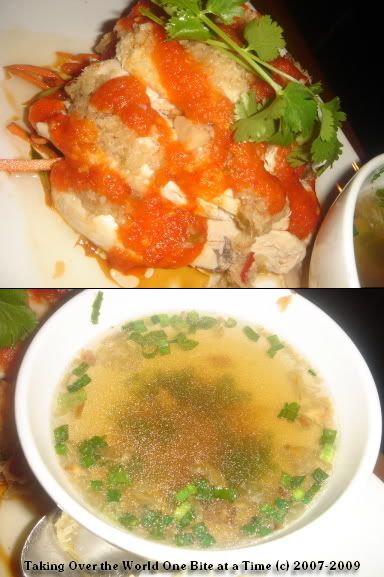 The chicken was very good. Poached and tender and topped with heaps of grated ginger. The chili sauce itself wasn't too spicy. Most of the heat actually came from the ginger. The chicken sat on a bed of pickled carrots, which was a lot like Filipino
atchara
or pickled papaya. Not quite sure what the broth was for. I tried pouring spoonfuls on top of the chicken rice - that was okay. I tried sipping it like soup - reminded me a lot of Filipino
tinola
because of the ginger. Momma ended up killing the broth, which was okay because I wasn't too excited about it. I saw how the flavors really reminded me of Filipino food. Maybe some of our food is not so different from each other after all.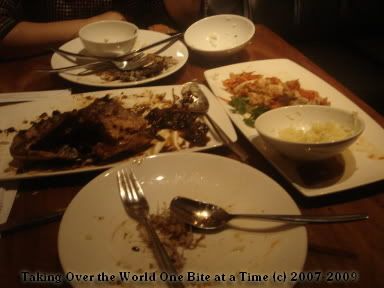 All done!
Straits Restaurant is pretty good. I don't think I would come back anytime soon. I commented to Momma that I would rather go to Banana Island. As you can see we finished most of our food. The only part left of the fish was the head - which Momma was more that happy to bring home. Hey, some of the best meat is on the head. I finished almost all of the chicken rice. I still had a lot of the poached chicken left and I asked our server if I could order another serving of chicken rice. He said yes, but he also said he'd just give me a serving. YAY for free food.
Overall, our meal was filling, but like I said again, not a place I would come back to right away. We really liked the silverware (of all things) and the mood. There was dim lighting and it seemed really mysterious and exotic. The bar area looked like it would be popping in the later hours of the evening. We noticed that the dining room we were sitting in filled up pretty fast. I guess people were settling down after work or shopping.
Being Asian and pretty familiar with Asian food, I would rather go to a restaurant that has more authentic food at lower prices. Straits seems to be geared toward diners who are not very familiar with Asian food because much of the food is not traditional and those who don't know it wouldn't really notice. But hey, if that floats their boats, it's all good. But for me, I will pass.