Restaurant
:
Max's of the Philippines
Address
: 1155 El Camino Real, South San Francisco, CA
Phone Number
: (650) 872-6748
Cuisine
: Filipino
Dining Partner
: Momma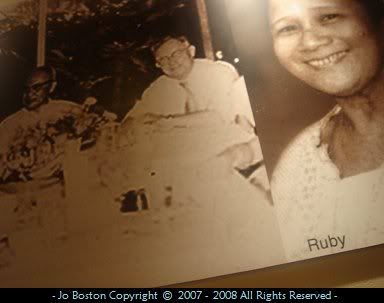 Momma and I visited one of our family members in the hospital, and by the time that we left, we were starving. We drove down El Camino Real and pulled into Max's parking lot. The walls are glorified with blown-up, black and white photos of the restaurant's founders, an old menu from God knows when (dishes cost 15 cents), and other pictures that made the wall seem like a museum exhibit. Okay…
I had been to Max's a couple of times before this visit, and they seemed to have renovated the place. I remember the last time to be cramped and warm from the lamps hanging from the ceiling. I don't think the last time was particularly a positive visit. Anyway, let's see how this would compare to my past stay.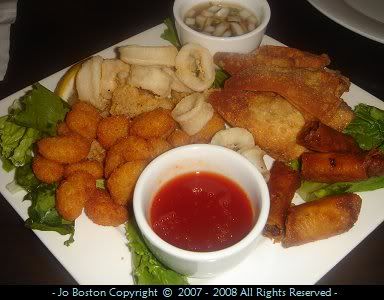 Max's Teasers - A Plateful of the Most Popular Appetizers: Lumpiang Shanghai (Mini Eggrolls), Calamares (Squid Rings), Pinsec (Fried Wontons) and Fried Shrimp
Visually, it looks outstanding. I mean, what is better than fried food? Sadly, I was not impressed at all. The lumpiang Shanghai were overcooked, the fried wontons were tough, the shrimp were bland and the calamari were pale and boring. Even the dipping sauces weren't all that great. If you are unfamiliar with Filipino food, you'll probably not know what you are supposed to be tasting, but if you are like me, you'll be as disappointed as I was.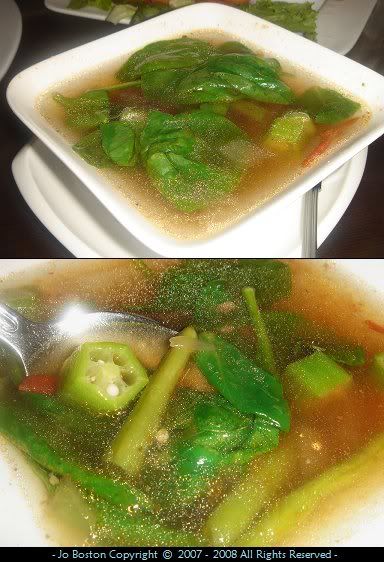 Sinigang Soup - Sour Soup Broth with Spinach, Tomatoes, Onions, Green Beans and Okra
I was actually really pleased that they had this. Sometimes you don't need a huge bowl of sinigang complete with the meat and the big hunks of vegetables. Because I had the other dishes such as the fried chicken and the bistek, I just wanted the broth. The broth was nice and sour, just how I like it. I love the combination of the tamarind-infused soup and melt in your mouth spinach with the rice and fried chicken. I love fried food and soup. I have had more than once, nilaga with tapa and shrimp sinigang with fried salmon. Now sinigang with fried chicken. It's all about texture contrast. I like it that way. I did find the soup to be watery, as if they just dumped water, vegetables, and sampalok from the envelope two minutes before it was served. Momma boils her sinigang for a long time and the flavors are infused throughout. This soup served it's purpose of being sour, but I didn't sense the "love," if you will.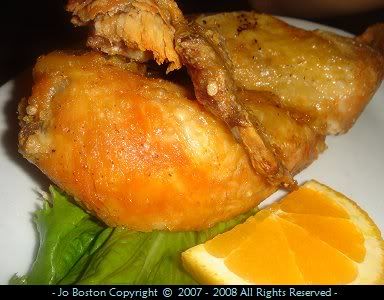 Max's Fried Chicken - "Crispy, juicy, cooked in a secret recipe that has made it a household name with Filipino families for over 60 years."
Fried chicken from the Philippines is different from fried chicken you get here in the United States. Filipinos don't use any form of batter or flour coating. We salt our chicken and then dump it in the oil, that's it. If you like KFC's extra crunchy coating with all the herbs and spices, you might think that this chicken is pretty plain. Well, that's sort of true. Unfortunately, I found this chicken to be a bit bland and dry - not "juicy" as the menu boasts. Something inside of me made me think that my family can make a better version. Auntie Glo's can rival Max's for sure.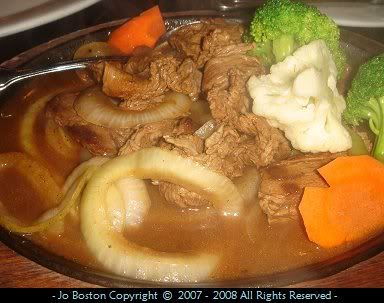 Filipino Bistek - "Beef steak Filipino style. Thinly sliced beef tenderloin sautéed in lemon juice, onion, soy sauce."
I was a bit disappointed in this bistek. The way I make mine goes like this: brown meat, remove meat from pan, sauté onions and garlic in remaining grease and brown bits, deglaze pan with soy sauce, lemon juice, and water, salt and pepper to taste, serve. Easy. It's full of flavor and perfect with some steaming white rice. I would have to say that my bistek is some of the best out there. This bistek from Max's is not up to par with mine. Sorry. Bland and soupy. My gravy is lip-smacking good and bursting with flavor. Max's boo. Jo's YAY! Not impressed.
I should really start being picky about Filipino restaurants. Many people (non-Filipino mostly) ask me about where I like to eat Filipino food. If relatives' houses were an option, I'd say that in a heartbeat. Restaurants? I hate answering that question because the place that I love to eat at most has roaches and someone found a Band-Aid in their food once. But then again, my family's kitchen in the Philippines has green lizards crawling on the ceiling and some of the greatest food came out of that kitchen. I wouldn't recommend Max's because the flavors are tempered and are seemingly watered-down to accommodate Western palettes. I have some good places, but I wouldn't say that I have become a convert to any of them…yet. We'll see. Max's is okay. It's convenient because it's right on El Camino, but I don't think I would go back anytime soon.