Restaurant
: Lime
Address
: 2247 Market St. b/t 15th and 16th, The Castro, SF
Phone Number
: (415) 621-5256
Cuisine
: New American, Brunch, Lounge
Date Last Visited
: January 4, 2009
Dining Partners
: Bubuh, BanYo, Star, the Boyz
I was sold at "ALL YOU CAN DRINK MIMOSAS."
Seriously.
So BanYo and I have been uber busy with our jobs and we don't hang out as much as we used to do while we were still in school. =( However, we still try and make the effort to see each other and catch up. It was the last week of 2008 and I told Star that the three of us should hang out. She was down, so when BanYo called me one day, he said we should have brunch. He suggested Lime in the Castro and I thought it would be a good idea since I had never had brunch with them before. It was perfect also because this was the weekend before his birthday. I usually make the reservations and you should have seen my disappointment when OpenTable didn't have room for 3 people at all the following Sunday. BanYo said he could get a table for 10. 10? I couldn't even get a table for 3! BanYo has magic up his sleeves and he got it hooked up.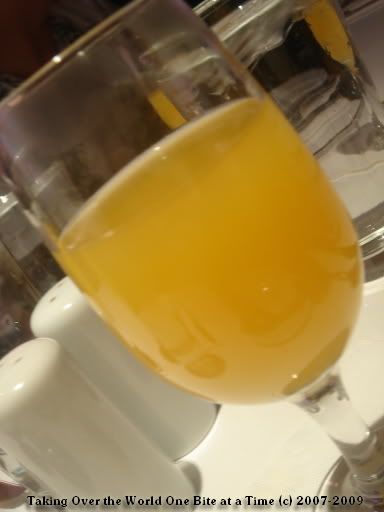 Classic Mimosa - orange juice and champagne
endless glasses for $7 with purchase of an entrée
Sunday brunch is demanded in San Francisco - usually from those who had it rough the night before; however, getting into a place can be difficult. BanYo sure had the hook up because his friend Mz. SexXxy got us in with no problem. It is so good to have people who know people. We were seated in the booth in between the bar and the DJ station. Chic white leather booths, purple and pink lights, and beats bumping got me in the mood REAL fast. In order to get the endless mimosas, all you have to do is order an entrée. Simple. Let me tell you: these creep up on you. Seriously.
Buttery Biscuits - on the house
Love how you get biscuits instead of toast. Pleasant surprise. They were lovely. Nice and tender on the inside and with a slathering of even more butter. *oHhHhHhHhHh*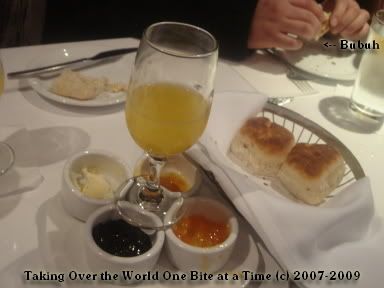 Accoutrements - butter, marmalade, and berry jam
One of my boyz took this picture. =) It was great to meet another person who takes pictures of everything they ate.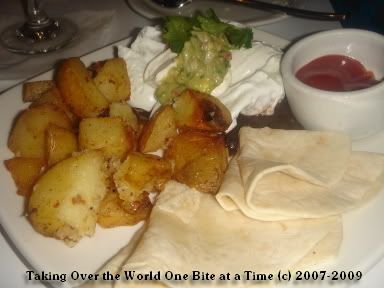 Huevos Rancheros - two poached eggs on
black beans, salsa, guacamole, and sour cream
served with flour tortillas and house potatoes - $11.50
Star ordered the Huevos Rancheros because of the absence of meat. I didn't have any of it, but it sure did look delicious. I think Star was really open to coming to this place because she checked out the menu before we headed to Lime, and she told me that she appreciated the vegetarian options.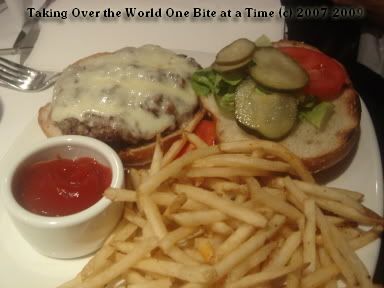 Classic Cheeseburger - white cheddar, lettuce and tomato on an Acme Kaiser roll served with chipotle fries - $11.50
Bub ordered the burger, of course. If a cheeseburger is on the menu, 99.9% of the time, he WILL order it. I wasn't expecting it to be super great cheeseburger, but I was surprised. The Acme Kaiser roll was a perfect platform. Not too hard, but sturdy enough to hold the moist beef and tasty patty. Great amount of cheese and standard toppings. The only disappointment I can think of are the "chipotle" fries. Hardly. There was a sprinkling of something on them, but they tasted like regular fries. I was thinking crispy, seasoned fries - like those from Jack in the Crack, but they were normal. They were still good, c'mon they're French fries, but nothing special.
Eggs Benedict - two poached eggs, avocado (optional
and extra) and Canadian bacon on an English muffin
served with house potatoes and hollandaise sauce
$14.50 with avocado/$12.50 without avocado
I was going between the chocolate chip pancakes (OMG!!) and the Eggs Benedict. I decided on the Eggs Benedict because it screams
brunch
. Our server asked if I wanted avocado with it and I said yes because I love avocado. I should have known that it was going to cost extra. Well, I KNEW it was going to cost extra. I just didn't know how much. It's $2! Say wha? You could barely see it in there! It was very delicious nonetheless. I stole Bub's tomatoes because I love them with eggs. The poached eggs were perfectly running and the house potatoes were yummy. Lovely entrée.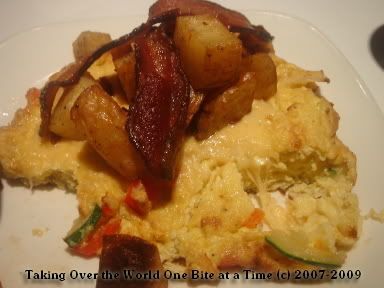 Fritatta - zucchini, red peppers, caramelized onions, and gouda cheese served with bacon and house potatoes $11.50
Mz. SexXxy (who helped us with obtaining the great table) was such a sweetheart. She made sure everyone else got their food and was comfortable before she sat down and got her own. There was a little game of
musical chairs
during the meal, and when she had the chance to eat, she sat next to me. The explanation on the menu didn't sound too appealing, but when I saw it in front me of me, I asked myself, "Should I have ordered this instead?" She let me have a bite, and it was delicious. Part scramble, part omelet. Tender eggs, stringy, melty cheese and a lovely medley of veggies. I loved how they put the potatoes and bacon on top. I think I'm going to get this (
and
the chocolate chip pancakes) the next time. =)
I don't know if it's a custom here at Lime, but BanYo got whooped with this LOVE paddle by one of the fine servers. I love Lime. Since it is in early in the day [most] the diners are refreshed and are in a happy mood. Bub and I talked to the DJ and she asked if we had any requests. So if you were there on January 4th and heard "Lace and Leather" by my favorite gal Britney Spears, yeah, that was all because of me. =P They played all the songs that made me happy. That's why I was happy. Great filling food and great people. Also because I was with my happy boyz and we were here for BanYo's birthday and everything and everyone was just HAPPY…and BUZZED. It was the champagne!
So BanYo, I hope you had a good time. I love you and I mean when I say that you are the best girlfriend and soul-sistah. Happy 25th and many many many more to come! Let's live it up this year! Love you!
BONUS
-
Lime Brunch Playlist Faves:
Lady Gaga
-
Poker Face
Missy Elliot
-
4 My People
Girlicious
-
Stupid Sh*t
Britney Spears
-
Lace and Leather
Lady Gaga
-
Just Dance