Shop #1
:
Dynamo Donuts and Coffee
Address
: 2760 24th Street, b/t Hampshire and York, The Mission, SF
Phone Number
: (415) 920-1978
Cuisine
: Uh, Donuts and Coffee? =P
Date Last Visited
: January 11, 2009
Dining Partner
: Jenn and Rox
It was kind of funny how I initiated this 24th Street outing with my cousins. It all started on Facebook as a wall-to-wall "conversation," and it kind of looked like this (I was using my phone to message her, so please excuse the spelling):
Jo
: Do u lyk bacon?
Rox
: Loves it!
Jo
: Do u lyk maple?
Rox
: Loves it, too!
Jo
: You lyk apple?
Rox
: Loves all of it! So tell me what do you have in store? The anticipation is killing me!
Jo
: You lyk donuts?
Rox
: That's it! I'm calling you :}
So she ends up calling me and I told her to Google whatever I sent her and the first link in the search results was a review on Yelp! Yes, you can say that Rox was excited when she found out where we were going.
Dynamo Donuts is on the side of 24th Street that I rarely go to. Bub used to live on Douglass back in the day, I would take the 48 Muni almost everyday after school. So
that
part of 24th, I was kind of familiar with. The other side is a different story. Bub's parents brought me to the part of 24th Street on the opposite side of Mission a couple of times to eat at
Roosevelt Tamale Parlor
and then a short visit at St. Francis Ice Cream Parlor. Other than that, I don't have any other knowledge of this strip. So on a beautiful Sunday morning (we got to 24th St. at around 10:20), we set out for the infamous donuts known for the unusual flavors. Rox, Jenn and I decided to walk to Dynamo from the BART station because you see a whole lot more things that way than when you take the bus. After a 10-minute walk, we finally found the little green awning and the patrons waiting in line.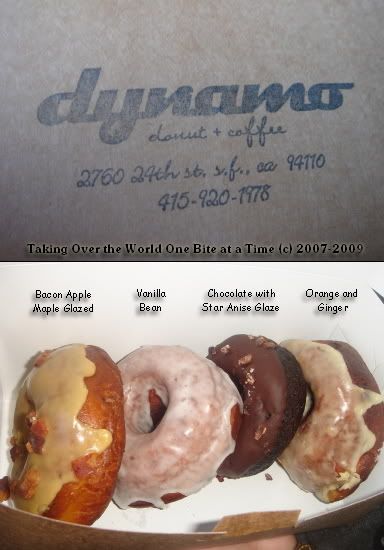 Since another visit in the near future was unlikely, we got one of each kind of donut. But let's keep it real here, I was here for the Bacon Apple Maple Glazed. I would have been SO disappointed if they sold out. Fortunately, there was enough of each for us to have a sampling. We wanted to eat these for dessert, so we went to Roosevelt Tamale Parlor for a Mexican brunch first (really becoming a favorite of mine).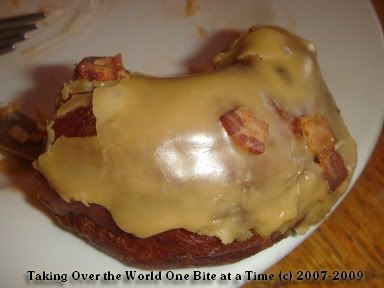 Bacon Apple Maple Glazed
Now there is a reason why there is less than half of the donut left in this picture. We were so excited to taste it that we couldn't get the camera out fast enough. Eating this donut is one of the more interesting foodie moments I have had yet. You have the crispy, let's repeat, crispy bacon bits on the sweet glaze. I appreciated that the bacon was, let's say it again, crispy. Rox described it nicely when she said it was like "breakfast." Really was. The girls basically killed the whole thing after I took my bite, so I can't really describe the apple and maple flavors. There weren't any chunks of apple in the donut. I don't remember the glaze being too maple-y, but the whole thing was just good. I think I'm going to go back just for this donut.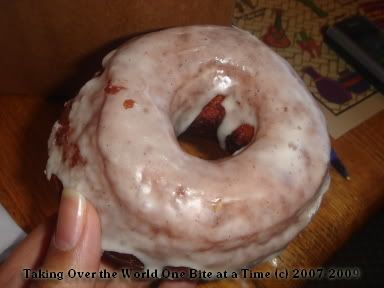 Vanilla Bean
I'm a vanilla girl, so I was ready to like this one. The texture of the donut is a bit different from other donuts that I have had. Not as delicate as a Krispy Kreme, but not has sturdy as a normal donut ship donut. Dynamo's are a little bit of both. The vanilla bean did not really excite me. The glaze on it was beautiful with the specks of the black vanilla beans, but it didn't exude the vanilla flavor that I wanted. Just okay.
Orange and Ginger
You know how they say orange and ginger is good for you especially if you are sick? Yeah, I had been getting over a bug that I developed around Christmas, so I thought this would help. I was disappointed in this one. Too much ginger. I mean, if you like ginger, then I think you'd like this, but not for me. Auntie Glo had a chance to taste this when Jenn brought it home and she said she likes ginger but didn't like this donut. Again, not for me.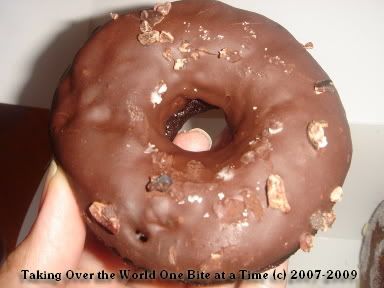 Chocolate with Star Anise Glaze
Probably the donut I was the most upset with. I really didn't like it. The flavor of star anise reminds me of pho and roasted pork. For real, that was the aftertaste I had when I swallowed.
Lechon.
Ick. Not nice. I would have loved the donut if the spice was not on it. Boo. Sorry, please don't be mad I didn't like it. It's just my taste.
Overall, I think Dynamo is so innovative and so different from our everyday donut shops. I believe there are other flavors during the week, and I hope to try them out someday. But you can be sure that I will be back for that bacon donut. It was crazy. It's all about the "bacon sprinkles." =P
Shop #2
:
Humphry Slocombe Ice Cream
Address
: 2790 Harrison Street, b/t 23rd and 24th St., The Mission, SF
Phone Number
: (415) 550-6971
Cuisine
: Ice Cream, Desserts
Date Last Visited
: January 11, 2009
Dining Partner
: Jenn and Rox
On our way to the donut shop, we walked past another funky shop. Humphry Slocombe Ice Cream is named after Mr. Humphries and Mrs. Slocombe in the famous British sitcom "Are You being Served?" We found that out after the shopkeeper/ice cream server extraordinaire was asked who Humphry Slocombe was. We got to 24th at around 10:20, and Humphry Slocombe doesn't open until noon (daily), so I saved the ice cream for after the donuts. Yes, we eat in courses. =)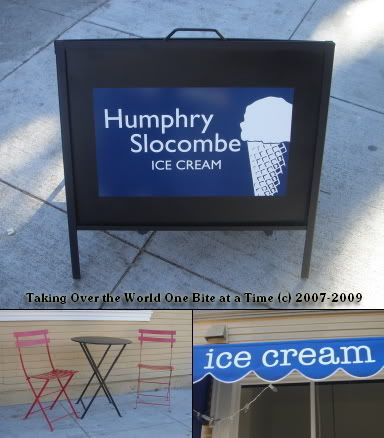 We spent a little bit of time sitting outside waiting for the shop to open and I have to say that even though their walls are bare and they just have the minimum right now, I can see the potential of how this will be a neighborhood favorite. Talk about a run-on sentence! But it's true! The cute table and chairs outside, the gorgeous blue awning and the simple sign on the sidewalk.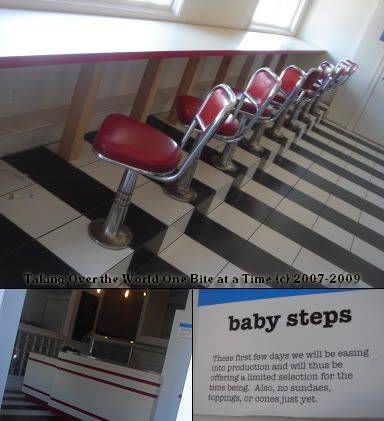 I love the counter seats. Comfy and gushy. Loved them. "baby steps" - just a reminder to the patrons that they are in their early days of development and that not everything is set up yet. You know what though? I liked coming here in the beginning stages because as the times goes by and as the changes come and go, you can see the progress the place has made. I can't wait when this place is at its 100%- sundaes, toppings and all.
I didn't get the ice cream server extraordinaire's name, but he was AWESOME. He was offering samples and we got to sample two:
cream cheese chocolate chip
and the
Secret Breakfast (shh)
. We loved the cream cheese chocolate. It was different, but safe. As you can see on the glass, there are unusual flavors like the Thai Chili Lime Sorbet. The
Secret Breakfast
was strange!
Bourbon ice cream with corn flakes
. Doesn't it sound like a hangover remedy? Sounds contradictory like taking a shot in the morning to get rid of a hangover. Secret Breakfast - ice cream of champions. I don't know if it was just me, but I could feel
warmth
not cold in my throat after taking that taste. Ha! Can you get drunk eating ice cream? Who knows! Ha!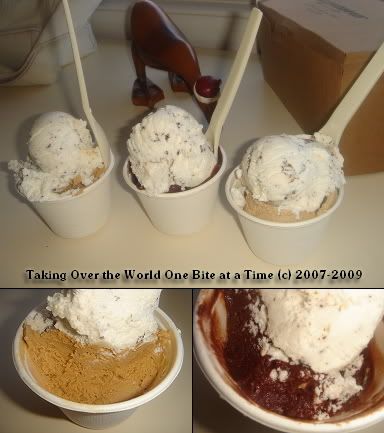 That's Rox, Jenn and my ice creams with the duck. Long story. Don't want to get into it. Oh, there's our box of donuts as well. Rox got the cream cheese chocolate chip with the balsamic caramel. It was a bit too sour for my taste, but Rox really liked it and finished all her ice cream. Jenn got cream cheese chocolate chip and the Valrhona Fudgsicle and talk about CHOCOLATEY! If you are a chocoholic, you will ADORE this sorbet.
My Ice Cream:
Cream Cheese Chocolate Chip with Vietnamese Blue Bottle Coffee
Of course I got the cream cheese chocolate chip, and the
Vietnamese Blue Bottle Coffee
looked fantastic. Let me be honest, I thought it was too strong at first. It was smoky and very deep in flavor. I didn't think I could go past five bites, but before I knew it, here was almost none left in the cup. It takes a little bit to get used to, but after I got over initial strong flavor, it was absolutely delicious.
Humphry Slocombe is fabulous. I have seen a
list of the flavors
they have, and just like Dynamo, it really depends on what day you come because it can be different everyday. I saw
foie gras
on the
flavor list
and I thought that was insane! How about
kamquat-poppyseed
or
sweet corn-blackberry
or
cucumber ice milk sorbet
? Don't they sound intriguing? The flavors in this shop were described as "funky" by our ice cream server extraordinaire. I can agree with that. I think ice cream is making a comeback. Well, now that I think about it, I'm retracting that statement. Ice cream has always been there, it's just that gelato had its phase and then there was that whole thing with frozen yogurt. Everyone and their momma was opening a frozen yogurt shop. But ice cream, you can't go wrong with it. You can be so much more creative with it. Exactly how they have made it here at Humphry Slocombe. Can't wait to come back for more! 24th Street is really becoming a great place for foodies, and I am excited to see what opens up next!