Restaurant
: Blue Plate
Address
: 3218 Mission Street, b/t 29th and Valencia, The Mission, SF
Phone Number
: (415) 282-6777
Cuisine
: American
Date Last Visited
: November 13, 2008
Dining Partner
: BanYo, Ate Di, and Darl
I think that it is vital for a girl to have a girl's night with her friends. It doesn't have to be an extravagant night out on the town, with the hair and nails did, and the faces covered in MAC. It can just be a nice dinner to catch up over some incredible edibles. Every girl needs this…to keep her from going insane. =P
Blue Plate is an American restaurant in "Hipsterland," otherwise known as The Mission. The neon blue EAT sign is rather welcoming, especially for me. It's very easy to get here; however, the only obstacle I can imagine someone having is parking. There is a Bank of America parking down the block where you can park for 10 bucks. Once you are inside, you are transported, almost making you forget that you are in the middle of a busy neighborhood.
This was some really good focaccia. Lightly salted and great texture. =) Thumbs up. It's good to switch up from the usual loaf of bread from time to time. Would have loved for some fruity olive oil and balsamic to dip in or creamy mascarpone cheese to spread, but I guess they want us to appreciate it the way is it.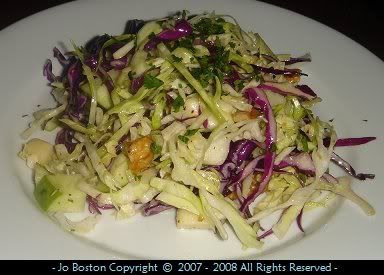 Shaved Cabbage and Green Apple Salad - Vermont Cheddar, Toasted Walnuts, and Champagne Vinaigrette - $7
Not much of a cabbage person. I had a bite with the apple and it was good. Again, I'm not a cabbage person, so I don't think I would have been able to finish the whole plate.
Chopped Escarole Salad with Duck Confit - Persimmons, Pomegranates, Pistachios, and Ricotta Salata - $10
This salad screams "autumn" to me. There are so many ingredients in here, but they all seem to play off each other to make a very well-rounded salad. It's actually one of the richest salads I have ever had. You got the pieces of the duck confit and ricotta…how decadent. But you have the pomegranates' tartness and persimmons' sweetness that counter the fattiness of the duck and cheese. =) Great textures and flavors.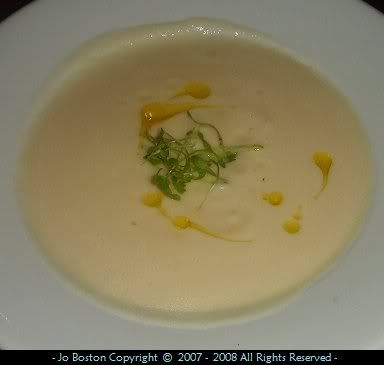 Celery Root and Parsnip Soup - Apple and Micro Celery - $7
This soup was so delicious. This is made with the ugly celery root, but the flavors are so subtle and earthy. I enjoyed the velvety smooth mouth-feel. This was BanYo's first course, but you can be sure that I was sneaking my spoon into this bowl for another taste. The only downside I thought of immediately having the first bite was that the soup left an aftertaste of French onion dip…you know the stuff you dip Ruffles or Lays Potato Chips in? =/ Otherwise, very good.
Grilled Monterey Bay Squid - Lemon, Parsley, and Sorrel - $8
My squid were FANTASTIC. The meat was incredibly tender and I even liked the areas that were charred from the grill. You should know that I love sour-citrus flavors so the lemon and tangy sorrel were just awesome with the squid. Gosh, my mouth is watering just writing about this. Even though the sauce, if you will, was vibrant with those sharp flavors, you can still taste the squid. Squid has a lovely and distinct sea-flavor, and fortunately, it is not masked. If you like squid and sourness like I do, you are going to enjoy this very much. I would order this again in a heartbeat.
Pan Seared Alaskan Cod - Rice Beans, Fennel, Rapini, Spanish Chorizo, Grilled Bread, and Saffron Aioli - $23
Darl's main course was gorgeous. The cod was cooked perfectly and stood up well to the rather complex sauces of chorizo and saffron. Looking at it makes me smile for some reason. Maybe because it was soooo good and that grilled piece of bread looks phenomenal. Darl cleaned her plate! She's TINY, no kidding, so seeing her eat everything was kind of cute.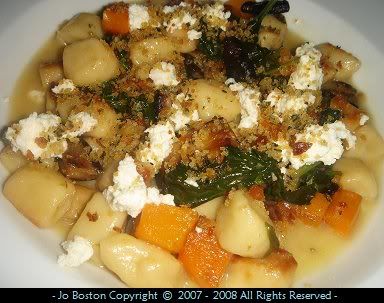 Ghocchi - King Trumpet Mushrooms, Butternut Squash, Spinach, Bellwether Ricotta, and Sage Crumbs - $17
Like Ate Di's duck confit salad earlier, her main entrée screams AUTUMN again. The perfectly-made gnocchi were outstanding in texture - not gummy, not hard, not squishy, but just right. I have noticed that gnocchi is usually served in a rich and creamy sauce, but here, the cheese and squash were part of the dish, not just in the sauce. Like you can actually see what you're eating and appreciate their own flavors. Depending on what you pick up with your fork, you get a different experience each time. Great dish.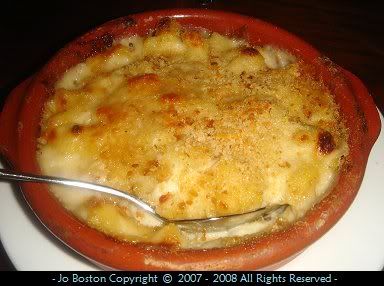 Macaroni and Drunken Spanish Goat Cheese - $8
Okay, I am not a goat cheese person - AT ALL, but due to extreme peer pressure, I had a small bite. It was very creamy and tasty…then I detected that goat aftertaste which I don't like. I had two bites tops. If you like goat cheese, this is for you, but not for me.
Blue Plate Meatloaf - Mashed Potatoes
and Blue Lake Green Beans - $16
Doesn't this plate just emanate "All-American Mom" to you? My mom is not All-American, so we never had meatloaf, but for you who did, you know darn well that this is the quintessential American entrée. What I loved about it was that it really tasted homemade. The meat was so tender and delicious. I appreciated that they used more of a jus than a gravy for the sauce. The potatoes were perfect and I looooved the green beans. They were simply sautéed and still had a great crunch when bitten into. =) Happy…and sort of jealous because I didn't order this for myself.
Crispy Chicken Thighs - Polenta, Brussels Sprouts,
Hen of the Woods Mushrooms, Chestnuts
and Pancetta Vinaigrette - $21
Crispy chicken thighs - doesn't that sound so good…but so bad? I have a love-hate relationship with this dish. The chicken meat was good, a bit on the bland side, but the skin was great. I liked the polenta and the pancetta vinaigrette, but everything else - texturally didn't mesh well. Frankly, I didn't like the vegetables on the plate. To me, there was just too much going on and my jaw worked a bit too hard trying to eat everything. If the chicken was simply served with just the polenta and pancetta vinaigrette, I would have been happy…and maybe a side of BanYo's green beans and a lemon wedge. I thought the Brussels sprouts, mushrooms, and chestnuts were too much. I was a little disappointed, and there was much of the vegetation left on the plate as it was taken away unfortunately.
Chocolate Baby Cake - $8
This was like a baby brownie cake with fudgey center. =) I loved the hard exterior, kind of like the edges of a brownie - the part almost everyone fights for. Simple and chocolaty. What is NOT to like about that? Winner.
Pumpkin Bread Pudding - $8
Now this was the surprise of the night. Pumpkin irks me - unless it is in a pie. Bread pudding irks me a little, I don't know why - don't ask. But this dessert was fantastic. It was warm and creamy and not too pumpkin-y. Luscious mouth-feel and subtle flavor, but when combined with the tangy pomegranate, awesome. Again, I was surprised. Very seasonal and great to try.
What I loved about the place was how warm and homey everything felt, from the dimly lit dining room, to the friendliness of the servers, to the flavors in the food and the intimacy of the space. We sat in the back room where the door that leads to the outdoor seat area is (which looked fantastic - especially for brunch), and it felt very private. We couldn't see the rest of the restaurant because of the wall we sat next to. When we left, we were surprised to see how many people were in the place. As we were seated at the beginning, there was not but four or so tables occupied, but when we left, it was a full house. I also liked how it was casual but still classy. We weren't rushed at all and we felt comfortable to talk without being hushed. Good food, good friends, and good conversation. Wonderful meal shared with my girls. Can't wait to do it again!