Restaurant
:
Beach Chalet Brewery & Restaurant
Address
: 1000 Great Highway, San Francisco, CA
Phone Number
: (415) 386-8439
Cuisine
: American
Date Last Visited
: December 17, 2008
Dining Partner
: Bubuh
So I started dating this guy in 2003. His name is Bubuh. No, his real name is not Bubuh…it's actually Keaton, but I call him Bubuh on this blog. So I started dating this guy in 2003, right before the holidays. For the first few years of our relationship, he was the worst boyfriend EVER. For real. We fought all the time, but for some reason we still stayed together because we knew there was no one else in the world who would put up with our crap the way that we did for each other. Then all of a sudden at the beginning of 2008, Bubuh decided to be nicer to me. In a blink of an eye, he became the best boyfriend EVER. Not many people thought that we were going to make it to our 5 year anniversary. Hell, at times I didn't think we would either, but before we knew it, December 17, 2008 was knocking at our door and we knew this was an occasion to celebrate.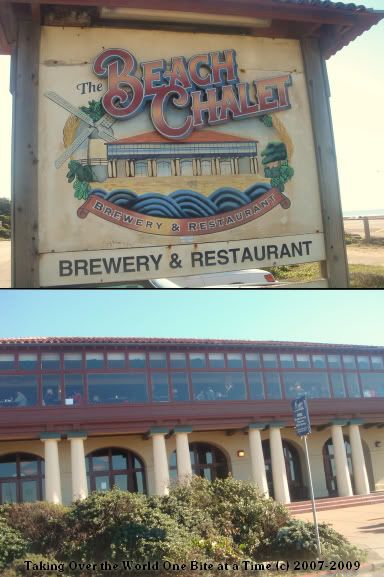 I had always wanted to go to Beach Chalet. The funny thing is that I really don't hear much about this place. I guess the lack of knowledge and absence of reviews from people I knew left me curious. Bub and I got to Beach Chalet on the cusp of lunch, so we had the choice of either the breakfast or lunch menu. Our waiter did warn us that some of the items or components of any particular dish on the lunch menu might not be ready yet, so we would have to be prepared for substitutions. Fine with us, we're not breakfast people anyway.
As we were waiting for our food, we had a chance to take in the environment. The restaurant overlooks Ocean Beach, so we knew the views were going to be spectacular. I just wanted us to spend part of our day in a beautiful area of San Francisco, and the ocean is the perfect place to be. I have never really expressed how fortunate I feel to live near the ocean. It's literally about 10-15 minutes away from where I live. I'm a Pisces, so I don't ever want to live too far from water.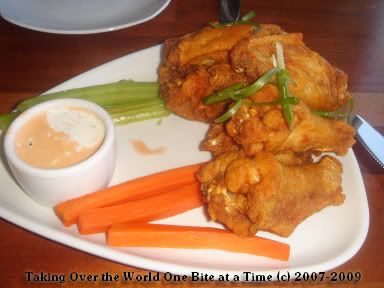 Buffalo Chicken Wings
with Tabasco Butter Sauce and Ranch Dressing
We love chicken wings, especially Buffalo wings. What I liked about these was that they were still left a bit crispy. They weren't drenched and oozing with the spicy sauce. Don't you hate it when you're trying to eat a BBQ wing or a Buffalo wing that it is so slippery that you drop it and it gets all over your face? So glad that they left the saucing to us. The wings themselves were huge, juicy, and meaty. I loved that combination of the Tabasco butter and ranch dressing. The Tabasco butter was creamy, but still acidic. Very good dip for the wings. We came here starving, so rest assured that there were just bones on that plate when it was taken away.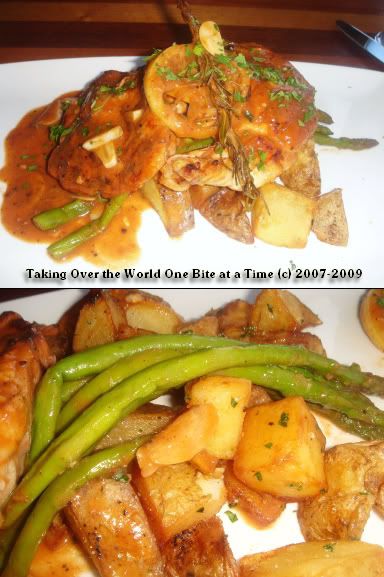 Pan Roasted Chicken
with House Potatoes, Sauteed Asparagus
and Lemon, Garlic-Rosemary Sauce
This was my entrée. It's supposed to have garlic mashed potatoes with it, but like I said before, some of the things on the menu were not ready yet because they were still transitioning between breakfast and lunch. But then again, shouldn't they have everything ready before breakfast ends anyway? Whatever. My chicken came with the house potatoes that they serve at breakfast. I would have liked the mashed potatoes thought because there was too much flavor going on. The plainer mash would have blanaced everything out. My initial impression was that the sauce was a bit awkward. It claims to be a lemon, garlic and rosemary sauce, but for some reason, I kept tasting garlic. The chicken wasn't cooked all the way either. I could have sent it back to have it done more, but we had waited so long already that I simply didn't care. The asparagus was pretty flimsy. I like mine with a little snap left in them, but they were just cooked too long. Overall, disappointed. Expected better - especially with its price.
1/2 Lb. Ground Chuck Hamburger
with Lettuce, Tomato, Pickled Sweet Red Onion,
Garlic Mayonnaise & French Fries with Avocado
See, Bub loves his hamburgers. I was actually very surprised with his burger. The meat was very tasty and his accoutrements went very well. Surprised with the pickled onions. I liked how they didn't use fresh onions; otherwise, we would have had horrible onion breath all day long. It ended up being a very expensive burger because each additional trimming, like the cheese and avocado, has a high supplement. So be careful when you go and try to customize your burger. This almost went up to $20! The bread, (not definite on what it is, ciabatta maybe?) was perfect. Nice and soft, but solid enough for everything in between. Oh yes, those on the side are French fries. So what's wrong? We asked for garlic fries. They were brought to us a little later, but it would have been nice if the got the order right the first time.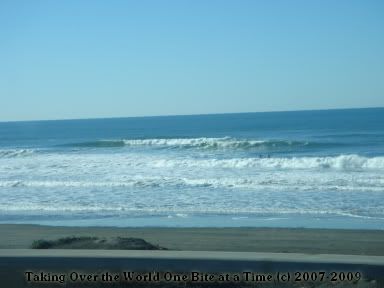 Beautiful view of the ocean
So what did I think? The views were fantastic, but the restaurant was lacking. The service was a bit slow and it took a really really really long time to get our check. It seemed like they were ignoring us for a little while. I don't know whether it's me or what, but it felt
odd
. Right when we walked in, there was this weird smell. Then we were sat and the wait was long. Then my food was not what I had hoped. Then the wait for the check was ridiculous. I don't think I would come back anytime soon. I mean, it was not a total disaster. Bub and I loved the chicken wings and his burger, but it felt too old-fashioned...and cold. I won't be surprised if the building we were sitting in was a historic structure. The restaurant is also a brewery, but Bub and I aren't beer drinkers, so we're indifferent. Overall, just okay. Just not my scene I guess. It's relaxing, I give them that.
In the end, it was all about me and Bub and our 5 years together. Honestly, we could have had breakfast at IHOP and I would have been happy, but having that ocean view and holding his hand while he switched gears while driving along the coast with the wind whipping through our hair and into our faces made the experience a whole lot more.
Happy 5-year, Bub, and to our next 5 years together.