I really cannot believe that Thanksgiving is tomorrow! The year of 2008 really flew by quickly. Of course as a foodie, I am so excited for all the food! I really don't know what I will be preparing for tomorrow, but I know it's going to be awesome anyway since my family is going to be there and we have KARAOKE! Yes, we rock the holidays.
Here is a picture of the setup from
last year's
Thanksgiving: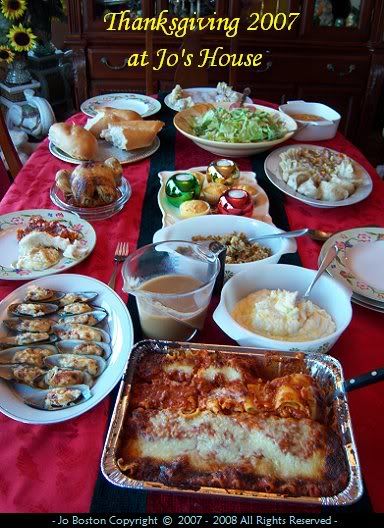 We don't do turkey. We're happy with chicken, and yeah, it was kind of random: lasagna, dim sum and Caeser salad, but it was so delicious.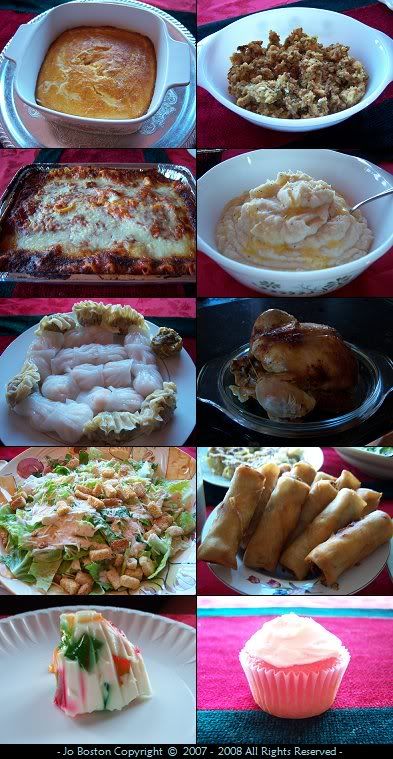 One thing that I LOVE are the mussels: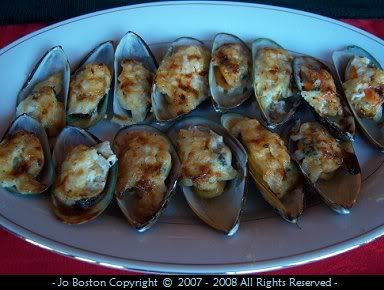 They are ridiculously easy to make.
Holy moly, is Jo about to post a recipe?
********
My Family's Baked Mussels
What You'll Need:
1. A bunch of cooked mussels
I just buy the ones in the freezer section that are already cooked through. Just make sure they are thawed before you top them.
2. Some mayonnaise
3. Minced onion
I don't have any measurements because we do things by instinct. ;-)
Steps:
1. Combine the onion and mayo. Add as much onion as you want, just make sure the mayo maintains its viscousity as if nothing was added to it.
2. Top each mussel with the mayo
3. Stick it in the oven at 400-450. You'll know when they are ready when the topping gets nice and brown.
4. Enjoy!
********
As you can probably tell by now, I'm horrible at writing recipes, but these mussels are so good! Try them!
Happy Thanksgiving Everyone!