Restaurant
:
Arcadia
Modern American Steakhouse by Michael Mina
Address
: 100 West San Carlos Ave., San Jose, Ca
Phone Number
: (408) 278-4555
Cuisine
: American, Steakhouse
Date Last Visited
: September 19, 2008
Dining Partners
: Ate Di, Halle, Halle's Boo
The first and last times Ate Di and I came here was back in March
. We had a ball back then and I had always wondered if I would ever return. Fast forward six months, and I thought now would be fun to make another visit - this time with my girl Halle and her date since I went on and on and on about it to her the first time.
Executive Chef Daniel Patino
is … just awesome. I let him know that I would bring my friends over a few days before and right when we were seated, he started doing his thing, and boy, it sure made us feel like VIP's.
Amuse My Bouche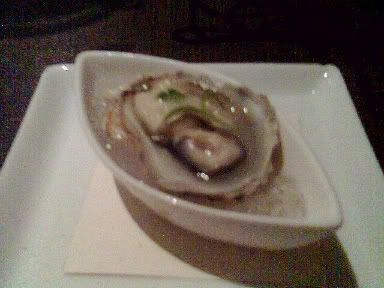 Amuse Bouche #1
Please excuse the poor photograph. When we got our food, I realized that I didn't bring my camera with me. All I could think of was, "Are you f*ck*ng serious, Jo?" I was rather appalled with myself. So I took out my camera phone (without flash unfortunately), and took this picture. Forgive me. Anyhow, Frank, our server, said this was a Miyagi Oyster from Washington. At first sight, I thought, "Oh no" because I don't do oysters. Whenever my family would make them, I would always pass, but to avoid being disrespectful to Chef, I ate it. I was pleasantly surprised. I really liked the seasonings and herbs on it. Made it taste bright instead of yucky as I thought they would be. Good one, Chef.
Amuse Bouche #2
Because I was so disgusted with myself and disappointed I missed a good shot of the first course, Ate Di and I hauled ass three and a half blocks to the car to get my camera. They waited for us to get back before continuing with the amuses. Not exactly sure what this one is called, but the servers explained it as an
egg cooked in a pressure cooker, topped with salmon belly and caviar
. This one is one of the more interesting dishes that I have ever had this year. The yolk was cooked to a perfect medium. The white, sitting in what seemed to be crème fraiche (
I could be wrong
), was silky and felt luxurious on my tongue. There were a lot of flavors going on - the saltiness of the caviar with the tang of the crème was intriguing. It sure reminded me of
the amuse at had at the Ritz
, but I enjoyed this just as much if not more.
Amuse Bouche #3
Our last surprise dish was a
Black Truffle Cappelini
. The pasta was very thin and simply seasoned with black truffle and cheese. I have become somewhat indifferent to truffles (I think they're overrated), but this was pretty good. Halle and I found it a bit bland, but Ate thought it was perfect. However, it was very generous of the chef to give us truffles.
Oysters. Caviar. Truffle.
Chef sure knows what us ladies like. =)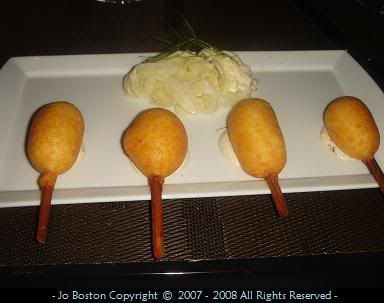 Lobster Corndogs
with Fennel Salad and Whole-Grain Mustard Crème Fraiche
This is what I had waited an entire week for. I had these on the first visit and I fell head over heels. Basically what they do is make a little sausage with the lobster meat, dunk it in the corn batter and fry it up like regular corn dogs. I love love love these. The sausages inside were sweet and they were fried perfectly. Even though I do not do fennel (I know, shame on me), I could have had three more orders of these all to myself. This is Arcadia's signature dish, per Frank, so they are available on the menu year-round. I asked Chef a couple days prior to dinner if they still made them, and he pulled my leg by saying they yanked them off the menu, but he told me during dinner, "If we yanked them, Michael would be pissed." Shoot, I would be, too. They are just too addicting.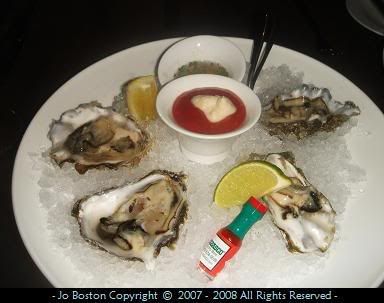 Halle and Her Boo's Oysters with Classic Garnish
Now these were the same exact oysters that Chef sent out for the first course. So this is how they look like with my good camera. They looked gorgeous on that plate. Halle and her Boo ate these and they loved them.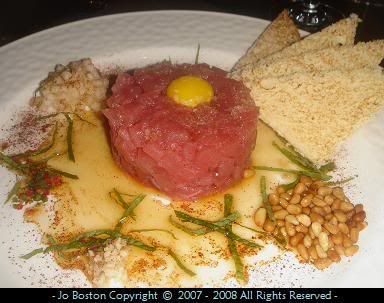 Ahi Tuna Tartare
Yes, we had to do this one again. How can we not, it's Michael's signature dish. I actually liked it better the third time around.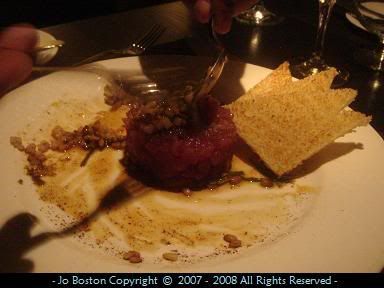 Sorry no flash, but this is the classic way of preparing it - tableside. Our server combined the bosc pear, chili, basil, sesame oil, and pine nuts together and then with the tuna. Of course, it was delicious. This is available on every Michael Mina restaurant menu. No matter where you are - whether it be
San Francisco
,
Las Vegas
and even
Atlantic City
, you have it.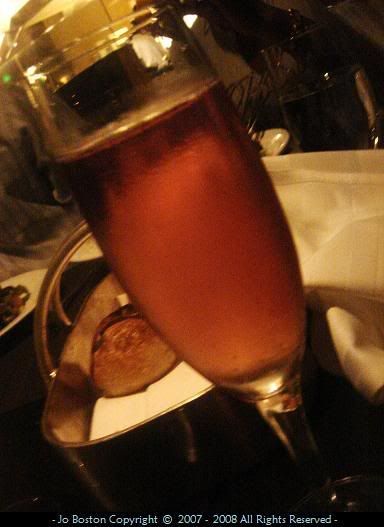 My wine - "Sex" M. Lawrence Rose
It doesn't show in this picture sadly, but the color on this sparkling rose was gorgeous. I could have drank five more of these suckers. It was light and a bit sweet and just plain delicious. And you probably already know that I got it because 1) roses are my favorite of all wines and 2) it had "sex" in its name and you know my head is stuck in a very deep gutter and it can't seem to be find its way out. Ha! I really don't know how it earned the name of "Sex" M. Lawrence, but when I find out, I'll be sure to update. By the way, I also had the Mandarin Cosmopolitan before dinner and it was to die for. I love the orange in it. I'm beginning to think that Cosmos are my go-to-drinks. They're fabulous.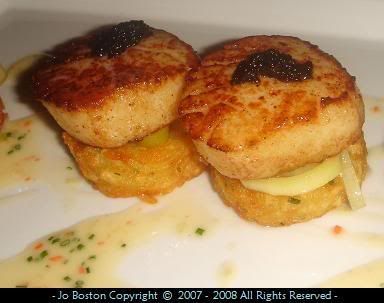 Dayboat Scallops
with American Caviar, Melted Leeks and Potato Cakes
There are only two pictured here, but there are really four or five on the plate. Ate Di let us all have a sample and OMG, the scallops were done PERFECTLY. Nice caramelized sear on the outside with the inside still rare. These weren't dinky little scallops either. They were rather big. Each scallop sat on a fried cake made with shredded potato and leeks. Again, perfect. I loved the crispy texture of the potato with the delicate feel of the scallop. I didn't get to taste the sauce that was disbursed on the plate, but I thought that the scallop needed any of it. It was perfect the way it was. Outstanding!
Alaskan Halibut
Halle and her Boo split the halibut and looking at how huge half of the order was makes me believe that the full portion must be enormous. That you see above is just the half portion. It came with a grilled lemon and what seemed to me as a citrus beurre blanc sauce. Halibut is a rather meaty fish with firm flesh and it stood up to that sauce just wonderfully.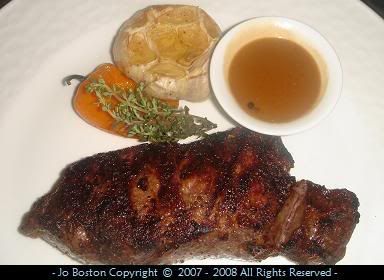 14-ounce New York Strip Steak
with Roasted Garlic and Green Peppercorn Sauce
I know I know, déjà vu to my dinner in New York, but this is a steakhouse after all. I may be a girl, but I like my meat. I love the brown sear. Good Lord.
I love that PINK. Juicy and tender and just plain succulent. Even though I shared with my dining partners, I still had a huge hunk to bring home. I love good steaks, and this was a great steak. I was even surprised with the green peppercorn sauce. I usually don't go for peppercorn anything, but I asked Frank which sauce he preferred and he said this one. He even said that if I didn't like this one that he would bring out the pinot noir bordelaise sauce, but the peppercorn went very well with the meat and I stuck with it. Actually, I didn't use too much of the sauce because the meat was perfect just the say it was. Just fantastic.
Classic Whipped Potatoes
These potatoes are light and fluffy and buttery. Perfect accompaniment. I would have thought that they would be bland because I am so used to having globs of brown gravy over my potatoes. No, they don't need it. Perfect just the way they are. Well…if you can get it in the steak juice…yeah, baby.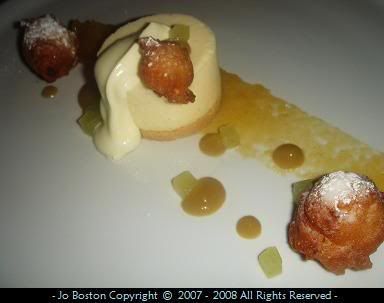 Mascarpone Cheesecake with Apple Fritters
I liked how they included a hot component to this plate with the apple fritters. I had a bite and I found the cheesecake to have a too nutty of a flavor. I preferred my dessert, but Ate is the opposite of me, so she liked her's better of course.
Meyer Lemon Trifle
When I saw this on the dessert menu, I knew it was MY PERFECT DESSERT. It has white chocolate, mascarpone, strawberries, and Meyer lemon. Tell me that this is not my PERFECT DESSERT. I dare you to. If you do, I'll punch your lights out. The bottom is the panna cotta, on top of that is the cake, on top of that is
white chocolate sorbet
, on top of that is a granola-type mixture with poppy seeds, dried strawberries and finally a dollop of mascarpone cream with paper-thin slices of candied lemon. I let Halle and Ate have a bite, but after that, I kept the glass all to myself.
Good f'ing Lord. This really rivals
the dessert I had at Gary Danko
. It was absolutely perfect. I swear, how many times have I said the word "perfect" in this entire post? I should go back and tally. For real though, when you take all the components in a spoonful and eat it, it's what we would call "a crescendo of flavors and textures." The gentle sweetness of the sorbet and then bringing you up to the exploding tanginess of the lemon panna cotta. The velvetiness of the cream and then the bite of the crunch topping. The flavors are so bright and refreshing. I can eat this all day. I am not joking. One for breakfast, one for lunch, one for dinner and one for a midnight snack and I am happy. This was f*cking awesome. F*cking awesome. Whoever thought up this dessert should be worshipped because I really can't think of a more perfect dessert. I swear to God, lemon, mascarpone (or any creamy cheese), strawberries, and white chocolate are all on my "Top 5 Flavors" list. The only thing missing would be beef, but that wouldn't go well in the trifle. Y'all should already be knowing that I love anything citrus-y and creamy as a dessert, this was ON THE F*CKING MONEY. Perfect. *ugh* I want one right now…
What a terrific meal…Okay okay, I am not just saying that because Chef and I are cool like a fan, and it wasn't just me who came to this conclusion. There was a consensus that Chef really outdid himself and our hats were off to him. I promise, if there was something I didn't like, words will be exchanged most definitely. He really made us feel like VIP's even though we were loud as hell and even when we caused a bit of "controversy." Ha! *inside joke* I can honestly say that this was the best meal I have had in a long time. I had the BEST company and there was so much laughter. If you were there for dinner on the 19th, you probably heard our loud a$$es. I haven't laughed that much in a long time. We will be back. I don't know exactly when, but we will be back. I can't get enough of those lobster corndogs. As you for you the reader, you should check this place out. Traditional concepts with modern flair. It
is
a bit on the pricier side, but as you can see, the portions are huge and the dishes are delicious. Winner.