Event
: Gilroy Garlic Festival
Address
: Christmas Hill Park, Gilroy, CA
Cuisine
: All Things Garlic, Baby!
Date Last Visited
: July 26, 2008
Dining Partner
: My Sweety K (
the manfriend
), Star (
the cousin
), and Herbmeister (
the cousin's manfriend
)
Ahh, garlic. Food of the gods. Dracula's enemy. Garlic. So much flavor in a little package of paper. Its scent alone can make a person stop dead in their tracks and moan in sheer pleasure. Garlic. I cannot think of a cuisine in this world that does not utilize it. It has medicinal purposes. It tickles your senses. Garlic.
MmMmMmMm…garlic.
My most favorite dishes have garlic as a key component. Spaghetti. Adobo. The food world would collapse if garlic disappeared (God forbid).
Star and I had been thinking about coming to the garlic festival for months. We were counting down the days and looking forward for the heartburn that would follow. We would have to drive an hour and a half from San Francisco to get there, but it would be all worth it. This was my second time coming to the Gilroy Garlic Festival and even though it seemed like I saw and it all when I went the first time, I was still excited to go. We left at about 11 in the morning, and because of the traffic coming into Gilroy, we didn't get to the park until 1 p.m.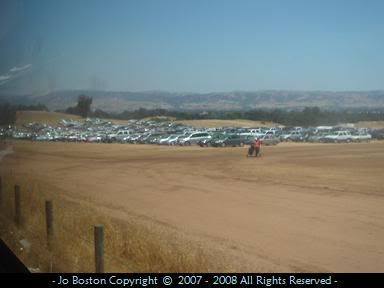 The parking lot - picture taken from the bus
Because thousands of people come each day, there is a very organized parking system in which the volunteers escort the festival goers to their parking spaces. Be prepared for your tires to get muddy and your vehicle to get real dusty. A bus picks you up and you are brought down to the festival which is actually a bit away from the humongous parking lot, but it is completely walkable if you choose to.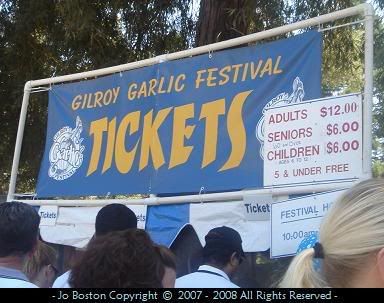 the ticket booth
The festival's website has option for you to buy your tickets online for the same price. This way you don't have to wait in line for your tickets. I think we came at the busiest time of the day, but we didn't have to wait long at all for the tickets.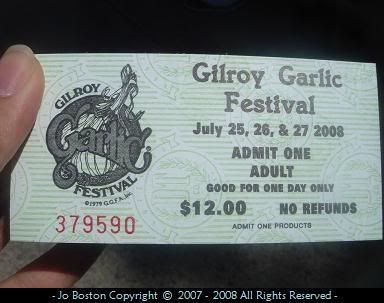 our tickets
to garlic Heaven
So My Sweety K and I got in line and got the tickets for the 4 of us. We hand the girl a Benjamin ($100 bill), and she says, "$42 is your change!" We are walking away and something in me was telling me that is so wrong. Biznatch shorted us ten bucks. Oh hell no. My Sweety K marched right back in front of everyone and demanded our money. =) Yes, that basic arithmetic comes in handy sometimes. Ha. My companions were ahead of me and saw that they actually take back the ticket. So right before I gave mine, I took the picture you see above. Some excitement happened when the guy in front of us was caught with a knife. Haha, you are safe NO WHERE these days.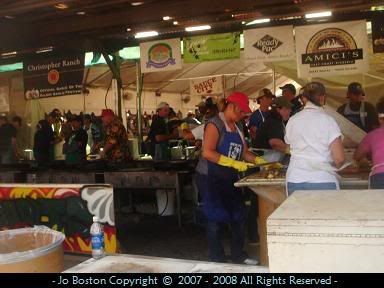 festival chefs
in Gourmet Alley
These are the hard-working ladies and gentlemen who work behind the scenes in the festival's Gourmet Alley. They really should be applauded because they work in extreme heat. Even though they are under a huge tent, those burners with giant skillets and BBQ grills can really crank up the heat in there. They are my heroes. Now let's see what treats they had for us to gobble up.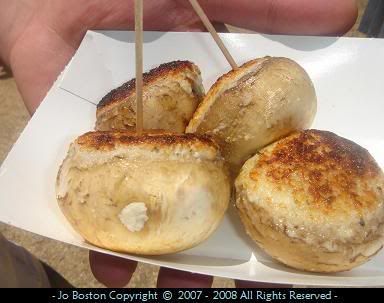 Stuffed Mushrooms - $4
These got me and My Sweety K coming back. We had these the first time we were here and we knew we had to have them again! Before I could even blink, My Sweety K was already in line for them. Oh dear, these were so good. The filling seemed to be made with cheese and herbs and then stuffed in huge white button mushrooms. What I liked was that the mushroom was still a bit raw, so it had that dry, spongy texture to it. Star said she would have appreciated them being a little more done, but overall, all of us seemed to like them. Great start!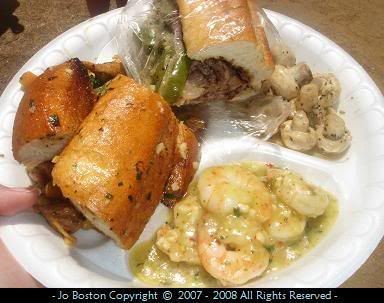 Combo Two Remixed - $12
Remixed? You will see how. Okay, so when I went to see which combo to get, I was juggling between calamari or scampi. Yeah, SCAMPI.
Combo Two has that luscious shrimp scampi in a silky garlic butter sauce, garlic bread, marinated button mushrooms, chicken stir-fry and a garlic sausage sandwich
. BUT, when I got to the window, the cashier told me that there were out of sausages. I asked them if we could
substitute the sausage sandwich with a pepper steak
sandwich. They allowed that, so I got the Combo Two REMIXED. Let me tell you something: THE BEST COMBO EVER. Those marinated mushrooms were marinated, but they weren't too marinated. Mushrooms have an earthy flavor and marinades can mask that subtle flavor, but these were light and delicious. The pepper steak sandwich was awesome: great bread, wonderfully cooked green peppers and onions, and thin slices of tender steak. Now, that GARLIC BREAD. Herbmeister said you can wring it and watch all the butter drip out. How sinful! This is how garlic bread is supposed to be. Perfectly buttery and crisp on the top. My mouth is watering just thinking about it.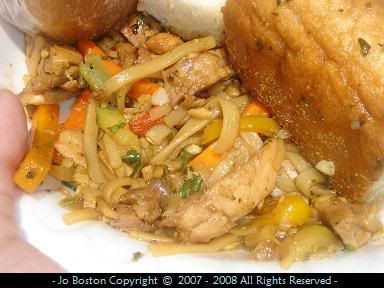 Chicken Stir-Fry - part of Combo Two
You can't really see the stir-fry in the first picture, but this is what you get. Asian-style noodles with big shreds of chicken, thinly sliced carrots, broccoli, and other garden vegetables. I do have to comment that it was a bit on the salty side, so (like I always seem to say) I thought that a serving of nice steamed jasmine rice would have been good with it. =)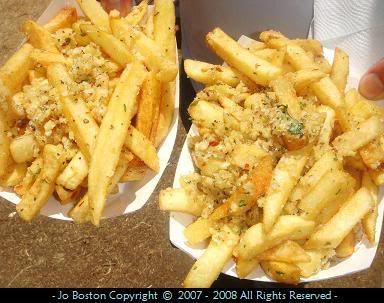 Garlic Fries - $5 each
Garlic fries are a must-have anywhere that it is offered: baseball games, rock concerts, at the carnival, anywhere. We saw a guy in line with a serving of these and we knew these were part of our menu. Lovely, golden-brown, crispy French fries with a pillowy, hot interior covered in sautéed minced garlic and herbs. OhHhHhHhHhHh…these things are truly addicting. My Sweety K seemed to love them because there was a time when I went to get more food. When I left, there was at least two-thirds left and when I go back, only those tiny morsels were left. =) He killed them.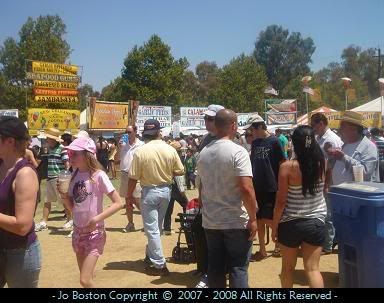 the huge (and sweaty) crowd
One thing that is pretty much is a given is that Gilroy can get extremely hot. I was sweating in places I didn't think I could sweat from. So be sure to bring lots of sunscreen and to consume lots of water. No one wants anyone to pass out now! Now let us move on to the vendors not in Gourmet Alley.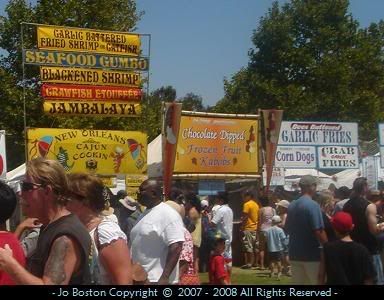 Gumbo and Crawfish and Shrimp
OH MY!
Chicken and Sausage Jambalaya - $7.50
I loved this booth. As I was waiting for my food, they were playing Sublime's "Santeria" in their tent. Awesome. They offered crawdads, seafood gumbo, blackened shrimp, garlic-battered catfish with "sassy slaw", among other delectable Cajun favorites. I chose the jambalaya because My Sweety K can't do the seafood. Poor thing. He sure misses out on a lot. ='(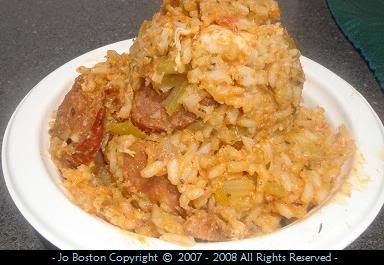 My Jambalaya - yum!
The jambalaya had a lot of flavor which I was thankful for. There were huge chunks of chicken and plenty of sausage rounds. It looks like a small portion, but it fills you up a lot because of all the rice. I was afraid that it was going to be too spicy, but good thing it wasn't. My body was scorching, I didn't need my tongue to be. I do have to comment that it was on the mushy side. Because the grains of rice soaked in all that tasty sauce, it was drier than other jambalayas I have had. Nevertheless, it was very good.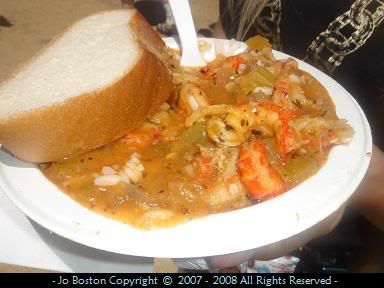 Crawfish Etouffée - Star and Herbmeister's Cajun Dish
I stole a crawfish from their bowl, and just from that one bite I knew it was good. Don't you just love that rich brown color it has? Great roux because it was saucy and thick. The etouffée was served over a bed of fluffy white rice and Star and Herbmeister enjoyed it very much.
Garlicky Mexican Goodness
My Sweety K made a great choice with his
Garlic Steak with Pico de Gallo, Onions and Beans Over Warm Tortillas
. You all should know that My Sweety K and I have our traditional Mexican meals, so this was going to be great. While he went to grab some drinks, I stole a piece of steak. Good Lord. It was some of the most tastiest steak I have ever had in a taco. You can tell they paid very close attention to it and it's seasonings. SO great. Sometimes tacos should be like this one: meat, beans, and tomatoes. That's it. No need for crèma, guacamole or cheese. I like how they let the meat stand out.
Above the taco was my special request:
Whole Roasted Ear of Sweet Corn with Garlic Butter
. This brought me back to the time I was in the Philippines and I was munching on an ear of corn just like this while strolling on Roxas Boulevard along Manila Bay. Charring the corn makes all the difference. You can taste that savory flavor from the garlic and when it hits the natural sweetness and caramelization of the corn -
magic happens.
Soon corn juice and garlic butter is squirting everywhere and dribbling down your chin. That ladies and gentlemen, is glorious. You can't beat this with a stick. It is so good.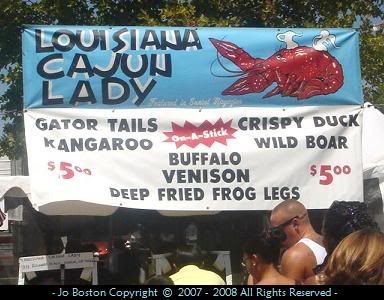 Are you ready for some exotic meat?
The last time we came, we had some of this, and when I told Star, she wanted to try. I am so happy I have adventurous eaters like her, My Sweety K and Herbmeister.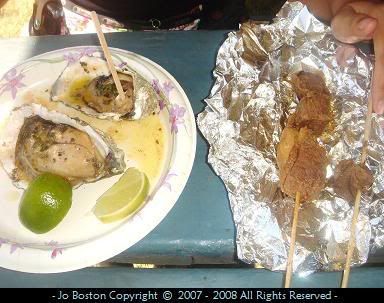 Left: Oysters in Garlic Butter Sauce - 3 for $7
Right: Buffalo on a Stick and Kangaroo on a Stick -
$5 each stick
I do not do oysters, but Star and Herbmeister do. "Oyster" is Star's middle name. =) (Boston Family inside joke). She and Herbmeister RAVED about them. They were irked by the price, but they wanted another round. Star said that this was the first time she ever had a garlic-butter-type sauce on an oyster before because she is just used to hot sauce, soy sauce and lemon juice, but she loved it. The next time we have another Boston Family BBQ, we're going to try to concoct a similar sauce for our BBQ oysters.
Though she loved the oysters, the meat skewers told another story. My three dining partners all enjoyed the kangaroo. It seemed like I was the only one who spit it out. I don't know if it was mental or what, but I took a small bite, chewed, gagged, and reached for a napkin. I don't know! I wanted to like it, but I didn't. As for the buffalo, we thought it was totally going to be tender. It actually looked like adobo to me, but when I saw Herbmeister struggle with it, I knew it must have been tough like rubber. Herbmeister is not a small, lanky guy. He has some strength in his jaw, so seeing him wrestle with it like that was so surprising. Star was disappointed because it was inedible. They must have cooked it too long or let it sit out too long.
Above: Crispy Duck on a Stick - $5
Below: Alligator Tail on a Stick - $5
I wanted something safer, so I got the crispy duck and alligator tail. They were fried, so I would have loved to have some sort of dipping sauce with it, or at least some lemon juice or SOMETHING. The crispy duck was nothing special. It actually tasted like regular chicken. The alligator tasted like chicken too, but it was a bit tougher. I didn't like how there was so much breading on it, but My Sweety K said they did that to cover the taste. Then what's the point of tasting alligator if they are just going to hide it? It tasted real good with ketchup! Yes, My Sweety K and I eat everything with ketchup. We're ketchup whores.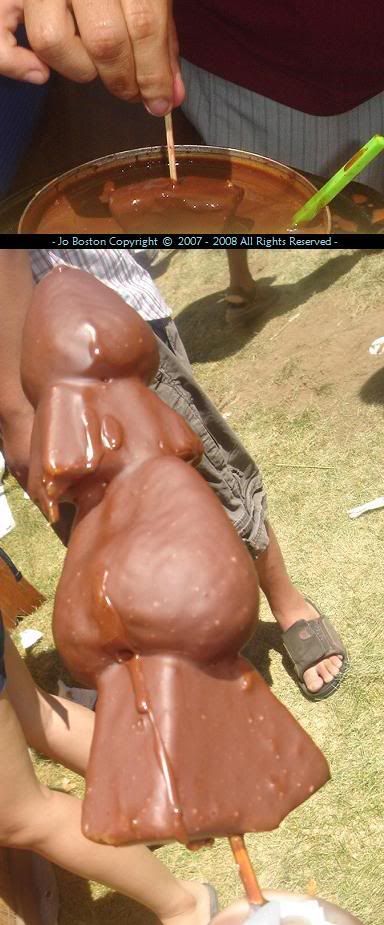 Chocolate-Covered Strawberries and Pineapple
$5
So we drive two hours to get here and we are two hours into the eating. After two hours, we quit. We ate too fast because we came on empty stomachs and we were just too damn excited. So we stuffed ourselves silly. We were done. Haha. We couldn't leave without dessert, but we were too full for the funnel cake and ice cream we had planned on. Therefore, we got these fruit kabobs instead. The fruit was frozen, so when we bit into them, they were still kind of firm. Though the 90-degree had melted them to an extent, we would have preferred for them to be fresh and then dipped in chocolate.
So, what did I think of it this time around? I had a fabulous time because I had fantastic company. Our double date was a success wasn't it guys? Even though we were there for a short time, there was no way we would have been able to eat anymore. It was a lot of fun, and where else can you get chicken stir-fry, jambalaya and gator in the same meal? Though we did not enjoy EVERYTHING we got, it was interesting to try things out for the very first time. That keeps the art of eating exciting. Sure it was hot and crowded, but damn, we had a lot of fun. Eating with friends is the best eating, and I am so happy I had the opportunity to share this with them.
*************************************************
P.S. There was a post/thread on the San Francisco Bay Area board on Chowhound in which a hound was asking if it was worth going to. I replied with a "yes" because one should go to this festival at least once in their life. Besides, why rely on other people's opinions? If you go and feel it was not worth it, that is just fine and dandy. I think that's a whole lot better than depending wholly on what other's think and not even going and wondering for years and years "what if?". A bunch of *ahem*snooty*ahem* hounds said "no" because it's hot (Um, duh? You're far inland, in the middle of farm country), the lines are long, the parking is terrible, and the food is not good (in which I beg to differ). That's their opinion, I guess. Well you know what? If you go there with a negative attitude then you bound to have a horrible time. I, myself, and even my companions had a great time, and even though it was hot and crowded, I cannot wait to go again next year.
I swear, some of these Chowhounds are so friggin' high maintenance. Take their frou frou gourmet food and air conditioning away and WWIII breaks out. LOL.