Vendor
: Bacon Hot Dog Cart
Address
: In Front of the Parking Lot Next to the Club at 540 Howard St., SOMA, SF
Cuisine
: Street Food
Phone Number
: n/a
Date Last Visited
: May 24, 2008
So I was drunk. I was real drunk. I'm 24-years-old, so I still have the party bug in me. This was the first time my cousins and I have all gotten together to have a little grown-up fun - drinks, dancing, the works. Saturday night in the City? Temple on Howard was the place to do it.
So I was drunk. I was real drunk. You know when everything about the mood is right? The music was poppin.' My party people were radiating happiness, fun, and exhilaration! Yeah, that is how it was. My body absorbed all the energy in the air.
So I got drunk. I got real drunk. Shots of Patron Silver and cranberry vodka. Oh man, those clear liquors are my Kryptonite. I could not help myself. The shots were huge and were cheap in price compared to other clubs. So we went for it. 3 drinks in 10 minutes, suckas.
So I got drunk. I got real drunk. After inhaling my liquor and dancing the night away, I found myself slumped over on one of the white leather couches in the upper level dance room. My legs were too tired to dance anymore and I did not have the energy to keep my head above my chest. I was
gone
.
And I was drunk. I was real drunk. I went outside and got some fresh air. I needed something to keep me from passing out. After a brief upchuck, (thank you to my awesome cousins for rubbing my back and talking me through the entire episode, btw) I was ready to start my sobriety. I smelled an intoxicating aroma of the sautéing of bacon and white onions. I followed the aroma and looked to my left.
BACON HOT DOG CART!!
The last time I had one of these suckers was last year in front of Le Vende lounge. =) Oh, they were good. I had ten bucks so I got three. They were three bucks each. I really do not know why I bought three. I just handed the guy my money. I had enough for three, so I got three.
So what they do is wrap some hot dogs in strips of bacon, fry them up on their griddle, and sauté the sliced onions in that bacon fat. OMG, how can you pass that up on a drunken night?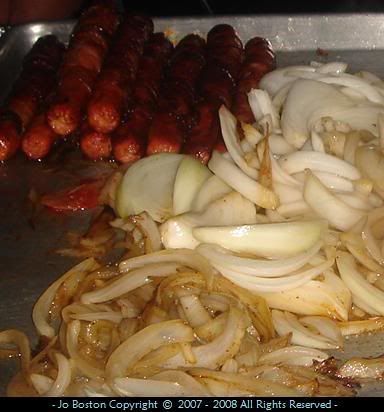 Isn't that a trip? In my glorious drunkenness, I still managed to take out my camera and take the pictures I needed for a blog post. That's hilarious. I'm a foodie even when I am faded. They made sure to make enough for all those drunkards like me to leave the club.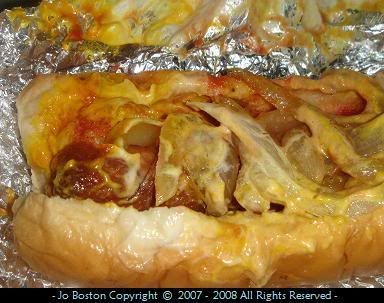 They asked me if I wanted "everything" on it. "Everything" means mayo, ketchup, mustard and those delicious sautéed onions. I'm pretty sure they have pickled jalapenos if you want a spicy kick on your hot dog.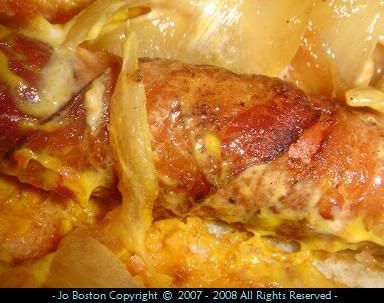 By the time I got home, I was sober enough to eat. It sure does look a lot more appetizing when you're intoxicated and it's 2 in the morning, BUT it seemed like it was the best thing I ever put in my mouth. The perfectly prepared bacon and hot dog with the cooked onions…awesome.
.
..
…
….
…..
……
…….
……..
………
……….
………..
…………
………..
……….
………
……..
…….
……
…..
….
…
..
.
Too bad I upchucked it a couple hours later…