Restaurant
: Pizzeria Delfina
Address
: 2406 California St. at Fillmore, Pacific Heights, CA
Phone Number
: (415) 440-1189
Cuisine
: Pizza, Italian
Date Last Visited
: October 2, 2008
Dining Partners
: Fuego
So Delfina is supposedly one of the best restaurants in al of San Francisco. I, myself, have never been there, but I have seen enough Yelp reviews, Chowhound threads, and SFEater blogs for me to believe that it is worth checking out. Unfortunately, I don't frequent the Mission very often, so going in the area alone is a special trip. When I found out that the folks of Delfina were going to open a second branch of their pizzeria in my area, I was excited. Finally it was my time to find out what all the fuss was about.
They did a very good job at keeping this pizzeria low-key. There is no sign for gosh sakes! The only thing that gave it away was the neon blue "pizzeria" sign in the window, other than that, if you were across the street, you'd probably miss it. I almost did.
If you want to eat in, you have to sign your name on the blackboard on the wall. The board also indicates the types of wine they carry. Looking around, I could already tell that this place would be famous in no time. By the time we visited, the place had been open for a week or two, and there are already so many people inside. There is an open kitchen with a counter for solo diners and several tables for couples and groups…that is, if you come early enough on your lunch break to get a table. I really liked the artwork on the wall which showcased one of the Bay Area bridges…I forget which one, I think it's the Bay Bridge. It was really cool.
We weren't planning on eating in, so we went directly to the cashier. The service was incredibly friendly. We ordered two pizzas, an entrée and an appetizer. Hey! Us girls can eat. Because we had to wait for the pizzas to bake up, we took a walk.
I was so happy when we got back to the office. We had a lot of food to eat! Some people say that this is "the best pizza in San Francisco," so I was excited to finally see for myself.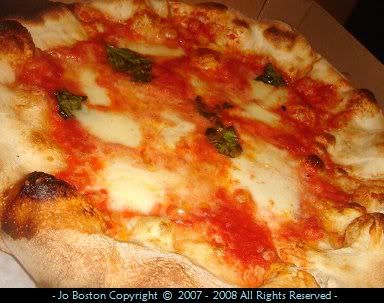 Pizza Margherita - Tomato, Fior di Latte
Mozzarella, Basil and Parmigiano - $11.50
No, this is not your ordinary Domino's or Blondie's pizza. What I really loved about this particular pizza was that the crust was nicely charred and blistered. The tomato sauce tasted fresh and sweet and the cheese set up like real cheese does. It wasn't oily or stringy. It was full of flavor. The basil was not evenly disbursed, but that was okay. As simple as this pizza was, it was full of fresh flavors.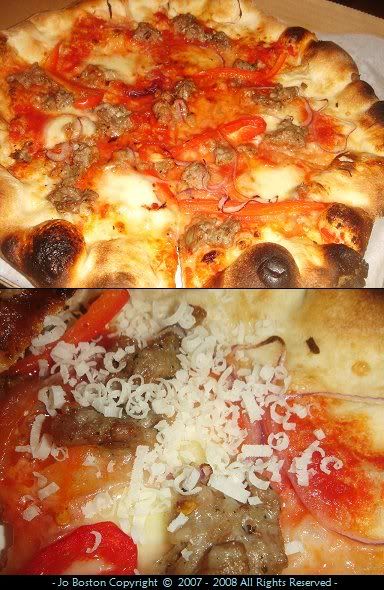 Salsiccia - Housemade Fennel Sausage, Tomato,
Bell Peppers, Onions and Mozzarella - $14.00
We wanted to get one simple pizza and another with more toppings. This was perfect. I'm not much of a sausage pizza person, but this was great. The peppers and red onions added some sweetness to the meaty pizza. Don't you just love the black, blistered, outer crust? It makes the whole thing look so rustic and homemade. I included the bottom picture because they supply very spicy red pepper flakes, oregano, and freshly grated cheese. I love the cute little curls of cheese on top of the pie.
These are like mini Hot Pockets, sorry I forgot the name. I lost the menu this particular "fritti" was in. They change their selection everyday! The cashier back at the restaurant described it as pizza crust stuffed with pepperoni, sausage, and cheese and then fried. YUM! But by the time that we got back to the office, they got a little soggy and cold. I bet if we had them at the restaurant, they'd probably be better texturally, but, they were still very tasty.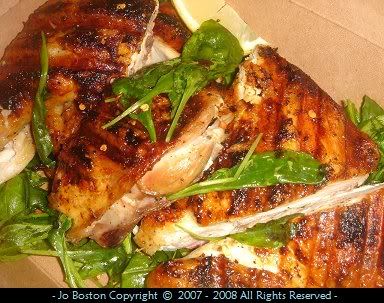 Sorry, I don't have the exact name of this chicken, but dang this chicken was so effin' good! I think that the chicken was cooked beneath a heavy weight for it to cook all the way through. I love the marks on the skin and the meat was very juicy. I noticed specks of chili pepper on the skin. Actually the skin was some of the best chicken skin I have had in a while. I know that sounds really funny, but some places really don't put much care into their chicken skin. Here, it looks like they wanted every part of the chicken to be flavorful. The chicken sat on a bed of wilted arugula and came with some lemon wedges. Let me just tell you that lemon is my perfect condiment for roasted chicken, so I was ecstatic. GREAT chicken. A bit expensive. Okay, it was hella expensive, but it was very good.
Doesn't my plate look fantastic? Yes, this was one of the best lunches I had ever at my office. Pizzeria Delfina is very good. The ingredients were fresh and everything tasted so good. Each pizza is about 11-15 bucks, so that's not bad, but the entrées are a bit pricy. I can't say that I was convinced that this was the best pizza in San Francisco, but if you like rustic, simple pizzas, this place is for you. Overall, very good place, but I wouldn't rush back unless I really craved it.