Occasion
: Christmas Eve 2008
Place
: My House
Date
: December 24, 2008
Dining Partners
: Momma, SAM, Rox, Jenn, Auntie Lolit, Star and Bubuh
This year, we decided to do most of our celebrating on Christmas Eve since Momma had to work on Christmas Day…yeah, working in the hotel industry has its downsides. We weren't planning on making it a big deal. We were just going to buy some KFC and have a fun night karaoke-ing the night away. THEN Star called to see what was going on, and since she now a vegetarian, we had to make a detour to Safeway and get Star-friendly food, like the spinach dip and bread she requested. THEN Momma offered to pick up some Round Table "gourmet" pizzas - namely the veggie supreme one - and BAM, we had a meal.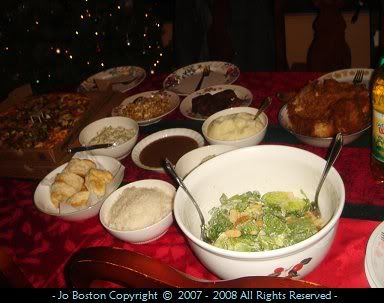 Before y'all moan and groan about us having an anti-foodie dinner with the KFC and Round Table pizza, I just want to say that this was probably one of the most wonderful and memorable Christmas Eve dinners in my life. As long as everyone enjoys themselves, it's ALL GOOD. Actually, one thing I appreciated about this dinner was that I didn't have to cook anything! All I did was bake up the garlic bread and that was it. Loved it.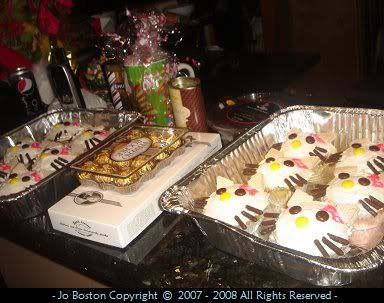 This was our Sweets Counter. Those cupcakes were almost too good to eat. We also had See's chocolates, Ferrero Rocher, and Brownie Bites from Just Desserts. We didn't eat of all the sweets, of course. After dinner, there was tea an karaoke - classic combination at my house. Sorry for the dark photos, I had to capture them from video I shot.
Jingle Bell Jingle Bell Jingle Bell Rock!
Star and Auntie Sipping Their Tea
Bubuh Singing "I Can Love You Like That"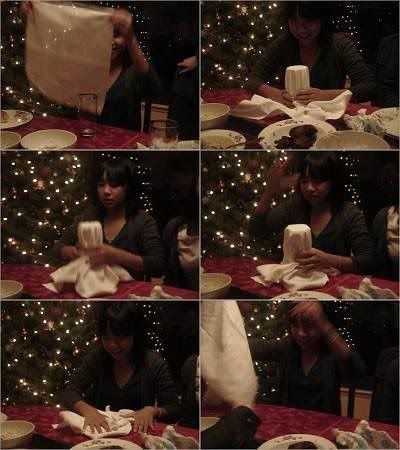 Roxanne's Disappearing Glass Trick
- Auntie Lolit, Rox, SAM, Momma, Star, Jenn, and Jo -
I love the timer on my camera.
Gift time! Usually I am the one who does the spoiling, but BEING spoiled is a totally different feeling. I never felt so special on Christmas before, and I was SO digging it! The following are the gifts I received on Christmas Eve.
My Gifts!
Lots of pink, huh? Growing up, it seemed like I shunned the color pink. I was such a tomboy. All I wore was blue, baby blue, white and black. I guess I needed a few years to become more girly. One vow I made was to make my kitchen pink. Pink utensils, pots, pans, plates, everything. Since I still live with Momma, I don't have much authority in what goes in the kitchen, but once I move out and get my own kitchen - WATCH. Pink. Why pink? It's cute! But joking aside, I wanted to honor my Auntie Mina who passed of breast cancer. So it's for her.
One of the first gifts I received was a stocking from my manager. Isn't it just so cute? I loved how she took the time to have my name stitched into it!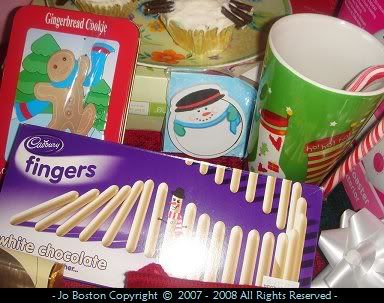 Inside the stocking were little holiday gifts like that gingerbread cookie, snowman sticky notepad, and candy cane. I also got that mug from our medical assistant L-Boogie. Lots of cool seasonal gifts! My boss also filled it with traditional English gifts like plum pudding. Not sure if I will eat it, but it was interesting to have thought of doing that for us.
Yay! White chocolate!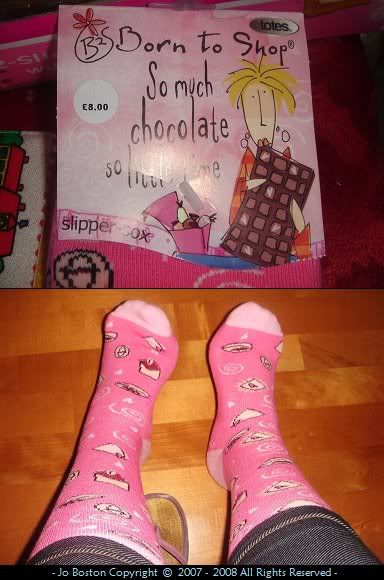 The stocking also housed these socks. They're Totes, so they have little rubber grips on the bottoms. Very cute and very pink! Perfect for this time of year because my house has hardwood floors and it gets really cold, plus you don't know how many times I slipped after Momma waxes the floor.
This came from one of our nurses, and these are so clever! They are ideal for travel because these are individual soap leaves. You use one and it's good for one to two washings. I don't think I'd use them because they're so cool…but we'll see.
Gift Cards
Gotta love them no matter where they come from!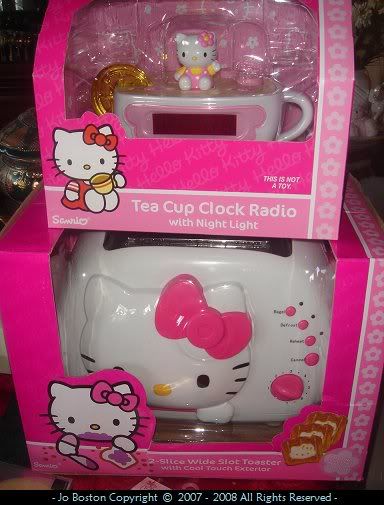 Hello Kitty
Alarm Clock and Toaster
I got these from my coworkers in my department Christmas Eve morning, but I didn't unwrap them until I got home. Goodness, they know me too well. I don't know if they were planning in getting me matching gifts, but if they didn't, then that just shows how easy it is to shop for me. I'm getting closer and closer to my pink kitchen!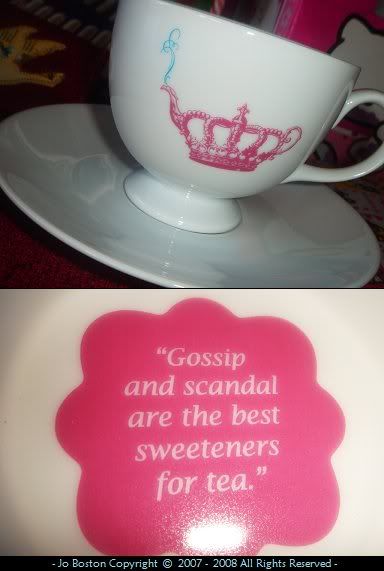 Now I'm going to start on the gifts I got from my cousin Star, my BCF! This was very familiar to me because this is a teacup and saucer from
Crown & Crumpet
. We went there to have
Afternoon Tea in October
and I am so happy that this tea parlor remained to be a dear place to her. The quote is on the saucer where the teacup sits in. So cute and brings back so many memories of that day.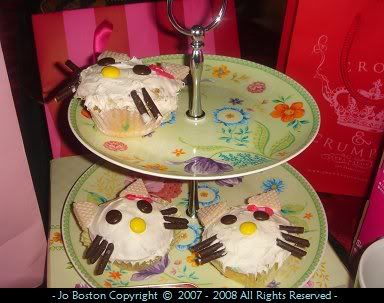 I think she is hinting to me that she wants to have a tea session similar to the one we had at
Crown & Crumpet
because she bought me this tiered-stand. She also baked and decorated those Hello Kitty cupcakes herself! She NEVER bakes or decorates cupcakes! She recruited Herbmeister, her SO, to help her out. That meant so much to me. I think we're going to use this stand many, many times. Thanks to Bubuh for assembling it for me!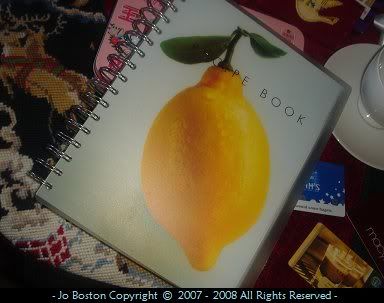 Star also got me this recipe book with a lemon on it because she said, "I know you like lemons." She really knows me. I don't cook fancy-shmancy dishes like many of you do, but I do cook when I need to. I have come up with some good dishes, so this would be a great place to document the things I have made.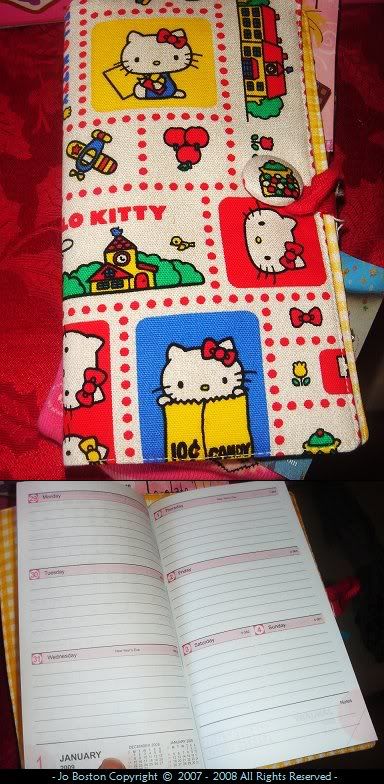 This brings me back because this is OLD-SCHOOL Hello Kitty. I love it. It's a 2009 planner and this is really going to help me get organized in the new year…and I need to be more organized. A lot is going to happen next year, so this will be very useful.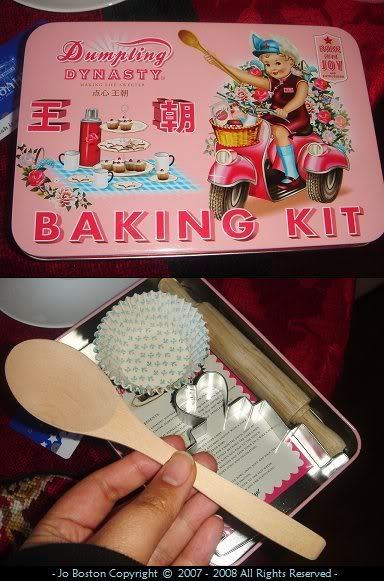 I was speechless when I saw this. It's a little baking kit complete with cupcake cups, a wedding cake cookie cutter, mini wooden spoon and rolling pin, and a recipe for cupcakes. Star said it's from Japan, which makes it even more cute. LOVE IT! I doubt it will ever be used, but it is going to be a great addition to my kitchen décor.
As you saw before, Star baked the Hello Kitty cupcakes, but she also got me my favorite cupcake in the world! I love my Sweet Vanilla cupcakes from Kara's. Sweet and perfect. Thank you so much, Star!!!
Christmas Eve was so much fun even though we really didn't plan on having an a big night. But sometimes the night you don't necessarily plan all week for is the best because you don't have many expectations. Sure the food was cheap and probably crap in your book, but it was still mad good and everyone had a fantastic time. That's all that matters in the end. =)