Restaurant
: Canteen
Address
: 817 Sutter St. b/t Jones and Leavenworth, TenderNob, SF
Phone Number
: (415) 928-8870
Cuisine
: New American
Date Last Visited
: November 5, 2008 - "Week 163"
Dining Partner
: Ate Di
So I had always heard of Canteen. It is the first place people suggest when one wants to dine alone. I didn't want to come here all by my lonesome, so of course I brought Ate Di. I wanted to try as many things as possible because Chef Dennis Leary changes up the menu every week. If you take a peak at the menu on any given day, it indicates which week it is. We came during Week 163, and can you believe that? There were 163 changes to the menu since opening. I know of some restaurants that NEVER change their menu. So just that effort of using different ingredients and thinking up unique dishes really shows how creative Chef Leary truly is. So I was so ready to eat here.
Before you just go there and expect to be served, there are certain things you have to know about eating here. If you don't want to read the following, you can go ahead and dial the number above and listen to the prompts to get the lowdown on their reservation policy and hours, BUT since you're here, as might as well read all about it now.
1.
The restaurant shares building space with a hotel that is used for room and board for students who attend the nearby art academy. It was kind of funny to hang out in the hotel lobby (as we were early for our reservation) and watch kids pick up their mail, leave for a night out on the town…*sigh* That's college life. I sure do miss it. =) But it was funny to me because right next door is a place where culinary masterpieces are created…and then there are college brats doing their laundry in the very next room. Just thought that was amusing.
2.
Canteen is tiny. There is room for no more than 20 people. Do not come here with 10 of your friends. Come here with a close pal, your man, your woman, your hairdresser, whoever. Come alone, even. It's all good.
3.
There are certain times you have to come to be seated for dinner. On Wednesday-Saturday, the first seating is at 6:00 p.m., then at 7:30 p.m., and finally one at 9:15 p.m. Tuesday night is "Prix Fixe" night with seatings at 6:00 and 8:00. I wouldn't come here without a reservation, but if you're willing to risk it, come at the very beginning of a seating and see if there is room. I saw about three people try to sneak their way into a counter seat in the middle of a service and they were graciously turned away. Don't come at 6:45 and expect to eat. It just don't work that way. Sorry.
I think those are three points that I feel are very important for y'all to understand. So enough with the waiting…let's get going on our experience!
I love this space. There are light bulbs hanging from the ceiling and it has an old diner feel, but it feels sophisticated at the same time. Padded booths, a filing cabinet for their utensils, books on the walls…it's so homey and comfortable. This was our first time here, but it really felt as though we came here already. If you are lucky and actually get a table for you and three of your friends, that's cool, but I prefer sitting at the counter. You get to see all the action in the teeny kitchen.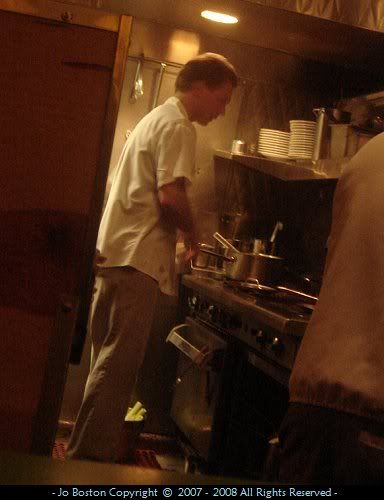 I'm serious, only Chef Leary and two other cooks are there to work their magic. They are so organized and you can tell they planned everything meticulously to ensure all dishes come out on time. Above is Chef Leary himself manning the stoves. I really don't know how they do it. It was organized, harmonic, madness. I know what I just said didn't make much sense, but even though there was a rush for dishes to go out, it was so choreographed that things came out perfectly. I loved watching it.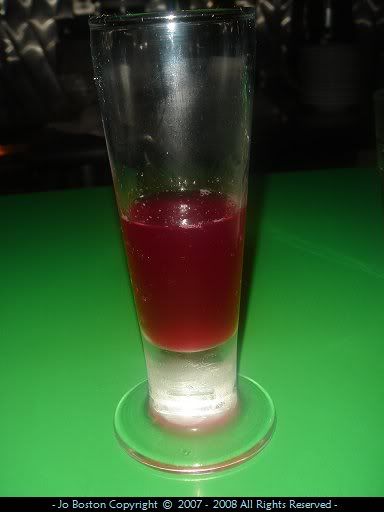 Pomegranate Juice with Coriander Oil - Amuse
I loved the vibrancy of this juice. I foolishly took it as a shot. D'oh. It's a reflex. When I see a shooter glass, well, I shoot. Ate Di sipped and I wish I had done that. The juice was tangy and refreshing and the coriander oil, as subtle as it was, added some "je n'ais sais qua" to the fruity flavors. Very interesting and I really wish I had a second glass of it.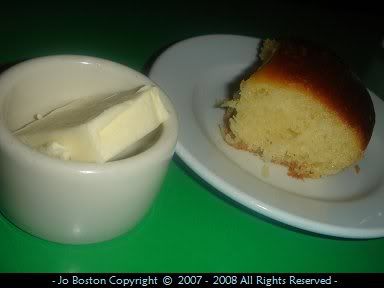 Dinner Roll with Butter
I have seen reviews on Canteen and the rolls were said to be some of the best around. Quite frankly, I was not impressed. It's not what you think. I say that because these rolls are exactly like "pan de sal," a bread that us Filipinos have
all the frickin' time
. So when I say I'm not impressed, I am really saying, "This stuff is not new to me…" =)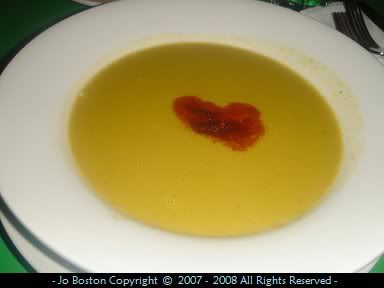 Mussels Soup with Hot Chili - $7.50
"It's a heart!" Oh, Ate Di is so observant. The color is an interesting green. Not the most appetizing shade of green, but the flavor makes up for it. Flavor-wise I'll describe it as a super-intense clam chowder flavor without all the riffraff. It was nice and smooth and pretty intense. I wonder how many mussels went into this bowl. Very good.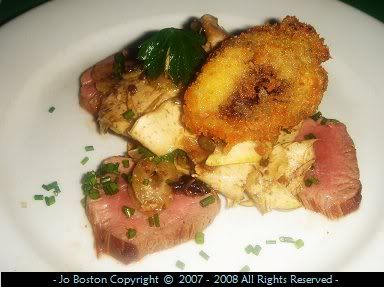 Veal Tenderloin Sliced Thin, with Raw
Artichokes, Black Olive Croquette - $10.50
Veal. So taboo, but so damn good. The tenderloin was so tender and the combination of textures was very interesting. What you see in the middle are thin slices of raw artichokes, and what I noticed about them was that they have a slight hint of apple flavor. Interesting, huh? I knew that they were artichokes, it's just that they had a familiar flavor that I liked - a flavor I don't notice when they are cooked. I didn't have any of the croquette because I don't do olives, but Ate Di seemed to like it.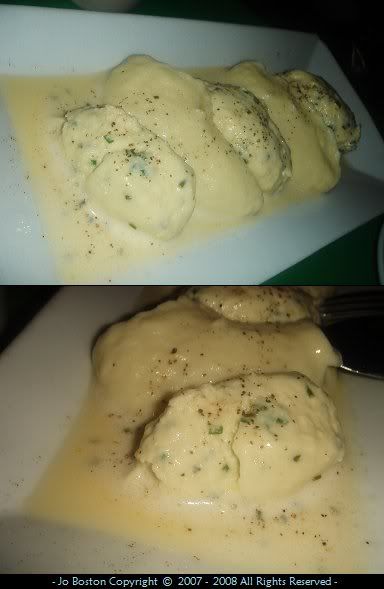 Sole Quenelles with Chive Butter and Cauliflower - $12.50
Our initial plan was for us to have a different course so that we can try a lot. Neither of us ordered the quenelles, so when we saw it get served to someone down on the other side of the counter, we immediately hailed our server. I was very impressed with how quickly they came out. The cooks are on a meticulous schedule and we weren't even certain if they would allow us to order another appetizer well into the first course, but they did. I am so happy that we got to try these. I assume that they pulverize the sole meat that is combined with herbs and seasonings and then poached. A cauliflower puree is on the side (which Ate Di loved because it's her favorite veggie) and then this luscious, onion-y butter surrounds the whole thing. OMG Becky. The texture of the quenelles is so light and they seemed to melt in my mouth. There was no need to chew. Everything felt so delicate, but there was so much flavor! My favorite out of the three.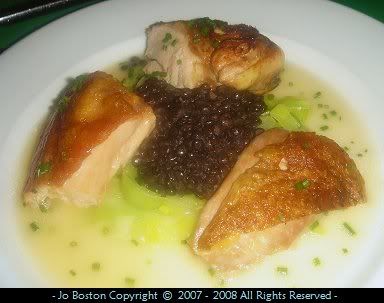 Guinea Hen - Roasted Breast and
Confit Leg, with Lentils and Leeks - $24.00
Ate Di's entrée looked awesome. Guinea hen is very similar to chicken and they way they prepared it was exceptional. The skin had this wonderful roasted quality to it and emanated so much flavor. The meat itself was tender and juicy. I was most surprised with how much I liked the lentils. Not usually a lentil person, but they were very good. I swear, some of the best guinea hen anywhere.
Haddock with Hazelnut Crust,
Ham, Fennel and Grapes - $23.50
If you know me, you will know that I love meat. Now look at this. I ordered fish. WTF? This might be the most interesting combination of ingredients I have ever had with any type of fish. Hey, my usual accoutrements to fish (typically tilapia) would be tomatoes mixed with bagoong (salted shrimp fry) and green onions. Yeah. Filipino. So when I saw this put down in front of me, I really didn't know what to think. But! Let me tell you, the fish was flaky and was a perfect platform for the sweet grapes and salty ham. I usually don't do fennel, but they were good. Overall, the flavors are light not overbearing which allowed me to eat everything on the plate. However I do have to say that I wasn't overly excited about this dish, but it's something new to me, and I think it's something I can get used to.
Pistachio Tart with Caramelized Pear - $7.00
DESSERT! Ate Di loved this dessert and even said she preferred this one over mine. The tart was a pistachio heaven. It had an intriguing green tinge and the caramelized pear was a nice, syrupy contrast. Very good.
Vanilla Soufflé since 2004 - $8.00
This is Canteen's signature dessert and I can see why. They serve it to you and dig a whole into it. Then the server skillfully pours a luscious crème anglaise in the middle. *angels singing* You got to keep control of yourself because if you are not careful, you will give your tongue a painful burn…that is exactly what I did. I knew that the soufflé was hot and I knew the sauce was hot, and what did I do? Put a giant, steaming, spoonful of eggy goodness in my yearning mouth. BIG MISTAKE. And then what did I do? Put another spoonful of hot soufflé in my mouth. Yes, it was THAT good. It was light and airy and sweet and it even smelled heavenly. *ohhhh* SO so SO so SO so good. I know why this has not left the menu since 2004. It's some of the best I have had, if not the best.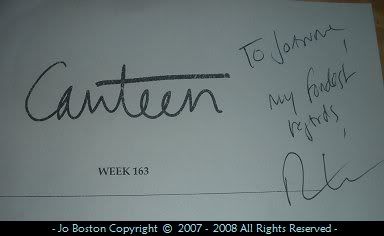 To Joanne,
my fondest regards,
Dennis Leary
I loved my experience here at Canteen. The food is Californian at its best and Chef Leary is a genius. GENIUS. His mind is always working - coming up with new dishes every week. I would love to come back here for the Tuesday night prix fixe or even for brunch. I wish that the space was a little bigger so that more people can enjoy in a night, but then I again, I think the size of the space adds to Canteen's charm. It felt so intimate and special. I was reading reviews/threads on Chowhound and there were fears of it closing back when it first opened. It's years later and I am happy to say that all those fears are gone. The dishes are unique and use the best ingredients. Awesome experience!