Restaurant
:
Calzone's Pizza Cucina
Address
: 430 Columbus Avenue b/t Green & Stockton, North Beach, SF
Phone Number
: (415) 397-3600
Cuisine
: Italian
Dining Partners
: Coworks from the Bottom Floor of Our Store
So I worked at this place called Macy's for a good 2 years. That's right 2 years. In those 2 years, people came and people went. I even "flew" (haha) around the store and working in almost every department. I think the only place I didn't work was in the cosmetics/fragrances, suits, furniture, and female section of the store - Jr's, RTW, petites, etc., but shoes, sunglasses, domestics, watches, men's basics, accessories, Coach purses, pots, pans, kids, luggage - I SOLD IT ALL! I made good friends with my folk down in the housewares department. HA! No, we was coo.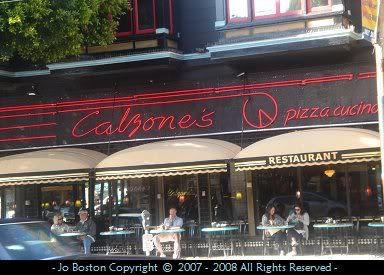 My last day at Macy's was the day after Black Friday. Yeah, in the middle of retail madness and holiday shopping, I was surprised that they actually let me quit on that day. A few months later, I visited Macy's and one of the guys I adored said he was moving back to So Cal, where he is originally from. So for our last hoorah dinner, we made a date to eat dinner in North Beach. Since our first option was closed due to a power outage (boo!), we went to Calzone's instead. It's a cute little restaurant with outdoor seating and when we passed by we saw the patrons with great-looking food.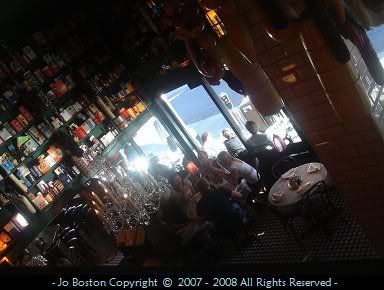 We were initially seated in the lower dining room, but with the five of us there, it was ridiculous when they sat us a small-@$$ table which was clearly meant for four people at the most. SO we asked if we could have a bigger table and they brought us upstairs where we had a whole lot more privacy and a great view.
They serve their bread in cute little bags. Nice touch, especially if you want to take the bread home. BUT! There was none of that with us. We love our bread so we ordered: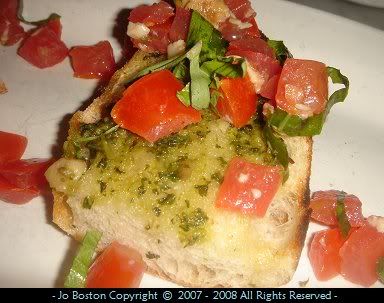 Bruschetta
Garlic Pesto Toasted Baguette Topped with Chopped
Fresh Tomatoes and Drizzled with Basil Oil - $8.50
Bruschetta! Don't you love that? Toasted bread slathered with olive oil and herbs and then topped with a fabulous blend of tomatoes, garlic and basil. *mouth waters* Yeah, it doesn't get any better than this. We loved Calzone's version so much that we ordered another platter. It's really good, guys. Seriously.
Mojitos - $8.95 each
MOJITOS! Holy crap they make their's strong here. I got the strawberry one and it really got me buzzed real fast. So if you want to get hammered and have some great bruschetta, come here! Oh yes, I really loved the sticks of sugarcane that they included. They were really great to suck on. LOL.
Fresh Fettuccini Ribbons
with Pacific Dungeness Crab in a Garlic
Scallop Sauce with Cherry Tomatoes - $16.95
I think in this dish, I realized that I am not much of a crab person. If you love crab, and lots of it, you're probably going to like this. I really enjoyed the first couple of bites, but as the time went on and the more I ate, the more I got sick of all the crab. What is up with the cheese that covered the whole thing? I thought that is was taboo to mix seafood and cheese? I don't know. I mean, this was good, but I don't think that I would order it again.
I love spending time with the people who I used to work with: to talk about all the memories and bad customers and bad managers. Oops, did I let
that
one out? Ha. No seriously. For the most part, the booze was good, the appetizer outshined my entrée, and the restaurant was pretty good. Nothing to be hella excited about, but I think that the fact that I was here with some great people kind of made me forgive and forget any shortcomings that the restaurant had. For the first visit, not bad, but I have faith in this place because there were a bunch of things on the menu that looked awesome.