Restaurant
:
Butterfly
Address
: Pier 33 at Bay Street, The Embarcadero, SF
Phone Number
: (415) 864-8999
Cuisine
: Asian Fusion
Date Last Visited
: October 12, 2008
Dining Partner
: Rox and Star
It's kind of funny how we got into this place really. We had already stuffed ourselves silly with tea and sandwiches at
Crown & Crumpet
, cupcakes at Kara's, and fried calamari and fries at Pier 39 and enjoyed the festivities that came along with Fleet Week. So we went back to the Embarcadero and started walking back to the BART Station to walk off everything we had consumed, then this place caught our eyes. The menu indicated that they had "Kobe Beef and Foie Gras Puffs." Holy crap. Star's eyes started to gloss over.
We wanted to go in, but weren't sure if we should because we had already eaten a ridiculous amount of food in the day. So how did we settle this? A game of Rock, Paper, Scissors. If I won, we would go in. If Star won, we would turn around back toward BART and not look back. I won. Haha!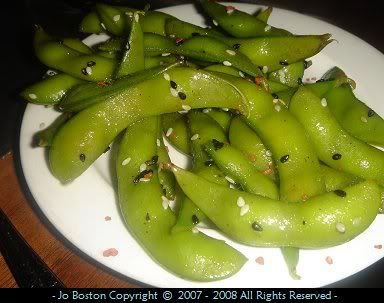 Salty Edamame - Comp
Instead of having an appetizer, then an entrée, then dessert, we just decided to split a bunch of appetizers. Since this was an Asian place, we didn't get bread and butter, instead we had some nicely seasoned edamame. They actually taste very similar to peanuts.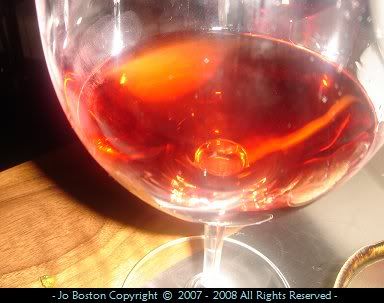 Due to extreme peer pressure, I ordered a glass of rose. Tell me why I was buzzin' by the time I was finished. =) As for the food, our server told us right off the bat that they were out of the calamari. That was fine because we already had some at Pier Market. But then we were rather disappointed when the server informed us that they weren't making the Kobe Beef and Foie Gras Puffs any longer. THEN WHY THE HELL LEAVE THE MENU OUTSIDE? Those were the main reason why we came here in the first place. Ugh. I was so angry. Since we were here already, we should as might as well enjoy the rest of the meal.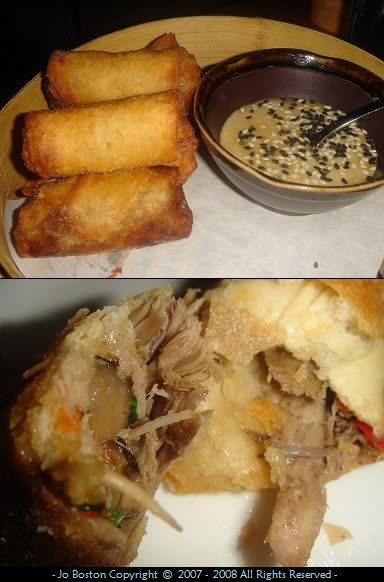 Sonoma Liberty Duck Confit Spring Rolls
with Chinese Hot Mustard and Honey Dipping Sauce -$10
Eggrolls. Quintessentially Asian. These little suckers were stuffed with shredded duck confit, mushrooms, among other things, but I wasn't too impressed with them. They were good to snack on, but they weren't anything special. I would have preferred another sauce - perhaps a soy-chili based dipping sauce instead of the very pungent mustard. The mustard just seems to kill all your taste buds even before you get to taste the duck. These were just alright.
Pan Fried Shanghai Noodles
with Tomato Confit and Toasted Garlic $10
Yeah, they really went green onion-happy in the kitchen because the noodles were showered with them. Surprisingly, I liked these noodles. I loved the fried garlic bits that graced the dish. The addition of the tomato was very good because it lent some sweetness and tang to a dish with rather strong tones. Overall, this was good. It felt a little greasy, but other than that, good.
Kalua Pig with Butter Lettuce Wraps
with Hoisin Barbeque Sauce,Toasted
Cashews and Green Onions - $12
Rox really liked these because they were rich and light at the same time. The fact that we had to individually assemble them ourselves added a fun element. I found the pork to be a little dry, but tasty. I thought the hoisin would help in the moisture department, but if you add too much of that stuff it gets to be too salty, so be careful. Again, not a dish that blew my socks off, but it was good.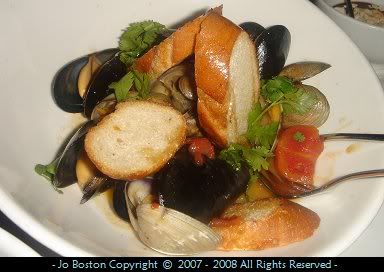 Garlic Seared Clams and Mussels
in Lemongrass-Curry Broth with
Cilantro and Grilled Bread - $12
I think this was a great dish. The mussels were ginormous. They were fun to eat with the little shellfish forks they provided. I really liked the curry broth that the shellfish sat in. It was very light - not as thick as those curries from Indian or Japanese places. Flavor-wise, I got a very Thai essence, but again not as think as a yellow curry. Would have LOVED some rice to go along with it, but the bread was great. They only supply three on the plate, so you best believe that we asked for more. Think of this as an Asian-y bouillabaisse. Good stuff. Possibly my favorite plate out of all the ones we had.
Butterfly was good. The interior is very chic with the booths lining the wall to wall windows that overlook the water. The views are spectacular. I found the ceiling décor to be a bit much - I wasn't digging the giant sea urchins with their long, needle-like spears hanging above us. Other than that, the bar looked very lively and the cocktails looked very tasty. I heard that it becomes a poppin' lounge at night for people to mingle with the music of a live DJ. We didn't stay long or late enough for us to witness that. A bit pricy because of the location I supposed - about $80 for the whole meal. Overall, good. Not great, but good.