Hi everyone,
This is going to be a bit different from my usual posts, but it is for an important cause. My cousin
Randy
has taken on the great challenge of running a half-marathon for the Leukemia and Lymphoma Society called the
Kaiser Permanente Half Marathon
.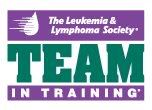 The story is our Auntie Lolit was just diagnosed with leukemia earlier this Summer and it is so heartbreaking for our family because she is quite honestly THE GREATEST aunt in the world. She helped raise me when I was a baby and I am so grateful to have her!
Randy is currently training so hard everyday for the marathon and we need your help.
We need to raise $2000 by January 19, 2009
in order for him to run in it.
SO PLEASE! I am asking you from the bottom of my heart to PLEASE donate. The money will go to the society and will help many others who are affected by leukemia and lymphoma like my Auntie Lolit.
SO PLEASE PLEASE PLEASE DONATE TODAY!
If you want to donate, please click on the orange ribbon below and you will be directed to Randy's donation page. Anything you donate, no matter what amount, will be greatly appreciated by our family.
Thank you so much, and please let me know if you donated, so I can call you myself and thank you personally. You really don't know how much your donation means to Randy and me and the rest of our family...