Restaurant
: The Moss Room
Address
: Inside the California Academy of Sciences
55 Music Concourse Drive, Golden Gate Park, SF
Phone
: (415) 876-6121
Cuisine
: New American
Date Last Visited
: October 17, 2008
Dining Partner
: Bubuh
I decided to take a couple days off in October to celebrate my anniversary with Bubuh. Since the remodeled California of Academy of Sciences had opened just a couple of weeks earlier, this was a perfect place to go. Even before we saw any of the exhibits, we went straight for the food. We were starving. You have a couple of choices to eat while you are in the Academy. You have Academy Café - Charles Phan's casual, cafeteria-type, Asian eatery which features bahn mi, pho, and spring rolls. Or you can go to Loretta Keller's sit-down restaurant called the Moss Room.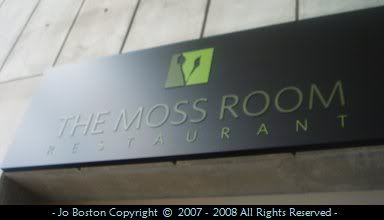 The Moss Room dining room is not visible from the museum floor or even from the Academy Café which the restaurant is under. We got the hostess table and she told us it was going to be an hour wait for a table but there were seats at the bar available. So we took those - I actually do not mind bar seating the slightest bit. The interesting part was that we had to be escorted from the museum floor to the dining room and we rode in this giant elevator down just one floor. (I thought they were trying to save energy? I mean, the stairs would have been good, but I'm going to get into that later.) Just being escorted down made me feel like
Ohhh we really are going somewhere special
like we were VIP's to a special event or something. Once we got down there, I did find something intriguing about this place.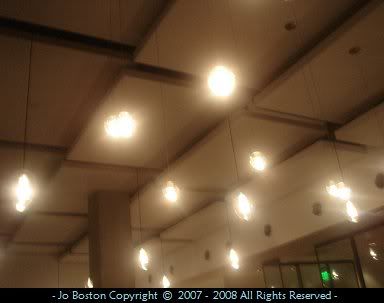 The space itself is very small. No room for more than 50 people I'd say. The lighting is very simple - light bulbs hanging on cables from the ceiling. We were seated at the part of the bar closest to the moss wall. It was very…alive. I regret not taking a picture of it because the little river that ran at its foot cast lovely reflections on the wall.
However, I actually thought the space felt a little cold. Not temperature-wise, but ambiance-wise. There is a small open kitchen, a small private area adjacent to the small marbled-bar. No table cloths (because it takes water and energy to wash them) and no windows (because outside sources may alter the room temperature which mgith conjure the use of a heater or air conditioner - which requires more energy). Aside from the mossy wall, there was really no sign of life that sprung out at me. The mossy wall? Oh yes, the mossy wall doesn't just serve as a decorative piece. Do you remember 7th grade science class and photosynthesis? Well, the moss, like all forms of plant life, absorbs the carbon dioxide we exhale and disburses fresh and clean oxygen. So yes, the science didn't stay in the museum. It followed us into the dining room as well. Admirable, yes. But cozy? Unless you're a big, fluffy, friendly bear, not always. I really didn't find the space to be particular welcoming at first.
Before I go into the food, I want to elaborate on the efforts both Chefs Phan and Keller and the Academy officials have made to make the restaurants as green as possible. Locally and sustainably is how they like to do things here. How local? Some of the fruits they use, such as the strawberries, were picked from the museum's roof-top! Rad. For real. You will see more of this practice as we go along.
Bread and Beverages:
Herb Focaccia, Wonderful San Francisco Tap Water
and Pisco Sour from the Organic and Biodynamic Bar
Like I said before, we were seated at the bar. We were asked if we wanted to take a look at the wine list and liquor selection. I answered with a no because I didn't think I was going to consume any alcohol, but after a few minutes, I thought
why the hell not?
I
was
sitting at the bar anyway - as might as well put our bartenders to good use. So I ordered a Midori Sour - something light and fruity.
*WROOOOOOOONG*
Jo, you are dining at an organic and green and biodynamic and locally sustainable restaurant! WTF were you thinking? Midori is not organic, biodynamic or even from California! It's green in color and Midori does mean "green" in Japanese, but it's not that type of green! I deserved a ruler slap on the hand for that.
Pisco Sour:
my "green" cocktail
So
that's
why they offered me a cocktail list - so I didn't make a fool out of myself like I just did. Our lovely bartender offered to make me a pisco sour instead. The first and last time I had ever seen a pisco sour was on
Rachael Ray's Tasty Travels
when Ms. Ray and her husband went to Peru. The thought of a cocktail with egg whites and bitters didn't really appeal to me, but our lovely bartender persuaded me. I actually found it to be very good. I even enjoyed the frothy egg whites! Who woulda thunk? The flavor actually reminded me of a margarita, with the lime/citrus going on in there, which was fine because I can drink margaritas all day. Not bad for my first organic cocktail.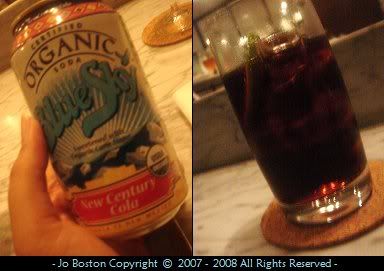 Blue Sky:
New Century Cola
Bubuh couldn't get away from all this organic stuff either. He asked for a Coke and got Blue sky instead - cola for the new century. The flavor really reminded me of colas from other countries - like the Philippines and Mexico - because the factories there sweeten their sodas differently than we do here in the States. Here they use
organic cane sugar
. None of this high fructose corn syrup nonsense.
Okay, carry on with the food (finally)…
We skipped the appetizer, but they had really yummy things on there like the House Made Pita Bread with hummus and veggies as well as the Country Style Pork Terrine. Maybe next time…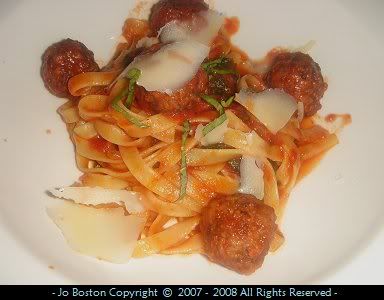 Bellwether Farms Ricotta Meatballs
with Fettuccini, Parmesan and Basil
I went for something safe. I know, usually I would not do that, but I wasn't 100% sure if Bubuh was going to like his entrée, so I got something we both would like in case he wanted to trade. Our bartender warned us that it was simple and not too special, so I was ready. It was actually very good. I was starving, so it tasted good no matter what. The meat balls were tender and flavorful. The pasta in the tomato sauce, again, very simple and fresh. This would be good for that friend who doesn't care for adventurous food or for a younger person who doesn't find the catch of the day to be particularly appealing. My guess is that Chef Keller was well aware that not everyone who walks in the Moss Room is a gastronome with an exploring palette, but someone who still appreciates well-made, quality-driven, and even "safe" food. Very thoughtful.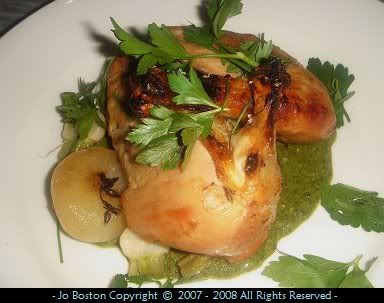 Oven Roasted Chicken
with 100 Almond Curry and
Mariquita Farm Root Vegetables
Our lovely bartender said that 100 different varieties of almond was used to make this curry. Could have fooled me. I know that a dish sounds special if they brag about using 100 of something, but was not
that
special. Do not get me wrong, the curry was tasty and went very well with the chicken. I was surprised it was even a green curry. I was expecting a masala-like sauce. However, maybe they should have saved 99 of those types of almonds and maybe should have stuck with one. I don't know how different the flavors would have been with or without the 99, but I thought it was just OA. The chicken itself was very good. The meat was very tender and seasoned well. There were some nice carrots, onions, and other root veggies on the plate, but I would have appreciated some sort of starch like rice with it. Hey, can't help it. I'm Filipino. Oh yes, I was incredibly surprised when Bubuh commented that this was "the best" chicken that he had in a while. Wow. Impressive.
If these didn't get your mouth watering already, you may want to check out their Catch of the Day, Lamb Kabobs or Bavette Steak.
Crème Fraiche Panna Cotta Kendall Farms Creamery, Stone Fruit, Strawberries, Almond Streusel - $9
Dessert time! We weren't planning on having dessert here, but the panna cotta sounded like it was too good to pass up.
So happy
that we stayed. The panna cotta was luscious and was a great platform for the fresh fruit (from the rooftop) and the almond streusel. I would have liked the streusel a bit sweeter, but that's just me. I would not have thought that plums and strawberries would be good together because they scream different seasons to me, but it worked. LOVED this dessert. A bit tart from the crème fraiche, a bit sweet from the fruit, and a bit earthy from the streusel. =) Wow. Me love.
Overall, I thought that the experience here went very well. After getting over the whole
in-your-face organic/biodynamic
awakening, I began to settle in and feel a bit more comfortable and not so much feeling like a little child with a spoonful of spinach in their face and their mom glaring down at them with the words "because it's good for you!" coming from their lips. The service was very lovely and made the efforts to conjure up conversations with us.
I'm not sure if I would definitely come back here on my next trip to the Academy…only because I have the Academy Café and Chef Phan's treats to try! The Moss Room was truly an experience and one I will not soon forget.
P.S. The main reason why we couldn't take the stairs down was because there was some work being done at the top of the stairs inside the Academy Café, so most of patrons of the Moss Room came down by elevator.
Here are a few of my favorite snapshots from our museum exploration: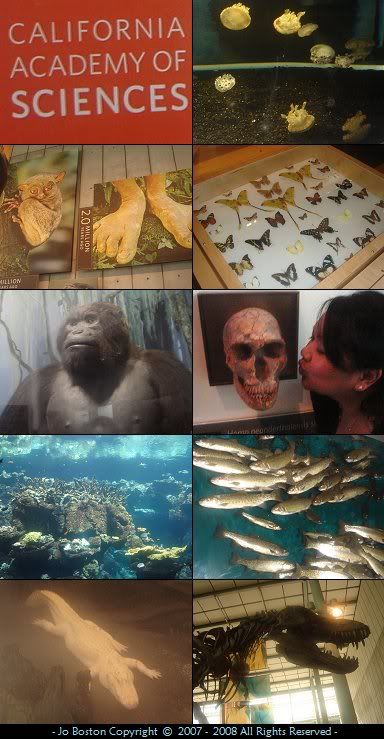 Jellyfish, gorilla, and albino…
Oh my!
I'm going to be honest here…I was somewhat disappointed with the new Academy. I admit, I didn't have time to go to every single exhibit, but from what I saw, I prefer the old Academy. I appreciate how everything is lit and bright, but what I loved about the old Academy was that feeling of mystery and darkness. The old Academy felt huge to me before - how there were little rooms to explore and how there was a chance you can get lost. Here, everything is out in the open and that feeling of vulnerability and feeling small is gone.
I remember coming here when I was a kid and excited to see something new - even though it was probably there the last time I came. I don't know…I was kind of sad because I missed the old Academy. The only thing I found to be the same was the African exhibit with the stuffed lions, hyenas, and Kirk's dikdik (Haha! I know, I'll shut up now). Global warming and politically motivated exhibits were in the forefront, which would have been seen as unheard of back when I was in my little green Catholic school girl uniform. I think the worst thing I saw was the California bear stuck haphazardly in a glass case with a cougar, and an owl by the Academy Café. I remember the bear being featured beautifully in front of the California flag that was at the entrance of the California eco-system hall. I don't even remember there being a California eco-system exhibit in the new Academy. There's a Philippine coral reef exhibit which I found humbling because of its plan to educate visitors about the reef's preservation, but other than that, the rest of what I saw was not very exciting.
I understand that they wanted this museum to be eco-friendly and environmentally safe with its denim jean insulation and self-regulating air circulator, but sometimes, I like things old school. When I think "museum," I think old school, I think times past, I think history. For some reason, I am troubled that the remodeling took away some of San Francisco's history and the reason why I loved this place so much in the first place.
*sigh*
Well, maybe I'll come back and see what I missed on this trip, but so far, I am not that impressed.