Restaurant
:
E&O Trading Company
Address
: 96 South First Street, San Jose, CA
Phone Number
: (408) 938-4100
Cuisine
: Asian
Date Last Visited
: November 15, 2008
Dining Partner
: Bubuh, Star, Sin-D, Ate Di, Randor, Ne-Yo, DJ Verz, God-sis, God-sis' Hubby, and Randor's friends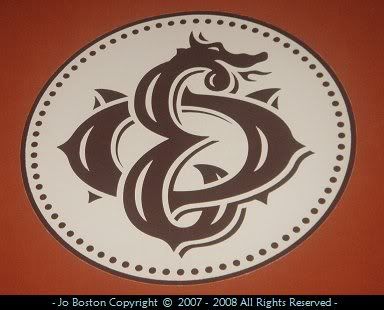 So it was my cousin Randor's birthday. He wanted a place where we could eat and then walk to a club and dance the night away. E&O Trading Company was the right place because Temple and Voodoo were just a short walk away. There are actually more than one E&O restaurants. Of course, the one in San Jose where were eating, and there is one in San Francisco on Sutter, one in Larkspur and one in Hawaii. With this many restaurants the food
must
be good right? We were about to find out.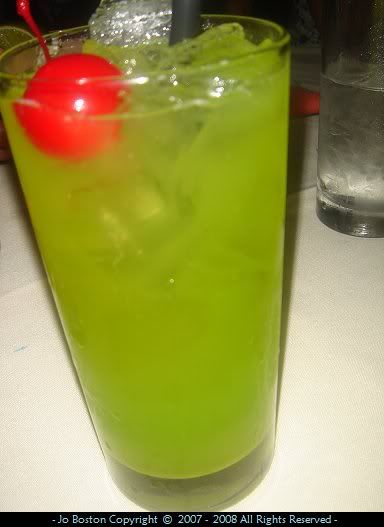 My Cocktail - Midori Sour
=) When I have one of these I get happy. The only bad part about Midori Sours is that it doesn't taste like there is not one smidgen of alcohol in it. I drink it like it were juice or a soft drink. That could be a bad thing because if that is the case, I'll be drunk before I know it.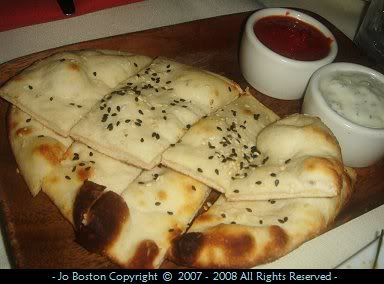 Three-Seed Naan
with Raita and Mango Chutney
Bubuh ordered this and I was surprised because I didn't think he would be into this type of bread. But then again Bubuh is a trash compacter and can eat just about anything. The bread itself was pretty good. I also found the raita to be pretty good. Refreshing and creamy. I didn't taste the mango chutney, but Bubuh and Star said it tasted more like marina sauce. Ha!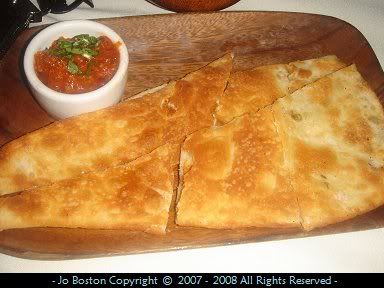 Roti Paratha
Griddle Fired, with Spicy Singaporean Dipping Sauce
This roti was a little different than other roti I have had. This was a lot more dense, but I really enjoyed the flakiness it had. It also seemed very buttery to me. What I wasn't so crazy about was the dipping sauce. It looked tomato-based, but it tasted like it was flavored with fried shrimp paste. I know that because I have eaten shrimp paste since I was a kid. Hey, I'm Filipino. =D I'm used to eating roti with curry, so this was a surprise. I also found it to be a little strong in flavor and saltiness, so I didn't have too much of it. The roti bread itself was very good. I actually found the roti great with the raita that came with the naan.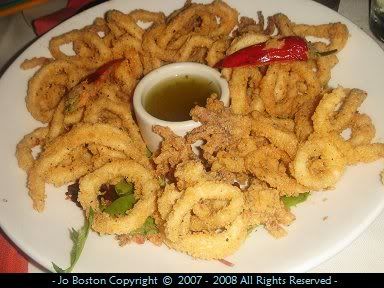 Salt and Pepper Calamari
with Green Chili Dipping Sauce
I saw this at the table next to us and I ordered a plate for ours. I don't know what it was about this calamari, but I didn't find it to be that great. It was good and edible, but usually when I have calamari, I get all excited, but was left unsatisfied. Maybe it's the coating. The rings were a bit flimsy and the fried coating was not as crunchy as I would have liked. The dipping sauce was real acidic, but I would have preferred just a wedge of lemon. Those chili peppers did not do anything for the flavor. I was kind of disappointed.
Wild Mushrooms and Bok Choy
Braised in Gingery Hoisin Sauce
This was Star's plate of bok choy and mushrooms. I didn't have any, but she said it was good. I mean, it's bok choy. I love it general, so I'll believe her.
Eggplant
Braised Hakka Style with Thai Basil
I really liked this preparation of eggplant. They were cooked until soft but not too mushy. They kept their shape while we were serving them. The sauce that it was braised in was almost sweet and I enjoyed it very much.
Cambodian Barbeque Chicken
with Mango Salad and Sweet Chili Dressing
Bubuh ordered the chicken…maybe because they didn't serve cheeseburgers. Ha! The whole thing looked really pretty with all the stuff on the long platter. Bubuh gave me a few bites and I must say that it was pretty good, especially with those slightly unripe mango chunks. Then again, not too impressed. Bubuh raved about it though, and I'm glad he enjoyed it.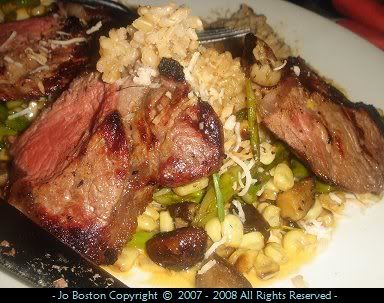 Grilled New York Strip Steak
with Asparagus and Brown Rice
One of my cousins ordered the New York Strip steak which happens to be the most expensive entrée on the menu. I was picturing a big steak, so when I saw this come out, I was kind of disappointed that the meat was cut already. I had some of the meat and it was okay. I didn't think an Asian place would have New York steak in the first place, so I wasn't expecting it to be mind-blowing. Flavor-wise, not bad, but not great. I didn't try the veggies or the rice, so I can't comment on that. Just okay.
Vietnamese Shaking Beef - Filet Mignon in Garlic Sauce with Cherry Tomatoes, Red Onions and Greens
Fliet mignon. Yum. You should have seen it when the server came to the table to serve it. The garlic sauce is doused on the meat and greens that sit on a sizzling hot plate, so you can imagine the bubbling and hissing and steaming when it was sat in front of me. It was a show even before I put my fork in it. As for the meat, the filet mignon was cut into cubes and I must say that they were extremely tender. It made the NY steak feel like rubber. The seasonings with the garlic, soy and onions were very familiar to me. Ne-Yo said that it tasted just like adobo to him. I can feel him on that. I wasn't too keen on the greens however. After all that steaming, all the veggies seemed to wilt down. I didn't eat any of it. For it being almost $25, I felt kind of ripped off.
E&O Trading Company is okay. Even during dinner Star said she couldn't help but think that she can get dishes almost exactly like the ones we had here and probably only spend 10 bucks on it instead of the $40 per head that we spent. Being Asian, I seem to have a good grasp on the flavors that revolve constantly in Asian cooking, from the soy to the garlic to the peppers, so nothing seems to surprise me anymore. I know there are people who are not as familiar with Asian dishes, so they will probably like thi splace more than I did. Bubuh said he wouldn't mind coming to E&O again. Most likely we'll go to the on in San Francisco, but it's a place I wouldn't rush to right away.