Restaurant
:
Ana Mandara
Address
: 891 Beach Street b/t Hyde and Larkin, Ghirardelli Square, SF
Phone Number
: (415) 771-6800
Cuisine
: Vietnamese
Date Last Visited
: October 8, 2008
Dining Partner
: Fuego
I work on the "business" side of a medical office, so I occasionally get sent to special meetings about accounting, new drugs, wherever the doctors and my boss feel I can gain information that will benefit the practice. I was lucky to go to this particular meeting with my partner Feugo. This would be my first time going to Ana Mandara and I was ready!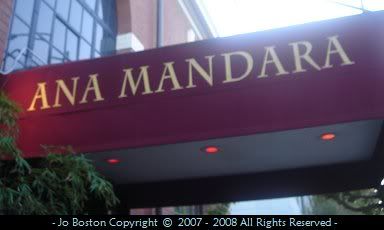 Ana Mandara or "beautiful refuge" surrounds the story of two lovers, a princess and a general, who are forbidden to love each other. Think of it as Romeo and Juliet in Vietnam. The story goes that the princess is married to the king of a neighboring kingdom - but not by choice. She was already in love with a general, but since her father needed more land (great dad, huh?), she married the king anyway. Her husband's first wife hated the princess and gets the King killed (great wife, huh?) because if he dies, all his wives have to die along with him.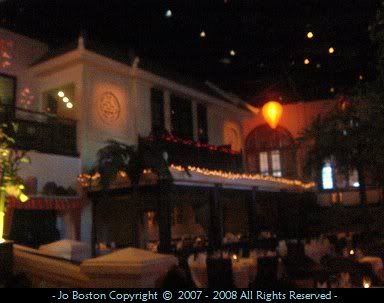 The princess's family asks her lover, the general, to rescue her from being killed like her husband. The two lovers ran away to South Vietnam where they ate to their hearts content in their own beautiful refuge. After a year of bliss, they knew they had to go back to the kingdom and face the music. It is not the princess but the general who is executed (I thought the wives had to die?). Anyway, the princess lived the rest of her life in a convent and thought endlessly of their "Ana Mandara." Sad, huh? As you continue reading, you are going to notice that the names of the dishes are very fairy tale-like, echoing the sentiment of this tragic romance.
I love the ambiance of the restaurant. You really feel you are in a lavish palace in Vietnam. I kind of forgot that I was in the Fisherman's Wharf area. It is probably one of my favorite dining rooms. Have you ever gotten this fuzzy feeling when you go to Disneyland and see Sleeping Beauty's castle? I get that feeling when I look back. Knowing the story of the princess and general's love gives me that fuzzy feeling. Like "wow, this was their beautiful refuge," like you're stepping right into it and living it yourself…and it really is beautiful.
Before we move on, please excuse the quality of the pictures. I wasn't able to take pictures of the food with flash because there was a presentation going on, so this is the best that I could do. =)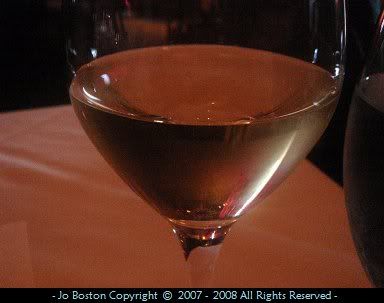 Vino. Always good.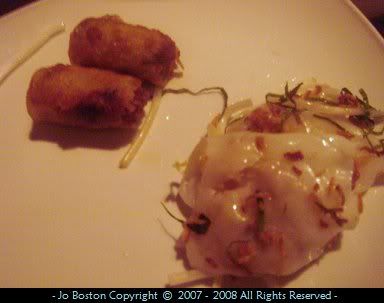 Appetizers
"Hands of a Child"
Crispy Rolls with Crabmeat, Shrimp
and Shiitake Mushrooms
"Delightful Dew Drops"
Vietnamese Steamed Dumplings with Chicken and Shrimp
The crispy rolls were really good with the seafood in it. I can eat Vietnamese egg rolls all day long. I wish had another one…or two. Not quite sure of the name, however. "Hands of a Child" Are a child's hands supposed to be…crispy? (LOL) Anyway! I was very surprised with the steamed dumplings. The dumplings were made with rice noodle sheets and were incredibly light and chewy. They had a slight bounce in the mouth that was awesome. I wish I had another one…or two…or three.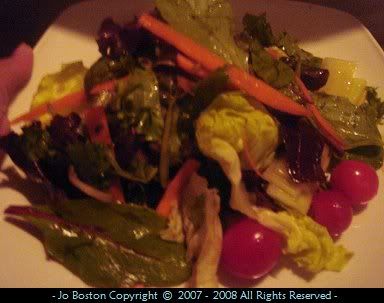 "Asleep in the Petals"
Organic Baby Greens with Ginger Vinaigrette
I like salads. I thought that this salad was good, but it was a little too simple. It consisted of greens, carrots, and cherry tomatoes. Yeah, there was a vinaigrette, but it was just meh. This is their simplest salad, and I know they probably served it because it was the cheapest, but I would have liked to try one of their more unique salads. Nothing special.
"Countryside Wanderings"
Crispy Skin Five-Spiced Poussin with Sugar Snap Peas, White Corn Pilaf, Sweet and Sour Sauce
Oh, I am so bummed that the lighting was not on my side. There was literally half a bird on my plate. The portion size was so generous. Poussin is really a small chicken. The name is fancy, but it tastes, well, like chicken. The meat was so moist and tender and the skin on it was crispy and perfectly seasoned. I LOVED IT. I loved dipping the meat in the tangy sauce and the sugar snap peas were fresh and delicious. I can go on and on and on about this dish. The rice was interesting as well. There were large kernels of white corn in the pilaf which added an interesting mouth-feel. I loved the flavor combinations and the different textures. I mean it's crispy-roasted chicken and rice! COME ON! I LOVED IT.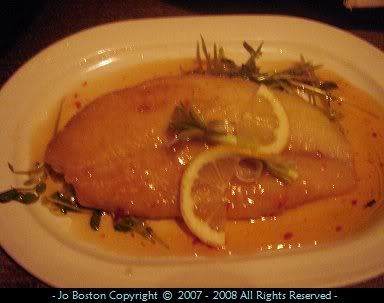 "Enchanting Moments"
Seared Mekong Basa with Scallion Flowers,
Spicy Lemon Sauce
Fuego, l love Fuego. She ordered the fish so that we can sample each other's food. I knew I liked her from the start. The fish was tender and light. LEMON AND FISH. COME ON! The scallion flowers were interesting. I never had them, but I really liked them. The dish didn't have rice on it like mine did, but fortunately the servers came around with steaming Jasmine rice. LEMON, FISH, and RICE. COME ON! So good. The size of the fish was ridiculous. So good.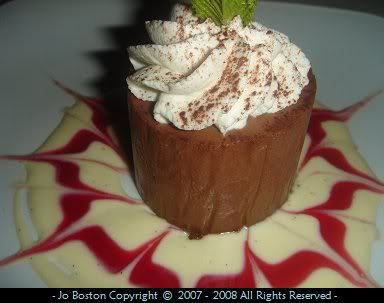 Dessert 1
Valrhona Dark Chocolate Semifreddo, Raspberry Sauce
If you like chocolate - like deep, rich, dark chocolate - you will like this. If you're like me, where you're more into light, creamy, fresh flavors, not so much. Don't get me wrong, it was really good. The texture was smooth, but it was a bit too decadent for me. Like I said before, if you like deep choco flavors, you will probably favor this over the other dessert.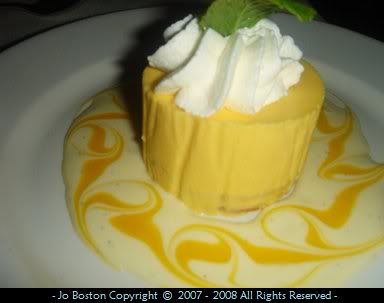 Dessert 2
Coconut and Mango Tropical Mousse Cake, Mango Sauce
This was the perfect ending to the meal. The mango mousse was fresh and really tasted like mango! Some mango desserts taste so artificial, but this was just awesome. I wish I had another one. =) Perfect dessert, especially in a restaurant like this.
I thought that this meal was fantastic. Aren't the names of the dishes like poetry? I give major props to the folk who made up those names. So creative. I liked how they set up the dinner with dishes from the normal menu. I noticed at some meetings that they made special menus with items that are not usually on the normal spread. LOVED this meal, and now I can't wait to come here again!!