Store
: Miette Organic Patisserie
Address
: Ferry Building Marketplace, Shop 10, Embarcadero, SF
Phone Number
: (415) 837-0300
Cuisine
: Desserts
Date Last Visited
: June 21, 2008
Dining Partner
: Jenn
Yay, another expensive organic bakery to review. Hey before you go and roll your eyes, hear me out. The desserts here are fantastic. You get your choice of pastries, cakes, miniature to full-sized tarts, cupcakes, macaroons, and even homemade candies here. And no, they are not cheap at all. However, these are some of the best desserts I have ever put in my mouth.
They're cases are lined with some of the most spectacular cakes, tarts, and desserts you have ever seen. By no means are they like what you would get from Charm City Cakes or anything, but the fact that they look homemade is what amazes me. They look so homey and they made me believe that the people who made these put a lot of love into making them look so brilliant.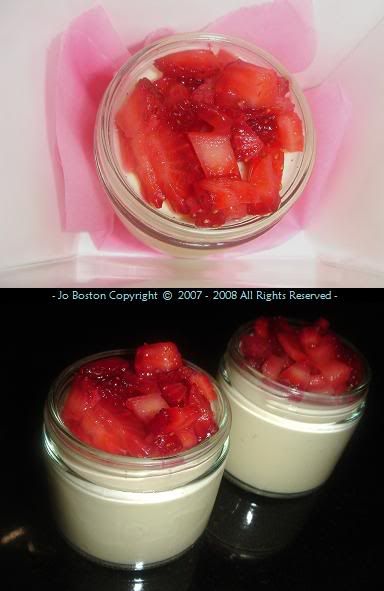 These little buttermilk panna cottas were…well, little. I do have to say that they were delicious. The panna cotta itself was creamy. That's all you tasted. Wonderfully fresh cream and a little bit of vanilla. There was a slight tangy tone because of the buttermilk, but I liked it a lot. The fresh strawberries on top added some sweetness and it went PERFECTLY with the silky panna cotta. P.S. If you return the glass jar it came in, you get $1 back.
Star is also known as Queen Cupcake of the family because she loves them so much. I got her two vanilla cupcakes - one with a strawberry frosting and the other with a regular vanilla frosting with sprinkles. I didn't have one myself, but she did tell me that they were so light. I hate it when cupcakes are heavy. They're supposed to be airy and should not take any effort to devour. These have Star's approval.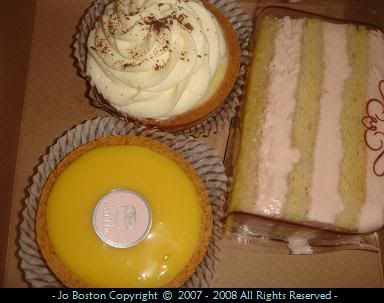 Ohhh, the good stuff. All of these were so awesome. As a group, the strawberry crème cake was our favorite. The cream in the cake was sweet but not sugary sweet. It was light and had the perfect amount of strawberry in it. The cake itself was light as air as well. The banana crème tart was good also. Plenty of whipped cream and a nice banana custard. The lemon tart (my choice) was so yummy. It makes your mouth pucker the way it's supposed to. The tart shell, which seemed to be made of some sort of wafer was very good. Overall…refreshing. That's what I liked about it. It was refreshing.
In all, I spent about $30 for just the items you have read about in this blog – each dessert was about $3. I know it's not cheap and you probably think they are ripping you off, but considering how good the desserts tasted and how they use quality ingredients, it's all worth it. The employees of the store are very nice and pack everything with so much care - from lining the take-home boxes in pink tissue paper to using color coding stickers to indicate which of the items needed refrigeration. This place is so cute, and I will not hesitate to come back and have another buttermilk panna cotta.