Restaurant
:
La Folie
Address
: 2316 Polk St. at Green St., Russian Hill, SF
Phone Number
: (415) 776-5577
Cuisine
: French
Date Last Visited
: September 25, 2008
Dining Partner
: Star
I remember a couple of months even before Star's birthday me asking her what she was going to do. Star and I have been to a couple of the best places in San Francisco, so I knew that her birthday had to be special. I caught an episode of Check Please Bay Area with La Folie and I immediately put it on the list of places to go. Since this was a special occasion, this was perfect timing.
Classic Cosmo but I requested a Mandarin orange-infused vodka. The one I had at Arcadia was better.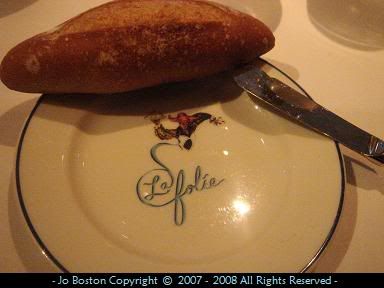 BREAD…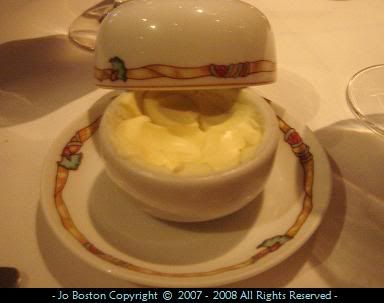 and BAH-TAH! =)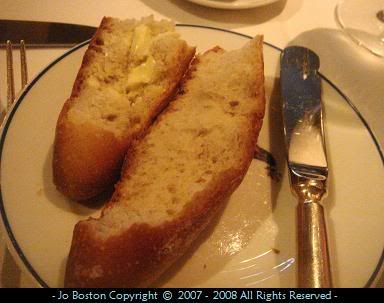 I love French Bread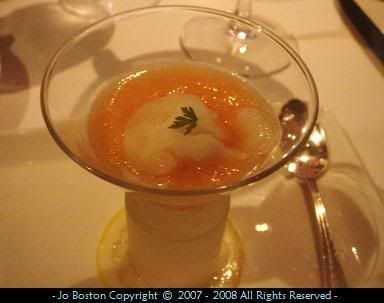 Amuse 1:
Melon Soup
with Heirloom Tomato Sorbet Topped with Chervil
For our first amuse, I was surprised that we were going to start with something sweet. Wonderfully sweet melon and sweet tomato sorbet. It was nice and cold and got us ready for the rest of our meal.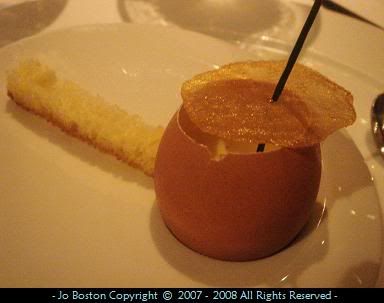 Amuse 2:
Egg Yolk with Leek Cream Soup Served
in Shell with Brioche, and Potato Crisp
All I can say about this is WOW. The egg yolk was left runny so it combine with the onion-y soup in the most luxurious fashion. Think of the warm, velvety yolk swirl into a savory cream. Delicious. The crispy brioche was the perfect utensil to dip into the soup and the potato crisp, which was like a chip lent a nice saltiness to the otherwise soft and delicate soup.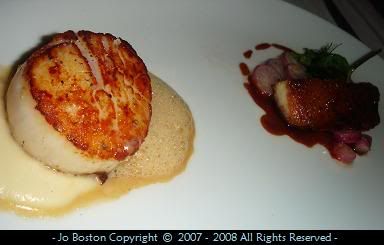 Pan Seared
Day Boat Scallop
on a Sweet Onion Puree, Dungeness Crab Broth, Crispy Pork Belly with a Radish Salad
On any given night, there are two ways of eating here at La Folie. You go the a la carte way that Star and I opted for on this night. Or you can go for the prix fixe menu - the choices are already made for you. Our server, Dave, let us know at the beginning of the meal that we can choose any of the dishes on the prix fixe menu as any one of our courses. I took that offer and borrowed this from the prix fixe menu as my starter.
Wow (part deux). The scallop had that fantastic seared on the outside, but once I cut through that barrier, I found my way to the warm, but rare meat. It was so sweet and perfectly cooked. The scallop sat in a sweet onion puree and a foam made with crab juice/stock. Crabs have juice? Supposedly so. The flavor of a scallop is delicate already and the worst thing they could have done was to overpower it with sauces. The sweet onion puree was just right in flavor and viscosity. The crab foam, which didn't really scream "crab" to me added some saltiness.
Pork Belly. The scallop was incredible and to have this alongside was completely over the top. By the time this reached me, it wasn't crispy, but it was delicious anyway. It really reminded me of some really fatty Peking duck. I would not be surprised if they used the same spices to flavor this pork belly. Since the pork belly was so fatty, a nice radish salad gave me some crunch to balance out all the textures. This was superb.
Seared Hudson Valley Foie Gras with Caramelized Peaches, Spiced Peach Consommé *10.00 supplement
One good reason why I took Star here was because there was foie gras on the menu. Star loves foie gras and she said that this was the biggest piece she had ever gotten. I agree, it was rather huge. It sat on some warm peaches and a syrupy broth. I liked the combination of fruit with the fatty liver. I had a bite even though I don't do foie gras, but I can tell you that it was very good. I wouldn't have a whole plate of it, but from what I sampled, the texture of the foie gras was so luxurious. I can see why Star adored this dish.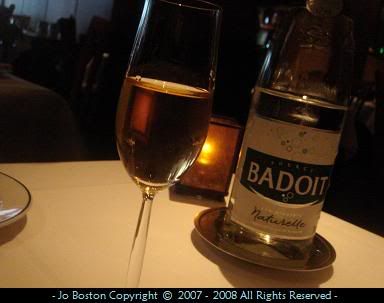 Our server suggested a dessert wine to go with the foie gras. I didn't have any of it, but it was very fruity in smell and almost reminded me of some concentrated apple juice. Star didn't really care for it.
Rôti of
Quail and Squab
Stuffed with Mushrooms, Wrapped in Crispy Potato Strings, Natural Jus with Truffles
Star's entrée - Visually it reminds me of springtime and Easter.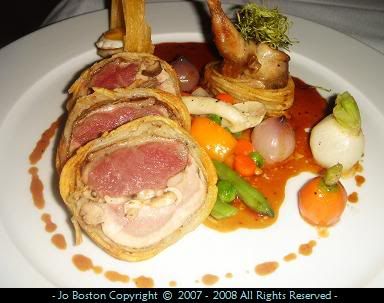 I was concerned that Star wouldn't like this because she had never had squab before and she was afraid that the quail would taste too gamey. Also, I was uneasy about how rare the meat was. I already risked it with the rare duck meat from Michael Mina, and isn't every talking about eating poultry
only
if it is cooked all the way? I am happy to report that the meat was surprisingly light. Both the quail and squab have a different flavor and texture from chicken. If you haven't tried those types of poultry meats, you should.
Quail Egg
on a Sweetbread Pancake
Like I said before, this plate reminded me of Easter. It actually looked like an Easter Basket because of the way the potato looked like well, a basket. The vegetables were so colorful and this little egg was so cute. I loved the touches that were made to make this dish look and taste beautiful.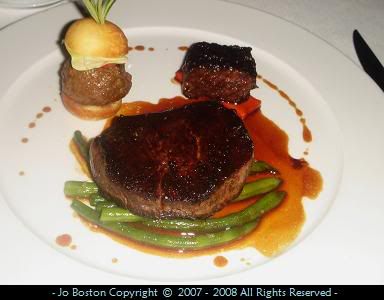 "Le Boeuf," Beef Tenderloin, Braised Beef Short Rib, and Burger Rossini with Truffle Madeira Sauce *15.00 supplement
=) My menage a trois of viande. Yes, I had to have this. I love meat.
Tenderloin Cooked to Medium
Served Atop Haricot Verts
This tenderloin was awesome. It didn't feel like I was eating meat. It was tender and seasoned well. =) Yes, it was so good. I noticed that there was no major starch on the plate - hey, I'm a meat and rice girl - but the green beans were perfect with the steak. I didn't miss the carbs at all.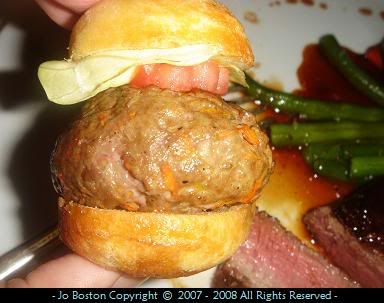 Mini Foie Gras Hamburger
with Lettuce and Tomato on a Bun
This was the cutest little burger ever. Our server told us that there was foie gras mixed into the hamburger patty, which was also very tender. The tomato inside was so cute with its scalloped edges. It was a bit tricky trying to eat it as a hamburger. I ended up dissecting it and eating it with my fork.
You know the short rib is good when it tears apart in shreds like this. I didn't need a knife. I probably didn't even need my fork. There was a deep flavor in the short rib and it felt nice and lip-smacking good from the fat and dissolved connective tissue you can see in the picture. It was so tender. Phenomenal. Hands down, the best I have had ever.
Palette Cleanser - Cardamom Pudding and Pluot Granita
I was not expecting for this to come out, so it was a treat. The cardamom flavor of the pudding reminded me of a
kulfi
that I had at an Indian restaurant a few months ago. I usually look over desserts flavored with spices and herbs because for some reason I think herbs and spices are only for savories - except holiday pies however. Yes, I think I should try knocking that wall down. Anyhow, the pudding was very good and combined with the granita made with a fruit that is a cross of a plum and apricot was very interesting and something I ended up enjoying very much.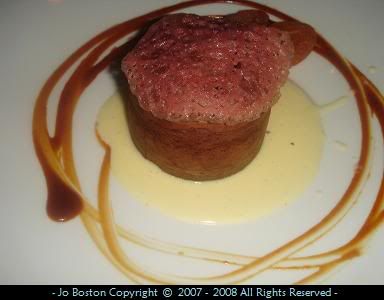 "The Sunset" Warm Bittersweet Chocolate Fondant
with Vanilla Crème Anglaise and Brandied Dried Fruits
I don't know how I managed to do it, but I ate dessert also. This is a version of a cake with a warm and running center. I was afraid that it being bittersweet that it would be a bit bitter, but I found it just right. I am not quite sure what the top consisted of and I was disappointed that I didn't get ice cream which the menu indicated I would get. Maybe the ice cream melted into the crème anglaise? I didn't care for the dried fruits. The dessert was very good, but it's not extraordinary.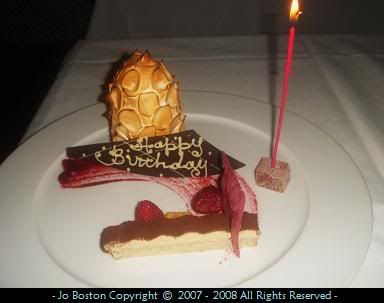 "Baked Peach Melba,"
Peach Ice Cream,
Raspberries, Earl Grey Tea Sabayon Mousse
Star's dessert looked so pretty complete with its candle and "Happy Birthday" sign made totally with chocolate.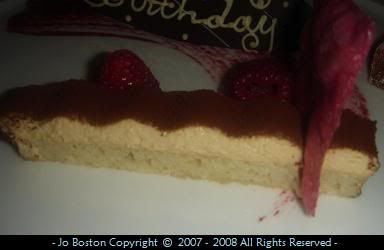 This was the Earl Grey Tea Sabayon. At first, I thought it was a tiramisu, but instead of espresso, I tasted tea. It wasn't particularly sweet either, but interesting.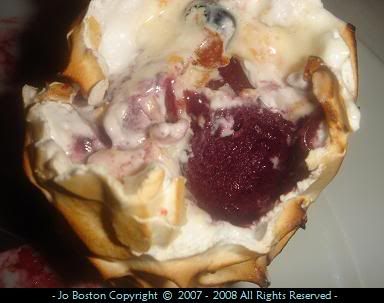 That huge beehive, baked Alaska thing housed raspberry sorbet, some sort of cake among other things. The outside reminded Star of marshmallows which made sense because all marshmallows are made of are whipped egg whites. A dessert I would usually ignore on a menu, but I am glad I had tried it.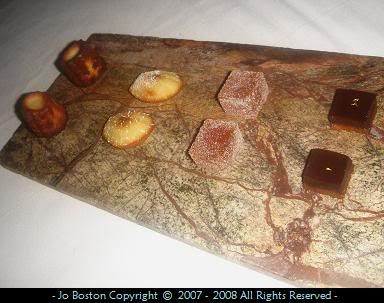 Oh my goodness, they should have known better than to shower us with more free treats. I adored the canelles with their custardy interior and rather hard exterior. Those tiny little madeleines were filled with luscious chocolate. I didn't eat anymore because I was about ready to burst.
Chef Roland Passot has given me one of the most wonderful dining experiences I have had in my life. I can say that this is up there in the ranks with The Dining Room, Gary Danko, and Michael Mina. You know what? I think this is one of my Top 2. For real. I am not kidding. The space is absolutely beautiful. It's a rather small restaurant and the dim lighting and velvet curtains makes for an intimate experience. Because this was a special occasion, Star and I took it upon ourselves to look like a million bucks. However, toward the end of our meal, a couple in jeans and flip-flops came in with their baby stroller. I guess there is no definite dress code. Maybe it depends on the diner, but I mean it's a beautiful restaurant why not look beautiful along with it?
Anyhow, I had a wonderful time here. The service was outstanding. They were not pushy or rushing. Our server Dave was great even stopping to talk with us about things other than the food. FYI: I made my reservation on OpenTable, and they do request a credit card to hold a table. All around, such a great restaurant. I don't think I'm going to make this a restaurant I go very often because of the price point, but for special occasions, this the place to do it.