Restaurant
:
Crown & Crumpet
Address
: Ghirardelli Square, 900 North Point St, E207, SF
Phone Number
: (415) 771-4252
Cuisine
: Tea Rooms
Date Last Visited
: October 12, 2008
Dining Partners
: Star and Rox
I found this place purely by accident when my coworker Fuega and I went to Ghirardelli Square for a business dinner at Ana Mandara, and I am so glad that we did. We discovered Crown & Crumpet on a Wednesday…Star, Rox and I came here the following Sunday. Can you tell that I was extremely excited? I actually called them right away after setting foot in here and didn't tell them exactly where we were going, so this was a big surprise for both of them.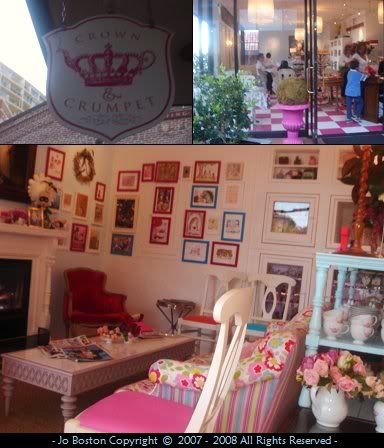 This has got to be the cutest place I have ever been. Pink and white checkered floors, flowers everywhere and PINK PINK PINK! It really felt like we were in Alice in Wonderland. You will notice that each table has a little sign saying that everyone sitting at the able must spend at least $8.50. Wow. I never knew places could do that. With the prices here however, that was not hard to do. It is on the pricy side.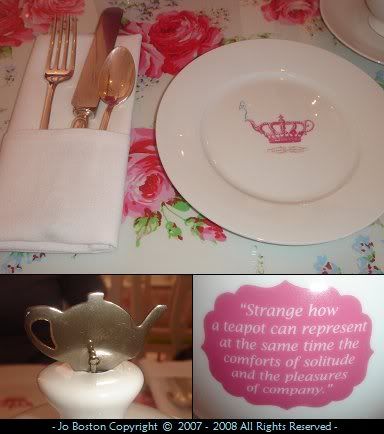 With the flower table cloth, the quotes on the teapots and saucers, and teapot-shaped tea steeper basket-stopper, I fell in love. The service was fabulous also. They came every so often to check up on us if we had any questions.
The Sunday we went was during Fleet Week. The entire square was almost empty because all the Fleet Week-goers were along the water and wharves waiting for the planes to fly by. It was all good for us because there was no one else in Crown & Crumpet. More attention for us! We also sat at a table by the window so we could see the planes. I absolutely love the star-shaped sugar cubes. There were also hearts and roses. How adorable.
I'm not much of a tea drinker, so I got a cup of hot chocolate ($5). Oh my goodness, hot chocolate is not usually a drink where I go OMG, but this is one of best hot chocolates I have ever had. The whipped cream on it made it thick and creamy. I am always worried that hot chocolates I order will be
too
chocolaty, but this was PERFECT. =) Red heart sugar cube.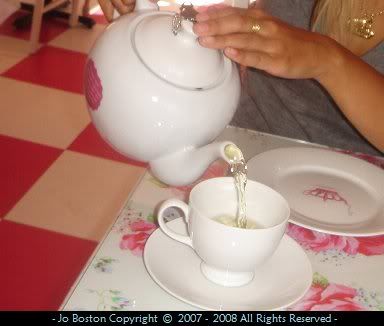 We ordered the "Tea for Two" and tried to get mimosas but unfortunately for us, they didn't have their liquor license. Boo. Above is Star pouring one of our teas. The "Tea for Two" includes two pots of bottomless tea. So if you had the time and the stomach, you can probably stay here all day just sipping tea.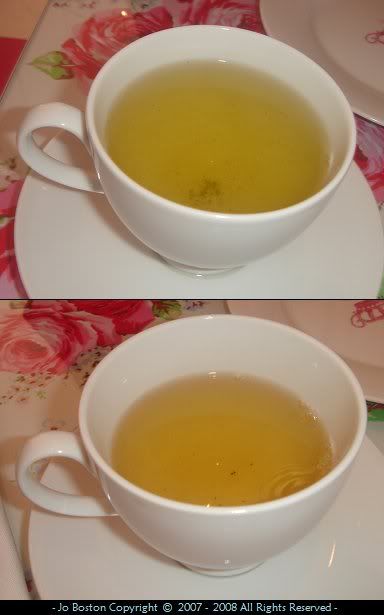 Our choice of teas was a Strawberry Fields Green Tea (above) and a Peach Crumpet White Tea (below). I know I said earlier that I am not a tea drinker, but tell me why I had 4 or 5 cups. I guess I didn't like tea before because the only tea was exposed to was boring Lipton tea. Now, I can appreciate different kinds.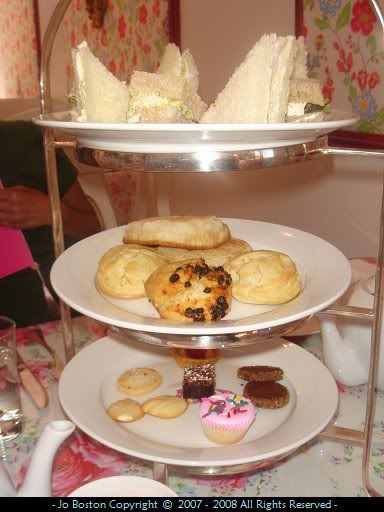 The "Tea for Two" includes:
3 warm homemade scones with clotted cream, jam, lemon curd
selection of 8 tea sandwiches
8 homemade sweets & treats
2 toasted crumpets with butter
2 large endless pots of tea
$42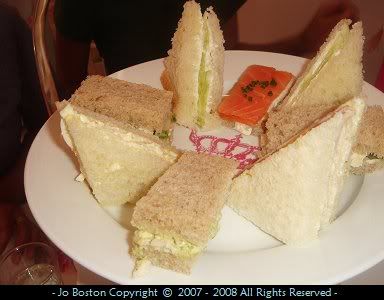 Oh the tea sandwiches. Perfect little sandwiches with the crusts cut off. We got two cucumber and cream cheese, one egg salad, two pear and bleu cheese, one smoked salmon, one basil chicken salad, and one ham and cheese. All were very good, but unless you are totally brain-dead when it comes to cooking, there should be no reason why you wouldn't be able to make these yourself. They are ridiculously easy to make and they probably cost 2 bucks in ingredients. A bit of a rip if you're thinking cost-wise, but they did add to the default daintiness that you're supposed to feel at a tea party. I tried to steer away from the bleu cheese and pear, but I had to try it. Surprisingly, the bleu cheese they used was not strong at all. That pungent taste is what I can't stand, but they used a much milder one. I appreciated that very much.
Oh scones. I'm so spoiled. Whenever I'd visit my mom's place of employment at the RC or would stay at an RC, I would always find my way to the Club Level where she works. Every morning, there would be scones, clotted cream, custard and strawberries waiting for me on the presentation tables for me to make my strawberry shortcakes with. I haven't been to the RC in a long while, but these scones brought me back to the old school. Buttery and tender and perfect with the accompaniments that you will see in a moment. Every baked good is made in-house, except for the crumpets, so that being said, the scones were extraordinary.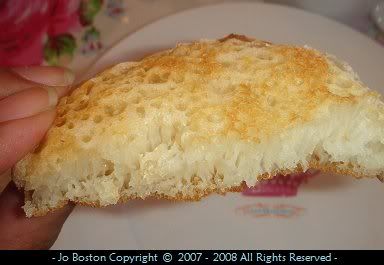 This was the first time I had ever had a crumpet. I think the first time I had ever heard the word "crumpet" was on some television special that displayed different game show bloopers from around the world. I remember a Family Feud show and the player said "crumpet." I always wondered what they looked like. I thought they were cookies of some sort, but they are a cross between an English muffin and a pancake. I'm pretty sure they are cooked the same way as a pancake, but it was stiff like an English muffin. Even without a slathering of butter, they were so buttery delicious.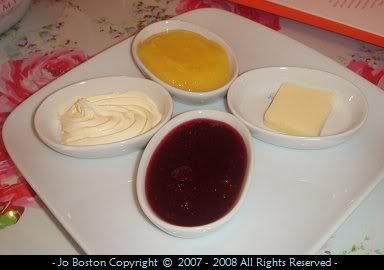 Accompaniments for our crumpets and scones. Clockwise: lemon curd, butter, strawberry jam and clotted cream. My favorites were the lemon curd (duh) and the clotted cream. I just loved the lemon curd with the scones especially. Buttery goodness with creamy tang. Magic. Pure magic.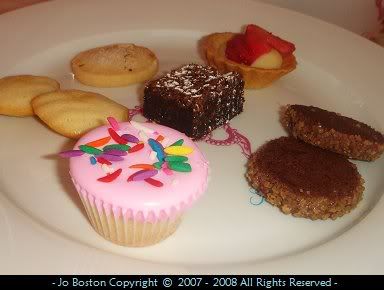 For the bottom tier, we have the sweet treats. One strawberry tartlet, one brownie, one shortbread, two madeleines, two chocolate cookies, and a "fairy cake." My favorites were the chocolate cookies because I liked the sugar crystals rolled along the outside.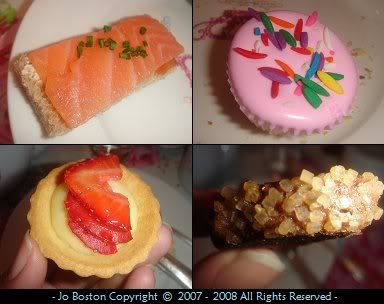 Just a recaps of what we had. My favorite sandwich was a toss up between the smoked salmon and the basil chicken salad. Star called the "fairy cake," Rox had the brownie, and I had the tartlet. I was surprised that I didn't like the tartlet. I liked the strawberries, but there was something in the custard cream that didn't taste right. Star said it was cheese, but who knows. Finally the chocolate cookies. Those brown sugar crystals look like the stuff that comes out of the Sugar in the Raw packets. I wouldn't be surprised if they were.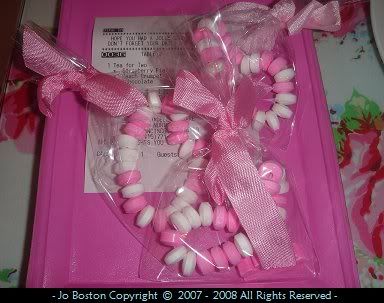 Soon enough, it was time for the check. At this time the flight shows ended and people started streaming into the shop and into the square from the wharves and Aquatic Park. I did find it interesting to have my little spot of tea with the sounds of turbo engines flying over our heads. I made a comment and I'm probably going to go to Hell for this:
this is what it sounded in England in World War II.
Yeah, I'm going to Hell. (haha)
I LOVE the little candy bracelets that came with the check. Each bracelet came with a pink candy crown on it. Wow, we really felt like little princesses. Even though I am almost 25 (eek), I felt like a little girl in here. Everything was pink and so girly! I never really was a girly girl growing up. You can ask anyone who knew me when I was a kid. I was a TOMBOY. I would rather play with a football than with a tea party set, but I think I'm making it up as I am growing older and becoming more in touch with my feminine side. (hehe)
So did I like this place? Oh yes. I am not quite sure how often I'm going to come here since it is on the pricy side. It was about $50 for the Tea for Two and the hot chocolate. Not cheap. Matter of fact, I was talking to Star today and I told her that we should make up our own tea party at home. By the way, Crown and Crumpet gets their teas from Lupicia. I'm pretty sure there is a Lupicia store at Stonestown Galleria by SF State if you Bay Area heads were wondering.
So if we got our tea from Lupicia and make the sandwiches and desserts, that leaves us with the scones and crumpets. Where would I be able to get those? If you know, give me a holler. Otherwise, this place is so cute and so full of life and positive energy. You should have seen the look on Star and Rox's faces when I walked them in here. We passed by Kara's Cupcakes, and they probably thought that was where I was bringing them because they are suckers for cupcakes, but no. I led them further into the square and made them squeal in joy like they were 5 years old again. Yes, you tend to lose your sense of age in this place. I think anytime I want to feel cute and girly, this would be the place to go. Perfect for a baby shower, teatime for Mommy and daughter, or birthday. Speaking of tea sets, there is a little retail shop by the entrance where you can get pretty little cupcake cups for baking, cupcake cookbooks, and my favorite thing of all in there - a little tea set for your little princess.
Star said she would have her birthday here and really hopes this place does well. I hope it does too…I mean, where else would you have crumpets and tea in a place with pink and white checkered floors?