Restaurant
: Consuelo Mexican Bistro
Address
: 337 Santana Row, San Jose, CA
Phone Number
: (408) 260-7082
Cuisine
: Mexican
Date Last Visited: August 10, 2008
Dining Partners
: Bubuh, Bubuh's Mom, and Bubuh's Dad
FYI: My Sweety K will be known as "Bubuh" from now on.
*Jo leaves her house, walks to the waiting car, and opens the door*
"Hi!" Me
"Hi! How are you?! It's so good that you can come with us today!" Bubuh's Mom
"So where are we going?!" Me
"Have you ever been to Santana Row?" Bubuh's Dad
"No, I haven't…" Me. I was kind of hesitant to say I have yet to go there because I didn't want to admit I don't venture too far from my safety bubble that I call San Francisco.
"Then that's where we're taking you!" Bubuh's Dad
OhHhHhHhHhHhHhHh…I love Bubuh's parents. For real! Some girlfriends say they "love" their boyfriend's parents only to have a raging hate for them on the inside. But for me, I L-O-V-E his parents. They have always been so nice to me and have brought me to some of the most delicious places I have ever been to. If you don't know this by now, Bubuh and I are soon to celebrate our 5-year "going out" anniversary in December of 2008. No, we're not married. We just like to celebrate the time that we have been together. So in the five years of us going out, I have probably known his parents for 4 years and 11 months. Yeah, I met his folks really early in the relationship. Me and his dad can talk about food all day long - especially Mexican food. I still claim that him, Bubuh, and I were Mexican in our past lives. So of course on this day, he brings us to a Mexican restaurant for Sunday Brunch.
Consuelo Mexican Bistro is in San Jose's gorgeous Santana Row. I love this place. I love the outdoor shopping especially because I can so tired of shopping in regular shopping malls. At least here, you can enjoy the sunlight and the fresh air. San Jose has great weather every time I go there and this was a beautiful and sunshiny day perfect for dining al fresco.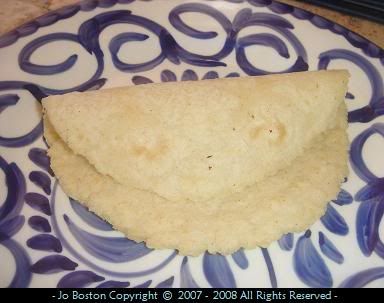 Tortillas
fresh and warm for dipping
I love warm tortillas. These were light and chewy. So good with the sauces…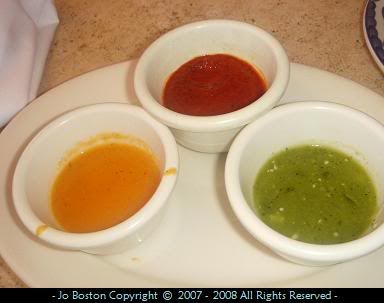 Dipping Sauces
L-R: Mango, Chipotle, Salsa Verde
Visually they are so beautiful. My favorite was the mango. It was sweet and a little spicy. Really good. My next favorite was the salsa verde. Salsa verde is my favorite period on a normal day, but since the mango one was here on this day, it took 2nd place. I like salsa verde because instead of focusing on heat it's more on the fresh side. I love the tomatillos and sweetness and tang they lend to the salsa. My least favorite and the one I ate the least was the chipotle. I'm tired of chipotle. It's too deep and smoky for me. I like light tones instead. Chipotle is becoming overrated. Chipotle in chocolate, chipotle in my Jack in the Crack chicken sandwich, chipotle in salad dressing…enough with the friggin' chipotle. You can say that about truffles too…but that's another blog post.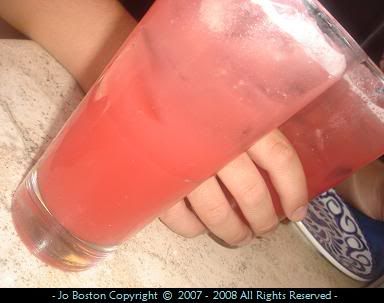 Aguas Frescas of the Day - $2.50
Watermelon - the best I had ever had
I guess it was the combination of the heat, the walking, and the atmosphere that made me like my aguas frescas so much. There were pieces of melon that I could chew on and that was nice because it let me know that they used real watermelon. Sweet and refreshing - if they had free refills, I would have had at least three more glasses.
Huevos con Chorizo - $9
Three eggs scrambled, chorizo, onions,
and potatoes, black beans puree
Bubuh's brunch entrée - there was a healthy amount of eggs on that plate. That brown, tortilla-looking thing that all the food is sitting on is a huarache. A huarache really means "sandal" in Spanish, but when you consider what a sandal is - like a platform for you to walk on, it kind of makes sense why this flatbread made of blue corn masa would be named the same thing. This edible huarache is a platform for all the food that is on top. I have also seen huaraches topped with salsa, cheese, and meat - topped as a tortilla would.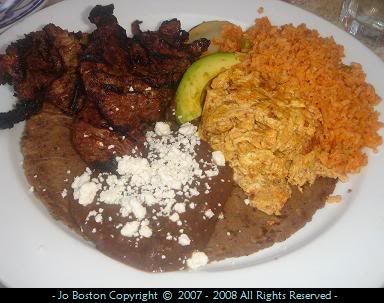 Desayuno Mexicano - $10
Chorizo and onion scrambled eggs,
potatoes, steak, rice and beans
In the car, Bubuh's Dad raved about the steak and eggs. I wondered to myself, "What can possibly be
so special
about plain ol' steak and eggs?" Frankly I pictured that bland-looking plate of a t-bone steak and eggs in a Denny's menu.
SO
not appetizing. Oh dear, I totally underestimated what Bubuh's Dad had to say. Forgive me. This has got to be the best steak and eggs I have had in my entire life. For $10?! Holy crap, that is a steal. Other places would charge at least $15 for this ginormous plate of food. You get your potatoes, beans with fresh cotija cheese and chorizo scrambled eggs, which are identical to the ones on Bubuh's plate,
as well as
avocado, seasoned rice and the steak all on that huarache.
This was the best value because my plate was just a buck more than Bubuh's and I got so much more food. The rice was perfectly cooked without being too dry. The chorizo eggs were lovely which that additional spice from the sausages. The steak was awesome. I loved how there were pieces of charred bits stuck to the meat from the grill. Everything tasted so fantastic together. Like I said before, the best steak and eggs I have ever had. And I can't keep stressing how
ridiculous
the price is. $10!!! I couldn't finish it, so I had Bubuh finish it (which he did with no hesitation).
I'm really surprised that I had such a great brunch in a place as frou frou shi shi as Santana Row. If I lived closer to San Jose, I would so hit up this place if I had a hankering for steak. Two thumbs way up for Consuelo's brunch!