Day 4 - August 16 - Atlantic City, New Jersey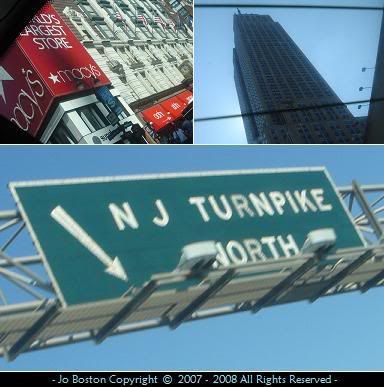 We started early - 10 o'clock early for our mini road trip to Atlantic City. On our way to Jersey, we drove by the largest Macy's store EVER. The reason why Macy's is so dear to my heart is because I dedicated two years my life to providing my customers with outstanding service working in the Women's Shoe Department. Yes, like Rachel Ray, I worked at a Macy's. =) We also passed by the Empire State Building. I wish we had the time to go to the top. Oh well, off to New Jersey we went!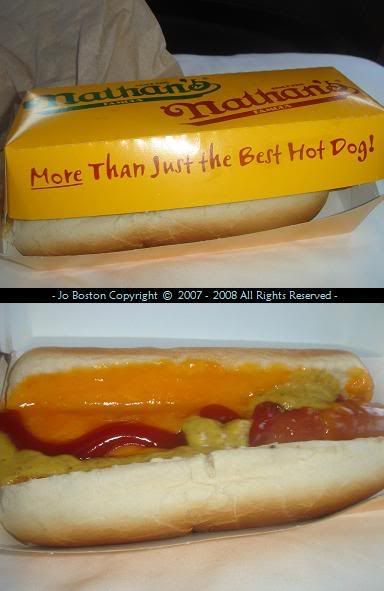 We made a few pit stops and at our first one, I absolutely had to have something to eat. OH GOD. I love hot dogs. ESPECIALLY with cheese. It was funny because when I went to order, I said "cheese dog" with a NY accent. LOL. Yeah. I caught myself and giggled. The guy who rang me up didn't charge me full price for my water. =) Interesting. Anyway, this is not your usual nacho cheese. It's real cheddar sauce. =P Ketchup and grainy mustard and I call that a perfect breakfast for a road trip. What's better than Nathan's? Can't think of anything. No wonder Kobayashi injured himself over these. They're too good.
Before you move forward, I have to admit that there was nothing much in New Jersey as far as good eats went. So I'm just going to have to torture you with regular scenic and tourist pictures I took while I was there. Enjoy!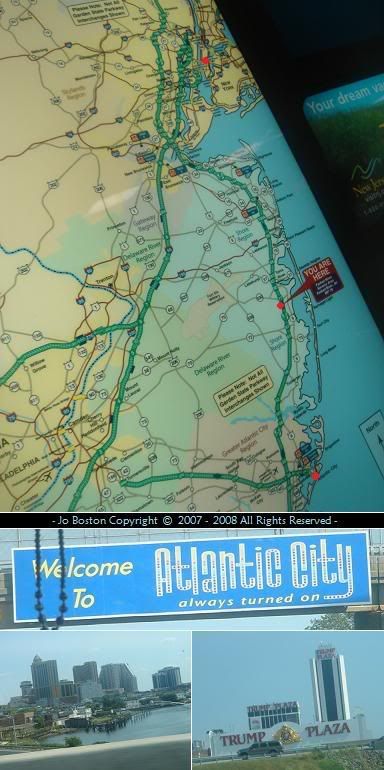 See those three red dots? Connect them using the green lines - that was our route. So it took us a whole 4 hours to get there. GADDAM! Trust me, when we got there I was seriously wondering what was so great about. I was thinking it was going to be like Reno - which I dislike, but it was different…more like if Las Vegas and Santa Cruz Beach Boardwalk had a love child. Atlantic City would be it.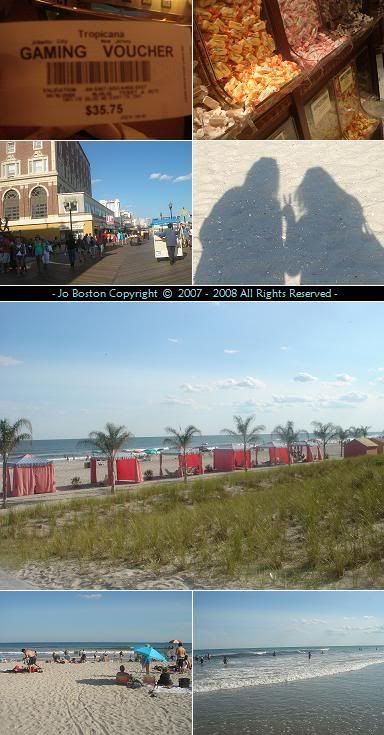 GAH. I lost 70 bucks in the casino. =( I also found a couple of places that sold saltwater taffy. Too bad forgot to buy some before we left. It was actually THE PERFECT DAY to come here. The weather was absolutely flawless. Warm air, slight breeze and beautiful scenery…the smell of the salt water…it was just perfect.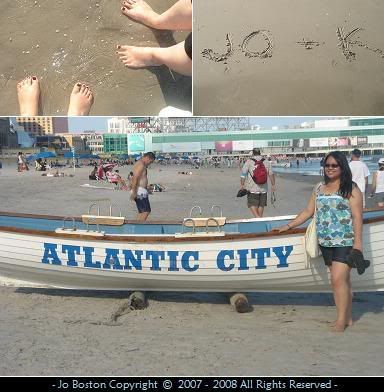 Our feet-sies touching the Atlantic Ocean for the first time. =) Guess which set of feet are mine. Haha. Jo + K: that of course is for My Sweety K. The bottom picture is of me in my stunnah shades. AND YES, THAT IS MY FOODBUZZ BAG. I brought my tote to the Jersey shore! =) I thought it was a pretty nice picture until I saw the guy in the background. LOL. Yeah, the one over the N and the T in AtlaNTic. =P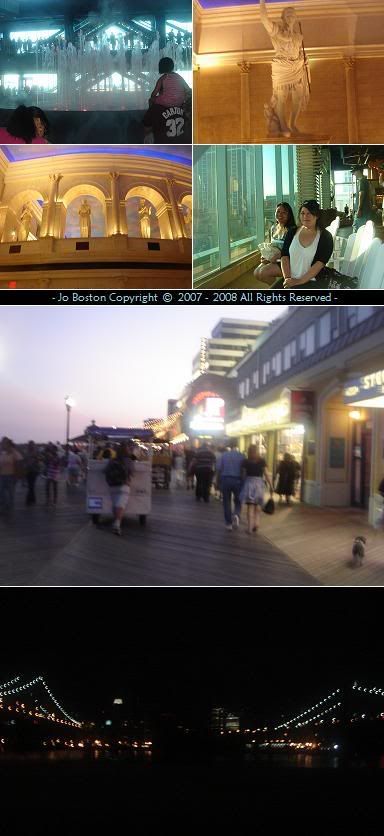 After gambling a bit, we walked to the Pier Shops at Caeser's Palace. They have everything in that shopping center: LeSportsac (I bought a cute fanny-pack from there), Burberry, Louis Vuitton, MAC, among other high-end stores. What got to me was that the casino interiors, especially the ceilings which are painted like the sky, look exactly like how they do in Las Vegas. It brought me back to my last vacay to Vegas. =) After spending a few hours at the slots and Blackjack table, we left for New York. Jersey was cool. I know Ate Di enjoyed herself A LOT. Haha. *inside joke* I just love that bottom picture of the two bridges.