Restaurant
:
Osha Thai Restaurant
Address
: 4 Embarcadero Center, Financial District/The Embarcadero, SF
Phone Number
: (415) 788-6742
Cuisine
: Thai
Dining Partner
: Ate Di
Osha sits on really great real estate. It is along the Embarcadero and the Ferry Building is right across the way. During the holidays, my family loves to come here for the ice skating and lights of the FiDI. We would always pass this place and I always wondered how good it would be. So here we were.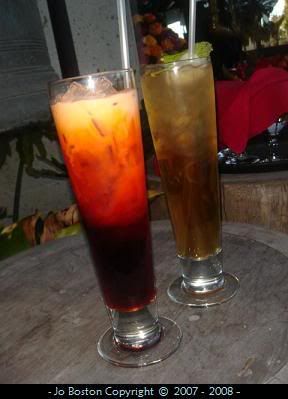 Our Beverages:
My Thai Iced Tea and Ate's Lychee Iced Tea
Every time I am at a Vietnamese or Thai restaurant, 99% of the time I order a Thai Iced Tea. Good. Ate's Lychee Iced Tea was refreshing. Both good.
Salmon Sashimi Salad:
Fresh Mango, Lemongrass, Kaffir Lime Leaf, Red Onion, Green Onion, Cilantro, and Sesame Oil with Spicy Lime Dressing
Ate chose this and I must say, it was pretty awesome. There are a lot of citrus tones going on in there, like the lime leaf and the lime dressing, but they didn't overly acidify it to make it into a ceviche type dish. The salmon was fresh and its fattiness went exceptionally well with the verdant scallions, pungent lemongrass and sweet mango shards. I do have to make a complaint about the texture. While the salmon was tender and basically melt in your mouth, there were pieces of lemongrass that where annoyingly tough. I could be chewing and enjoying some fish and then some dry pieces of lemongrass was in there and I had to stop and spit them out. Other than that, no other complaints. I appreciate the lemongrass flavor, but I prefer them out of there.
Lamb and Chicken Satay:
Served with Peanut Sauce and Cucumber Salad
I don't do lamb too much, so I stuck with the chicken skewers which are the lighter-color ones underneath. I liked the flavor of chicken, but it's nothing special. Good, but not extraordinary. HOWEVER, if you are not Asian, you might like these more than I do because I am so used to Asian flavors. Don't get me wrong, they were good, but again, nothing new to me.
Cucumber salad - accompaniment to the satay
I love pickled/vinegar-ed cucumbers with any grilled meat. It's almost like a palate cleanser. Nice side.
Three Buddies:
Pork Loin Marinated with Black Pepper Garlic Sauce and Grilled Served with Papaya Salad and Sticky Rice
Now what in the world would have made the makers of this dish call this "Three Buddies?" I don't get it. Matter of fact, I don't get this dish whatsoever. The pork was bland. Bland bland bland and BORING. I can SOOO make better pork. Nothing about the pork made it distinctly "Thai." If you said it was Vietnamese, I'd believe you. If you said it was Filipino, I'd believe you. SNORE. I liked the papaya salad, but wasn't crazy about it. And then there was this…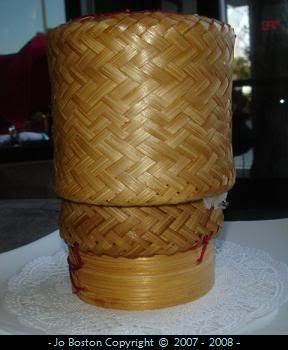 And What Could Be Hiding In Here?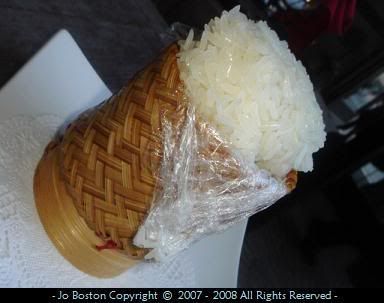 Sticky Rice - ick.
I don't like sticky rice alongside my savories. Growing up, Inang would make sweet sticky rice and I would eat it as a dessert. Sticky rice, even in its plain form, has a distinct flavor and I don't like it with meat. I like it with the brown sugar/coconut milk syrup Inang cooked it in. Basically this rice stayed in its little cute bamboo container for the duration of the meal. I went ahead and ordered a bowl of plain white rice.
For the price I was paying, I was hoping for OUTSTANDING dishes, but Osha fell short. That Three Buddies dish is so not special. I wouldn't even pay 5 bucks for it. So bad. I think I would come back for the sashimi salad - sans the lemongrass. I have heard the spicy eggplant and noodle dishes are going, but looking at Osha's price point, I think I can manage finding a place that serves as good, if not better, food for a fraction of the prices here. However, the location is pretty cool. Great for people watching, hearing the Ferry Building bell toll every hour…food, not so much. Just okay, but by the end of the meal, I was quite disappointed.