Restaurant
:
Luna Park Kitchen & Cocktails
Address
: 694 Valencia St. at 18th St., The Mission, SF
Phone Number
: (415) 553-8584
Cuisine
: Traditional American
Date Last Visited
: September 1, 2008
Dining Partner
: Star
So it was Labor Day and My Sweety K and I had just finished rearranging the bedroom. We haven't done so in over two years, so there were lots of junk to haul out, dust bunnies to vacuum, and spiders in the corner to get rid of. By the time he had to leave to have dinner with his parents, I was exhausted. I called up Star and asked if she was up for some dinner, but she was craving for some dessert. Since it was Labor Day, we had to find a place that was open. Luckily after looking through some of my go-to books, we found Luna Park.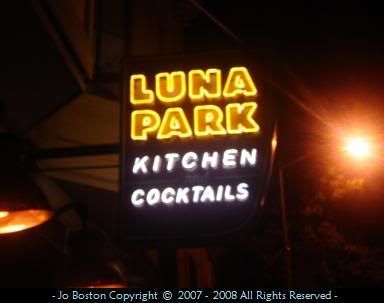 I made the foolish assumption that since it was a holiday that not many people would be out. It was the opposite. Lots of people were hanging outside of the restaurant and we were afraid that there would be a long wait. The hostess said it would be another 20 or so minutes, but we were seated in about 10. We were seated in the corner table by the window. It got a little windy, and as I tried to slide the window my nail broke (hence the title). Boo. I really liked our location because there was lots of people watching to do.
Bread and Butter - Sourdoughy Goodness!
Bread is only upon request, so if you want it, speak up.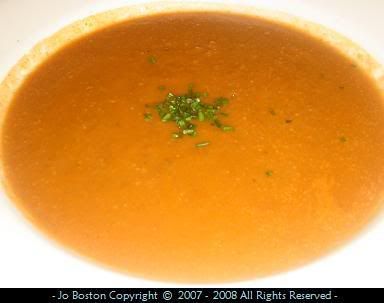 Soup! - Summer Squash and Tomato ($7.50)
Soup! Really, that's how it is listed in the menu. The soup du jour was a squash and tomato soup. I'm not really a squash-eating person, so Star ordered it. I tried it and I was foolish to think I wouldn't like it. I love tomato bisque from Safeway and one day I was reading the ingredients and the base is actually made with squash. That's how it has that thick consistency. Luna Park's squash and tomato soup was very tasty. I'm considering ordering this if I have a chance to. Flavors were very bright and I liked it very much to my surprise.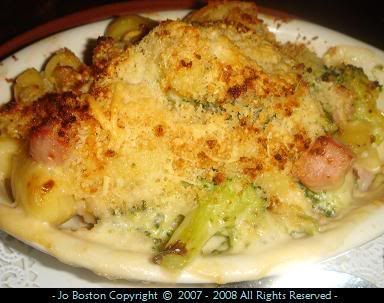 Oven Baked Macaroni and Cheese
with Broccoli and Applewood Smoked Ham (Side - $6.25)
We only got a side of this because there was no way we could finish the entrée size. As we were eating it, I commented that this was the best macaroni and cheese had together. Granted this is only the third we've had, but it's still the best. The crunchy topping made with cheese and breadcrumbs was a great texture contrast to the otherwise smooth cheese sauce. I love the addition of broccoli (makes it seem healthier than it really is) and the ham (you can opt not to have the ham). Shells are used instead of tube/elbow macaroni and I actually prefer this shape because it captures more of the cheese. I'm getting this again.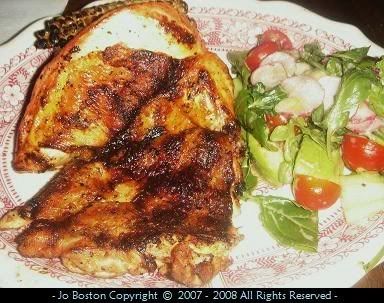 Achiote Marinated Mary's Half Chicken
with Watercress, Avocado, and Tomato Salad
with Grilled Corn on the Cob with Chile-Lime Butter ($18.50)
Now, let me tell you about my entrée. I know I know the price is a bit much, but let me explain why it was al worth it. Since it was marinated with achiote, the skin and outer meat had a nice red tinge to them. I'm lazy, so I appreciated that there were no bones in the chicken. =) Please forgive the poorly taken picture, but it the chicken was beautiful. The chicken was juicy and tender. Even the white meat was beautifully moist. I loved the meat because of the char from the cooking and the marinade seeped all through it. It had a tangy, citrus-y flavor that I just loved. Anything citrus is fab to me. I also loved the simple dressed salad with the radishes, cucumber and avocado. Chicken went perfect with it. The corn on the cob (which is hiding behind the chicken) was incredible. It was roasted and smeared in this glorious lime butter. Faaaaaaantastic! I must say this is the best chicken I have had in a long long while. I mean, everything worked together. There were a lot of sour tones going on and the avocado cut through it. Tomatoes offered sweetness. Veggies offered freshness to a plate. Chicken was PERFECT. PERFECT. Perfection is hard to find and for some odd reason, I seemed to have gotten it.
Chocolate Chip Bread Pudding
with Chocolate Chip Ice Cream ($7.95)
Good Lord. Talk about decadent. The cubes of bread were crunchy on the top and soft and luscious on the inside. Some of the ice cream melted into the bread pudding adding wonderful creaminess. If you like warm desserts, this is a winner. I mean, bread pudding, it is so homey and comforting.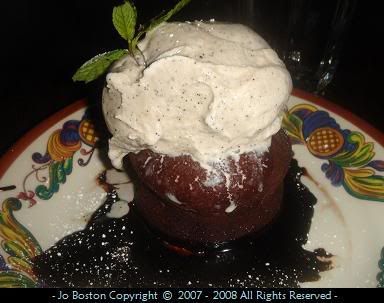 Chocolate Truffle Cake
with Espresso Bean Ice Cream ($7.95)
This cake tells the truth. For real. It's really like a real chocolate truffle - the outside being a bit stiff, but the inside is nice and fudgey. I really don't know how we managed to get the richest desserts on the menu, but we did. If you are a chocoholic, you are so going to love this.
I would have to say that this dinner was a success. If you have a hankering for good food in a great neighborhood, this is the place to go. They are also known for their goat cheese fondue, tuna poke and make your own s'mores for dessert. Traditional American with a fun twist I say. The space is attractive with private tables in the hallway leading to the restroom. Great bar area and interesting looking people. It does get a bit loud, but other than that, I have no complaints. But can I say again that the chicken was PERFECT? Awesome chicken. Winner!