Day 2
Thursday, August 14
Things Don't Always Go As Planned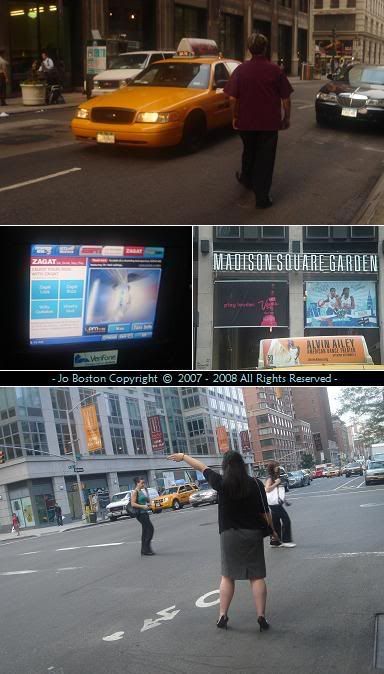 So this was the day of our scheduled Tyra Show taping. Ahhhh! Tyra Banks!!! Above shows our bellman Frank hailing our FIRST-ever NYC cab. I love NYC cabs. Each one has a touch-screen monitor if you're bored or fidgety and have to touch something. It has the news, info on Broadway shows, Zagat, and a whole bunch of other cool stuff. On our way to Chelsea Studios, we passed Madison Square Gardens. *^_^* So we get to the studio only to be told that the taping for the day was cancelled. WTF? They took our names to be called back so that we could go to the taping the next day. That totally sucked because we had perfectly planned a lunch at Nobu on Friday for NY Restaurant Week. Now we had to cancel lunch to go back to the Tyra taping. I was a bit disappointed. =( But what can you do? So we hauled ass back to the hotel. That's Ate Di hailing a cab on 7th Avenue. =)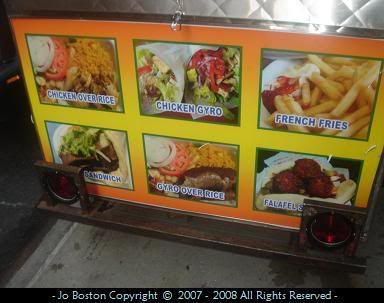 Halal Cart
on the corner of E 40th and 5th Ave.
Before coming to NY, I did a little bit of research on the street food. Chuck told us that halal carts are just as famous as hot dog carts. Fortunately, there was a halal cart on the corner of our hotel. Actually, they're on almost every busy corner of Midtown.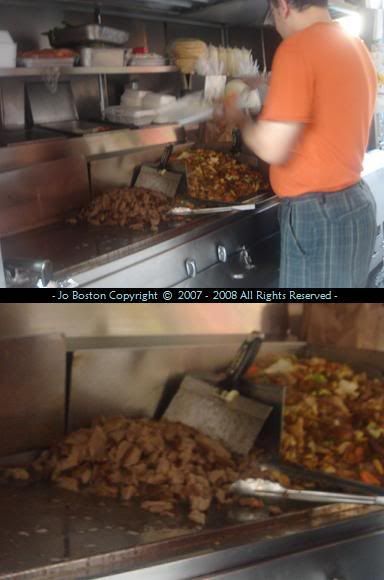 NYC Street Food - cooked and prepared in front of you
For 5 bucks you get some sort of meat over rice with salad and they prepare it right in front of you. Not bad. I wish we had this in San Francisco.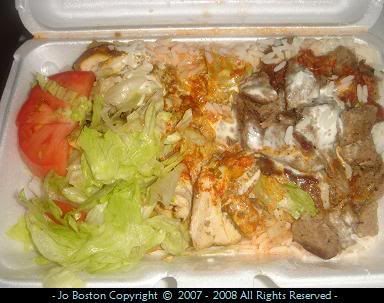 Chicken and Lamb - Over Rice with Salad
When I was at the cart, I asked what was in the Combination plate and he said lamb and chicken. I said I didn't do lamb, so I ordered the chicken over rice instead, but when I got to the hotel room, I saw this. I guess we got lost in translation or something because he gave me the combination. That lamb was so spicy! But the chicken with the rice and salad was really good. I knew I had to have another one of these before we left.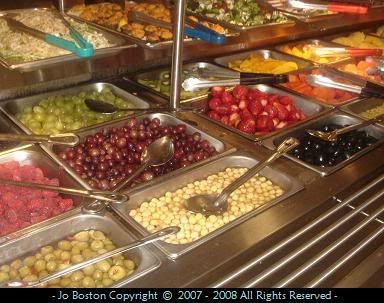 I call this the "rip-off' buffet at Café Charlie, next door to our hotel. Ate spent $17 on friggin' fruit. It sure does look delicious, but never again.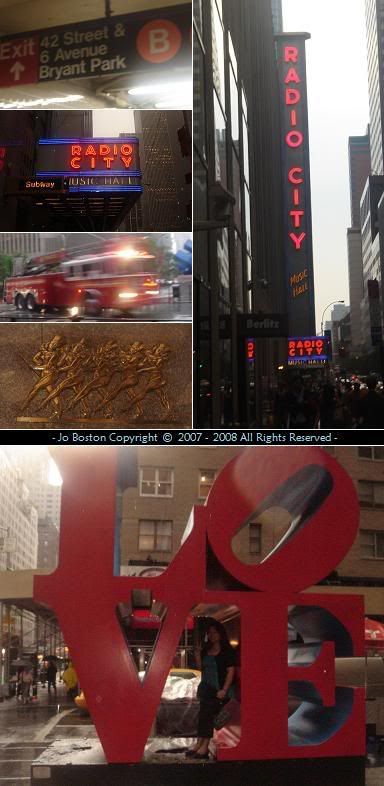 Since we had some time to kill before our show in the evening, we decided to take a walk around Midtown, mainly along 5th Avenue and Rockefeller Center. We took the subway and I found it to be a lot scarier than the subways here in San Francisco. And it was SO HOT down there. When we come up from underground, it was absolutely POURING. It was weird because the day before was clear and hot. Now it was hot and rainy. Strange. What was even stranger was we were in the subway for no more than 10 minutes. The storm seemed to come out of nowhere. Fortunately, the Radio City Music Hall was right outside the subway exit, so we took refuge there for a few minutes as the thunderstorm died down. Bottom picture: me being OA and posing Asian-style. =) I love love. Don't you?

Donald Trump was my hero when
The Apprentice
came on television for the first time. *winks at The Queen Rebel* So seeing the Trump Tower in person was mind-blowing. Why you may ask? He's a friggin' man of power with tons and tons of money. I can't really think of a building in San Francisco that has the same affect. He has more control and power than the president I think. 5th Avenue is a shopper's dream. Chanel, Dior, LV…Momma would have an orgasm here. I mean, yeah, we have the same stores in San Francisco, but it's not the same. The scale of the stores here are gargantuan. Rockefeller Center. I would love to come here during the holidays and see the tree here.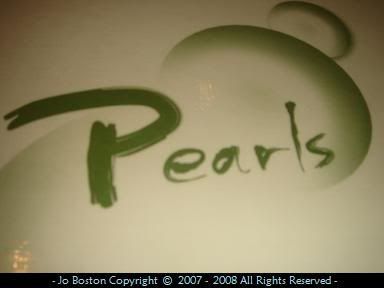 After walking in circles and getting lost, it was coming close to show time and I was so hungry, so we had to find a place to grab a quick bite to eat. Pearl's was a random Chinese joint in Times Square.
Beef in Brown Sauce - my favorite of the three entrees because the beef slices were so tender and I really liked the slices of Napa cabbage. Very simple and great over rice.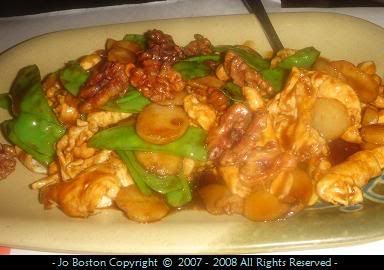 Chicken with Snow Peas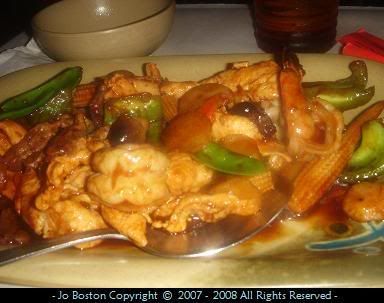 Prawns and Vegetables
Not extraordinary - but it hit the spot because I was hungry. Then it was off to the show!!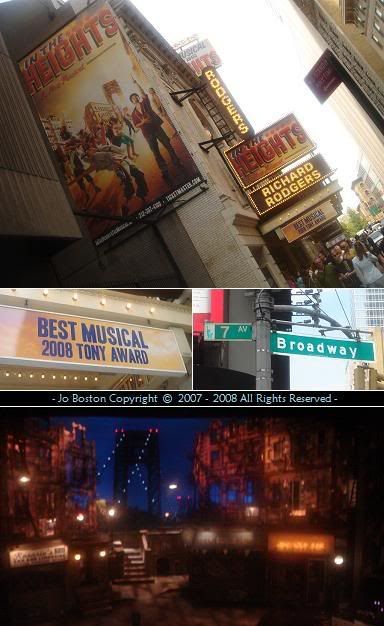 In the Heights - Marquee and Stage
Ate Di and I went back and forth between
In the Heights
and
The Little Mermaid
.
The Little Mermaid
is my all-time favorite Disney movie, but Ate Di's argument was that
In the Heights
was the 2008 Tony Award's Musical of the Year. It was set in New York's Washington Heights and it got rave reviews. Okay okay, Ate Di won. I am so glad she did. If you want a little sampling of this show, check out the video below to watch their performance at the 2008 Tony Awards and you will see what I am talking about.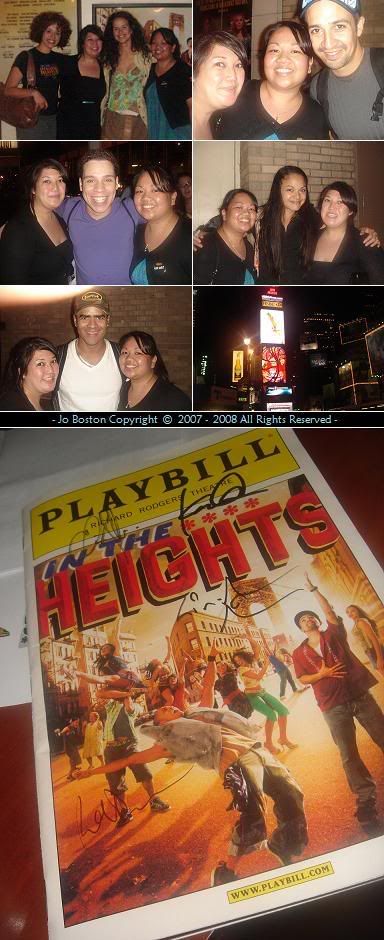 Ate Di and I with the In the Heights Cast
In preparation for the show, I purchased the cast recorded soundtrack on iTunes. I purposely only let the first 5 songs of the soundtrack download so that I would not ruin the ending for myself. So everyday on the train and bus on my way to work, I listened to those songs. Friends, this is a fantastic show that everyone and their mommas should watch. It is funny, hip, touching, and just plain wonderful. I was so moved by the show already, that meeting the cast seemed too good to be true, but it happened. The cast was so nice to us, especially Janet Dacal and Mandy Gonzalez in the first picture who we ran into by accident in the lobby when everyone else left the theater. We convinced the security guard to take a picture of Ate and I in front of the poster at first, and THEN Janet and Mandy came walking by and asked US if we wanted to take a picture with them. =) AYYY! Orgasm! I told Mandy that I listened to her every morning. OMG, I was star-friggin'-struck. The rest of the cast we met on the side of the building. We found them because we heard the screaming. =) Lin-Manual Miranda is a genius and I told him that his acceptance speech for Best Score at the Tony's was incredible. =) If you can freestyle an entire acceptance speech, you are a genius. The rest of the cast, Robin de Jesus, Christopher Jackson (whom Ate Di flirted with by telling him he was hot!) and my girl Karen Olivo were so nice. =) Of all people, I wanted to catch Karen Olivo because I saw her on
Law & Order
a few days earlier and she's just plain HOT. I lost sight of her and I began panicking and asking Ate, "Where's Karen? Where's Karen?" like I had lost my own daughter or something. From out of nowhere, I hear an "I'm HEEEEEEERE!!!" and see Karen Olivo snatched Ate Di's Playbill to autograph. Orgasm #2. Friends, truly a night to remember. =) It's been a month since this has happened and I am still cheesing from ear to ear.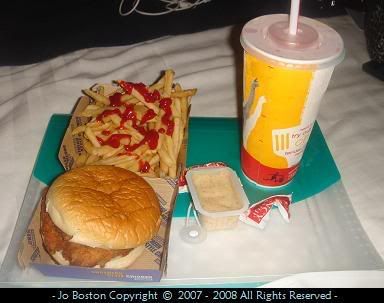 Hey!
Don't hate.
In celebration, we headed to the 24-hour McDonald's two blocks from our hotel and got my oh-so-favorite Southern-Style Chicken Sandwich. =) Perfect meal to end the night.